Abstract
Objectives
Androgen deprivation therapy (ADT) use in prostate cancer (PCa) patients has been reported to have an association with rheumatoid arthritis. We aimed to assess the impact of ADT on the subsequent risk of tenosynovitis.
Methods
Using data from the National Health Insurance Research Database of Taiwan between 2001 and 2013, 3309 patients with PCa were identified. Among them, 729 ADT patients comprised the study group with 729 matched non-ADT controls. We used a 1:1 propensity score matched analysis. The demographic characteristics and comorbidities of the patients were analyzed; Cox proportional hazards regression was used to calculate the hazard ratios (HR) for the risk of tenosynovitis.
Results
There were 224 (15.3%) patients with newly diagnosed tenosynovitis. Compared with non-ADT patients, ADT patients had a lower risk of subsequent tenosynovitis with an adjusted HR of 0.38 [95% confidence interval (CI) 0.28–0.51; P < 0.001].
Conclusions
ADT use apparently did not increase the risk of tenosynovitis in patients with PCa. Further studies are warranted to assess the clinical significance.
Access options
Buy single article
Instant access to the full article PDF.
US$ 39.95
Tax calculation will be finalised during checkout.
Subscribe to journal
Immediate online access to all issues from 2019. Subscription will auto renew annually.
US$ 79
Tax calculation will be finalised during checkout.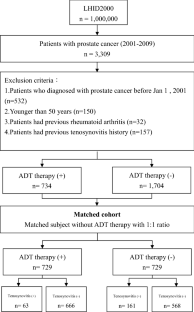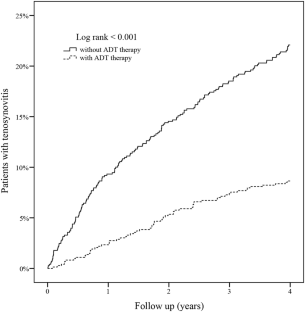 Abbreviations
CI:

Confidence interval

ADT:

Androgen deprivation therapy

PCa:

Prostate cancer

HR:

Hazard ratio

NHIRD:

National Health Insurance Research Database

NHI:

National Health Insurance

CVA:

Cerebral vascular accident

RA:

Rheumatoid arthritis

PSA:

Prostate-specific antigen
References
1.

Siegel RL, Miller KD, Jemal A (2017) Cancer statistics, 2017. CA Cancer J Clin 67(1):7–30

2.

Huggins C, Hodges CV (1972) Studies on prostatic cancer. I. The effect of castration, of estrogen and androgen injection on serum phosphatases in metastatic carcinoma of the prostate. CA Cancer J Clin 22(4):232–240

3.

Shahani S, Braga-Basaria M, Basaria S (2008) Androgen deprivation therapy in prostate cancer and metabolic risk for atherosclerosis. J Clin Endocrinol Metab 93(6):2042–2049

4.

Galvão DA, Taaffe DR, Spry N, Joseph D, Newton RU (2009) Cardiovascular and metabolic complications during androgen deprivation: exercise as a potential countermeasure. Prostate Cancer Prostatic Dis 12(3):233–240

5.

Wu CT, Yang YH, Chen PC, Chen MF, Chen WC (2015) Androgen deprivation increases the risk of fracture in prostate cancer patients: a population-based study in Chinese patients. Osteoporos Int 26(9):2281–2290

6.

Aragon-Ching JB, Williams KM, Gulley JL (2007) Impact of androgen-deprivation therapy on the immune system: implications for combination therapy of prostate cancer. Front Biosci 12:4957–4971

7.

Kalina JL, Neilson DS, Comber AP, Rauw JM, Alexander AS, Vergidis J, Lum J (2017) Immune modulation by androgen deprivation and radiation therapy: implications for prostate cancer immunotherapy. Cancers (Basel) 9(2):E13

8.

Liu JM, Yu CP, Chuang HC, Wu CT, Hsu RJ (2019)Androgen deprivation therapy for prostate cancer and the risk of autoimmune diseases. Prostate Cancer Prostatic Dis (Epub ahead of print)

9.

Yang DD, Krasnova A, Nead KT, Choueiri TK, Hu JC, Hoffman KE, Yu JB, Spratt DE, Feng FY, Trinh QD, Nguyen P (2018) Androgen deprivation therapy and risk of rheumatoid arthritis in patients with localized prostate cancer. Ann Oncol 29(2):386–391

10.

Klil-Drori AJ, Tascilar K, Yin H, Aprikian A, Bitton A, Azoulay L (2016) Androgen deprivation therapy and the incidence of inflammatory bowel disease in patients with prostate cancer. Am J Epidemiol 184(1):15–22

11.

Khalkhali-Ellis Z, Handa RJ, Price RH Jr, Adams BD, Callaghan JJ, Hendrix MJ (2002) Androgen receptors in human synoviocytes and androgen regulation of interleukin 1beta (IL-1beta) induced IL-6 production: a link between hypoandrogenicity and rheumatoid arthritis? J Rheumatol 29(9):1843–1846

12.

Denaro V, Ruzzini L, Longo UG, Franceschi F, De Paola B, Cittadini A, Maffulli N, Sgambato A (2010) Effect of dihydrotestosterone on cultured human tenocytes from intact supraspinatus tendon. Knee Surg Sports Traumatol Arthrosc 18(7):971–976

13.

Bureau of National Health Insurance DoH, Executive Yuan (2013) The National Health Insurance Statistics. http://www.nhi.gov.tw/English/webdata/webdata.aspx?menu=11&menu_id=296&webdata_id=1942&WD_ID=296. Accessed 18 Sept 2014

14.

Liu JM, Lin PH, Hsu RJ, Chang YH, Cheng KC, Pang ST, Lin SK (2016) Complementary traditional Chinese medicine therapy improves survival in patients with metastatic prostate cancer. Medicine 95(31):e4475

15.

Liu JM, Chen TH, Chuang HC, Wu CT, Hsu RJ (2018) Statin reduces the risk of dementia in diabetic patients receiving androgen deprivation therapy for prostate cancer. Prostate Cancer Prostatic Dis (Epub ahead of print)

16.

Stahl S, Vida D, Meisner C, Lotter O, Rothenberger J, Schaller HE, Stahl AS (2013) Systematic review and meta-analysis on the work-related cause of de Quervain tenosynovitis: a critical appraisal of its recognition as an occupational disease. Plast Reconstr Surg 132(6):1479–1491

17.

Zenone T, Boibieux A, Tigaud S, Fredenucci JF, Vincent V, Chidiac C, Peyramond D (1999) Non-tuberculous mycobacterial tenosynovitis: a review. Scand J Infect Dis 31(3):221–228

18.

Dehghan F, Muniandy S, Yusof A, Salleh N (2014) Sex-steroid regulation of relaxin receptor isoforms (RXFP1 & RXFP2) expression in the patellar tendon and lateral collateral ligament of female WKY rats. Int J Med Sci 11(2):180–191

19.

Marqueti RC, Prestes J, Paschoal M, Ramos OH, Perez SE, Carvalho HF, Selistre-de-Araujo HS (2008) Matrix metallopeptidase 2 activity in tendon regions: effects of mechanical loading exercise associated to anabolicandrogenic steroids. Eur J Appl Physiol 104(6):1087–1093

20.

Parssinen M, Karila T, Kovanen V, Seppälä T (2000) The effect of supraphysiological doses of anabolic androgenic steroids on collagen metabolism. Int J Sports Med 21(6):406–411

21.

Kaczmarek P, Pokoca L, Niemirowicz J, Majewska E, Baj Z (2008) Effect of luteinizing hormone-releasing hormone (LHRH) analogue treatment on a cytokine profile in prostate cancer patients. Pharmacol Rep 60(3):399–403

22.

Salman H, Bergman M, Net Blumberger, Djaldetti M, Bessler H (2014) Do androgen deprivation drugs affect the immune cross-talk between mononuclear and prostate cancer cells? Biomed Pharmacother 68(1):21–24

23.

Sutherland JS, Goldberg GL, Hammett MV, Uldrich AP, Berzins SP, Heng TS, Blazar BR, Millar JL, Malin MA, Chidgey AP, Boyd RL (2005) Activation of thymic regeneration in mice and humans following androgen blockade. J Immunol 175(4):2741–2753
Acknowledgements
This study was supported by the Taoyuan General Hospital, Ministry of Health and Welfare (Grant No. PYT10801) and Cross-institute Research Committee, Buddhist Tzu Chi Medical Foundation (TCMMP105-09-03).
Ethics declarations
Conflict of interest
The authors declare that they have no conflict of interest.
Additional information
Publisher's Note
Springer Nature remains neutral with regard to jurisdictional claims in published maps and institutional affiliations.
About this article
Cite this article
Liu, JM., Liu, DW., Chuang, HC. et al. Androgen deprivation therapy and the risk of tenosynovitis in prostate cancer patients. Int Urol Nephrol 51, 1113–1119 (2019). https://doi.org/10.1007/s11255-019-02152-y
Received:

Accepted:

Published:

Issue Date:
Keywords
Prostate cancer

Tenosynovitis

Androgen deprivation therapy