Abstract
Purpose
To evaluate the characteristics of images generated by magnetic resonance imaging (MRI) and changes in the mass-like lesion (MLL) during the follow-up of patients who underwent partial nephrectomy (PN) with the intra-operative use of hemostatic agents (HAs).
Methods
The records of patients who had undergone PN in our clinic due to renal mass between January 2013 and August 2018 were retrospectively reviewed. Our study included 47 patients who were administered one or more HAs during the PN and who received diffusion and dynamic MRI at the post-operative 2nd/4th Queryand 12th month.
Results
MLL is defined as T2 heterogeneous, intermediate-signal intensity bolster-related mass with a pseudocapsule in the renal parenchymal defect. When we looked at the morphological changes of MLL, the mean largest axial dimensions of masses were 27.3 (range 12.2–44.7) mm in the first follow-up period (2nd/4th months) and 21.2 (range 11–44.7) mm in the 12th month follow-up period. The average change in size of MLL was − 0.66 mm/month. We did not see any significant relationship between observation of MLL in the post-operative follow-up MRI images and the use of HAs such as Surgicel®, Spongostan®, and autologous fatty tissue as well as the amount of the agents used in PN operations (p = 0.405, p = 0.159, respectively).
Conclusions
The distinction of MLL causing bolster-related mass and granulomatosis tissue from relapse/recurrence can be made based on the change in mass size observed in the MR images and image characteristics.
This is a preview of subscription content, log in to check access.
Access options
Buy single article
Instant access to the full article PDF.
US$ 39.95
Price includes VAT for USA
Subscribe to journal
Immediate online access to all issues from 2019. Subscription will auto renew annually.
US$ 99
This is the net price. Taxes to be calculated in checkout.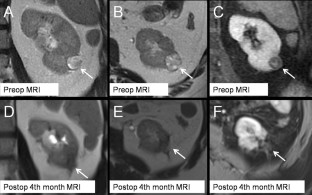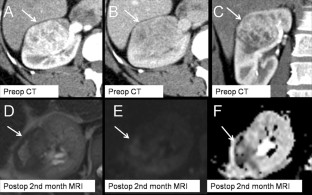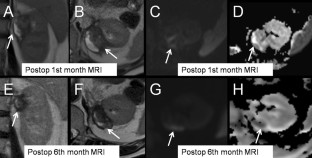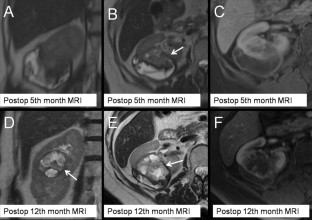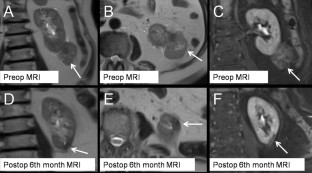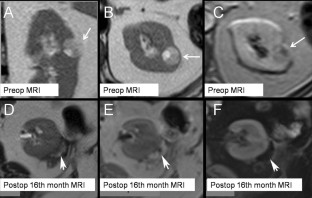 References
1.

Ljungberg B, Bensalah K, Canfield S et al (2015) EAU guidelines on renal cell carcinoma: 2014 update. Eur Urol 67:913

2.

Van Poppel H, Kilen K, Baert L (2001) Incidental renal cell carcinoma and nephron sparing surgery. Curr Opin Urol 11:281

3.

Carrion DM, Y Gregorio SA, Rivas JG et al (2017) The role of hemostatic agents in preventing complications in laparoscopic partial nephrectomy. Cent Eur J Urol 70(4):362–367

4.

Breda A, Stepanian SV, Lam JS et al (2007) Use of haemostatic agents and glues during laparoscopic partial nephrectomy: a multi-institutional survey from the United States and Europe of 1347 cases. Eur Urol 52:798–803

5.

Lang H, Mouracade P, Gimel P et al (2014) National prospective study on the use of local haemostatic agents during partial nephrectomy. BJU Int 113:E56–E61

6.

Emilia M, Luca S, Francesca B et al (2011) Topical hemostatic agents in surgical practice. Transfus Apher Sci 45(3):305–311

7.

Galanakis I, Vasdev N, Soomro N (2011) A review of current hemostatic agents and tissue sealants used in laparoscopic partial nephrectomy. Rev Urol 13(3):131–138

8.

Paka B, Bossemeyer R, Tourojman M et al (2017) Holding strength of a Hem-o-lok/Lapra-Ty clip combination on sutures used during partial nephrectomy. Urology 107:138–143

9.

Thompson T, Ng CF, Tolley D (2003) Renal parenchymal hemostatic aids: glues and things. Curr Opin Urol 13:209–214

10.

Williamson TJ, Pearson JR, Ischia J et al (2016) Guideline of guidelines: follow-up after nephrectomy for renal cell carcinoma. BJU Int. 117(4):555–562

11.

Israel GM, Hecht E, Bosniak MA (2006) CT and MR imaging of complications of partial nephrectomy. Radiographics 26(5):1419–1429

12.

Kim TS, Park JG, Kang H et al (2016) Computed tomography imaging features and changes in hemostatic agents after laparoscopic partial nephrectomy. J Endourol 30(9):950–957

13.

Lee MS, Oh YT, Han WK et al (2007) CT findings after nephron-sparing surgery of renal tumors. AJR Am J Roentgenol 189(5):W264–W271

14.

Young ST, Paulson EK, McCann RL et al (1993) Appearance of oxidized cellulose (Surgicel) on postoperative CT scans: similarity to postoperative abscess. AJR 160:275–277

15.

Pai D, Willatt JM, Korobkin M et al (2010) CT appearances following laparoscopic partial nephrectomy for renal cell carcinoma using a rolled cellulose bolster. Cancer Imaging 10:161–168

16.

Thompson RH, Boorjian SA, Lohse CM et al (2008) Radical nephrectomy for pT1a renal masses may be associated with decreased overall survival compared with partial nephrectomy. J Urol 179:468

17.

Antonelli A, Minervini A, Mari A et al (2015) TriMatch comparison of the efficacy of FloSeal versus TachoSil versus no hemostatic agents for partial nephrectomy: results from a large multicenter dataset. Int J Urol 22(1):47–52

18.

Abu-Ghanem Y, Dotan Z, Kaver I et al (2016) The use of haemostatic agents does not impact the rate of hemorrhagic complications in patients undergoing partial nephrectomy for renal masses. Sci Rep 30(6):32376

19.

Pierce A, Wilson D, Wiebkin O (1987) Surgicel: macrophage processing of the fibrous component. Int J Oral Maxillofac Surg 16:338–345

20.

Bailey OT, Ingraham FD (1944) Chemical, clinical, and immunological studies on the products of human plasma fractionation. XXI. The use of fibrin foam as a hemostatic agent in neurosurgery: clinical and pathological studies. J Clin Investig 23(4):591–596
Ethics declarations
Conflict of interest
There is no conflict of interest. Author Erdem KISA declares that he has no conflict of interest. Author Hilal Sahin declares that he has no conflict of interest. Author Ozgür CAKMAK declares that he has no conflict of interest. Author Cem YÜCEL declares that he has no conflict of interest. Author Gokhan KOC declares that he has no conflict of interest. Author Zafer KOZACIOGLU declares that he has no conflict of interest. Author Yusuf Ozlem ILBEY declares that he has no conflict of interest.
Ethical approval
All procedures performed in studies involving human participants were in accordance with the ethical standards of the institutional and/or national research committee and with the 1964 Helsinki declaration and its later amendments or comparable ethical standards. Local ethic committee; Date 13/02/2019 No: 24.
Informed consent
Informed consent was obtained from all individual participants included in the study.
Additional information
Publisher's Note
Springer Nature remains neutral with regard to jurisdictional claims in published maps and institutional affiliations.
About this article
Cite this article
Kisa, E., Sahin, H., Cakmak, O. et al. Magnetic resonance imaging characteristics and changes in hemostatic agents after partial nephrectomy. Int Urol Nephrol 51, 917–925 (2019). https://doi.org/10.1007/s11255-019-02141-1
Received:

Accepted:

Published:

Issue Date:
Keywords
Partial nephrectomy

Renal tumors

Hemostatic agents

Magnetic resonance imaging