Abstract
Purpose
Urinary incontinence (UI) is one of the most bothersome surgical side effects after robot-assisted radical prostatectomy (RARP). Alteration of both smooth and striate urethral sphincter occurs after RARP. Since the contraction of perineal muscles is involved in the complex mechanism of urinary continence, the uroflow stop test (UST) seems to predict early continence recovery after RARP. The UST was added of perineal surface electromyography (EMG) evaluation to evaluate the latency time (LT) between muscular contraction and the complete stop of urine flow. Our aim was to present UST–EMG as a new tool in the investigation of UI, implying pelvic floor integrity, and to evaluate whether an early return (≤ 3 months) to preoperative LT could be associated with early recovery of UC (≤ 3 months).
Methods
After prospectively enrolling 137 patients who underwent RARP with a minimum follow-up of 6 months, we identified two groups: Group 1 (93 patients) with early (≤ 3 months) pre-surgical LT recovery and Group 2 (44 patients) with late > 3 months or not able to reach pre-surgical LT recovery.
Results
Between the two groups, there were significant differences in terms of different surgical technique (nerve-sparing versus non-nerve-sparing) and pads use at 3 and 6 months after RARP (p < 0.05). No differences were recorded neither in postoperative maximum flow-rate, nor in postoperative symptoms score.
Conclusions
UST with EMG can be considered as a noninvasive, reproducible and easily performable tool. LT is applicable in the clinical evaluation to predict urinary continence recovery after RARP.
This is a preview of subscription content, log in to check access.
Access options
Buy single article
Instant access to the full article PDF.
US$ 39.95
Tax calculation will be finalised during checkout.
Subscribe to journal
Immediate online access to all issues from 2019. Subscription will auto renew annually.
US$ 99
Tax calculation will be finalised during checkout.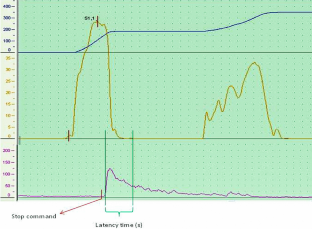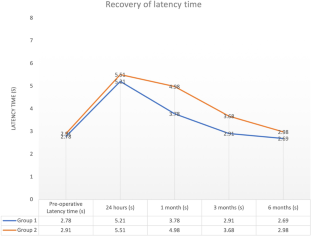 References
1.

Aning JJ, MacKenzie KR, Fabricius M, McColl E, Johnson MI, Tandogdu Z, Soomro NA, Harding C (2018) Detailed analysis of patient-reported lower urinary tract symptoms and effect on quality of life after robotic radical prostatectomy. Urol Oncol 36(8):364

2.

Hara I, Kawabata G, Miyake H, Nakamura I, Hara S, Okada H, Kamidono S (2003) Comparison of quality of life following laparoscopic and open prostatectomy for prostate cancer. J Urol 169(6):2045–2048

3.

Montorsi F, Wilson TG, Rosen RC, Ahlering TE, Artibani W, Carroll PR, Costello A, Eastham JA, Ficarra V, Guazzoni G et al (2012) Best practices in robot-assisted radical prostatectomy: recommendations of the pasadena consensus panel. Eur Urol 62(3):368–381

4.

El-Hakim A, Al-Hathal N, Al-Qaoud T, Gagne G, Larocque S, Denis R, Zorn KC (2015) Novel uroflow stop test at time of catheter removal is a strong predictor of early urinary continence recovery following robotic-assisted radical prostatectomy: a pilot study. Neurourol Urodyn 34(1):60–64

5.

Silva LA, Andriolo RB, Atallah AN, da Silva EM (2014) Surgery for stress urinary incontinence due to presumed sphincter deficiency after prostate surgery. Cochrane Database Syst Rev 9:CD008306

6.

Ficarra V, Borghesi M, Suardi N, De Naeyer G, Novara G, Schatteman P, De Groote R, Carpentier P, Mottrie A (2013) Long-term evaluation of survival, continence and potency (SCP) outcomes after robot-assisted radical prostatectomy (RARP). BJU Int 112(3):338–345

7.

Ficarra V, Novara G, Rosen RC, Artibani W, Carroll PR, Costello A, Menon M, Montorsi F, Patel VR, Stolzenburg JU et al (2012) Systematic review and meta-analysis of studies reporting urinary continence recovery after robot-assisted radical prostatectomy. Eur Urol 62(3):405–417

8.

Novara G, Ficarra V, D'Elia C, Secco S, Cioffi A, Cavalleri S, Artibani W (2010) Evaluating urinary continence and preoperative predictors of urinary continence after robot assisted laparoscopic radical prostatectomy. J Urol 184(3):1028–1033

9.

Kannan P, Winser SJ, Fung B, Cheing G (2018) Effectiveness of Pelvic floor muscle training alone and in combination with biofeedback, electrical stimulation, or both compared to control for urinary incontinence in men following prostatectomy: systematic review and meta-analysis. Phys Ther 98(11):932–945

10.

Hall LM, Aljuraifani R, Hodges PW (2018) Design of programs to train pelvic floor muscles in men with urinary dysfunction: systematic review. Neurourol Urodyn 37(7):2053–2087

11.

Coelho RF, Rocco B, Patel MB, Orvieto MA, Chauhan S, Ficarra V, Melegari S, Palmer KJ, Patel VR (2010) Retropubic, laparoscopic, and robot-assisted radical prostatectomy: a critical review of outcomes reported by high-volume centers. J Endourol 24(12):2003–2015

12.

Alenizi AM, Bienz M, Rajih E, Alesawi A, Al-Hathal N, Benayoun S, Lebeau T, Zorn KC, El-Hakim A (2015) Uroflow stop test and potency recovery: a surrogate for pelvic floor integrity post robotic-assisted radical prostatectomy? Urology 86(4):766–771

13.

Enck P, Vodusek DB (2006) Electromyography of pelvic floor muscles. J Electromyogr Kinesiol 16(6):568–577

14.

Guelfi G, Cochetti G, Stefanetti V, Zampini D, Diverio S, Boni A, Mearini E (2018) Next generation sequencing of urine exfoliated cells: an approach of prostate cancer microRNAs research. Sci Rep 8(1):7111

15.

Cochetti G, Boni A, Barillaro F, Pohja S, Cirocchi R, Mearini E (2017) Full neurovascular sparing extraperitoneal robotic radical prostatectomy: our experience with PERUSIA technique. J Endourol 31(1):32–37

16.

Clegg EJ (1957) The nusculature of the human prostatic urethra. J Anat 91(3):345–351

17.

Oelrich TM (1980) The urethral sphincter muscle in the male. Am J Anat 158(2):229–246

18.

Sumino Y, Sato F, Kumamoto T, Mimata H (2006) Striated muscle fiber compositions of human male urethral rhabdosphincter and levator ani. J Urol 175(4):1417–1421

19.

Koraitim MM (2008) The male urethral sphincter complex revisited: an anatomical concept and its physiological correlate. J Urol 179(5):1683–1689

20.

Hollabaugh RS Jr, Dmochowski RR, Steiner MS (1997) Neuroanatomy of the male rhabdosphincter. Urology 49(3):426–434

21.

Shafik A, Doss S (1999) Surgical anatomy of the somatic terminal innervation to the anal and urethral sphincters: role in anal and urethral surgery. J Urol 161(1):85–89

22.

Strasser H, Klima G, Poisel S, Horninger W, Bartsch G (1996) Anatomy and innervation of the rhabdosphincter of the male urethra. Prostate 28(1):24–31

23.

Strasser H, Pinggera GM, Gozzi C, Horninger W, Mitterberger M, Frauscher F, Bartsch G (2004) Three-dimensional transrectal ultrasound of the male urethral rhabdosphincter. World J Urol 22(5):335–338

24.

Weledji EP, Eyongeta D, Ngounou E (2018) The anatomy of urination: what every physician should know. Clin Anat 32:60

25.

Bianchi F, Cursi M, Ferrari M, Salonia A, Amadio S, Comi G, Danuser H, Del Carro U, Mattei A (2014) Quantitative EMG of external urethral sphincter in neurologically healthy men with prostate pathology. Muscle Nerve 50(4):571–576

26.

Enck P, Hinninghofen H, Merletti R, Azpiroz F (2005) The external anal sphincter and the role of surface electromyography. Neurogastroenterol Motil 17(Suppl 1):60–67

27.

Deffieux X, Billecocq S, Demoulin G, Rivain AL, Trichot C, Thubert T (2013) Pelvic floor rehabilitation for female urinary incontinence: mechanisms of action. Prog Urol 23(8):491–501

28.

Heinzer H, Hammerer PG, Huland H (1999) Anatomy and physiology of the male urethral sphincter and its preservation in prostatic surgery. Urol Res 27(6):404–408

29.

Ying N, Ju C, Li Z, Liu W, Wan J (2017) Visual detection of nucleic acids based on lateral flow biosensor and hybridization chain reaction amplification. Talanta 164:432–438

30.

Chmielewska D, Stania M, Sobota G, Kwasna K, Blaszczak E, Taradaj J, Juras G (2015) Impact of different body positions on bioelectrical activity of the pelvic floor muscles in nulliparous continent women. BioMed Res Int 2015:905897

31.

Tomita A, Ando R, Saito A, Watanabe K, Akima H (2015) Effect of interelectrode distance on surface electromyographic signals of vastus intermedius muscle in women and men. J Electromyogr Kinesiol 25(6):841–846

32.

Stafford RE, Sapsford R, Ashton-Miller J, Hodges PW (2010) A novel transurethral surface electrode to record male striated urethral sphincter electromyographic activity. J Urol 183(1):378–385

33.

Stafford RE, Ashton-Miller JA, Constantinou C, Coughlin G, Lutton NJ, Hodges PW (2016) Pattern of activation of pelvic floor muscles in men differs with verbal instructions. Neurourol Urodyn 35(4):457–463

34.

Campbell WW (2008) Evaluation and management of peripheral nerve injury. Clin Neurophysiol 119(9):1951–1965
Acknowledgements
We are very grateful to the nurses Ms. Angela Branca and Ms. Silvia Ceccarelli for their assistance in every day clinical practice.
Additional information
Publisher's Note
Springer Nature remains neutral with regard to jurisdictional claims in published maps and institutional affiliations.
About this article
Cite this article
Boni, A., Cochetti, G., Del Zingaro, M. et al. Uroflow stop test with electromyography: a novel index of urinary continence recovery after RARP. Int Urol Nephrol 51, 609–615 (2019). https://doi.org/10.1007/s11255-019-02107-3
Received:

Accepted:

Published:

Issue Date:
Keywords
Urinary incontinence

Prostate cancer

Radical Prostatectomy

Pelvic floor