Abstract
Purpose
Evaluate the efficacy of retraining and catheter exit site care in reducing peritonitis rates.
Methods
This interventional study included all prevalent PD patients from 1/2009 to 12/2017 from a single center. Peritonitis rates and causative organisms were assessed and compared in three periods: (1) Before intervention (01/2009–12/2014), (2) after educational intervention: assessment of training process by infection control nurse and repeat training every 3 months, after each peritonitis episode and after hospitalizations > 2 weeks (01/2015–02/2016), and (3) in addition to the measures in period 2, an exit site care protocol including postoperative care, topical antibacterial therapy and nasal Staph aureus screening and eradication was implemented (03/2016–12/2017).
Results
The study included 201 patients (149 men, 52 women), mean age was 65.1 ± 12.6 years. After both interventions, including educational and exit site care strategies, peritonitis decreased significantly from 1.05 episodes per patient-year (n = 113) to 0.67 (n = 54); P = 0.017 between periods 1 and 3. The percentage of peritonitis-free patients increased from 27.4 to 52.4 and 55.6%, respectively (P = 0.001 between period 1 vs. 2 and period 1 vs. 3.). Coagulase-negative staph was the most common pathogen, causing 7.56 peritonitis episodes per year, followed by pseudomonas at 4.33 episodes annually and staph aureus at 3.44 episodes per year.
Conclusions
Enforcement of an educational program and strict adherence to an exit site care protocol was associated with a significant decrease in peritonitis rates.
This is a preview of subscription content, log in to check access.
Access options
Buy single article
Instant access to the full article PDF.
US$ 39.95
Price includes VAT for USA
Subscribe to journal
Immediate online access to all issues from 2019. Subscription will auto renew annually.
US$ 99
This is the net price. Taxes to be calculated in checkout.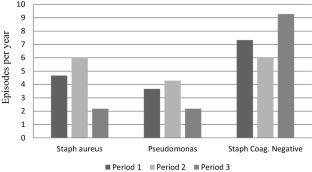 References
1.

Mehrotra R, Devuyst O, Davies SJ, Johnson DW (2016) The current state of peritoneal dialysis. J Am Soc Nephrol 27:3238–3252

2.

Johnson DW, Dent H, Hawley CM et al (2009) Associations of dialysis modality and infectious mortality in incident dialysis patients in Australia and New Zealand. Am J Kidney Dis 53:290–297

3.

Cho Y, Johnson DW (2014) Peritoneal dialysis-related peritonitis: towards improving evidence, practices, and outcomes. Am J Kidney Dis 64:278–289

4.

Boudville N, Kemp A, Clayton P et al (2012) Recent peritonitis associates with mortality among patients treated with peritoneal dialysis. J Am Soc Nephrol 23:1398–1405

5.

Segal JH, Messana JM (2013) Prevention of peritonitis in peritoneal dialysis. Semin Dial 26:494–502

6.

Li PK, Szeto CC, Piraino B et al (2016) ISPD Peritonitis Recommendations: 2016 Update on Prevention and Treatment. Perit Dial Int 36:481–508

7.

Szeto CC, Li PK, Johnson DW et al (2017) ISPD catheter-related infection recommendations: 2017 update. Perit Dial Int 37:141–154

8.

Hsieh YP, Chang CC, Wen YK, Chiu PF, Yang Y (2014) Predictors of peritonitis and the impact of peritonitis on clinical outcomes of continuous ambulatory peritoneal dialysis patients in Taiwan—10 years' experience in a single center. Perit Dial Int 34:85–94

9.

Piraino B, Bernardini J, Brown E et al (2011) ISPD position statement on reducing the risks of peritoneal dialysis-related infections. Perit Dial Int 31:614–630

10.

Nessim SJ, Bargman JM, Austin PC, Nisenbaum R, Jassal SV (2009) Predictors of peritonitis in patients on peritoneal dialysis: results of a large, prospective Canadian database. Clin J Am Soc Nephrol 4:1195–1200

11.

Cleper R, Davidovits M, Kovalski Y, Samsonov D, Amir J, Krause I (2010) Peritonitis in a pediatric dialysis unit: local profile and implications. Isr Med Assoc J 12:348–352

12.

Lanot A, Bechade C, Verger C, Fabre E, Vernier I, Lobbedez T (2017) Clusters of practice in peritoneal dialysis in France: data from the catheter section of the Rdplf. Perit Dial Int 38:89–97

13.

Nadeau-Fredette AC, Johnson DW, Hawley CM et al (2016) Center-specific factors associated with peritonitis risk-a multi-center registry analysis. Perit Dial Int 36:509–518

14.

Benjamin J, Ben-Ezer Gradus D, Mostoslavski M, Rapoport J, Chaimovitz C (1989) Peritonitis in continuous ambulatory peritoneal dialysis patients in southern Israel. Isr J Med Sci 25:699–702

15.

Bending M, Mellotte G (1996) Nasal mupirocin prevents Staphylococcus aureus exit-site infection during peritoneal dialysis. Mupirocin Study Group. J Am Soc Nephrol 7: 2403–2408

16.

Morton RL, Snelling P, Webster AC et al (2012) Dialysis modality preference of patients with CKD and family caregivers: a discrete-choice study. Am J Kidney Dis 60:102–111

17.

Figueiredo AE, Bernardini J, Bowes E et al (2016) A syllabus for teaching peritoneal dialysis to patients and caregivers. Perit Dial Int 36:592–605

18.

Russo R, Manili L, Tiraboschi G et al (2006) Patient re-training in peritoneal dialysis: why and when it is needed. Kidney Int 70:S127–132

19.

Bordin G, Casati M, Sicolo N, Zuccherato N, Eduati V (2007) Patient education in peritoneal dialysis: an observational study in Italy. J Ren Care 33:165–171

20.

Bender FH, Bernardini J, Piraino B (2006) Prevention of infectious complications in peritoneal dialysis: best demonstrated practices. Kidney Int 70:44–54

21.

Kopriva-Altfahrt G, Konig P, Mundle M et al (2009) Exit-site care in Austrian peritoneal dialysis centers—a nationwide survey. Perit Dial Int 29:330–339

22.

Szeto CC, Chow KM, Kwan BC et al (2007) Staphylococcus aureus peritonitis complicates peritoneal dialysis: review of 245 consecutive cases. Clin J Am Soc Nephrol 2:245–251

23.

Govindarajulu S, Hawley CM, McDonald SP et al (2010) Staphylococcus aureus peritonitis in Australian peritoneal dialysis patients: predictors, treatment, and outcomes in 503 cases. Perit Dial Int 30:311–319

24.

Siva B, Hawley CM, McDonald SP et al (2009) Pseudomonas peritonitis in Australia: predictors, treatment, and outcomes in 191 cases. Clin J Am Soc Nephrol 4:957–964

25.

Mehrotra R, Singh H (2013) Peritoneal dialysis-associated peritonitis with simultaneous exit-site infection. Clin J Am Soc Nephrol 8:126–129 discussion 129–130

26.

Cho Y, Badve SV, Hawley CM et al (2013) Effects of climatic region on peritonitis risk, microbiology, treatment, and outcomes: a multicenter registry study. Perit Dial Int 33:75–85

27.

Lim WH, Johnson DW, McDonald SP (2005) Higher rate and earlier peritonitis in Aboriginal patients compared to non-Aboriginal patients with end-stage renal failure maintained on peritoneal dialysis in Australia: analysis of ANZDATA. Nephrology (Carlton) 10:192–197

28.

McDonald SP, Collins JF, Rumpsfeld M, Johnson DW (2004) Obesity is a risk factor for peritonitis in the Australian and New Zealand peritoneal dialysis patient populations. Perit Dial Int 24:340–346

29.

Benabed A, Bechade C, Ficheux M, Verger C, Lobbedez T (2016) Effect of assistance on peritonitis risk in diabetic patients treated by peritoneal dialysis: report from the French Language Peritoneal Dialysis Registry. Nephrol Dial Transplant 31:656–662

30.

Bevilacqua MU, Turnbull L, Saunders S et al (2017) Evaluation of a 12-month pilot of long-term and temporary assisted peritoneal dialysis. Perit Dial Int 37:307–313
Ethics declarations
Conflict of interest
No conflict exists.
Ethical approval
All procedures performed in studies involving human participants were in accordance with the ethical standards of the institutional and/or national research committee and with the 1964 Helsinki Declaration and its later amendments or comparable ethical standards.
Additional information
Publisher's Note
Springer Nature remains neutral with regard to jurisdictional claims in published maps and institutional affiliations.
About this article
Cite this article
Einbinder, Y., Cohen-Hagai, K., Shitrit, P. et al. ISPD guideline-driven retraining, exit site care and decreased peritonitis: a single-center experience in Israel. Int Urol Nephrol 51, 723–727 (2019). https://doi.org/10.1007/s11255-019-02100-w
Received:

Accepted:

Published:

Issue Date:
Keywords
Peritonitis

Peritoneal dialysis

Exit site care

Education and training