Abstract
Purpose
To explore the neuroprotective effects and its possible mechanisms of melatonin (MT) on erectile dysfunction in streptozotocin-induced diabetic rats.
Methods
Twenty-eight Sprague–Dawley rats received intraperitoneal injection of streptozotocin and 8 weeks later, the determined diabetic rats randomly got intraperitoneal injection of phosphate buffer solution (PBS) or MT. Another 12 normal rats received PBS treatment. Four weeks later, intracavernous pressure, mean arterial pressure, pathological changes in penis, and major pelvic ganglion (MPG) were measured. Malondialdehyde, superoxide dismutase, p38 and p-p38 levels in penis were detected.
Results
Diabetic rats showed significant decreases of erectile function accompanied with serious neuropathy in dorsal penile nerve (DPN) and MPG, meanwhile collagen deposition, oxidative stress, and p-p38 levels in penis were elevated. Melatonin treatment partially but significantly improved the erectile function, ameliorated neuropathy in DPN and MPG, and decreased collagen deposition, oxidative stress, and p-p38 levels in diabetic rats.
Conclusions
Melatonin treatment helps improve erectile function and ameliorate neuropathy and fibrosis in diabetic rats. These may be associated with reductions in oxidative stress, p38MAPK signaling pathway, and neuropathy.
This is a preview of subscription content, log in to check access.
Access options
Buy single article
Instant access to the full article PDF.
US$ 39.95
Price includes VAT for USA
Subscribe to journal
Immediate online access to all issues from 2019. Subscription will auto renew annually.
US$ 99
This is the net price. Taxes to be calculated in checkout.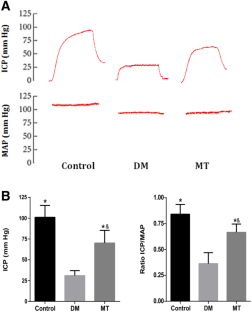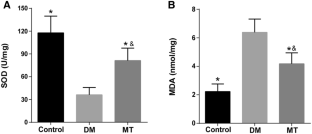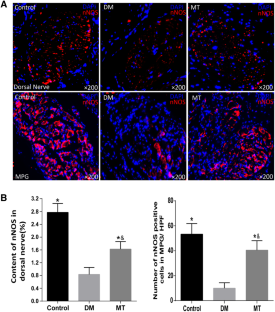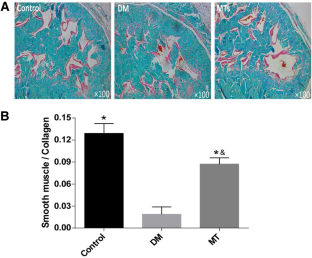 References
1.

Thorve VS, Kshirsagar AD, Vyawahare NS, Joshi VS, Ingale KG, Mohite RJ (2011) Diabetes-induced erectile dysfunction: epidemiology, pathophysiology and management. J Diabetes Complic 25(2):129–136. https://doi.org/10.1016/j.jdiacomp.2010.03.003

2.

Walsh TJ, Hotaling JM, Smith A, Saigal C, Wessells H (2014) Men with diabetes may require more aggressive treatment for erectile dysfunction. Int J Impot Res 26(3):112–115. https://doi.org/10.1038/ijir.2013.46

3.

Matsui H, Sopko NA, Hannan JL, Bivalacqua TJ (2015) Mini review: pathophysiology of erectile dysfunction. Curr Drug Targets 16:411–419

4.

Hosseini A, Abdollahi M (2013) Diabetic neuropathy and oxidative stress: therapeutic perspectives. Oxid Med Cell Longev 2013:168039. https://doi.org/10.1155/2013/168039

5.

He SH, Wei AY, Ye TY, Yang Y, Luo XG, Liu Y, Zhang T (2011) Calcitonin gene-related peptide induces phenotypic transformation of corpus cavernosum smooth muscle cells in diabetic rats with erectile dysfunction. Natl J Androl 17(10):913–917

6.

Gur S, Kadowitz PJ, Hellstrom WJ (2009) A critical appraisal of erectile function in animal models of diabetes mellitus. Int J Androl 32(2):93–114. https://doi.org/10.1111/j.1365-2605.2008.00928.x

7.

Bai GY, Zhou F, Hui Y, Xu YD, Lei HE, Pu JX, Xin ZC (2014) Effects of Icariside II on corpus cavernosum and major pelvic ganglion neuropathy in streptozotocin-induced diabetic rats. Int J Mol Sci 15(12):23294–23306. https://doi.org/10.3390/ijms151223294

8.

Jenwitheesuk A, Nopparat C, Mukda S, Wongchitrat P, Govitrapong P (2014) Melatonin regulates aging and neurodegeneration through energy metabolism, epigenetics, autophagy and circadian rhythm pathways. Int J Mol Sci 15(9):16848–16884. https://doi.org/10.3390/ijms150916848

9.

Wongprayoon P, Govitrapong P (2017) Melatonin as a mitochondrial protector in neurodegenerative diseases. Cell Mol Life Sci 74(21):3999–4014. https://doi.org/10.1007/s00018-017-2614-x

10.

Cellek S, Foxwell NA, Moncada S (2003) Two phases of nitrergic neuropathy in streptozotocin-induced diabetic rats. Diabetes 52(9):2353–2362

11.

Qiu XF, Li XX, Chen Y, Lin HC, Yu W, Wang R, Dai YT (2012) Mobilisation of endothelial progenitor cells: one of the possible mechanisms involved in the chronic administration of melatonin preventing erectile dysfunction in diabetic rats. Asian J Androl 14(3):481–486. https://doi.org/10.1038/aja.2011.161

12.

Zhou F, Xin H, Liu T, Li GY, Gao ZZ, Liu J, Li WR, Cui WS, Bai GY, Park NC, Xin ZC (2012) Effects of icariside II on improving erectile function in rats with streptozotocin-induced diabetes. J Androl 33(5):832–844. https://doi.org/10.2164/jandrol.111.015172

13.

Xu Y, Guan R, Lei H, Li H, Wang L, Gao Z, Song W, Xin Z (2014) Therapeutic potential of adipose-derived stem cells-based micro-tissues in a rat model of postprostatectomy erectile dysfunction. J Sex Med 11(10):2439–2448. https://doi.org/10.1111/jsm.12636

14.

Moore CR, Wang R (2006) Pathophysiology and treatment of diabetic erectile dysfunction. Asian J Androl 8(6):675–684. https://doi.org/10.1111/j.1745-7262.2006.00223.x

15.

Zheng H, Bidasee KR, Mayhan WG, Patel KP (2007) Lack of central nitric oxide triggers erectile dysfunction in diabetes. Am J Physiol Regulat Integr Comp Physiol 292(3):R1158–R1164. https://doi.org/10.1152/ajpregu.00429.2006

16.

Kamenov ZA (2015) A comprehensive review of erectile dysfunction in men with diabetes. Exp Clin Endocrinol Diabetes 123(3):141–158. https://doi.org/10.1055/s-0034-1394383

17.

Sawada N, Nomiya M, Zarifpour M, Mitsui T, Takeda M, Andersson KE (2016) Melatonin improves erectile function in rats with chronic lower body ischemia. J Sex Med 13(2):179–186. https://doi.org/10.1016/j.jsxm.2015.12.018

18.

Kahya MC, Naziroglu M, Ovey IS (2017) Modulation of diabetes-induced oxidative stress, apoptosis, and Ca(2+) entry through TRPM2 and TRPV1 channels in dorsal root ganglion and hippocampus of diabetic rats by melatonin and selenium. Mol Neurobiol 54(3):2345–2360. https://doi.org/10.1007/s12035-016-9727-3

19.

Wang L, Xu Y, Li H, Lei H, Guan R, Gao Z, Xin Z (2015) Antioxidant icariside II combined with insulin restores erectile function in streptozotocin-induced type 1 diabetic rats. J Cell Mol Med 19(5):960–969. https://doi.org/10.1111/jcmm.12480

20.

Tavukcu HH, Sener TE, Tinay I, Akbal C, Ersahin M, Cevik O, Cadirci S, Reiter RJ, Sener G (2014) Melatonin and tadalafil treatment improves erectile dysfunction after spinal cord injury in rats. Clin Exp Pharmacol Physiol 41(4):309–316. https://doi.org/10.1111/1440-1681.12216

21.

Kimball SR, Abbas A, Jefferson LS (2008) Melatonin represses oxidative stress-induced activation of the MAP kinase and mTOR signaling pathways in H4IIE hepatoma cells through inhibition of Ras. J Pineal Res 44(4):379–386. https://doi.org/10.1111/j.1600-079X.2007.00539.x

22.

Purves T, Middlemas A, Agthong S, Jude EB, Boulton AJ, Fernyhough P, Tomlinson DR (2001) A role for mitogen-activated protein kinases in the etiology of diabetic neuropathy. FASEB J 15(13):2508–2514. https://doi.org/10.1096/fj.01-0253hyp

23.

Zhou J, Du X, Long M, Zhang Z, Zhou S, Zhou J, Qian G (2016) Neuroprotective effect of berberine is mediated by MAPK signaling pathway in experimental diabetic neuropathy in rats. Eur J Pharmacol 774:87–94. https://doi.org/10.1016/j.ejphar.2016.02.007

24.

Nangle MR, Cotter MA, Cameron NE (2006) Correction of nitrergic neurovascular dysfunction in diabetic mouse corpus cavernosum by p38 mitogen-activated protein kinase inhibition. Int J Impot Res 18(3):258–263. https://doi.org/10.1038/sj.ijir.3901414

25.

Ma J, Shi M, Zhang X, Liu X, Chen J, Zhang R, Wang X, Zhang H (2018) GLP1R agonists ameliorate peripheral nerve dysfunction and inflammation via p38 MAPK/NFkappaB signaling pathways in streptozotocininduced diabetic rats. Int J Mol Med 41(5):2977–2985. https://doi.org/10.3892/ijmm.2018.3509

26.

Liu T, Peng Y, Jia C, Fang X, Li J, Zhong W (2015) Hepatocyte growth factor-modified adipose tissue-derived stem cells improve erectile function in streptozotocin-induced diabetic rats. Growth Factors 33(4):282–289. https://doi.org/10.3109/08977194.2015.1077825
Funding
This study was funded by the National Natural Science Foundation of China (No. 81641165), Jiangsu Provincial Medical Youth Talent Foundation (QNRC2016720), China Postdoctoral Science Foundation (2015M580466), and Postdoctoral Science Foundation of Jiangsu Province (2016T90497).
Ethics declarations
Conflict of interest
The authors declare that they have no conflict of interest.
Ethical approval
All applicable international, national, and/or institutional guidelines for the care and use of animals were followed; all procedures performed in studies involving animals were in accordance with the ethical standards of the Committee for Animal Care and Use of Soochow University.
About this article
Cite this article
Zhang, J., Hui, Y., Zhou, F. et al. Neuroprotective effects of melatonin on erectile dysfunction in streptozotocin-induced diabetic rats. Int Urol Nephrol 50, 1981–1988 (2018). https://doi.org/10.1007/s11255-018-1989-4
Received:

Accepted:

Published:

Issue Date:
Keywords
Erectile dysfunction

Diabetes mellitus

Melatonin

Neuroprotective

Anti-oxidation

p-P38