Abstract
Purpose
Folic acid (FA) intake has increased to high levels in many countries for the prevention of neural tube defects. However, the impact of excess FA intake, particularly before and during pregnancy, requires further investigation. Our aim was to investigate the effect of maternal folic acid supplementation on prostatitis risk in the rat offspring.
Methods
Female SD rats were administrated with different doses of FA by oral gavage from 2 weeks prior to mating to GD14: 0 mg/kg (distilled water), 0.2 mg/kg FA and 2.0 mg/kg FA respectively. The male rat offspring from each maternal FA group were castrated on PND56 and injected different doses of 17β-estradiol (E2) subcutaneously for 30 days to induce prostatitis: 0 mg/kg (corn oil) and 1.25 mg/kg E2 respectively. At necropsy, the prostates were collected for histopathological analysis. Fasting blood was collected for the determination of serum E2, T, DHT, and folic acid levels. The expression of TNF-α, COX-2, and ER-α was determined by immunohistochemistry.
Results
High-dose (2.0 mg/kg) maternal folic acid supplementation significantly increased the proportion of prostatitis in FA(2.0) + E2(1.25) group (87.5%) compared with FA(0) + E2(1.25) group (25%). The inflammation was focal and severe, and large amounts of inflammatory cells appeared in different regions of the prostate in FA(2.0) + E2(1.25) group. The serum T, DHT, and FA levels in FA(2.0) + E2(1.25) group were significantly higher than those in FA(0) + E2(1.25) group. The expression of TNF-α, COX-2, and ER-α in three 1.25 mg/kg E2 groups presented positive, and the number and distribution of positive cells increased as FA dosage increased.
Conclusions
Our findings suggest that high-dose (2.0 mg/kg) maternal folic acid supplementation significantly increases the proportion of prostatitis and the prostatic inflammation is more obvious and severe in the rat offspring.
This is a preview of subscription content,
to check access.
Access this article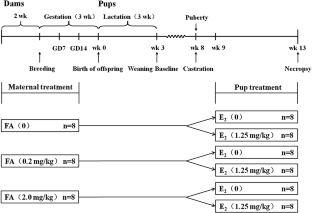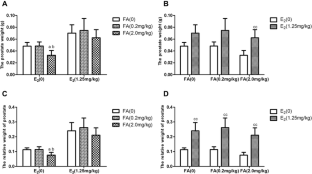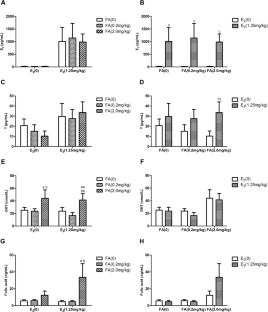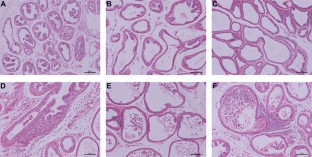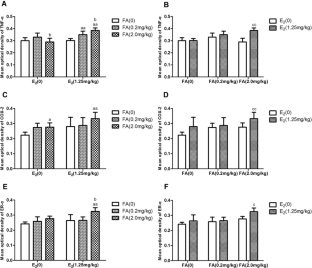 Similar content being viewed by others
References
Taruscio D, Carbone P, Granata O, Baldi F, Mantovani A (2011) Folic acid and primary prevention of birth defects. Biofactors 37(4):280–284

Smith AD, Kim YI, Refsum H (2008) Is folic acid good for everyone? Am J Clin Nutr 87(3):517–533

Cole BF, Baron JA, Sandler RS, Haile RW, Ahnen DJ et al (2007) Folic acid for the prevention of colorectal adenomas: a randomized clinical trial. JAMA 297(21):2351–2359

Figueiredo JC, Grau MV, Haile RW, Sandler RS, Summers RW et al (2009) Folic acid and risk of prostate cancer: results from a randomized clinical trial. J Natl Cancer Inst 101(6):432–435

Ly A, Lee H, Chen J, Sie KK, Renlund R et al (2010) Effect of maternal and postweaning folic acid supplementation on mammary tumor risk in the offspring. Cancer Res 71(3):988–997

Boyles AL, Yetley EA, Thayer KA, Coates PM (2016) Safe use of high intakes of folic acid: research challenges and paths forward. Nutr Rev 74(7):469–474

Manshadi SD, Ishiguro L, Sohn KJ, Medline A, Renlund R, Croxford R, Kim YI (2014) Folic acid supplementation promotes mammary tumor progression in a rat model. PLoS ONE 9(1):e84635

Wilson RD, Désilets V, Wyatt P, Langlois S, Gagnon A et al (2007) Pre-conceptional vitamin/folic acid supplementation 2007: the use of folic acid in combination with a multivitamin supplement for the prevention of neural tube defects and other congenital anomalies. J Obst Gynaecol Can 29(12):1003–1013

Institute of Medicine (US) Standing Committee on the Scientific Evaluation of Dietary Reference Intakes (1998) Dietary reference intakes for thiamin, riboflavin, niacin, vitamin B6, folate, vitamin B12, pantothenic acid, biotin, and choline. National Academies Press (US), Washington, DC

Burdge GC, Lillycrop KA (2012) Folic acid supplementation in pregnancy: are there devils in the detail. Br J Nutr 108(11):1924–1930

Crider KS, Bailey LB, Berry RJ (2011) Folic acid food fortification—its history, effect, concerns, and future directions. Nutrients 3(3):370–384

Jia YL, Liu X, Yan JY, Chong LM, Li L et al (2015) The alteration of inflammatory markers and apoptosis on chronic prostatitis induced by estrogen and androgen. Int Urol Nephrol 47(1):39–46

Hunter R, Barnes J, Oakeley HF, Matthews DM (1970) Toxicity of folic acid given in pharmacological doses to healthy volunteers. The Lancet 295(7637):61–63

Hellström L (1971) Lack of toxicity of folic acid given in pharmacological doses to healthy volunteers. The Lancet 297(7689):59–61

Richens A (1971) Toxicity of folic acid. The Lancet 297(7705):912

Sheehy T (1973) Folic acid: lack of toxicity. The Lancet 301(7793):37

Mikael LG, Deng L, Paul L, Selhub J, Rozen R (2013) Moderately high intake of folic acid has a negative impact on mouse embryonic development. Birth Defects Res A 97(1):47–52

Sie KK, Chen J, Sohn KJ, Croxford R, Thompson LU, Kim YI (2009) Folic acid supplementation provided in utero and during lactation reduces the number of terminal end buds of the developing mammary glands in the offspring. Cancer Lett 280(1):72–77

Kelly KB, Kennelly JP, Ordonez M, Nelson R, Leonard K et al (2016) Excess folic acid increases lipid storage, weight gain, and adipose tissue inflammation in high fat diet-fed rats. Nutrients 8(10):594

Ly A, Ishiguro L, Kim D, Im D, Kim SE et al (2016) Maternal folic acid supplementation modulates DNA methylation and gene expression in the rat offspring in a gestation period-dependent and organ-specific manner. J Nutr Biochem 33:103–110

Nair AB, Jacob S (2016) A simple practice guide for dose conversion between animals and human. J Basic Clin Pharm 7(2):27

Fayyaz F, Wang F, Jacobs RL, O'Connor DL, Bell RC, Field CJ, APrON Study Team (2014) Folate, vitamin B12, and vitamin B6 status of a group of high socioeconomic status women in the Alberta Pregnancy Outcomes and Nutrition (APrON) cohort. Appl Physiol Nutr Metabol 39(12):1402–1408

Bailey SW, Ayling JE (2009) The extremely slow and variable activity of dihydrofolate reductase in human liver and its implications for high folic acid intake. Proc Natl Acad Sci 106(36):15424–15429

Wright AJ, Dainty JR, Finglas PM (2007) Folic acid metabolism in human subjects revisited: potential implications for proposed mandatory folic acid fortification in the UK. Br J Nutr 98(4):667–675

Kim YI (1999) Folate and carcinogenesis: evidence, mechanisms, and implications. J Nutr Biochem 10(2):66–88

Potter SJ, Kumar DL, DeFalco T (2016) Origin and differentiation of androgen-producing cells in the gonads. In: Molecular mechanisms of cell differentiation in gonad development. Springer, Cham, pp 101–134

He L, Wang Y, Long Z, Jiang C (2010) Clinical significance of IL-2, IL-10, and TNF-α in prostatic secretion of patients with chronic prostatitis. Urology 75(3):654–657

Wei X, Zhang G, Yuan H, Ding X, Li S, Zhang X, Hou J (2011) Detection and quantitation of soluble B7-H3 in expressed prostatic secretions: a novel marker in patients with chronic prostatitis. J Urol 185(2):532–537

Ellem SJ, Risbridger GP (2010) The dual, opposing roles of estrogen in the prostate. Ann NY Acad Sci 1155(1):174–186

Prins GS, Birch L, Couse JF, Choi I, Katzenellenbogen B, Korach KS (2001) Estrogen imprinting of the developing prostate gland is mediated through stromal estrogen receptor alpha: studies with alphaerko and betaerko mice. Can Res 61(16):6089

Kaufman JM, Vermeulen A (2005) The decline of androgen levels in elderly men and its clinical and therapeutic implications. Endocr Rev 26(6):833–876
Funding
This study was funded by Shanghai Research and Development Platform (Grant Number 17DZ2293600) and Shanghai Experimental Animal Scientific and Technological Innovative Action Plan (Grant Number 17140900801).
Ethics declarations
Conflict of interest
The authors declare that they have no conflict of interest.
Ethical approval
All applicable international, national, and/or institutional guidelines for the care and use of animals were followed.
Informed consent
Informed consent was obtained from all individual participants included in the study.
About this article
Cite this article
Zhu, J., Jia, Yl., Luo, Yw. et al. Effect of maternal folic acid supplementation on prostatitis risk in the rat offspring. Int Urol Nephrol 50, 1963–1973 (2018). https://doi.org/10.1007/s11255-018-1969-8
Received:

Accepted:

Published:

Issue Date:

DOI: https://doi.org/10.1007/s11255-018-1969-8
Keywords