Abstract
Purpose
In this study, we investigated the diagnostic value of human epididymis protein 4 (HE4) in acute and chronic renal dysfunction and analyzed the correlation between HE4 levels and the results of routine renal function tests. We aimed to provide evidence to establish HE4 as a novel biomarker of renal injury and its appropriate application as a marker of ovarian cancer.
Methods
We collected 259 serum samples from hospitalized patients with different causes of renal damage. HE4 serum levels were detected by chemiluminescence and the levels of serum creatinine, urea, and cystatin C were tested by conventional clinical chemical methods.
Results
The levels of HE4 were highest in the acute kidney injury groups and chronic kidney disease groups, although other groups were also significantly higher than the control group. HE4 and creatinine, urea, and cystatin C had a positive linear correlation. In contrast, HE4 and estimated glomerular filtration rate (eGFR) had a negative linear correlation, with a correlation coefficient of − 0.674 (P < 0.01). Area under the receiver-operating characteristic curve analysis showed that HE4 has higher diagnostic value compared with creatinine, urea, and cystatin C in both acute and chronic renal injury patients; however, HE4 and creatinine have a similar diagnostic value. Notably, HE4 concentration gradually increased with a decline of glomerular filtration rate, with significant differences evident between different eGFR stages.
Conclusion
HE4 is a potential biomarker of kidney injury in acute and chronic renal dysfunction. Importantly, clinicians should be aware of this when using HE4 to diagnose ovarian cancer.
This is a preview of subscription content, log in to check access.
Access options
Buy single article
Instant access to the full article PDF.
US$ 39.95
Price includes VAT for USA
Subscribe to journal
Immediate online access to all issues from 2019. Subscription will auto renew annually.
US$ 99
This is the net price. Taxes to be calculated in checkout.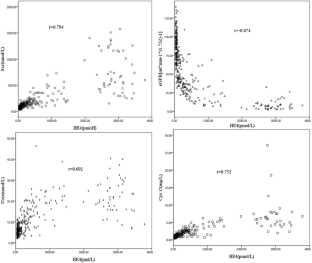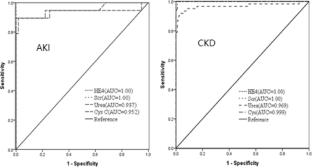 References
1.

Schummer M, Ng WV, Bumgarner RE et al (1999) Comparative hybridization of an array of 21,500 ovarian cDNAs for the discovery of genes overexpressed in ovarian carcinomas. Gene 238(2):375–385

2.

Chhikara N, Saraswat M, Tomar AK et al (2012) Human epididymis protein-4 (HE4): a novel cross-class protease inhibitor. PLoS ONE 7(11):e47672

3.

da Rocha Pitta D, Sarian LO, Barreta A et al (2013) Symptoms,CA125 and HE4 for the preoperative prediction of ovarian malignancy in Brazilian women with ovarian masses. BMC Cancer 13:423

4.

Li L, Wan J, Cai G et al (2016) Value of serum human epididymis secretory protein 4 as a marker for differential diagnosis of malignant and benign gynecological diseases of patients in southern China. Clin Chim Acta 459:170–176

5.

Yang ZJ, Wei CY, Luo ZQ et al (2013) Clinical value of serum human epididymis protein 4 assay in the diagnosis of ovarian cancer: a meta-analysis. Onco Targets Ther 6:957–966

6.

Yang Z, Luo Z, Zhao B et al (2013) Diagnosis and preoperative predictive value of serum HE4 concentrations for optimal debulking in epithelial ovarian cancer. Oncol Lett 6(1):28–34

7.

Saarelainen SK, Peltonen N, Lehtimaki T et al (2013) Predictive value of serum human epididymis protein 4 andcancer antigen 125 concentrations in endometrial carcinoma. Am J Obstet Gynecol 209(2):141–146

8.

Nagy B Jr, Krasznai ZT, Balla H et al (2012) Elevated human epididymis protein 4 concentrations in chronic kidney disease. Ann Clin Biochem 49:377–380

9.

LeBleu VS, Teng Y, O'Connell JT et al (2013) Identification of human epididymis protein-4 as a fibroblast-derived mediator of fibrosis. Nat Med 19(2):227–231

10.

Allison SJ (2013) Fibrosis: HE4—a biomarker and target in renal fibrosis. Nat Rev Nephro 9(3):124

11.

Lindquist JA, Mertens PR (2013) Myofibroblasts, regeneration or renal fibrosis-is there a decisive hint? Nephrol Dial Transplant 28(11):2678–2681

12.

Gizzo S, Ancona E, Saccardi C et al (2014) Could kidney glomerularfiltration impairment represent the "Achilles heel" of HE4 serum marker? A possible further implication. Clin Chem Lab Med 52(3):45–46

13.

Ping WU, Weimin YE, Chen LI et al (2015) Research on the diagnosis significance of human epididymis protein 4 for chronic kindey disease. Lab Med 30(5):461–464

14.

Hsu CY, Chertow GM, Curhan GC (2002) Methodological issues in studying the epidemiology of mild to moderate chronic renal insufficiency. Kidney Int 61(5):1567–1576

15.

Ferguson MA, Waikar SS (2012) Established and emerging markers of kidney function. Clin Chem 58(4):680–689

16.

Kellum JA, Lameire N, KDIGO AKI Guideline Work Group (2013) Diagnosis, evaluation, and management of acute kidney injury: a KDIGO summary. Crit Care 17(1):204

17.

Stevens PE, Levin A, Kidney Disease:Improving Global Outcomes Chronic Kidney Disease Guideline Development Work Group Members (2013) Evaluation and management of chronic kidney disease: synopsis of the kidney disease: improving global outcomes 2012 clinical practice guideline. Ann Intern Med 158(11):825–830

18.

Ministry of Health of the People 's Republic of China. WS/T403-2012. analytical quality specifications for routine analytes in clinical biochemistry. China Zhijian Publishing house/Standards Press of China, Beijing, 1–6 (2009)

19.

de Boer RA, Cao Q, Postmus D et al (2013) The WAP four-disulfide core domain protein HE4: a novel biomarker for heart failure. JACC Heart Fail 1(2):164–169

20.

Piek A, Meijers WC, Schroten NF et al (2017) HE4 serum levels are associated with heart failure severity in patients with chronic heart failure. J Card Fail 23(1):12–19

21.

Wan JX, Wang YH, Cai GR et al (2016) Elevated serum concentrations of HE4 as a novel biomarker of disease severity and renal fibrosis in kidney disease. Oncotarget 7(42):67748–67759

22.

Hu X-z, Cui L-y, Zhang J (2009) Investigation on reference range of human serum levels of human epididymis protein 4 in healthy people. China J Lab Med 32(12):1376–1378

23.

Simeoni M, Cerantonio A, Pastore I et al (2016) The correct renal function evaluation in patients with thyroid dysfunction. J Endocrinol Invest 39(5):495–507
Ethics declarations
Conflict of interest
The authors declare that they have no conflict of interest.
Ethical approval
All procedures performed in studies involving human participants were in accordance with the ethical standards of the institution and with the 1964 Declaration of Helsinki and its later amendments or comparable ethical standards.
Electronic supplementary material
Below is the link to the electronic supplementary material.
About this article
Cite this article
Wang, L., Sun, Y., Cai, X. et al. The diagnostic value of human epididymis protein 4 as a novel biomarker in patients with renal dysfunction. Int Urol Nephrol 50, 2043–2048 (2018). https://doi.org/10.1007/s11255-018-1930-x
Received:

Accepted:

Published:

Issue Date:
Keywords
Human epididymis protein 4

Ovarian cancer

Diagnosis

Renal function

Biomarker