Abstract
Objective
To evaluate the efficacy of sexual intercourse in expulsion of distal ureteric stones.
Patients and methods
The study included 56 patients with distal ureteric or intramural stone. The stones size ranged from 5 to 10 mm and were detected by US, plain X-ray film, and non-enhanced CT. The patients were divided randomly into group A included 28 patients who were advised to do sexual intercourse 3–4 times/week with administration of symptomatic treatment, and group B included 28 patients receiving symptomatic treatment only (control group) and were instructed not to do sexual intercourse or masturbation during the study. Follow-up (4 weeks) was done by plain X-ray, US, and urine analysis every week and by asking the patients about stone passage, time of expulsion, number of colicky attacks, and analgesic injections.
Results
Group A patients mean age was 36.5 ± 10.7 years and group B 37.3 ± 12.5 years. Stone expulsion rate, in the first 2 weeks for group A, was 82% (23/28), while in group B 53% (16/28), (P = 0.006). At the fourth week, expulsion rate for group A reached to 89%, but in group B 71.4%. The mean expulsion time was shorter in group A (11.9 ± 4.4 days) than group B (16.2 ± 6.7 days). The number of colicky attacks and analgesics for group A was less than group B.
Conclusions
Practicing sexual intercourse for 3–4 times/week for married male patients with distal ureteric stone (5–10 mm) increases the expulsion rate and decreases the frequency of renal colic and the needs for analgesic.
This is a preview of subscription content,
to check access.
Access this article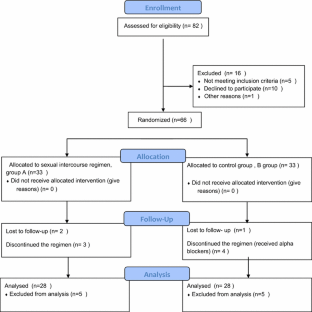 Similar content being viewed by others
References
Resim S, Ekerbicer H, Ciftci A (2005) Effect of tamsulosin on the number and intensity of ureteral colic in patients with lower ureteral calculus. Int J Urol 12:615–620

Kupeli B, Irkilata L, Gurocak S et al (2004) Does tamsulosin enhance lower ureteral stone clearance with or without shock wave lithotripsy? J Urol 64:6

Menon M, Resnick MI (2002) Urinary lithiasis: etiology, diagnosis, and medical management. In: Walsh PC, Retik AB, Vaughan ED et al (eds) Campbell's urology, vol 4. Saunders, Philadelphia, pp 3227–3292

Stoller ML, Bolton DM (2000) Urinary stone disease. In: Tanagho EA, McAninch JW (eds) Smith's urology. Lange Medical Book/Mc Graw-Hill, San Francisco, pp 291–320

Doluoglu OG, Demirbas A, Kilinc MF et al (2015) Can sexual intercourse be an alternative therapy for distal ureteral stones? A prospective, randomized, controlled study. Urology 86:19–24

Hollingsworth JM, Rogers MA, Kaufman SR et al (2006) Medical therapy to facilitate urinary stone passage a meta-analysis. Lancet 368:1171–1179

Seitz C, Liatsikos E, Propiglia F et al (2009) Medical therapy to facilitate the passage of stones: What is the evidence? Eur Urol 56:455–471

Hochreiter WW, Danuser H, Perrig M et al (2003) Extracorporeal shock wave lithotripsy for distal ureteral calculi. What a powerful machine can achieve. J Urol 169:878–880

Bredt DS, Hwang PM, Snyder SH (1990) Localization of nitric oxide synthase indicating a neural role for nitric oxide. Nature 347:768–806

Hernandez M, Prieto D, Orensanz LM et al (1995) Nitric oxide is involved in the non-adrenergic, non-cholinergic inhibitory neurotransmission of the pig intravesical ureter. Neurosci Lett 186:33–36

Stief CG, Taher A, Meyer M et al (1993) A possible role of nitric oxide (NO) in the relaxation of renal pelvis and ureter. J Urol 149:492A

Yucel S, Baskin LS (2003) Neuroanatomy of the ureterovesical junction: clinical implications. J Urol 170:945

Iselin CE, Ny L, Larsson B et al (1998) The nitric oxide synthase/nitric oxide and heme oxygenase/carbon monoxide pathways in the human ureter. Eur Urol 33:214

Yilmaz E, Batislam E, Basar MM et al (2005) The comparison and efficacy of 3 different alpha-1 adrenergic blockers for distal ureteral stones. J Urol 173:2010–2012

Agrawal M, Gupta M, Gupta A et al (2009) Prospective randomized trial comparing efficacy of alfuzosin and tamsulosin in management of lower ureteral Stones. Urology. 73:706–709

Segura JW, Preminger GM, Assimos DG et al (1997) Ureteral Stones Clinical Guidelines Panel summary report on the management of ureteral calculi. J Urol 158:1915–1921
Ethics declarations
Conflict of interest
Mohammad S. Abdel-Kader declares that he has no conflict of interest.
Informed consent
Informed consent was obtained from all individual participants included in the study.
About this article
Cite this article
Abdel-Kader, M.S. Evaluation of the efficacy of sexual intercourse in expulsion of distal ureteric stones. Int Urol Nephrol 49, 27–30 (2017). https://doi.org/10.1007/s11255-016-1448-z
Received:

Accepted:

Published:

Issue Date:

DOI: https://doi.org/10.1007/s11255-016-1448-z
Keywords