Abstract
Purpose
To evaluate the effect of cranberry extract (PAC-A ~ proanthocyanidin-A) on the in vitro bacterial properties of uropathogenic (E. coli) and its efficacy/tolerability in patients with subclinical or uncomplicated recurrent UTI (r-UTI).
Materials and methods
After obtaining clearance from the ethics committee and administering a written informed consent, 72 patients with r-UTI were enrolled as per protocol (November 2011 to March 2013) in this prospective study, to randomly receive (PAC-A: group I, 36) or (placebo: group II, 36), for 12 weeks. Any change/reduction in the incidence of r-UTI at 12 weeks was construed to be the primary endpoint of this study.
Results
After 12 weeks, bacterial adhesion scoring decreased (0.28)/(2.14) in group I/II (p < 0.001); 32/36 (88.8 %) and 2/36 (5.5 %) in groups I and II, respectively, turned MRHA negative (p < 0.001); biofilm (p < 0.01) and bacterial growth (p < 0.001) decreased in group I; microscopic pyuria score was 0.36/2.0 in group I/II (p < 0.001); r-UTI decreased to 33.33 versus 88.89 % in group I/II (p < 0.001); mean subjective dysuria score was 0.19 versus 1.47 in group I/II (p < 0.001), while mean urine pH was 5.88 versus 6.30 in group I/II (p < 0.001). No in vitro antibacterial activity of cranberry could be demonstrated, and no adverse events were noted.
Conclusions
The overall efficacy and tolerability of standardized cranberry extract containing (PAC-A) as a food supplement were superior to placebo in terms of reduced bacterial adhesion; bacterial MRHA negativity; urine pH reduction; and in preventing r-UTI (dysuria, bacteriuria and pyuria). Larger randomized controlled trials are needed to elucidate the precise role, exact dose and optimal duration of PAC-A therapy in patients at risk of r-UTI.
Access options
Buy single article
Instant access to the full article PDF.
US$ 39.95
Tax calculation will be finalised during checkout.
Subscribe to journal
Immediate online access to all issues from 2019. Subscription will auto renew annually.
US$ 79
Tax calculation will be finalised during checkout.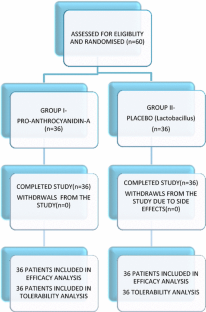 Abbreviations
PAC-A:

Proanthocyanidin-A

r-UTI:

Recurrent urinary tract infection

MS:

Mannose sensitive

MR:

Mannose resistant

MRHA:

Mannose-resistant hemagglutination assay

MPS:

Microscopic pyuria score

MBA:

Mean bacterial adhesion
References
1.

Grabe M, Bjerklund-Johansen TE, Botto H et al (2012) Guidelines on urological infections. Eur Assoc Urol. http://www.uroweb.org/fileadmin/tx_eauguidelines/2009/Full/Urological_Infections.pdf. Accessed on 1st Jan 2013

2.

Zafriri D, Ofek I, Adar R, Pocino M, Sharon N (1989) Inhibitory activity of cranberry juice on adherence of type 1 and type P fimbriated Escherichia coli to eucaryotic cells. Antimicrob Agents Chemother 33:92–98

3.

Ofek I, Mirelman D, Sharon N (1977) Adherence of Escherichia coli to human mucosal cells mediated by mannose receptors. Nature 265:623–625

4.

Gupta K, Scholes D, Stamm WE (1999) Increasing prevalence of antimicrobial resistance among uropathogens causing acute uncomplicated cystitis in women. JAMA 281:736–738

5.

Reid G, Hsiehl J, Potter P et al (2001) Cranberry juice consumption may reduce biofilms on uroepithelial cells: pilot study in spinal cord injured patients. Spinal Cord 39:26–30

6.

Vagarali MA, Karadesai SG, Patil CS et al (2008) Haemagglutination and siderophore production as the urovirulence markers of uropathogenic Escherichia coli. Indian J Med Microbiol 26(1):68–70

7.

Howell AB, Botto H, Combescure C et al (2010) Dosage effect on uropathogenic Escherichia coli anti-adhesion activity in urine following consumption of cranberry powder standardized for proanthocyanidin content: a multicentric randomized double blind study. BMC Infect Dis 10:94

8.

Clinical and laboratory Standards Institute. Methods for dilution Antimicrobial Susceptibility Tests for Bacteria that grow Aerobically; approved Standard- Ninth edition. CLSI Document M07-A9, Wayne, PA: Clinical and Laboratory Standards Institute; 2012

9.

Maki DG, Weise CE, Sarafin HW (1977) A semiquantitative culture method for identifying intravenous catheter related infection. New Engl J Med 296:1305–1309

10.

Risco E, Miguélez C, Sánchez de Badajoz E et al (2010) Effect of American cranberry (Cysticlean) on Escherichia coli adherence to bladder epithelial cells: in vitro and in vivo study. Arch Esp Urol 63(6):422–430

11.

Di Martino P, Agniel R, David K et al (2006) Reduction of Escherichia coli adherence to uroepithelial bladder cells after consumption of cranberry juice: a double-blind randomized placebo-controlled cross-over trial. World J Urol 24:21–27

12.

Gupta A, Dwivedi M, Mahdi AA et al (2012) Inhibition of adherence of multi-drug resistant E. coli by proanthocyanidin. Urol Res 40:143–150

13.

Gupta K, Chou MY, Howell A, Wobbe C, Grady R, Stapleton AE (2007) Cranberry products inhibit adherence of p-fimbriated Escherichia coli to primary cultured bladder and vaginal epithelial cells. J Urol 177:2357–2360

14.

LaPlante KL, Sarkisian SA, Woodmansee S et al (2012) Effects of cranberry extracts on growth and biofilm production of Escherichia coli and Staphylococcus species. Phytother Res 26:1371–1374

15.

Monroy-Torres R, Macías AE (2005) Does cranberry juice have bacteriostatic activity? Rev Invest Clin 57:442–446

16.

Lee YL, Najm WI, Owens J et al (2010) Anti-microbial activity of urine after ingestion of cranberry: a pilot study. Evid Based Complement Alternat Med 7:227–232

17.

McMurdo ME, Bissett LY, Price RJ et al (2005) Does ingestion of cranberry juice reduce symptomatic UTI in older people in hospital? a double-blind, placebo-controlled trial. Age Ageing 34:256–261

18.

Barbosa-Cesnik C, Brown MB, Buxton M et al (2011) Cranberry juice fails to prevent recurrent urinary tract infection: results from a randomized placebo-controlled trial. Clin Infect Dis 52:23–30

19.

Beerepoot MA, Ter Riet G, Nys S et al (2011) Cranberries vs antibiotics to prevent UTI: a randomized double-blind non inferiority trial in premenopausal women. Arch Intern Med 171:1270–1278

20.

Waites KB, Canupp KC, Armstrong S et al (2004) Effect of cranberry extract on bacteriuria and pyuria in persons with neurogenic bladder secondary to spinal cord injury. J Spinal Cord Med 27:35–40

21.

Linsenmeyer TA, Harrison B, Oakley A et al (2004) Evaluation of cranberry supplement for reduction of UTI in individuals with neurogenic bladders secondary to spinal cord injury: a prospective, double-blinded, placebo-controlled, crossover study. J Spinal Cord Med 27:29–34

22.

Kontiokari T, Sundqvist K, Nuutinen M et al (2001) Randomised trial of cranberry-lingonberry juice and lactobacillus GG drink for the prevention of UTI in women. BMJ 322:1571

23.

Bailey DT, Dalton C, Joseph Daugherty F et al (2007) Can a concentrated cranberry extract prevent recurrent UTI in women? a pilot study. Phytomedicine 14:237–241

24.

McMurdo ME, Argo I, Phillips G et al (2009) Cranberry or trimethoprim for the prevention of recurrent UTI? a randomized controlled trial in older women. J Antimicrob Chemother 63:389–395

25.

Hess MJ, Hess PE, Sullivan MR et al (2008) Evaluation of cranberry tablets for the prevention of UTI in spinal cord injured patients with neurogenic bladder. Spinal Cord 46:622–626

26.

Beerepoot MA, Geerlings SE, van Haarst EP, van Charante NM, Ter Riet G (2013) Non antibiotic prophylaxis for recurrent UTI: a systematic review and meta-analysis of randomized controlled trials. J Urol 190:1981–1989

27.

Micali S, Isgro G, Bianchi G, Miceli N, Calapai G, Navarra M (2014) Cranberry and recurrent cystitis: more than marketing? Crit Rev Food Sci Nutr 54(8):1063–1075

28.

Burleigh AE, Benck SM, McAchran SE, Reed JD, Krueger CG, Hopkins WJ (2013) Consumption of sweetened, dried cranberries may reduce UTI incidence in susceptible women: a modified observational study. Nutr J 12(1):139

29.

Vasileiou I, Katsargyris A, Theocharis S, Giaginis C (2013) Current clinical status on the preventive effects of cranberry consumption against UTI. Nutr Res. 33(8):595–607

30.

Takahashi S, Hamasuna R, Yasuda M, Arakawa S, Tanaka K, Ishikawa K et al (2013) A randomized clinical trial to evaluate the preventive effect of cranberry juice (UR65) for patients with recurrent UTI. J Infect Chemother 19(1):112–117

31.

Beerepoot M, Geerlings S (2016) Non-antibiotic prophylaxis for urinary tract infections. Pathogens 5(2):36. doi:10.3390/pathogens5020036

32.

Foxman B, Cronenwett AE, Spino C, Berger MB, Morgan DM (2015) Cranberry juice capsules and UTI after surgery: results of a randomized trial. Am J Obstet Gynecol 213(2):194.e1-8. doi:10.1016/j.ajog.2015.04.003

33.

Ledda A, Bottari A, Luzzi R, Belcaro G, Hu S, Dugall M et al (2015) Cranberry supplementation in the prevention of non-severe lower urinary tract infections: a pilot study. Eur Rev Med Pharmacol Sci 19(1):77–80
Funding
The authors certify that the above study was conducted entirely from within regular running expenditure available to the government institution and no extra institutional financial grant or funding was availed of in any manner whatsoever.
Ethics declarations
Conflict of interest
The authors further declare that they have nothing to disclose and have no direct or indirect commercial and/or financial incentive associated with this research.
Ethical statement
The authors declare that the above manuscript is in compliance with ethical standards for research in human participants and the authors have no potential sources of conflict of interest associated with its publication.
Informed consent
The authors also certify that informed consent was obtained from all the human participants in this study as per its protocol registered with the Clinical Trials Registry of India.
About this article
Cite this article
Singh, I., Gautam, L.K. & Kaur, I.R. Effect of oral cranberry extract (standardized proanthocyanidin-A) in patients with recurrent UTI by pathogenic E. coli: a randomized placebo-controlled clinical research study. Int Urol Nephrol 48, 1379–1386 (2016). https://doi.org/10.1007/s11255-016-1342-8
Received:

Accepted:

Published:

Issue Date:
Keywords
Cranberry

Vaccinium macrocarpon

Proanthocyanidin-A

Lactobacillus

Urinary tract infection

Escherichia coli

Non-antibiotic strategies