Abstract
Background
Our aim was to evaluate the incidence of biopsy-proven kidney diseases in Lithuania and to compare their changes in three different time intervals. All Lithuanian kidney biopsies were performed in the National Center of Pathology, enabling analysis at the national level.
Methods
The native kidney biopsy data were reviewed, and incidence of renal disorders and patient demographics were compared during three time intervals: 1994–1999, 2000–2006, and 2007–2012.
Results
A total of 5,368 kidney biopsies were performed, including 3,640 native kidney and 1,728 kidney transplant biopsies; 59.5 % (2,165) of the native kidney biopsies were classified as primary glomerulopathies. The most common entity was IgA nephropathy (737; 34.0 %), followed by focal segmental glomerulosclerosis (285; 13.2 %) and membranoproliferative glomerulonephritis (256; 11.8 %). Prominent decrease in incidence of membranoproliferative glomerulonephritis (16.8 to 8.7 % from the first to third time interval) and increase in (mainly, pauci-immune) crescentic glomerulonephritis (6.2 to 15.3 %) were noted over the study period. In a subgroup of 427 pediatric native kidney biopsies, IgAN accounted for 24.9 % of biopsies. The incidence of MCNS increased dramatically from the first to third time interval (6.3 to 25.4 %), while the number of MPGN increased in the second time interval (from 7.2 to 8.9 %) but decreased in the third one (to 4.4 %).
Conclusions
Decrease in relative incidence of membranoproliferative glomerulonephritis, most likely, reflects improvement in socioeconomic conditions, while relative increase in crescentic glomerulonephritis is interpreted as improved diagnostics of the disease.
This is a preview of subscription content,
to check access.
Access this article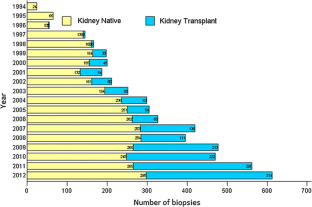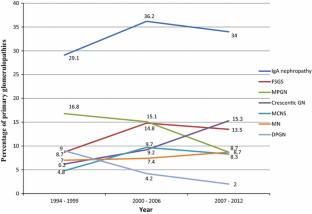 Similar content being viewed by others
Abbreviations
DPGN:

Diffuse endocapillary proliferative glomerulonephritis

FSGS:

Focal segmental glomerulosclerosis

GN:

Glomerulonephritis

HUS/TTP:

Hemolytic uraemic syndrome/thrombotic thrombocytopenic purpura

IgAN:

Immunoglobulin A nephropathy

MCNS:

Minimal change nephrotic syndrome

MN:

Membranous nephropathy

MPGN:

Membranoproliferative glomerulonephritis

NCP:

National Center of Pathology

NOS:

Not otherwise specified

Crescentic GN:

Crescentic glomerulonephritis

TA/IF:

Tubular atrophy/interstitial fibrosis

TMA:

Thrombotic microangiopathy
References
Rychlik I, Jancova E, Tesar V, Kolsky A, Lacha J, Stejskal J, Stejskalova A, Dusek J, Herout V (2004) The Czech registry of renal biopsies. Occurrence of renal diseases in the years 1994–2000. Nephrol Dial Transpl 19:3040–3049

Heaf J, Løkkegaard H, Larsen S (2004) The epidemiology and prognosis of glomerulonephritis in Denmark 1985–1997. Nephrol Dial Transpl 14:1889–1897

Gesualdo L, Di Palma AM, Morrone LF, Strippoli GF, Schena FP (2004) Italian Immunopathology Group, Italian Society of Nephrology. The Italian experience of the national registry of renal biopsies. Kidney Int 66:890–894

Horvatic I, Tisljar M, Bulimbasic S, Bozic B, GalesicLiubanovic D, Galesic K (2013) Epidemiologic data of adult native biopsy-proven renal diseases in Croatia. Int Urol Nephrol 45:1577–1587

Rivera F, Lopez-Gomez JM, Perez-Garcıa R (2002) Spanish Registry of Glomerulonephritis. Frequency of renal pathology in Spain 1994–1999. Nephrol Dial Transpl 17:1594–1602

Kasteckas M, Vaisnoras T, Laurinavicius A (2001) Pirminės glomerulopatijos Lietuvoje (1995–1999 metų inkstų bioptatų duomenų retrospektyvioji analizė). (Primary glomerulopathies in Lithuania (retrospective analysis of 1995–1999 renal biopsy data.)) Medicina (Kaunas) 37:429–32

Beitnaraite S, Kovaliunas E, Laurinavicius A (2007) Pirminės glomerulopatijos Lietuvoje (2000–2006 metų inkstų bioptatų retrospektyvioji analizė). (Primary glomerulopathies in Lithuania (retrospective analysis of 2000–2006 renal biopsy data)) Medicina (Kaunas) 43 Suppl 1:6–10

Kurnatowska I, Jedrzejka D, Malyska A, Wagrowska-Danilewicz M, Danilewicz M, Nowicki M (2012) Trends in the incidence of biopsy-proven glomerular diseases in the adult population in central Poland in the years 1990–2010. Kidney Blood Press Res 35:254–258

Sipiczki T, Ondrik Z, Abrahám G, Pokorny G, Turi S, Sonkodi S, Kemeny E, Ivanyi B (2004) The incidence of renal diseases as diagnosed by biopsy in Hungary. OrvHetil 145(26):1373–1379

Polenakovic MH, Grcevska L, Dzikova S (2003) The incidence of biopsy-proven primary glomerulonephritis in the Republic of Macedonia-long-term follow-up. Nephrol Dial Transpl 18(Suppl 5):v26–v27

Covic A, Schiller A, Volovat C, Gluhovschi G, Gusbeth-Tatomir P, Petrica L, Caruntu ID, Bozdog G, Velciov S, Trandafirescu V, Bob F, Gluhovski C (2006) Epidemiology of renal disease in Romania: a 10 year review of two regional renal biopsy databases. Nephrol Dial Transpl 21:419–424

Briganti EM, Dowling J, Finlay M, Hill PA, Jones CL, Kincaid-Smith PS, Sinclair R, McNeil JJ, Atkins RC (2001) The incidence of biopsy-proved glomerulonephritis in Australia. Nephrol Dial Transpl 16(7):1364–1367

AlRiyami D, AlShaaili K, AlBulushi Y, AlDhahli A, Date A (2013) The spectrum of glomerular diseases on renal biopsy: data from a single tertiary center in Oman. Oman Med J 28(3):213–215

Polito MG, de Moura LA, Kirsztajn GM (2010) An overview on frequency of renal biopsy diagnosis in Brazil: clinical and pathological patterns based on 9,617 native kidney biopsies. Nephrol Dial Transpl 25:490–496

Huraib S, Al Khader A, Shaheen FA, Abu Aisha H, Souqiyyeh MZ, Al Mohana F, Soliman M, WakeelJ Al, Mitwalli A, Al Mohaya S, Said R, Abdulhaleem Al, Menway L, Sohaibani M, Chan N (2000) The spectrum of glomerulonephritis in Saudi Arabia: the results of the Saudi registry. Saudi J Kidney Dis Transpl 11:434–441

Chang JH, Kim DK, Kim HW, Park SY, Yoo TH, Kim BS, Kang SW, Choi KH, Han DS, Jeong HJ, Lee HY (2009) Changing prevalence of glomerular diseases in Korean adults: a review of 20 years of experience. Nephrol Dial Transpl 24:2406–2410

Li LS, Liu ZH (2004) Epidemiologic data of renal diseases from a single unit in China: analysis based on 13,519 renal biopsies. Kidney Int 66:920–923

Naumovic R, Pavlovic S, Stojkovic D, Basta-Jovanovic G, Nesic V (2009) Renal biopsy registry from a single centre in Serbia: 20 years of experience. Nephrol Dial Transpl 24:877–885

Mesquita M, Fosso C, Bakoto Sol E, Libertalis M, Corazza F, Vanden Houte K, Dratwa M (2011) Renal biopsy findings in Belgium: a retrospective single center analysis. Acta Clin Belg 66:104–109

Simon P, Ramee MP, Boulahrouz R, Stanescu C, Charasse C, Ang KS, Leonetti F, Cam G, Laruelle E, Autuly V, Rioux N (2004) Epidemiologic data of primary glomerular diseases in western France. Kidney Int 66:905–908

Braun N, Schweisfurth A, Lohofener C, Lange C, Gründemann C, Kundt G, Gröne HJ (2011) Epidemiology of glomerulonephritis in Northern Germany. Int Urol Nephrol 43:1117–1126

Laurinavicius A, Gruodyte E, Priluckiene J, Razukeviciene L, Supranaviciene L, Salkus G (2003) Galimos imunokompleksinio membranoproliferacinio glomerulonefrito antigenemijos priežastys Lietuvoje (Potential causes of antigenemia in the patient with an immune complex-mediated membranoproliferative glomerulonephritis in Lithuania). Medicina (Kaunas) 39(Suppl 1):28–32

Sugiyama H, Yokoyama H, Sato H, Saito T, Kohda Y, Nishi S, Tsuruya K, Kiyomoto H, Iida H, Sasaki T, Higuchi M, Hattori M, Oka K, Kagami S, Nagata M, Kawamura T, Honda M, Fukasawa Y, Fukatsu A, Morozumi K, Yoshikawa N, Yuzawa Y, Matsuo S, Kiyohara Y, Joh K, Taguchi T, Makino H (2011) Committee for Standardization of Renal Pathological Diagnosis and Working Group for Renal Biopsy Database, Japanese Society of Nephrology, Tokyo, Japan. Japan renal biopsy registry: the first nationwide, web-based, and prospective registry system of renal biopsies in Japan. Clin Exp Nephrol 15:493–503

Röcken C, Shakespeare A (2002) Pathology, diagnosis and pathogenesis of AA amyloidosis. Virchows Arch 440(2):111–122

Gillmore JD, Hawkins PN (2013) Pathophysiology and treatment of systemic amyloidosis. Nat Rev Nephrol 9(10):574–586

Miglinas M, Grubinskaite E, Beitnaraite S, Alekniene D, Laurinavicius A (2010) 1998–2008 metųimunoglobulino A nefropatijos klinikinių formų paplitimo Lietuvoje retrospektyvi analizė (The incidence of clinical forms of immunoglobulin A nephropathy retrospective analysis in 1998–2008 year). Medicinos teorija ir praktika 16(3):246–252
Acknowledgments
The authors acknowledge National Center of Pathology and its renal pathology team for great collaboration.
Conflict of interest
The authors declare that they have no conflict of interests.
About this article
Cite this article
Brazdziute, E., Miglinas, M., Gruodyte, E. et al. Nationwide renal biopsy data in Lithuania 1994–2012. Int Urol Nephrol 47, 655–662 (2015). https://doi.org/10.1007/s11255-015-0927-y
Received:

Accepted:

Published:

Issue Date:

DOI: https://doi.org/10.1007/s11255-015-0927-y
Keywords