Abstract
Uremic tumoral calcinosis (UTC) is a form of metastatic tissue calcification unique to dialysis patients, manifesting with amorphous and cystic masses containing calcium phosphate deposits in periarticular soft tissue. An involvement of the cervical spine with bone destruction is extremely rare in UTC. We describe a 44-year-old uremic female on long-term continuous ambulatory peritoneal dialysis who developed UTC in the peri-odontoid region with consequent atlantoaxial subluxation and spinal cord compression, featuring severe neck soreness, headache, and hypertension. Surgical removal of the destructive cervical spine lesion, showing typical tumoral calcinosis on histology, completely resolved the clinical symptoms. To date, the patient maintains uneventful postoperative course with tight control of serum phosphorus, calcium, and secondary hyperparathyroidism by medical treatment. We also review other reported unusual cases of UTC involving the cervical spine and discuss the differential diagnosis of destructive spinal lesions in uremic patients, such as UTC, dialysis-related amyloidosis, and brown tumors.
Access options
Buy single article
Instant access to the full article PDF.
USD 39.95
Price excludes VAT (USA)
Tax calculation will be finalised during checkout.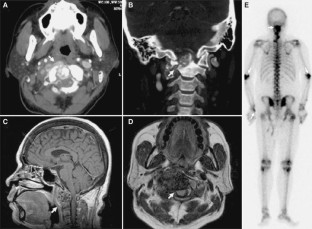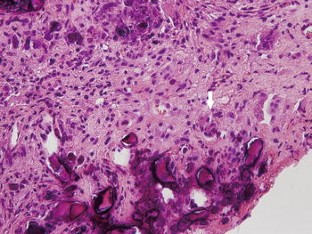 References
Cofan F, Garcia S, Combalia A et al (1999) Uremic tumoral calcinosis in patients receiving longterm hemodialysis therapy. J Rheumatol 26:379–385

Hamada J, Tamai K, Saotome K et al (2006) Uremic tumoral calcinosis in hemodialysis patients: clinicopathological findings and identification of calcific deposits. J Rheumatol 33:119–126

Chu HY, Chu P, Lin SH et al (2011) Uremic tumoral calcinosis in patients on peritoneal dialysis: clinical, radiographic, and laboratory features. Perit Dial Int 31:430–439

Möckel G, Buttgereit F, Perka C et al (2005) Tumoral calcinosis revisited: pathophysiology and treatment. Rheumatol Int 25:55–59

Braun J (2005) Extraosseous calcification in patients with chronic renal failure—no escape? Nephrol Dial Transplant 20:2054–2059

Fernández E, Amoedo ML, Montoliu J et al (1993) Tumoral calcinosis in haemodialysis patients without severe hyperparathyroidism. Nephrol Dial Transplant 8:1270–1273

Matsukado K, Amano T, Nagata S et al (2001) Tumoral calcinosis in the upper cervical spine causing progressive radiculomyelopathy—case report. Neurol Med Chir 41:411–414

Carlson AP, Yonas HM, Turner PT (2007) Disorder of tumoral calcinosis of the spine: illustrative case study and review of literature. J Spinal Disord Tech 20:97–103

Jackson W, Sethi A, Vaidya R et al (2007) Unusual spinal manifestation in secondary hyperparathyroidism: a case report. Spine 32:557–560

Remy-Leroux V, Reguiaï Z, Bernard P et al (2009) Tumoral calcinosis at an unusual site in a haemodialysis patient. Ann Dermatol Venereol 136:350–354

Bland JH, Boushey DR (1990) Anatomy and physiology of the cervical spine. Semin Arthritis Rheum 20:1–20

Susan RM, Nikolai B (2001) Joints of the cervical vertebral column. J Orthop Sports Phys Ther 31:174–182

Bogduk N, Govind J (2009) Cervicogenic headache: an assessment of the evidence on clinical diagnosis, invasive tests, and treatment. Lancet Neurol 8:959–968

Olsen KM, Chew FS (2006) Tumoral calcinosis: pearls, polemics, and alternative possibilities. Radiographics 26:871–885

Danesh F, Ho LT (2001) Dialysis-related amyloidosis: history and clinical manifestations. Semin Dial 14:80–85

Theodorou DJ, Theodorou SJ, Resnick D (2002) Imaging in dialysis spondyloarthropathy. Semin Dial 15:290–296

Mateo L, Massuet A, Sánchez Torres MC et al (2011) Brown tumor of the cervical spine: a case report and review of the literature. Clin Rheumatol 30:419–424

Kaya RA, Cavuşoğlu H, Tanik C et al (2007) Spinal cord compression caused by a brown tumor at the cervicothoracic junction. Spine J 7:728–732
About this article
Cite this article
Chang, CC., Sung, CC., Hsia, CC. et al. Uremic tumoral calcinosis causing atlantoaxial subluxation and spinal cord compression in a patient on continuous ambulatory peritoneal dialysis. Int Urol Nephrol 45, 1511–1516 (2013). https://doi.org/10.1007/s11255-012-0215-z
Received:

Accepted:

Published:

Issue Date:

DOI: https://doi.org/10.1007/s11255-012-0215-z
Keywords