Abstract
The anatomical proximity of axillary artery to the humeral head makes it quite vulnerable to blunt trauma during shoulder injury. Axillary artery rupture and prolonged ischemia may lead to rhabdomyolysis and acute renal failure. Herein we present a case of a patient who sustained proximal humerus fracture associated with axillary artery rupture and acute renal failure due to rhabdomyolysis.
Access options
Buy single article
Instant access to the full article PDF.
US$ 39.95
Tax calculation will be finalised during checkout.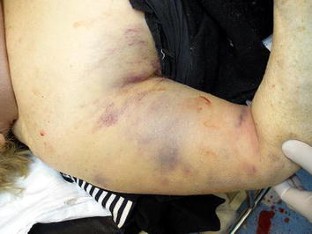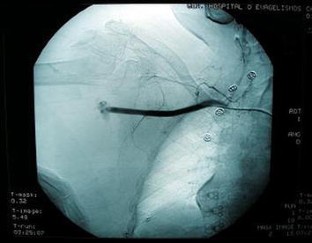 References
1.

Gates J, Knox J (1995) Axillary artery injuries secondary to anterior dislocation of the shoulder. J Trauma 39(3):581–583

2.

Mc Laughlin J, Light R, Lustrin I (1998) Axillary artery injury as a complication of proximal humerus fractures. J Shoulder Elbow Surg 7:292–294

3.

Zuckerman J, Flugstag D, Teitz C et al (1984) Axillary artery injury as a complication of proximal humerus fractures. Two case reports and a review of the literature. Clin Orthop Relat Res 189:234–237

4.

Adovasio R, Visintin E, Sgardi G (1996) Arterial injury of the axilla: an unusual case after blunt trauma of the shoulder. J Trauma 41(4):754–756

5.

Giannoglou G, Chatzizisis Y, Misirli G (2007) The syndrome of rhabdomyolysis: pathophysiology and diagnosis. Eur J Intern Med 18(2):90–100

6.

Criddle L (2003) Rhabdomyolysis: pathophysiology, recognition, and management. Crit Care Nurse 23(6):14–30

7.

Zager RA (1996) Rhabdomyolysis and myohemoglobinuric acute renal failure. Kidney Int 49:314–326

8.

Vanholder R, Sever MS, Erek E (2000) Rhabdomyolysis. J Am Soc Nephrol 11:1553–1561

9.

Polderman KH (2004) Acute renal failure and rhabdomyolysis. Int J Artif Organs 27:1030–1033

10.

Naderi A, Palmer B (2006) Rhabdomyolysis and acute renal failure associated with influenza virus type B infection. Am J Med Sci 332(2):88–89
About this article
Cite this article
Mouzopoulos, G., Lasanianos, N., Mouzopoulos, D. et al. Acute renal failure due to rhabdomyolysis after proximal humerus fracture associated with axillary artery rupture. Int Urol Nephrol 40, 855 (2008). https://doi.org/10.1007/s11255-008-9341-z
Received:

Accepted:

Published:
Keywords
Humerus

Fracture

Ischemia

Rhabdomyolysis

Acute renal failure