Abstract
Aim
In recent years significant progress has been made in identifying and quantitating physico-chemical processes involved in urinary stone formation. The ability of urine to inhibit calcium oxalate crystallization is an important mechanism against stone formation. Dietary factors appear to affect the ability of urine to inhibit calcium oxalate crystallization. These factors encouraged us to study the effects of lemon and orange juices on calcium oxalate crystallization in vitro.
Material and methods
The nucleation and aggregation of calcium oxalate monohydrate crystals were studied using turbidimetric 30-min time course measurements of optic density at 620 nm after mixing solutions containing calcium chloride and sodium oxalate at 37°C, pH 5.7. The formation of crystals is induced by the addition of the oxalate and calcium solution. The effects on calcium oxalate crystal growth of trisodium citrate, lemon and orange juices were examined. The effects of lemon and orange juices were evaluated by the addition of 50 ml of juices. The optical density is measured at physiological conditions. The maximum increase of optic density with time, termed SN, reflects maximum rate of formation of new particles. After an equilibrium has been reached, a progressive decrease of optic density with time is observed. Rate of aggregation, SA, is derived from the maximum decrease in optic density.
Results
Among the modifiers studied, citrate decreased both SN and SA (P < 0.001). Lemon juice was also found to inhibit the rate of crystal nucleation and aggregation. But orange juice did not have any effect on the calcium oxalate crystallization (P > 0.05).
Conclusion
These results show that effective prevention of urinary stone formation should aim at restoring the urine's ability to inhibit calcium oxalate crystallization and more emphasis should be given to dietary measures.
This is a preview of subscription content, log in to check access.
Access options
Buy single article
Instant access to the full article PDF.
US$ 39.95
Price includes VAT for USA
Subscribe to journal
Immediate online access to all issues from 2019. Subscription will auto renew annually.
US$ 99
This is the net price. Taxes to be calculated in checkout.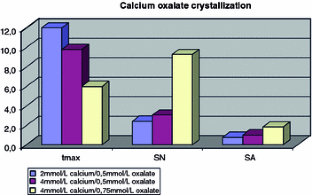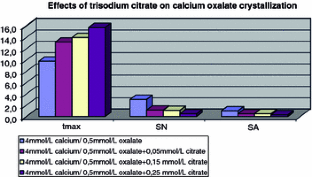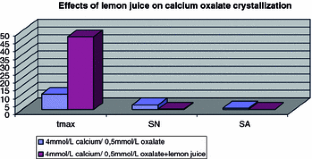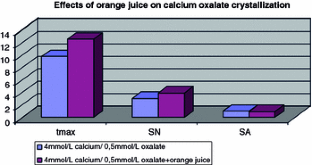 References
1.

Pak CYC (1991) Etiology and treatment of urolithiasis. Am J Kidney Dis 6:624–637

2.

Finlayson B (1978) Physicochemical aspects of urolithiasis. Kidney Int 13:344–360

3.

Siener R, Hesse A (2005) Recent advances in nutritional research on urolithiasis. World J Urol 23:304–308

4.

Traxer O, Huet B, Poindexter J, Pak CYC, Pearle MS (2003) Effect of ascorbic acid consumption on urinary stone risk factors. J Urol 170:397–401

5.

Berg C, Tiselius HG (1986) The effect of pH on the risk of calcium oxalate crystallization in urine. Eur Urol 12:59–61

6.

Hennequin C, Lalanne V, Daudon M, Lacour B, Drueke T (1993) A new approach to studying inhibitors of calcium oxalate crystal growth. Urol Res 21:101–108

7.

Oussama A, Touhami M, Mbarki M (2005) In vitro and in vivo study of effect of lemon juice on urinary lithogenesis. Arch Esp Urol 58:1087–1092

8.

Seltzer MA, Low RK, McDonald M (1996) Dietary manipulation with lemonade to treat hypocitraturic calcium nephrolithiasis. J Urol 156:907–909

9.

Wabner CL, Pak CYC (1993) Effect of orange juice consumption on urinary stone risk factors. J Urol 149:1405–1408

10.

Hess B (1991) The role of Tamm-Horsfall glycoprotein and nephrocalcin in calcium oxalate monohydrate crystallization processes. Scanning Microsc 5:689–695

11.

Goldfarb DS, Asplin JR (2001) Effect of grapefruit juice on urinary lithogenicity. J Urol 166:263–267
About this article
Cite this article
Kulaksızoğlu, S., Sofikerim, M. & Çevik, C. In vitro effect of lemon and orange juices on calcium oxalate crystallization. Int Urol Nephrol 40, 589–594 (2008). https://doi.org/10.1007/s11255-007-9256-0
Received:

Accepted:

Published:

Issue Date:
Keywords
Calcium oxalate crystallization

Citrate

Lemon juice

Orange juice