Abstract
Insulin resistance is characterized by the systemic impairment of insulin action and is usually the result of aging, obesity, chronic inflammation, or another factor that may contribute to the inhibition of the insulin signaling pathway. Insulin resistance is accompanied by defects in lipid metabolism and blood coagulation, hypertension, obesity, and vascular inflammation in a syndrome called syndrome X or metabolic syndrome. Metabolic syndrome is involved in the development of atherosclerosis with consequent cardiovascular complications including acute myocardial infarction, stroke, and vascular disease. Recent data have shown that vitamin D acts as a negative regulator of the renin gene and that vitamin D deficiency is followed by increased renin-angiotensin II expression. The link between the insulin signaling pathway/insulin resistance and the renin-angiotensin system has been well documented in previous studies. The present review focuses on disorders characterized by a reduction in vitamin D concentration or its receptor function and the development of insulin resistance or metabolic syndrome, and discusses also possible therapeutic interventions.
Access options
Buy single article
Instant access to the full article PDF.
US$ 39.95
Tax calculation will be finalised during checkout.
Subscribe to journal
Immediate online access to all issues from 2019. Subscription will auto renew annually.
US$ 79
Tax calculation will be finalised during checkout.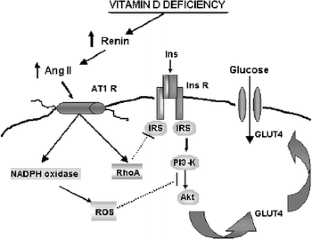 References
1.

Lips P, Duong T, Oleksik A et al (2001) A global study of vitamin D status and parathyroid function in postmenopausal women with osteoporosis: baseline data from the multiple outcomes of raloxifene evaluation clinical trial. J Clin Endocrinol Metab 86(3):1212–1221

2.

McKenna MJ (1992) Differences in vitamin D status between countries in young adults and the elderly. Am J Med 93(1):69–77

3.

DeLuca HF (2004) Overview of general physiologic features and functions of vitamin D. Am J Clin Nutr 80(6 Suppl):1689S–1696S

4.

Bachschmid MM, van der Loo B (2005) A new "sunshine" in the vasculature? Circulation 111(13):1571–1573

5.

Brown AJ, Dusso A, Slatopolsky E (1999) Vitamin D. Am J Physiol 277(2 Pt 2):F157–F175

6.

Christakos S, Dhawan P, Liu Y, Peng X, Porta A (2003) New insights into the mechanisms of vitamin D action. J Cell Biochem 88(4):695–705

7.

Yoshizawa T, Handa Y, Uematsu Y et al (1997) Mice lacking the vitamin D receptor exhibit impaired bone formation, uterine hypoplasia and growth retardation after weaning. Nat Genet 16(4):391–396

8.

Panda DK, Miao D, Tremblay ML et al (2001) Targeted ablation of the 25-hydroxyvitamin D 1alpha-hydroxylase enzyme: evidence for skeletal, reproductive, and immune dysfunction. Proc Natl Acad Sci USA 98(13):7498–7503

9.

Li YC, Pirro AE, Amling M et al (1997) Targeted ablation of the vitamin D receptor: an animal model of vitamin D-dependent rickets type II with alopecia. Proc Natl Acad Sci USA 94(18):9831–9835

10.

Dardenne O, Prud'homme J, Arabian A, Glorieux FH, St-Arnaud R (2001) Targeted inactivation of the 25-hydroxyvitamin D(3)-1(alpha)-hydroxylase gene (CYP27B1) creates an animal model of pseudovitamin D-deficiency rickets. Endocrinology 142(7):3135–3141

11.

Tryfonidou MA, Stevenhagen JJ, van den Bemd GJ et al (2002) Moderate cholecalciferol supplementation depresses intestinal calcium absorption in growing dogs. J Nutr 132(9):2644–2650

12.

Kabasawa Y, Asahina I, Gunji A, Omura K (2003) Administration of parathyroid hormone, prostaglandin E2, or 1-alpha,25-dihydroxyvitamin D3 restores the bone inductive activity of rhBMP-2 in aged rats. DNA Cell Biol 22(9):541–546

13.

Blutt SE, Polek TC, Stewart LV, Kattan MW, Weigel NL (2000) A calcitriol analogue, EB1089, inhibits the growth of LNCaP tumors in nude mice. Cancer Res 60(4):779–782

14.

Danilenko M, Wang Q, Wang X, Levy J, Sharoni Y, Studzinski GP (2003) Carnosic acid potentiates the antioxidant and prodifferentiation effects of 1alpha,25-dihydroxyvitamin D3 in leukemia cells but does not promote elevation of basal levels of intracellular calcium. Cancer Res 63(6):1325–1332

15.

Narayanan R, Sepulveda VA, Falzon M, Weigel NL (2004) The functional consequences of cross-talk between the vitamin D receptor and ERK signaling pathways are cell-specific. J Biol Chem 279(45):47298–47310

16.

Zanello LP, Norman AW (2004) Rapid modulation of osteoblast ion channel responses by 1alpha,25(OH)2-vitamin D3 requires the presence of a functional vitamin D nuclear receptor. Proc Natl Acad Sci USA 101(6):1589–1594

17.

Li YC, Kong J, Wei M, Chen ZF, Liu SQ, Cao LP (2002) 1,25-Dihydroxyvitamin D(3) is a negative endocrine regulator of the renin-angiotensin system. J Clin Invest 110(2):229–238

18.

Song X, Bishop JE, Okamura WH, Norman AW (1998) Stimulation of phosphorylation of mitogen-activated protein kinase by 1alpha,25-dihydroxyvitamin D3 in promyelocytic NB4 leukemia cells: a structure-function study. Endocrinology 139(2):457–465

19.

Gniadecki R (1996) Activation of Raf-mitogen-activated protein kinase signaling pathway by 1,25-dihydroxyvitamin D3 in normal human keratinocytes. J Invest Dermatol 106(6):1212–1217

20.

Erben RG, Soegiarto DW, Weber K et al (2002) Deletion of deoxyribonucleic acid binding domain of the vitamin D receptor abrogates genomic and nongenomic functions of vitamin D. Mol Endocrinol 16(7):1524–1537

21.

Holick M (2002) Vitamin D: the underappreciated D-lightful hormone that is important for skeletal and cellular health. Curr Opin Endocrinol Diab 9(1):87–98

22.

Somjen D, Weisman Y, Kohen F et al (2005) 25-hydroxyvitamin D3-1alpha-hydroxylase is expressed in human vascular smooth muscle cells and is upregulated by parathyroid hormone and estrogenic compounds. Circulation 111(13):1666–1671

23.

Chiu KC, Chu A, Go VL, Saad MF (2004) Hypovitaminosis D is associated with insulin resistance and beta cell dysfunction. Am J Clin Nutr 79(5):820–825

24.

Lind L, Hanni A, Lithell H, Hvarfner A, Sorensen OH, Ljunghall S (1995) Vitamin D is related to blood pressure and other cardiovascular risk factors in middle-aged men. Am J Hypertens 8(9):894–901

25.

Baynes KC, Boucher BJ, Feskens EJ, Kromhout D (1997) Vitamin D, glucose tolerance and insulinaemia in elderly men. Diabetologia 40(3):344–347

26.

Inomata S, Kadowaki S, Yamatani T, Fukase M, Fujita T (1986) Effect of 1 alpha (OH)-vitamin D3 on insulin secretion in diabetes mellitus. Bone Miner 1(3):187–192

27.

Gedik O, Akalin S (1986) Effects of vitamin D deficiency and repletion on insulin and glucagon secretion in man. Diabetologia 29(3):142–145

28.

Pereira MA, Jacobs DR Jr, Van Horn L, Slattery ML, Kartashov AI, Ludwig DS (2002) Dairy consumption, obesity, and the insulin resistance syndrome in young adults: the CARDIA Study. JAMA 287(16):2081–2089

29.

Inzucchi SE, Maggs DG, Spollett GR et al (1998) Efficacy and metabolic effects of metformin and troglitazone in type II diabetes mellitus. N Engl J Med 338(13):867–872

30.

Boucher BJ (1998) Inadequate vitamin D status: does it contribute to the disorders comprising syndrome 'X'? Br J Nutr 79(4):315–327

31.

Kamycheva E, Joakimsen RM, Jorde R (2003) Intakes of calcium and vitamin d predict body mass index in the population of Northern Norway. J Nutr 133(1):102–106

32.

Parikh SJ, Edelman M, Uwaifo GI et al (2004) The relationship between obesity and serum 1,25-dihydroxy vitamin D concentrations in healthy adults. J Clin Endocrinol Metab 89(3):1196–1199

33.

Mak RH (1992) Intravenous 1,25 dihydroxycholecalciferol corrects glucose intolerance in hemodialysis patients. Kidney Int 41(4):1049–1054

34.

Scragg R, Sowers M, Bell C (2004) Serum 25-hydroxyvitamin D, diabetes, and ethnicity in the third national health and nutrition examination survey. Diabetes Care 27(12):2813–2818

35.

Boucher BJ, Mannan N, Noonan K, Hales CN, Evans SJ (1995) Glucose intolerance and impairment of insulin secretion in relation to vitamin D deficiency in east London Asians. Diabetologia 38(10):1239–1245

36.

Reaven GM (1988) Banting lecture 1988. Role of insulin resistance in human disease. Diabetes 37(12):1595–1607

37.

Taylor WH (1991) The prevalence of diabetes mellitus in patients with primary hyperparathyroidism and among their relatives. Diabet Med 8(7):683–687

38.

Prager R, Kovarik J, Schernthaner G, Woloszczuk W, Willvonseder R (1983) Peripheral insulin resistance in primary hyperparathyroidism. Metabolism 32(8):800–805

39.

Kumar S, Olukoga AO, Gordon C et al (1994) Impaired glucose tolerance and insulin insensitivity in primary hyperparathyroidism. Clin Endocrinol (Oxf) 40(1):47–53

40.

Kautzky-Willer A, Pacini G, Niederle B, Schernthaner G, Prager R (1992) Insulin secretion, insulin sensitivity and hepatic insulin extraction in primary hyperparathyroidism before and after surgery. Clin Endocrinol (Oxf) 37(2):147–155

41.

Palmer M, Adami HO, Bergstrom R, Jakobsson S, Akerstrom G, Ljunghall S (1987) Survival and renal function in untreated hypercalcaemia. Population-based cohort study with 14 years of follow-up. Lancet 1(8524):59–62

42.

Wermers RA, Khosla S, Atkinson EJ et al (1998) Survival after the diagnosis of hyperparathyroidism: a population-based study. Am J Med 104(2):115–122

43.

Procopio M, Magro G, Cesario F et al (2002) The oral glucose tolerance test reveals a high frequency of both impaired glucose tolerance and undiagnosed Type 2 diabetes mellitus in primary hyperparathyroidism. Diabet Med 19(11):958–961

44.

Procopio M, Borretta G (2003) Derangement of glucose metabolism in hyperparathyroidism. J Endocrinol Invest 26(11):1136–1142

45.

Mak RH (1998) 1,25-Dihydroxyvitamin D3 corrects insulin and lipid abnormalities in uremia. Kidney Int 53(5):1353–1357

46.

Mak RH (1994) Renal disease, insulin resistance and glucose intolerance. Diabetes Rev 2:19–28

47.

DeFronzo RA, Alvestrand A, Smith D, Hendler R, Hendler E, Wahren J (1981) Insulin resistance in uremia. J Clin Invest 67(2):563–568

48.

Mak RH, DeFronzo RA (1992) Glucose and insulin metabolism in uremia. Nephron 61(4):377–382

49.

Kautzky-Willer A, Pacini G, Barnas U et al (1995) Intravenous calcitriol normalizes insulin sensitivity in uremic patients. Kidney Int 47(1):200–206

50.

Appel G (1991) Lipid abnormalities in renal disease. Kidney Int 39(1):169–183

51.

Chan M, Varghese Z, Moorhead JF (1981) Lipid abnormalities in uremia, dialysis and transplantation. Kidney Int 19:625–637

52.

Ford ES, Ajani UA, McGuire LC, Liu S (2005) Concentrations of serum vitamin D and the metabolic syndrome among U.S. adults. Diabetes Care 28(5):1228–1230

53.

Scragg R, Holdaway I, Singh V, Metcalf P, Baker J, Dryson E (1995) Serum 25-hydroxyvitamin D3 levels decreased in impaired glucose tolerance and diabetes mellitus. Diabetes Res Clin Pract 27(3):181–188

54.

Isaia G, Giorgino R, Adami S (2001) High prevalence of hypovitaminosis D in female type 2 diabetic population. Diabetes Care 24(8):1496

55.

Norman AW, Frankel JB, Heldt AM, Grodsky GM (1980) Vitamin D deficiency inhibits pancreatic secretion of insulin. Science 209(4458):823–825

56.

Zemel MB, Shi H, Greer B, Dirienzo D, Zemel PC (2000) Regulation of adiposity by dietary calcium. Faseb J 14(9):1132–1138

57.

Cade C, Norman AW (1986) Vitamin D3 improves impaired glucose tolerance and insulin secretion in the vitamin D-deficient rat in vivo. Endocrinology 119(1):84–90

58.

Scragg R, Khaw KT, Murphy S (1995) Effect of winter oral vitamin D3 supplementation on cardiovascular risk factors in elderly adults. Eur J Clin Nutr 49(9):640–646

59.

Colas C, Garabedian M, Fontbonne A et al (1989) Insulin secretion and plasma 1,25-(OH)2D after UV-B irradiation in healthy adults. Horm Metab Res 21(3):154–155

60.

Ishii H, Suzuki H, Baba T, Nakamura K, Watanabe T (2001) Seasonal variation of glycemic control in type 2 diabetic patients. Diabetes Care 24(8):1503

61.

Borissova AM, Tankova T, Kirilov G, Dakovska L, Kovacheva R (2003) The effect of vitamin D3 on insulin secretion and peripheral insulin sensitivity in type 2 diabetic patients. Int J Clin Pract 57(4):258–261

62.

Mosekilde L (2005) Vitamin D and the elderly. Clin Endocrinol (Oxf) 62(3):265–281

63.

Chertow BS, Sivitz WI, Baranetsky NG, Clark SA, Waite A, Deluca HF (1983) Cellular mechanisms of insulin release: the effects of vitamin D deficiency and repletion on rat insulin secretion. Endocrinology 113(4):1511–1518

64.

Nyomba BL, Auwerx J, Bormans V et al (1986) Pancreatic secretion in man with subclinical vitamin D deficiency. Diabetologia 29(1):34–38

65.

Bourlon PM, Faure-Dussert A, Billaudel B (1999) The de novo synthesis of numerous proteins is decreased during vitamin D3 deficiency and is gradually restored by 1,25-dihydroxyvitamin D3 repletion in the islets of langerhans of rats. J Endocrinol 162(1):101–109

66.

Persson PB, Skalweit A, Mrowka R, Thiele BJ (2003) Control of renin synthesis. Am J Physiol Regul Integr Comp Physiol 285(3):R491–R497

67.

Bader M, Ganten D (2000) Regulation of renin: new evidence from cultured cells and genetically modified mice. J Mol Med 78(3):130–139

68.

Pan L, Gross KW (2005) Transcriptional regulation of renin: an update. Hypertension 45(1):3–8

69.

Kristal-Boneh E, Froom P, Harari G, Ribak J (1997) Association of calcitriol and blood pressure in normotensive men. Hypertension 30(5):1289–1294

70.

Burgess ED, Hawkins RG, Watanabe M (1990) Interaction of 1,25-dihydroxyvitamin D and plasma renin activity in high renin essential hypertension. Am J Hypertens; 3(12 Pt 1):903–905

71.

Resnick LM, Muller FB, Laragh JH (1986) Calcium-regulating hormones in essential hypertension. Relation to plasma renin activity and sodium metabolism. Ann Intern Med 105(5):649–654

72.

Pfeifer M, Begerow B, Minne HW, Nachtigall D, Hansen C (2001) Effects of a short-term vitamin D(3) and calcium supplementation on blood pressure and parathyroid hormone levels in elderly women. J Clin Endocrinol Metab 86(4):1633–1637

73.

Park CW, Oh YS, Shin YS et al (1999) Intravenous calcitriol regresses myocardial hypertrophy in hemodialysis patients with secondary hyperparathyroidism. Am J Kidney Dis 33(1):73–81

74.

Kimura Y, Kawamura M, Owada M et al (1999) Effectiveness of 1,25-dihydroxyvitamin D supplementation on blood pressure reduction in a pseudohypoparathyroidism patient with high renin activity. Intern Med 38(1):31–35

75.

Shiuchi T, Iwai M, Li HS et al (2004) Angiotensin II type-1 receptor blocker valsartan enhances insulin sensitivity in skeletal muscles of diabetic mice. Hypertension 43(5):1003–1010

76.

Sowers JR (2004) Insulin resistance and hypertension. Am J Physiol Heart Circ Physiol 286(5):H1597–H1602

77.

Sowers JR (2004) Treatment of hypertension in patients with diabetes. Arch Intern Med 164(17):1850–1857

78.

Kim YB, Nikoulina SE, Ciaraldi TP, Henry RR, Kahn BB (1999) Normal insulin-dependent activation of Akt/protein kinase B, with diminished activation of phosphoinositide 3-kinase, in muscle in type 2 diabetes. J Clin Invest 104(6):733–741

79.

Dahlof B, Devereux RB, Kjeldsen SE et al (2002) Cardiovascular morbidity and mortality in the Losartan intervention for endpoint reduction in hypertension study (LIFE): a randomised trial against atenolol. Lancet 359(9311):995–1003

80.

Davie M, Lawson DE (1980) Assessment of plasma 25-hydroxyvitamin D response to ultraviolet irradiation over a controlled area in young and elderly subjects. Clin Sci (Lond) 58(3):235–242

81.

Holick MF (2005) The vitamin D epidemic and its health consequences. J Nutr 135(11):2739S–2748S

82.

Nesby-O'Dell S, Scanlon KS, Cogswell ME et al (2002) Hypovitaminosis D prevalence and determinants among African American and white women of reproductive age: third national health and nutrition examination survey, 1988–1994. Am J Clin Nutr 76(1):187–192

83.

Chapuy MC, Schott AM, Garnero P, Hans D, Delmas PD, Meunier PJ (1996) Healthy elderly French women living at home have secondary hyperparathyroidism and high bone turnover in winter. EPIDOS study group. J Clin Endocrinol Metab 81(3):1129–1133

84.

Chel VG, Ooms ME, Popp-Snijders C et al (1998) Ultraviolet irradiation corrects vitamin D deficiency and suppresses secondary hyperparathyroidism in the elderly. J Bone Miner Res 13(8):1238–1242

85.

Glerup H, Mikkelsen K, Poulsen L et al (2000) Commonly recommended daily intake of vitamin D is not sufficient if sunlight exposure is limited. J Intern Med 247(2):260–268

86.

Sedrani S, Al-Arabi K, Abanny A, Elidrissy A (1992) Vitamin D status of Saudis: seasonal variations. Saudi Med J 13:423–429

87.

Moore C, Murphy MM, Keast DR, Holick MF (2004) Vitamin D intake in the United States. J Am Diet Assoc 104(6):980–983

88.

Bischoff-Ferrari HA, Giovannucci E, Willett WC, Dietrich T, Dawson-Hughes B (2006) Estimation of optimal serum concentrations of 25-hydroxyvitamin D for multiple health outcomes. Am J Clin Nutr 84(1):18–28

89.

Calvo MS, Whiting SJ, Barton CN (2005) Vitamin D intake: a global perspective of current status. J Nutr 135(2):310–316

90.

Uskokovic M, Manchand P, Peleg S, Norman A (1997) Synthesis and preliminary evaluation of the biological properties of 1a,25-dihydroxyvitamin D3 analog with two side chains. In: Norman AW, Bouillon R, Thomasset M (eds) Vitamin D: chemistry, biology and clinical applications of the steroid hormone. University of California, Riverside, pp 19–21

91.

Richy F, Deroisy R, Lecart MP, Hanssens L, Mawet A, Reginster JY (2005) D-hormone analog alfacalcidol: an update on its role in post-menopausal osteoporosis and rheumatoid arthritis management. Aging Clin Exp Res 17(2):133–142

92.

Qiao G, Kong J, Uskokovic M, Li YC (2005) Analogs of 1alpha,25-dihydroxyvitamin D(3) as novel inhibitors of renin biosynthesis. J Steroid Biochem Mol Biol 96(1):59–66
About this article
Cite this article
Rammos, G., Tseke, P. & Ziakka, S. Vitamin D, the renin-angiotensin system, and insulin resistance. Int Urol Nephrol 40, 419–426 (2008). https://doi.org/10.1007/s11255-007-9244-4
Received:

Accepted:

Published:

Issue Date:
Keywords
Hypertension

Metabolic syndrome

Vitamin D deficiency

UV exposure

Vitamin D receptor