Abstract
Objectives
The intention of this study is to describe the impact and underlying potential basis of the prostate-specific antigen (PSA) flare-up phenomenon in patients with hormone-refractory prostate cancer (HRPC) treated with docetaxel-based chemotherapy.
Methods
We retrospectively identified 74 consecutive patients who received docetaxel/estramustine-based chemotherapy at our institution. Patients were evaluated based on modified criteria from the Prostate-Specific Antigen Working Group regarding survival and toxicity. Additionally, two androgen receptor mutations derived from patients with advanced disease were analyzed for promiscuous transactivation activity.
Results
The 74 patients were stratified into four groups: response, partial response, flare-up-initial PSA elevation, and progression. Median survival in the flare-up group (n = 8) was 20 months and did not differ from the response group (p = 0.564). The flare-up group showed a maximum PSA elevation from baseline between 3.4 and 28.3% (between three and six weeks) followed by PSA decline ≥50% from the baseline level in seven of the eight patients. The androgen receptor mutations AR877 and AR715 displayed a 37.5- and 5.2-fold increase in transactivation activity by progesterone and a 12.6- and 5.4-fold increase by estrogen compared to the ARWT, respectively.
Conclusions
A considerable portion of HRPC patients experience an initial PSA flare-up under systemic chemotherapy. In this study, occurence of flare-up phenomenon did not impact survival. Chemotherapy should be continued a minimum of six weeks before removing patients from a docetaxel-based regimen. We showed evidence that co-medication with dexamethasone/prednisolone and/or estramustine itself can induce an initial PSA flare-up via androgen receptor mutations.
Access options
Buy single article
Instant access to the full article PDF.
USD 39.95
Price excludes VAT (USA)
Tax calculation will be finalised during checkout.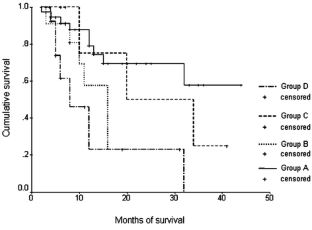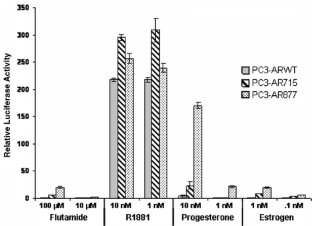 References
Jemal A, Murray T, Ward E et al (2005) Cancer statistics, 2005. CA Cancer J Clin 55:10–30

Crawford ED, Eisenberger MA, McLeod DG et al (1989) A controlled trial of leuprolide with and without flutamide in prostatic carcinoma. N Engl J Med 321:419–424

Eisenberger MA, Blumenstein BA, Crawford ED et al (1998) Bilateral orchiectomy with or without flutamide for metastatic prostate cancer. N Engl J Med 339:1036–1042

Jemal A, Tiwari RC, Murray T et al (2004) Cancer statistics, 2004. CA Cancer J Clin 54:8–29

Yagoda A, Petrylak D (1993) Cytotoxic chemotherapy for advanced hormone-resistant prostate cancer. Cancer 71:1098–1109

Petrylak DP, Tangen CM, Hussain MH et al (2004) Docetaxel and estramustine compared with mitoxantrone and prednisone for advanced refractory prostate cancer. N Engl J Med 351:1513–1520

Tannock IF, de Wit R, Berry WR et al (2004) Docetaxel plus prednisone or mitoxantrone plus prednisone for advanced prostate cancer. N Engl J Med 351:1502–1512

Oudard S, Banu E, Beuzeboc P et al (2005) Multicenter randomized phase II study of two schedules of docetaxel, estramustine, and prednisone versus mitoxantrone plus prednisone in patients with metastatic hormone-refractory prostate cancer. J Clin Oncol 23:3343–3351

Noguchi K, Uemura H, Harada M et al (2001) Inhibition of PSA flare in prostate cancer patients by administration of flutamide for 2 weeks before initiation of treatment with slow-releasing LH-RH agonist. Int J Clin Oncol 6:29–33

Fossa SD, Vaage S, Letocha H et al (2002) Liposomal doxorubicin (Caelyx) in symptomatic androgen-independent prostate cancer (AIPC)–delayed response and flare phenomenon should be considered. Scand J Urol Nephrol 36:34–39

Heidenreich A, Sommer F, Ohlmann CH et al (2004) Prospective randomized phase II trial of pegylated doxorubicin in the management of symptomatic hormone-refractory prostate carcinoma. Cancer 101:948–956

Olbert PJ, Hegele A, Kraeuter P et al (2006) Clinical significance of a prostate-specific antigen flare phenomenon in patients with hormone-refractory prostate cancer receiving docetaxel. Anticancer Drugs 17:993–996

Bubley GJ, Carducci M, Dahut W et al (1999) Eligibility and response guidelines for phase II clinical trials in androgen-independent prostate cancer: recommendations from the prostate-specific antigen working group. J Clin Oncol 17:3461–3467

Kreis W, Budman DR, Fetten J et al (1999) Phase I trial of the combination of daily estramustine phosphate and intermittent docetaxel in patients with metastatic hormone refractory prostate carcinoma. Ann Oncol 10:33–38

Hudes GR, Nathan F, Khater C et al (1997) Phase II trial of 96-hour paclitaxel plus oral estramustine phosphate in metastatic hormone-refractory prostate cancer. J Clin Oncol 15:3156–3163

Pienta KJ, Redman B, Hussain M et al (1994) Phase II evaluation of oral estramustine and oral etoposide in hormone-refractory adenocarcinoma of the prostate. J Clin Oncol 12:2005–2012

Nelius T, Reiher F, Lindenmeir T et al (2005) Characterization of prognostic factors and efficacy in a phase-II study with docetaxel and estramustine for advanced hormone refractory prostate cancer. Onkologie 28:573–578

Kelly WK, Scher HI, Mazumdar M et al (1993) Prostate-specific antigen as a measure of disease outcome in metastatic hormone-refractory prostate cancer. J Clin Oncol 11:607–615

Sridhara R, Eisenberger MA, Sinibaldi VJ et al (1995) Evaluation of prostate-specific antigen as a surrogate marker for response of hormone-refractory prostate cancer to suramin therapy. J Clin Oncol 13:2944–2953

Petrylak DP, Scher HI, Li Z et al (1992) Prognostic factors for survival of patients with bidimensionally measurable metastatic hormone-refractory prostatic cancer treated with single-agent chemotherapy. Cancer 70:2870–2878

Roessner M, de Wit R, Tannock IF, Yateman N, Yao S-L, Yver A, Eisenberger MA, on behalf of the TAX 327 Investigators (2005) Prostate-specific antigen (PSA) response as a surrogate endpoint for overall survival (OS): analysis of the TAX 327 Study comparing docetaxel plus prednisone with mitoxantrone plus prednisone in advanced prostate cancer. J Clin Oncol 23:391: abstract 4554

Liu AY, True LD, LaTray L et al (1999) Analysis and sorting of prostate cancer cell types by flow cytometry. Prostate 40:192–199

van der Poel HG, Oosterhof GO, Schaafsma HE et al (1997) Intratumoral nuclear morphologic heterogeneity in prostate cancer. Urology 49:652–657

Taplin ME, Rajeshkumar B, Halabi S et al (2003) Androgen receptor mutations in androgen-independent prostate cancer: cancer and leukemia group B study 9663. J Clin Oncol 21:2673–2678

Brinkmann AO, Trapman J (2000) Prostate cancer schemes for androgen escape. Nat Med 6:628–629

Feldman BJ, Feldman D (2001) The development of androgen-independent prostate cancer. Nat Rev Cancer 1:34–45

Yeh S, Hu YC, Rahman M et al (2000) Increase of androgen-induced cell death and androgen receptor transactivation by BRCA1 in prostate cancer cells. Proc Nat Acad Sci U S A 97:11256–11261

Heinlein CA, Chang C (2002) Androgen receptor (AR) coregulators: an overview. Endocr Rev 23:175–200

Godoy-Tundidor S, Hobisch A, Pfeil K et al (2002) Acquisition of agonistic properties of nonsteroidal antiandrogens after treatment with oncostatin M in prostate cancer cells. Clin Cancer Res 8:2356–2361

Lu ML, Schneider MC, Zheng Y et al (2001) Caveolin-1 interacts with androgen receptor. A positive modulator of androgen receptor mediated transactivation. J Biol Chem 276:13442–13451
About this article
Cite this article
Nelius, T., Klatte, T., de Riese, W. et al. Impact of PSA flare-up in patients with hormone-refractory prostate cancer undergoing chemotherapy. Int Urol Nephrol 40, 97–104 (2008). https://doi.org/10.1007/s11255-007-9221-y
Received:

Accepted:

Published:

Issue Date:

DOI: https://doi.org/10.1007/s11255-007-9221-y
Keywords