Abstract
Background
Prevention of falls in the elderly is a major health care target. There are theoretical reasons why older dialysis patients may be at high risk of falls: co-morbidity, medication, and post-dialysis hypotension, which have not been well tested. Dialysis patients are also at higher risk of fracture if they do fall.
Methods
We prospectively interviewed all our centre haemodialysis patients over a 6 month period to see if they reported falls, syncope, pre-syncope or dizziness. Routine blood pressure (BP) and other clinical data were recorded.
Results
A total of 78 patients completed the study. There was a high incidence of all four symptoms but only falls was age-related. About 38% of patients aged >65 reported 1 or more fall compared to 4% of younger patients (p < 0.001). There were no significant differences in pre-dialysis, post-dialysis or standing BP between young and older patients or between fallers and non-fallers although the older patients did have a greater magnitude in change between pre-dialysis BP and post-dialysis standing BP.
Conclusions
Older haemodialysis patients have a high incidence of falls. Falls can be prevented by addressing modifiable risk factors. Whether existing guidelines are applicable to this specialised population is uncertain. There is a high incidence of syncope in dialysis patients of all ages and the cause of this needs further exploration.
Access options
Buy single article
Instant access to the full article PDF.
USD 39.95
Price excludes VAT (USA)
Tax calculation will be finalised during checkout.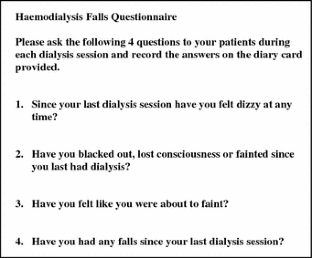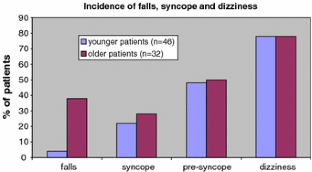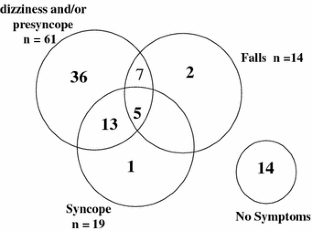 References
Tinetti ME, Baker DI, McAvay, et al (1994) A multi-factorial intervention to reduce the risk of falling among elderly people living in the community. N Engl J Med 331:821–827

Sims RJA, Cassidy MJD, Masud T (2003) The increasing numbers of older patients with renal disease. BMJ 327:463–464

Jassal SV, Douglas JF, Stout RW (1998) Prevalence of central autonomic neuropathy in elderly dialysis patients. Nephrol Dial Transplant 13:1702–1708

Roberts RG, Kenny RA, Brierley EJ (2003) Are elderly haemodialysis patients at risk of falls and postural hypotension. Int Urol Nephrol 35:415–421

Alem AM, Sherrard DJ, Gillen DL, et al (2000) Increased risk of hip fracture among patients with end-stage renal disease. Kidney Int 58:396–399

Tinetti ME, Mendes de Leon CF, Doucette JT, Baker DI (1994) Fear of falling and fall-related efficacy in relationship to functioning among community-living elders. J Gerontol 49:M140-M147

Cook WL, Jassal SV (2005) Prevalence of falls among seniors maintained on hemodialysis. Int Urol Nephrol 37:649–652

Cummings SR, Nevitt MC, Kidd S (1988) Forgetting falls. The limited accuracy of recall of falls in the elderly. J Am Geriatr Soc 36:613–616

Tinetti ME, Speechley M, Ginter SF (1988) Risk factors for falls among elderly persons living in the community. N Engl J Med 319:1701–1707

Coco M, Rush H (2000) Increased incidence of hip fractures in dialysis patients with low serum parathyroid hormone. Am J Kid Dis 36:1115–1121

Keene GS, Parker MJ, Pryor GA (1993) Mortality and morbidity after hip fractures. BMJ 307:1248–1250

Guideline for the prevention of falls in older persons. J Am Geriatr Soc 2001; 49:664–672

Shaw FE, Bond J, Richardson DA, et al (2003) Multifactorial intervention after a fall in older people with cognitive impairment and dementia presenting to the accident and emergency department: randomised controlled trial. BMJ 326:73–78

Soteriades ES, Evans JC, Larson MG, et al (2002) Incidence and prognosis of syncope. NEJM 347:878–885

McIntosh SJ, DaCosta D, Kenny RA (1993) Outcome of an integrated approach to the investigation of dizziness, falls and syncope in elderly patients referred to a 'syncope' clinic. Age Ageing 22:53–58

Shaw FE, Kenny RA (1997) The overlap between syncope and falls in the elderly. Postgrad Med J 73:635–639
About this article
Cite this article
Roberts, R., Jeffrey, C., Carlisle, G. et al. Prospective investigation of the incidence of falls, dizziness and syncope in haemodialysis patients. Int Urol Nephrol 39, 275–279 (2007). https://doi.org/10.1007/s11255-006-9088-3
Received:

Accepted:

Published:

Issue Date:

DOI: https://doi.org/10.1007/s11255-006-9088-3
Keywords
Blood pressure

Elderly

Dialysis

Falls

Haemodialysis

Fracture

Kidney disease

Orthostatic hypotension

Syncope