Abstract
Several species of wild bees are in decline globally and the presence of managed honey bees is one of many proposed stressors on wild bee populations. However, there is limited knowledge of the impacts of honey bee hives on wild bees, especially in urban landscapes. We performed a field study to assess the associations between honey bees and wild bees within the Greater Toronto Area in Ontario, Canada. We measured relative abundance of honey bees, wild bee metrics (abundance, community composition, functional diversity, and body size), and floral resources (floral density and richness); we also calculated impervious surface at 500 m and 1 km for each of our sites. Our main findings were that increasing honey bee abundance was correlated with decreases in wild bee species richness and functional diversity, as well as two wild bee species' abundances and one wild bee species body size, out of many assessed. This research adds to the growing body of literature aiming to evaluate whether honey bees are a stressor on wild bees in urban landscapes, which will be valuable for informing conservation management practices and future research.
This is a preview of subscription content,
to check access.
Access this article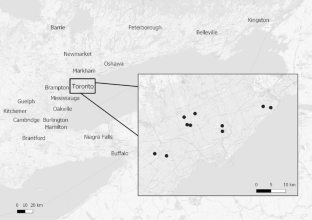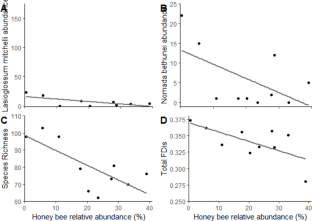 References
Ahrné K, Bengtsson J, Elmqvist T (2009) Bumble bees (Bombus spp) along a gradient of increasing urbanization. PLoS ONE 4:e5574. https://doi.org/10.1371/journal.pone.0005574

Aizen MA, Feinsinger P (1994) Habitat fragmentation, native insect pollinators, and feral honey bees in Argentine "Chaco Serrano. Ecol Appl 4:378–392. https://doi.org/10.2307/1941941

Aizen MA, Harder LD (2009) The global stock of domesticated honey bees is growing slower than agricultural demand for pollination. Curr Biol 19:915–918. https://doi.org/10.1016/J.CUB.2009.03.071

Al-Ghamdi A, Hoopingarner R (2004) Modeling of honey bee and Varroa mite population dynamics. Saudi J Biol Sci 11:21–36

Alger SA, Burnham PA, Boncristiani HF, Brody AK (2019) RNA virus spillover from managed honeybees (Apis mellifera) to wild bumblebees (Bombus spp). PLoS ONE 14:e0217822. https://doi.org/10.1371/journal.pone.0217822

Badano EI, Vergara CH (2011) Potential negative effects of exotic honey bees on the diversity of native pollinators and yield of highland coffee plantations. Agric For Entomol 13:365–372. https://doi.org/10.1111/j.1461-9563.2011.00527.x

Baldock KCR, Goddard MA, Hicks DM et al (2015) Where is the UK's pollinator biodiversity? The importance of urban areas for flower-visiting insects. Proc R Soc B Biol Sci 282. https://doi.org/10.1098/rspb.2014.2849

Barthel S, Isendahl C (2013) Urban gardens, Agriculture, and water management: sources of resilience for long-term food security in cities. Ecol Econ 86:224–234. https://doi.org/10.1016/j.ecolecon.2012.06.018

Batra SWT (1984) Solitary bees. 250:120–127. https://doi.org/10.2307/24969305

Beekman M, Ratnieks FLW (2000) Long-range foraging by the honey-bee, Apis mellifera L. Funct Ecol 14:490–496. https://doi.org/10.1046/j.1365-2435.2000.00443.x

Biesmeijer JC, Roberts SPM, Reemer M et al (2006) Parallel declines in pollinators and insect-pollinated plants in Britain and the Netherlands. Science 313:351–354. https://doi.org/10.1126/science.1127863

Bosch J, Vicens N (2002) Body size as an estimator of production costs in a solitary bee. Ecol Entomol 27:129–137. https://doi.org/10.1046/j.1365-2311.2002.00406.x

Brant RA, Arduser M, Dunlap AS (2022) There must bee a better way: Areview of published urban bee literature and suggested topics for a future study. Landsc Urban Plan 226:104513. https://doi.org/10.1016/j.landurbplan.2022.104513

Buchholz S, Egerer MH (2020) Functional ecology of wild bees in cities: towards a better understanding of trait-urbanization relationships. Biodivers Conserv 29:2779–2801

Buchholz S, Gathof AK, Grossmann AJ et al (2020) Wild bees in urban grasslands: Urbanisation, functional diversity and species traits. Landsc Urban Plan 196:103731. https://doi.org/10.1016/j.landurbplan.2019.103731

Burdine JD, McCluney KE (2019) Interactive effects of urbanization and local habitat characteristics influence bee communities and flower visitation rates. Oecologia 190:715–723. https://doi.org/10.1007/s00442-019-04416-x

Burnham KP, Anderson DR (2002) Model selection and multimodel inference, 2nd edn. Springer, New York

Cadotte MW, Carscadden K, Mirotchnick N (2011) Beyond species: functional diversity and the maintenance of ecological processes and services. J Appl Ecol 48:1079–1087

Cameron SA, Lozier JD, Strange JP et al (2011) Patterns of widespread decline in North American bumble bees. Proc Natl Acad Sci U S A 108:662–667. https://doi.org/10.1073/pnas.1014743108

Cane JH (1987) Estimation of Bee size using Intertegular Span (Apoidea). J Kans Entomol Soc 60:145–147

Cane JH, Tepedino VJ (2017) Gauging the effect of honey bee pollen collection on native bee communities. Conserv Lett 10:205–210. https://doi.org/10.1111/conl.12263

Cariveau DP, Nayak GK, Bartomeus I et al (2016) The allometry of bee proboscis length and its uses in ecology. PLoS ONE 11:e0151482. https://doi.org/10.1371/journal.pone.0151482

Carneiro LT, Martins CF (2012) Africanized honey bees pollinate and preempt the pollen of Spondias mombin (Anacardiaceae) flowers. Apidologie 43:474–486. https://doi.org/10.1007/s13592-011-0116-7

City of Toronto (2016) Bees of Toronto: a guide to their remarkable world: City of Toronto biodiversity series. City of Toronto, Toronto, Canada

Colla SR, MacIvor JS (2017) Questioning public perception, conservation policy, and recovery actions for honeybees in North America. Conserv Biol 31:1202–1204. https://doi.org/10.1111/cobi.12839

Colla SR, Packer L (2008) Evidence for decline in eastern north american bumblebees (Hymenoptera: Apidae), with special focus on Bombus affinis Cresson. Biodivers Conserv 17:1379–1391. https://doi.org/10.1007/s10531-008-9340-5

Colla SR, Otterstatter MC, Gegear RJ, Thomson JD (2006) Plight of the bumble bee: Pathogen spillover from commercial to wild populations. Biol Conserv 129:461–467. https://doi.org/10.1016/j.biocon.2005.11.013

Davison PJ, Field J (2017) Season length, body size, and social polymorphism: size clines but not saw tooth clines in sweat bees. Ecol Entomol 42:768–776. https://doi.org/10.1111/een.12448

DeGrandi-Hoffman G, Roth SA, Loper GL, Erickson EH (1989) BEEPOP: a honeybee population dynamics simulation model. Ecol Modell 45:133–150. https://doi.org/10.1016/0304-3800(89)90088-4

Díaz S, Cabido M (2001) Vive la différence: plant functional diversity matters to ecosystem processes. Trends Ecol Evol 16:646–655

Droege S (2015) The very handy manual: How to catch and identify bees and manage a collection. Maryland, USA

Dupont YL, Hansen DM, Valido A, Olesen JM (2004) Impact of introduced honey bees on native pollination interactions of the endemic Echium wildpretii (Boraginaceae) on Tenerife, Canary Islands. Biol Conserv 118:301–311. https://doi.org/10.1016/j.biocon.2003.09.010

Ebeling A, Klein AM, Schumacher J et al (2008) How does plant richness affect pollinator richness and temporal stability of flower visits? Oikos 117:1808–1815. https://doi.org/10.1111/j.1600-0706.2008.16819.x

Eggenberger H, Frey D, Pellissier L et al (2019) Urban bumblebees are smaller and more phenotypically diverse than their rural counterparts. J Anim Ecol 88:1522–1533. https://doi.org/10.1111/1365-2656.13051

Elbgami T, Kunin WE, Hughes WOH, Biesmeijer JC (2014) The effect of proximity to a honeybee apiary on bumblebee colony fitness, development, and performance. Apidologie 45:504–513. https://doi.org/10.1007/s13592-013-0265-y

Evans E, Smart M, Cariveau D, Spivak M (2018) Wild, native bees and managed honey bees benefit from similar agricultural land uses. Agric Ecosyst Environ 268:162–170. https://doi.org/10.1016/J.AGEE.2018.09.014

Fitch G, Glaum P, Simao MC et al (2019) Changes in adult sex ratio in wild bee communities are linked to urbanization. Sci Rep 9:1–10. https://doi.org/10.1038/s41598-019-39601-8

Fontaine C, Dajoz I, Meriguet J, Loreau M (2006) Functional diversity of plant–pollinator interaction webs enhances the persistence of plant communities. PLoS Biol 4:e1. https://doi.org/10.1371/journal.pbio.0040001

Forrest JRK, Thorp RW, Kremen C, Williams NM (2015) Contrasting patterns in species and functional-trait diversity of bees in an agricultural landscape. J Appl Ecol 52:706–715. https://doi.org/10.1111/1365-2664.12433

Fortel L, Henry M, Guilbaud L et al (2014) Decreasing abundance, increasing diversity and changing structure of the wild bee community (Hymenoptera: Anthophila) along an urbanization gradient. PLoS ONE 9:e104679. https://doi.org/10.1371/journal.pone.0104679

Frankie GW, Thorp RW, Hernandez J et al (2009) Native bees are a rich natural resource in urban California gardens. Calif Agric 63:113–120

Geslin B, Le Féon V, Folschweiller M et al (2016) The proportion of impervious surfaces at the landscape scale structures wild bee assemblages in a densely populated region. Ecol Evol 6:6599–6615. https://doi.org/10.1002/ece3.2374

Gibbs J, Brady SG, Kanda K, Danforth BN (2012) Phylogeny of halictine bees supports a shared origin of eusociality for Halictus and Lasioglossum (Apoidea: Anthophila: Halictidae). Mol Phylogenet Evol 65:926–939. https://doi.org/10.1016/j.ympev.2012.08.013

Glaum P, Simao M-C, Vaidya C et al (2017) Big city Bombus: using natural history and land-use history to find significant environmental drivers in bumble-bee declines in urban development. R Soc Open Sci 4:170156. https://doi.org/10.1098/rsos.170156

Goddard MA, Dougill AJ, Benton TG (2010) Scaling up from gardens: biodiversity conservation in urban environments. Trends Ecol Evol 25:90–98

Goulson D, Sparrow KR (2009) Evidence for competition between honeybees and bumblebees; effects on bumblebee worker size. J Insect Conserv 13:177–181. https://doi.org/10.1007/s10841-008-9140-y

Goulson D, Peat J, Stout JC et al (2002) Can alloethism in workers of the bumblebee, bombus terrestris, be explained in terms of foraging efficiency? Anim Behav 64:123–130. https://doi.org/10.1006/anbe.2002.3041

Graystock P, Yates K, Evison SEF et al (2013) The Trojan hives: pollinator pathogens, imported and distributed in bumblebee colonies. J Appl Ecol 50:1207–1215. https://doi.org/10.1111/(ISSN)1365-2435.POLLINATOR

Greenleaf SS, Williams NM, Winfree R, Kremen C (2007) Bee foraging ranges and their relationship to body size. Oecologia 153:589–596. https://doi.org/10.1007/s00442-007-0752-9

Grundel R, Jean RP, Frohnapple KJ et al (2010) Floral and nesting resources, habitat structure, and fire influence bee distribution across an open-forest gradient. Ecol Appl 20:1678–1692. https://doi.org/10.1890/08-1792.1

Gusachenko ON, Woodford L, Balbirnie-Cumming K et al (2020) Evidence for and against deformed wing virus spillover from honey bees to bumble bees: a reverse genetic analysis. Sci Rep 10:1–10. https://doi.org/10.1038/s41598-020-73809-3

Hamblin AL, Youngsteadt E, Frank SD (2018) Wild bee abundance declines with urban warming, regardless of floral density. Urban Ecosyst 21:419–428. https://doi.org/10.1007/s11252-018-0731-4

Haydon DT, Laurenson MK, Sillero-Zubiri C (2002) Integrating epidemiology into population viability analysis: managing the risk posed by rabies and canine distemper to the Ethiopian Wolf. Conserv Biol 16:1372–1385. https://doi.org/10.1046/j.1523-1739.2002.00559.x

Hung KJ, Ascher JS, Davids JA, Holway DA (2019) Ecological filtering in scrub fragments restructures the taxonomic and functional composition of native bee assemblages. Ecology 100:e02654. https://doi.org/10.1002/ecy.2654

Jung M (2013) LecoS-A QGIS plugin for automated landscape ecology analysis. PeerJ Prepr. https://doi.org/10.7287/peerj.preprints.116v2. 2:

Kendall LK, Rader R, Gagic V et al (2019) Pollinator size and its consequences: robust estimates of body size in pollinating insects. Ecol Evol 9:1702–1714. https://doi.org/10.1002/ECE3.4835

Kortright R, Wakefield S (2011) Edible backyards: a qualitative study of household food growing and its contributions to food security. Agric Hum Values 28:39–53. https://doi.org/10.1007/s10460-009-9254-1

Krombein KV (1967) Trap-nesting wasps and bees: life histories, nests, and associates. Smithsonian Press

Laliberte E, Legendre P (2010) A distance-based framework for measuring functional diversity from multiple traits. Ecology 91:299–305. https://doi.org/10.1890/08-2244.1

Lautenbach S, Seppelt R, Liebscher J, Dormann CF (2012) Spatial and temporal trends of global ppllination benefit. PLoS ONE 7:e35954. https://doi.org/10.1371/journal.pone.0035954

Legendre P, Gallagher ED (2001) Ecologically meaningful transformations for ordination of species data. Oecologia 129:271–280. https://doi.org/10.1007/s004420100716

Lichtenberg EM, Kennedy CM, Kremen C et al (2017) A global synthesis of the effects of diversified farming systems on arthropod diversity within fields and across agricultural landscapes. Glob Chang Biol 23:4946–4957. https://doi.org/10.1111/gcb.13714

Lindström SAM, Herbertsson L, Rundlöf M et al (2016) Experimental evidence that honeybees depress wild insect densities in a flowering crop. Proc R Soc B 283:20161641. https://doi.org/10.1098/RSPB.2016.1641

Loreau M (1998) Biodiversity and ecosystem functioning: a mechanistic model. Ecology 95:5632–5636

MacInnis G, Buddle CM, Forrest JRK (2020) Small wild bee abundance declines with distance into strawberry crops regardless of field margin habitat. Basic Appl Ecol 44:14–23. https://doi.org/10.1016/j.baae.2020.02.007

Mallinger RE, Gaines-Day HR, Gratton C (2017) Do managed bees have negative effects on wild bees?: a systematic review of the literature. PLoS ONE 12:e0189268. https://doi.org/10.1371/journal.pone.0189268

Martins KT, Gonzalez A, Lechowicz MJ (2015) Pollination services are mediated by bee functional diversity and landscape context. Agric Ecosyst Environ 200:12–20. https://doi.org/10.1016/j.agee.2014.10.018

McCune F, Normandin É, Mazerolle MJ, Fournier V (2020) Response of wild bee communities to beekeeping, urbanization, and flower availability. Urban Ecosyst 23:39–54. https://doi.org/10.1007/s11252-019-00909-y

Michener CD (2000) The bees of the world. Johns Hopkins University Press, Baltimore MD

Mitchell TB (1960) The bees of the Eastern United States, volume I. North Carolina Agricultural Experiment Station

Mitchell TB (1962) Bees of the Eastern United States, volume II. North Carolina Agricultural Experiment Station, Raleigh, NC

Mouillot D, Bellwood DR, Baraloto C et al (2013) Rare species support vulnerable functions in high-diversity ecosystems. PLoS Biol 11:e1001569. https://doi.org/10.1371/journal.pbio.1001569

Naimi B, Hamm NAS, Groen TA et al (2014) Where is positional uncertainty a problem for species distribution modelling? Ecography 37:191–203. https://doi.org/10.1111/j.1600-0587.2013.00205.x

Nooten SS, Rehan SM (2019) Agricultural land use yields reduced foraging efficiency and unviable offspring in the wild bee Ceratina calcarata. Ecol Entomol 44:534–542. https://doi.org/10.1111/een.12730

Normandin É, Vereecken NJ, Buddle CM, Fournier V (2017) Taxonomic and functional trait diversity of wild bees in different urban settings. PeerJ 2017:e3051. https://doi.org/10.7717/peerj.3051

Ontario Ministry of Natural Resources and Forestry (2019) Southern Ontario Land Resource Information System (SOLRIS) Version 3, vol 0. Data Specifications Contact

Packer L, Darla-West G (2021) Bees: how and why to sample them. In: Santos JC, Fernandes GW (eds) Measuring Arthropod Biodiversity: a handbook of sampling methods. Springer Nature Switzerland

Packer L, Genaro JA, Sheffield CS (2007) The Bee Genera of Eastern Canada. Can J Arthropod Identif 3:1–32

Paini DR, Roberts JD (2005) Commercial honey bees (Apis mellifera) reduce the fecundity of an australian native bee (Hylaeus alcyoneus). Biol Conserv 123:103–112. https://doi.org/10.1016/J.BIOCON.2004.11.001

Peters A, Patterson EI, Baker BGB et al (2014) Evidence of Psittacine beak and feather disease virus spillover into wild critically endangered Orange-bellied parrots (Neophema chrysogaster). J Wildl Dis 50:288–296. https://doi.org/10.7589/2013-05-121

Plascencia M, Philpott SM (2017) Floral abundance, richness, and spatial distribution drive urban garden bee communities. Bull Entomol Res 107:1–10. https://doi.org/10.1017/S0007485317000153

Popic TJ, Davila YC, Wardle GM (2013) Evaluation of common methods for sampling invertebrate pollinator assemblages: net sampling out-perform pan traps. PLoS ONE 8:e66665. https://doi.org/10.1371/journal.pone.0066665

Potts SG, Biesmeijer JC, Schweiger O, Kunin W (2010) Global pollinator declines: trends, impacts and drivers. Trends Ecol Evol 25:345–353. https://doi.org/10.1016/j.tree.2010.01.007

Prendergast KS, Dixon KW, Bateman PW (2021) Interactions between the introduced european honey bee and native bees in urban areas varies by year, habitat type and native bee guild. Biol J Linn Soc 133:725–743. https://doi.org/10.1093/biolinnean/blab024

Randall DA, Marino J, Haydon DT et al (2006) An integrated disease management strategy for the control of rabies in Ethiopian wolves. Biol Conserv 131:151–162. https://doi.org/10.1016/j.biocon.2006.04.004

Renner SS, Graf MS, Hentschel Z et al (2021) High honeybee abundances reduce wild bee abundances on flowers in the city of Munich. Oecologia 1:3. https://doi.org/10.1007/s00442-021-04862-6

Ribeiro MF (1994) Growth in bumble bee larvae: relation between development time, mass, and amount of pollen ingested. Can J Zool 72:1978–1985. https://doi.org/10.1139/z94-270

Ropars L, Dajoz I, Fontaine C et al (2019) Wild pollinator activity negatively related to honey bee colony densities in urban context. PLoS ONE 14:e0222316. https://doi.org/10.1371/journal.pone.0222316

Rushton SP, Lurz PWW, Gurnell J et al (2006) Disease threats posed by alien species: the role of a poxvirus in the decline of the native red squirrel in Britain. Epidemiol Infect 134:521–533. https://doi.org/10.1017/S0950268805005303

Rust RW (1991) Size-Weight Relationships in Osmia lignaria propinqua Cresson. Megachilidae, Hymenoptera

Santos PKF, Arias MC, Kapheim KM (2019) Loss of developmental diapause as prerequisite for social evolution in bees. Biol Lett 15:20190398. https://doi.org/10.1098/rsbl.2019.0398

Schönfelder ML, Bogner FX (2017) Individual perception of bees: between perceived danger and willingness to protect. PLoS ONE 12:e0180168. https://doi.org/10.1371/journal.pone.0180168

Shavit O, Dafni A, Ne'eman G (2009) Competition between honeybees (Apis mellifera) and native solitary bees in the Mediterranean region of Israel—Implications for conservation. Isr J Plant Sci 57:171–183. https://doi.org/10.1560/IJPS.57.3.171

Sheffield CS, Ratti C, Packer L, Griswold T (2011) Leafcutter and mason bees of the genus Megachile Latreille (Hymenoptera: Megachilidae) in. Can J Arthropod Identif. https://doi.org/10.3752/cjai.2011.18

Sheffield CS, Pindar A, Packer L, Kevan PG (2013) The potential of cleptoparasitic bees as indicator taxa for assessing bee communities. Apidologie 44:501–510. https://doi.org/10.1007/s13592-013-0200-2

Shochat E, Lerman SB, Anderies JM et al (2010) Invasion, competition, and biodiversity loss in urban ecosystems. Bioscience 60:199–208. https://doi.org/10.1525/bio.2010.60.3.6

Sirohi MH, Jackson J, Edwards M, Ollerton J (2015) Diversity and abundance of solitary and primitively eusocial bees in an urban centre: a case study from Northampton (England). J Insect Conserv 19:487–500. https://doi.org/10.1007/s10841-015-9769-2

Steffan-Dewenter I, Tscharntke T (2000) Resource overlap and possible competition between honey bees and wild bees in central Europe. Oecologia 122:288–296. https://doi.org/10.1007/s004420050034

Thomson D (2004) Competitive interactions between the invasive european honey bee and native bumble bees. Ecology 85:458–470

Thomson DM (2016) Local bumble bee decline linked to recovery of honey bees, drought effects on floral resources. Ecol Lett 19:1247–1255. https://doi.org/10.1111/ele.12659

Tonietto RK, Ascher JS, Larkin DJ (2017) Bee communities along a prairie restoration chronosequence: similar abundance and diversity, distinct composition. Ecol Appl 27:705–717. https://doi.org/10.1002/eap.1481

Torné-Noguera A, Rodrigo A, Osorio S, Bosch J (2016) Collateral effects of beekeeping: impacts on pollen-nectar resources and wild bee communities. Basic Appl Ecol 17:199–209. https://doi.org/10.1016/j.baae.2015.11.004

Vierssen Trip N, MacPhail VJ, Colla SR, Olivastri B (2020) Examining the public's awareness of bee (Hymenoptera: Apoidae: Anthophila) conservation in Canada. Conserv Sci Pract 2. https://doi.org/10.1111/csp2.293

Visscher PK, Seeley TD (1982) Foraging strategy of honeybee colonies in a temperate deciduous. Ecology 63:1790–1801

Wcislo WT, Cane JH (1996) Floral resource utilization by solitary bees (Hymenoptera: Apoidea) and exploitation of their stored foods by natural enemies. Annu Rev Entomol 41:257–286. https://doi.org/10.1146/annurev.ento.41.1.257

Weissman JA, Walldorf IRM, Schaefer H (2021) The importance of wild bee communities as urban pollinators and the influence of honeybee hive density on wild bee crop visitation rates. J Pollinat Ecol 29:204–230. https://doi.org/10.26786/1920-7603(2021)641

Westphal C, Steffan-Dewenter I, Tscharntke T (2003) Mass flowering crops enhance pollinator densities at a landscape scale. Ecol Lett 6:961–965. https://doi.org/10.1046/j.1461-0248.2003.00523.x

Williams P, Thorp RW, Richardson L, Colla SR (2014) Bumble bees of North America: an identification guide. Princeton University Press

Willson MF, Bertin RI (1979) Flower-visitors, nectar production, and inflorescence size of Asclepias syriaca. Can J Bot 57:1380–1388. https://doi.org/10.1139/b79-172

Wilson JS, Griswold T, Messinger OJ (2008) Sampling bee communities (Hymenoptera: Apiformes) in a desert landscape: are pan traps sufficient? J Kans Entomol Soc 81:288–300. https://doi.org/10.2317/JKES-802.06.1

Winfree R (2010) The conservation and restoration of wild bees. Ann N Y Acad Sci 1195:169–197. https://doi.org/10.1111/j.1749-6632.2010.05449.x

Winfree R, Williams NM, Gaines H et al (2008) Wild bee pollinators provide the majority of crop visitation across land-use gradients in New Jersey and Pennsylvania, USA. J Appl Ecol 45:793–802. https://doi.org/10.1111/j.1365-2664.2007.01418.x

Wood TJ, Michez D, Paxton RJ et al (2020) Managed honey bees as a radar for wild bee decline? Apidologie 51:1100–1116

Woodroffe R, Prager KC, Munson L et al (2012) Contact with domestic dogs increases pathogen exposure in endangered african wild dogs (Lycaon pictus). PLoS ONE 7:e30099. https://doi.org/10.1371/journal.pone.0030099

Wright IR, Roberts SPM, Collins BE (2015) Evidence of forage distance limitations for small bees (Hymenoptera: Apidae). Eur J Entomol 112:303–310. https://doi.org/10.14411/eje.2015.028

Zanette LRS, Martins RP, Ribeiro SP (2005) Effects of urbanization on neotropical wasp and bee assemblages in a brazilian metropolis. Landsc Urban Plan 71:105–121. https://doi.org/10.1016/j.landurbplan.2004.02

IUCN (2020) IUCN Red List of Threatened Species. https://www.iucnredlist.org/resources/summary-statistics. Accessed 28 Dec 2020

R Core Team (2020) R: A language and environment for statistical computing
Additional information
Publisher's Note
Springer Nature remains neutral with regard to jurisdictional claims in published maps and institutional affiliations.
Electronic supplementary material
Below is the link to the electronic supplementary material.
Rights and permissions
Springer Nature or its licensor (e.g. a society or other partner) holds exclusive rights to this article under a publishing agreement with the author(s) or other rightsholder(s); author self-archiving of the accepted manuscript version of this article is solely governed by the terms of such publishing agreement and applicable law.
About this article
Cite this article
MacKell, S., Elsayed, H. & Colla, S. Assessing the impacts of urban beehives on wild bees using individual, community, and population-level metrics. Urban Ecosyst 26, 1209–1223 (2023). https://doi.org/10.1007/s11252-023-01374-4
Accepted:

Published:

Issue Date:

DOI: https://doi.org/10.1007/s11252-023-01374-4
Keywords