Abstract
The lines between natural areas and human habitats have blurred as urbanization continues, creating a need for the study of ecosystems at all levels of development. This need is particularly acute for exurban environments, which have low population density but are rapidly changing and have a dynamic mix of natural and human-dominated features. We examined long-term (1998–2018) trends in nitrate and chloride concentrations and fluxes in forested and exurban streams in Baltimore County, Md USA. Concentrations and fluxes of nitrate and chloride were an order of magnitude higher in the exurban stream than the forested stream and were increasing even though snowfall and road salt use did not increase over the study period. In the forested stream, concentrations and fluxes of chloride increased from 1998 to 2008, but decreased from 2008 to 2018 due to unquantified factors. Concentrations of nitrate decreased in the forested stream, likely due to decreases in atmospheric deposition. These decreases in atmospheric deposition, and efforts to reduce fertilizer use by county governments, do not appear to have affected nitrate concentrations and fluxes in the exurban watershed. Any efforts to reduce the concentrations and fluxes of chloride and nitrate in exurban streams will likely benefit substantially from further understanding of the mechanisms underlying the temporal patterns.
Access options
Buy single article
Instant access to the full article PDF.
USD 39.95
Price excludes VAT (USA)
Tax calculation will be finalised during checkout.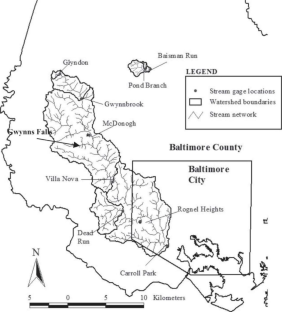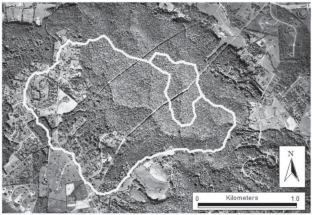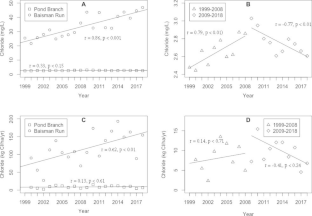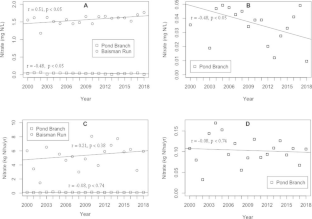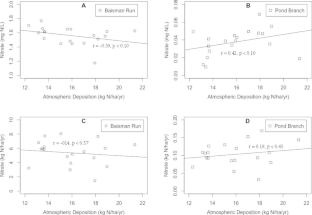 References
Baker LA, Hope D, Xu Y, Edmonds J, Lauver L (2001) Nitrogen balance for the central Arizona-Phoenix (CAP) ecosystem. Ecosystems 4:582–602

Baltimore County Government (2021) Baltimore County NPDES – 2021 Annual Report. https://www.baltimorecountymd.gov/departments/environment/npdes/

Bettez ND, Duncan JM, Groffman PM, Band LE, O'Neil-Dunne J, Kaushal SS, Belt KT, Law N (2015) Climate variation overwhelms efforts to reduce nitrogen delivery to coastal waters. Ecosystems 18:1319–1331

Birch MBL, Gramig BM, Moomaw WR, Doering IIIOC, Reeling CJ (2011) Why metrics matter: evaluating policy choices for reactive nitrogen in the Chesapeake Bay watershed. Environ Sci Technol 45:168–174

Bird DL, Groffman PM, Salice CJ, Moore J (2018) Steady-state land cover but non-steady-state major ion chemistry in urban streams. Environ Sci Technol 52:13015–13026

Blaszczak JR, Delesantro JM, Zhong Y, Urban DL, Bernhardt ES (2019) Watershed urban development controls on urban streamwater chemistry variability. Biogeochemistry 144:61–84

Boesch DF, Brinsfield RB, Magnien RE (2001) Chesapeake Bay eutrophication: scientific understanding, ecosystem restoration, and challenges for agriculture. J Environ Qual 30:303–320

Byrnes DK, Van Meter KJ, Basu NB (2020) Long-term shifts in U.S. nitrogen sources and sinks revealed by the new TREND‐nitrogen dataset (1930‐2017). Global Biogeochemical Cycles

Cleaves ET, Godfrey AE, Bricker OP (1970) Geochemical balance of a small watershed and its geomorphic implications. GSA Bull 81:3015–3032

Craig LS, Palmer MA, Richardson DC, Filoso S, Bernhardt ES, Bledsoe BP, Doyle MW, Groffman PM, Hassett BA, Kaushal SS, Mayer PM, Smith SM, Wilcock PR (2008) Stream restoration strategies for reducing river nitrogen loads. Front Ecol Environ 6:529–538

Davidson EA, David MB, Galloway JN, Goodale CL, Haeuber R, Harrison JA, Howarth RW, Jaynes DB, Lowrance RR, Nolan BT, Peel JL, Pinder RW, Porter E, Snyder CS, Townsend AR, Ward MH (2012) Excess nitrogen in the U.S. environment: Trends, risks, and solutions. Issues in Ecology 15:1–16

Duncan JM, Band LE, Groffman PM, Bernhardt ES (2015) Mechanisms driving the seasonality of catchment scale nitrate export: evidence for riparian ecohydrologic controls. Water Resour Res 51:3982–3997

Eshleman KN, Sabo RD (2016) Declining nitrate-N yields in the Upper Potomac River Basin: what is really driving progress under the Chesapeake Bay restoration? Atmos Environ 146:280–289

Eshleman KN, Sabo RD, Kline KM (2013) Surface water quality is improving due to declining atmospheric N deposition. Environ Sci Technol 47:12193–12200

Findlay SEG, Kelly VR (2011) Emerging indirect and long-term road salt effects on ecosystems. Ann N Y Acad Sci 1223:58–68

Frazar S, Gold AJ, Addy K, Moatar F, Birgand F, Schroth AW, Kellogg DQ, Pradhanang SM (2019) Contrasting behavior of nitrate and phosphate flux from high flow events on small agricultural and urban watersheds. Biogeochemistry 145:141–160

Gelhar LW, Wilson JL (1974) Ground-water quality modeling. Groundwater 12:399–408

Gold AJ, Deragon WR, Sullivan WM, Lemunyon JL (1990) Nitrate-nitrogen losses to groundwater from rural and suburban land uses. J Soil Water Conserv 45:305–310

Groffman PM, Band LE, Belt KT, Bettez ND, Bhaskar A, Doheny E, Duncan JM, Kaushal SS, Rosi EJ, Welty C (2019) Applying the watershed approach to urban ecosystems. In: Pickett STA, Cadenasso ML, Grove JM, Irwin EG, Rosi EJ, Swan CM (eds) Science for the Sustainable City. Yale University Press, pp 155–173

Groffman PM, Law NL, Belt KT, Band LE, Fisher GT (2004) Nitrogen fluxes and retention in urban watershed ecosystems. Ecosystems 7:393–403

Groffman PM, Rosi EJ, Martel L, Kaushal S (2018) Stream chemistry for core sites in Gwynns Falls: concentration of Cl, NO3, PO4, total N and P, SO4, dissolved oxygen, E. coli, plus temperature, pH, clarity, turbidity, isotopes, and pharmaceuticals ver 600. Environmental Data Initiative. https://doi.org/10.6073/pasta/9a7c95a4b7b12e7d97fc296b050ce8a5. Accessed 2020-05-13

Hale RL, Scoggins M, Smucker NJ, Suchy A (2016) Effects of climate on the expression of the urban stream syndrome. Freshw Sci 35:421–428

Hansen AJ, Knight RL, Marzluff JM, Powell S, Brown K, Gude PH, Jones K (2005) Effects of exurban development on biodiversity: patterns, mechanisms, and research needs. Ecol Appl 15:1893–1905

Hirsch RM, Moyer DL, Archfield SA (2010) Weighted regressions on Time, Discharge, and season (WRTDS), with an application to Chesapeake Bay River Inputs. JAWRA J Am Water Resour Association 46:857–880

Hobbie SE, Finlay JC, Janke BD, Nidzgorski DA, Millet DB, Baker LA (2017) Contrasting nitrogen and phosphorus budgets in urban watersheds and implications for managing urban water pollution. Proceedings of the National Academy of Sciences 114: 4177–4182

Kaushal SS, Groffman PM, Band LE, Elliott EM, Shields CA, Kendall C (2011) Tracking nonpoint source nitrogen pollution in human-impacted watersheds. Environ Sci Technol 45:8225–8232

Kaushal SS, Groffman PM, Band LE, Shields CA, Morgan RP, Palmer MA, Belt KT, Swan CM, Findlay SEG, Fisher GT (2008) Interaction between urbanization and climate variability amplifies watershed nitrate export in Maryland. Environ Sci Technol 42:5872–5878

Kaushal SS, Groffman PM, Likens GE, Belt KT, Stack WP, Kelly VR, Band LE, Fisher GT (2005) Increased salinization of fresh water in the northeastern United States. Proc Natl Acad Sci USA 102:13517–13520

Kaushal SS, Likens GE, Pace ML, Utz RM, Haq S, Gorman J, Grese M (2018) Freshwater salinization syndrome on a continental scale. Proceedings of the National Academy of Sciences 115: E574-E583

Kelly VR, Findlay SE, Hamilton SK, Lovett GM, Weathers KC (2019) Seasonal and long-term dynamics in stream water sodium chloride concentrations and the effectiveness of road salt best management practices. Water, Air, & Soil Pollution 230

Kochary S, Byl T, Noori B (2017) Modeling the movement of septic water chloride through a soil profile. Sustainability 9:501

Law LN, Band EL, Grove JM (2004) Nitrogen input from residential lawn care practices in suburban watersheds in Baltimore County, MD. J Environ Planning Manage 47:737–755

Likens GE (2013) Biogeochemistry of a Forested Ecosystem, 3rd Edition. Springer-Verlag, New York

Loecke TD, Burgin AJ, Riveros-Iregui DA, Ward AS, Thomas SA, Davis CA, Clair MAS (2017) Weather whiplash in agricultural regions drives deterioration of water quality. Biogeochemistry 133:7–15

Lopez R (2014) Urban Sprawl in the United States: 1970–2010. Cities and the Environment (CATE) 7: Article 7. Available at: https://digitalcommons.lmu.edu/cate/vol7/iss1/7

Lovett GM, Likens GE, Buso DC, Driscoll CT, Bailey SW (2005) The biogeochemistry of chlorine at Hubbard Brook, New Hampshire, USA. Biogeochemistry 72: 191–232

Maryland Department of the Environment (2022) Maryland's Nitrogen-Reducing Septic Upgrade Program. https://www.mdsg.umd.edu/wra/programs/nitrogen-reducing-septic-upgrade-program

Moore J, Bird DL, Dobbis SK, Woodward G (2017) Nonpoint source contributions drive elevated major ion and dissolved inorganic carbon concentrations in urban watersheds. Environ Sci Technol Lett 4:198–204

Nathan RJ, McMahon TA (1990) Evaluation of automated techniques for base flow and recession analyses. Water Resour Res 26:1465–1473

Newburn D, Berck P (2011) Exurban development. J Environ Econ Manag 62:323–336

Oberhelman A, Peterson EW (2020) Chloride source delineation in an urban-agricultural watershed: Deicing agents versus agricultural contributions. Hydrol Process 34:4017–4029

Overbo A, Heger S, Gulliver J (2021) Evaluation of chloride contributions from major point and nonpoint sources in a northern U.S. state. Sci Total Environ 764:144179

Raciti SM, Groffman PM, Fahey TJ (2008) Nitrogen retention in urban lawns and forests. Ecol Appl 18:1615–1626

Reisinger AJ, Doody TR, Groffman PM, Kaushal SS, Rosi EJ (2019) Seeing the light: urban stream restoration affects stream metabolism and nitrate uptake via changes in canopy cover. Ecol Appl 29:e01941

Reisinger AJ, Woytowitz E, Majcher E, Rosi EJ, Belt KT, Duncan JM, Kaushal SS, Groffman PM (2018) Changes in long-term water quality of Baltimore streams are associated with both gray and green-infrastructure. Limnol Oceanogr 17:1–17

Rossi ML, Kremer P, Cravotta CA, Scheirer KE, Goldsmith ST (2022) Long-term impacts of impervious surface cover change and roadway deicing agent application on chloride concentrations in exurban and suburban watersheds. Sci Total Environ 851:157933

Rutledge EM, Teppen BJ, Mote CR, Wolf DC (1993) Designing septic tank filter fields based on effluent storage during climatic stress. J Environ Qual 22:46–51

Sabo RD, Clark CM, Bash J, Sobota D, Cooter E, Dobrowolski JP, Houlton BZ, Rea A, Schwede D, Morford SL, Compton JE (2019) Decadal shift in nitrogen inputs and fluxes across the contiguous United States: 2002–2012. J Geophys Research: Biogeosciences 124:3104–3124

Sabo RD, Scanga SE, Lawrence GB, Nelson DM, Eshleman KN, Zabala GA, Alinea AA, Schirmer CD (2016) Watershed-scale changes in terrestrial nitrogen cycling during a period of decreased atmospheric nitrate and sulfur deposition. Atmos Environ 146:271–279

Seybold E, Gold AJ, Inamdar SP, Adair C, Bowden WB, Vaughan MCH, Pradhanang SM, Addy K, Shanley JB, Vermilyea A, Levia DF, Wemple BC, Schroth AW (2019) Influence of land use and hydrologic variability on seasonal dissolved organic carbon and nitrate export:. insights from a multi-year regional analysis for the northeastern USA. Biogeochemistry

Wainger LA (2012) Opportunities for reducing total maximum daily load (TMDL) compliance costs: Lessons from the Chesapeake Bay. Environ Sci Technol 46:9256–9265

Walsh CJ, Roy AH, Feminella JW, Cottingham PD, Groffman PM, Morgan RP (2005) The urban stream syndrome: current knowledge and the search for a cure. J North Am Benthological Soc 24:706–723

Wherry SA, Tesoriero AJ, Terziotti S (2021) Factors affecting nitrate concentrations in stream base flow. Environ Sci Technol 55:902–911

Withers PJA, Jordan P, May L, Jarvie HP, Deal NE (2013) Do septic tank systems pose a hidden threat to water quality? Front Ecol Environ 12:123–130
Acknowledgements
This work was performed as part of the Baltimore Ecosystem Study, a long-term ecological research project funded by the National Science Foundation Long-Term Ecological Research Program (DEB 1027188). Thank you to the Cary Institute of Ecosystem Studies and the National Science Foundation (DBI 1559769) for supporting the Research Experiences for Undergraduates program in 2020 which allowed Emma Castiblanco to conduct research. We thank the numerous field technicians and volunteers who have braved a range of weather conditions to perform stream monitoring for the Baltimore Ecosystem Study. We also thank Lisa Martel and the staff of the Cary Institute Analytical Facility for the analysis, processing, and QA/QC of all of the water quality data.
Additional information
Publisher's Note
Springer Nature remains neutral with regard to jurisdictional claims in published maps and institutional affiliations.
Electronic supplementary material
Below is the link to the electronic supplementary material.
Rights and permissions
Springer Nature or its licensor (e.g. a society or other partner) holds exclusive rights to this article under a publishing agreement with the author(s) or other rightsholder(s); author self-archiving of the accepted manuscript version of this article is solely governed by the terms of such publishing agreement and applicable law.
About this article
Cite this article
Castiblanco, E.S., Groffman, P.M., Duncan, J. et al. Long-term trends in nitrate and chloride in streams in an exurban watershed. Urban Ecosyst (2023). https://doi.org/10.1007/s11252-023-01340-0
Accepted:

Published:

DOI: https://doi.org/10.1007/s11252-023-01340-0
Key terms
Nitrate

Chloride

Salt

Exurban

Watershed

Long-term