Abstract
Animals from urban areas are regularly brought into wildlife rehabilitation centers, providing untapped potential data records to inform management of wildlife species. Although rescues may be considered a wildlife stewardship behavior, not all 'rescues' may be warranted. Some animals are more likely to be brought into a rescue center than others, suggesting that human drivers underlying wildlife rehabilitation efforts are important to understand for urban conservation efforts. Literature has primarily focused on understanding the ecological drivers and implications of wildlife rescues. Our study is the first to investigate both the social and ecological drivers of bird rescues using census, household survey, and intake data. In Phoenix metropolitan area, Arizona, USA in 2017–2018, we found doves and common species were sent to the center most often. Altricial species (helpless at hatching) and young birds were more likely to be brought to the center, perhaps due to perceptions of young animals as vulnerable. We found rescues came from neighborhoods with higher incomes and residents with pro-ecological worldviews, perhaps reflecting a perceived responsibility for wildlife. Conversely, few rescues came from neighborhoods with a high percentage of Hispanic/Latinx residents, who often feel more interdependent with nature. Neighborhoods with greater numbers of rescues were more likely to have residents participating in yard stewardship activities as compared to neighborhoods with fewer rescues. Our findings are relevant to understanding drivers of wildlife stewardship actions and for intake centers who wish to reduce the occurrence of people bringing in wildlife that do not need to be rescued.
Access options
Buy single article
Instant access to the full article PDF.
USD 39.95
Price excludes VAT (USA)
Tax calculation will be finalised during checkout.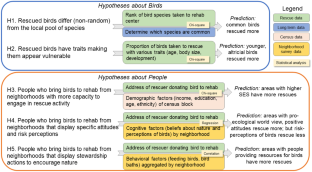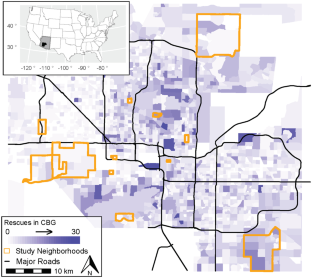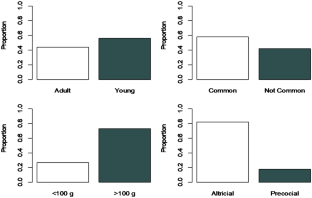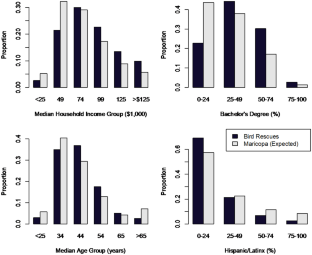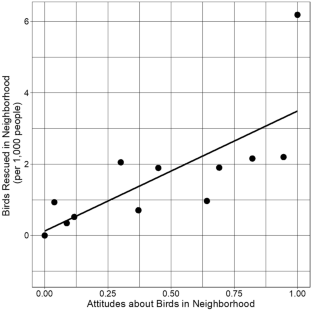 Availability of data and material
Code availability
Contact the authors for code.
References
Agresti A (2018) An introduction to categorical data analysis. Wiley

Allen DC, Bateman HL, Warren PS, de Albuquerque FS, Arnett-Romero S, Harding B (2019) Long-term effects of land-use change on bird communities depend on spatial scale and land-use type. Ecosphere 10(11):e02952. https://doi.org/10.1002/ecs2.2952

Archer J, Monton S (2011) Preferences for infant facial features in pet dogs and cats. Ethology 117(3):217–226. https://doi.org/10.1111/j.1439-0310.2010.01863.x

Baicich PJ, Harrison CJ (1997) A guide to the nests, eggs, and nestlings of North American birds

Ballantyne R, Packer J (2011) Using tourism free-choice learning experiences to promote environmentally sustainable behaviour: the role of post-visit 'action resources.' Environ Educ Res 17:201–215. https://doi.org/10.1080/13504622.2010.530645

Ballantyne R, Packer J, Falk J (2011) Visitors' learning for environmental sustainability: Testing short- and long-term impacts of wildlife tourism experiences using structural equation modelling. Tour Manag 32:1243–1252. https://doi.org/10.1016/j.tourman.2010.11.003

Bateman HL, Brown JA, Larson KL, Andrade R, Hughes B (2021) Unwanted residential wildlife: Evaluating social-ecological patterns for snake removals. Global Ecol Conserv 27:e01601. https://doi.org/10.1016/j.gecco.2021.e01601

Bateman H, Childers D, Warren P (2018) Data from: Point-count bird censusing: long-term monitoring of bird abundance and diversity along the Salt River in the greater Phoenix metropolitan area, ongoing since 2013 (Reformatted to ecocomDP Design Pattern). https://doi.org/10.6073/PASTA/23A69B9940326530DEFDF1831F467A24

Belaire JA, Westphal LM, Minor ES (2016) Different social drivers, including perceptions of urban wildlife, explain the ecological resources in residential landscapes. Landsc Ecol 31:401–413. https://doi.org/10.1007/s10980-015-0256-7

Benjamini Y, Yekutieli D (2001) The control of the false discovery rate in multiple testing under dependency. Ann Stat 29:1165–1188

Bennett NJ, Whitty TS, Finkbeiner E, Pittman J, Bassett H, Gelcich S, Allison EH (2018) Environmental stewardship: a conceptual review and analytical framework. Environ Manag 61:597–614. https://doi.org/10.1007/s00267-017-0993-2

Blockstein DE (1989) Crop Milk and Clutch Size in Mourning Doves. Wilson Bull 101:11–25

Camacho M, Hernández JM, Lima-Barbero JF, Höfle U (2016) Use of wildlife rehabilitation centres in pathogen surveillance: A case study in white storks (Ciconia ciconia). Prev Vet Med 130:106–111. https://doi.org/10.1016/j.prevetmed.2016.06.012

Chan KM, Balvanera P, Benessaiah K, Chapman M, Díaz S, Gómez-Baggethun E et al (2016) Opinion: Why protect nature? Rethinking values and the environment. PNAS 113:1462–1465. https://doi.org/10.1073/pnas.1525002113

Chapin FS, Carpenter SR, Kofinas GP, Folke C, Abel N, Clark WC et al (2010) Ecosystem stewardship: sustainability strategies for a rapidly changing planet. Trends Ecol Evol 25:241–249. https://doi.org/10.1016/j.tree.2009.10.008

Clucas B, Rabotyagov S, Marzluff JM (2015) How much is that birdie in my backyard? A cross-continental economic valuation of native urban songbirds. Urban Ecosyst 18:251–266. https://doi.org/10.1007/s11252-014-0392-x

Cox DT, Gaston KJ (2015) Likeability of garden birds: Importance of species knowledge and richness in connecting people to nature. PLoS One 10(11):e0141505

Dayer AA, Barnes JC, Dietsch AM, Keating JM, Naves LC (2020) Advancing scientific knowledge and conservation of birds through inclusion of conservation social sciences in the American Ornithological Society. The Condor 122(4):duaa047. https://doi.org/10.1093/condor/duaa047

Dunn RR, Gavin MC, Sanchez MC, Solomon JN (2006) The pigeon paradox: dependence of global conservation on urban nature. Conserv Biol 20(6):1814–1816. https://www.jstor.org/stable/4124710

Dunlap RE, Van Liere KD, Mertig AG, Jones RE (2000) New trends in measuring environmental attitudes: measuring endorsement of the new ecological paradigm: a revised NEP scale. J Soc Issues 56:425–442. https://doi.org/10.1111/0022-4537.00176

Echeverri A, Naidoo R, Karp DS, Chan KM, Zhao J (2019) Iconic manakins and despicable grackles: comparing cultural ecosystem services and disservices across stakeholders in Costa Rica. Ecol Indic 106:105454

Feck A, Hamann M (2013) Effect of sea turtle rehabilitation centres in Queensland, Australia, on people's perceptions of conservation. Endanger Species Res 20:153–165. https://doi.org/10.3354/esr00482

Goddard MA, Dougill AJ, Benton TG (2013) Why garden for wildlife? Social and ecological drivers, motivations and barriers for biodiversity management in residential landscapes. Ecol Econ 86:258–273. https://doi.org/10.1016/j.ecolecon.2012.07.016

Hager SB, Cosentino BJ, Aguilar-Gómez MA, Anderson ML, Bakermans M, Boves TJ et al (2017) Continent-wide analysis of how urbanization affects bird-window collision mortality in North America. Biol Conserv 212:209–215

Harrison C, Burgess J (2008) Social science concepts and frameworks for understanding urban ecosystems. In Urban Ecology (pp 475–483). Springer, Boston, MA

Heyd T (2004) Themes in Latin American environmental ethics: community, resistance and autonomy. Environ Values 13:223–242. https://doi.org/10.3197/0963271041159859

Kidd AH, Kidd RM, Zasloff RL (1996) Characteristics and motives of volunteers in wildlife rehabilitation. Psychol Rep 79:227–234. https://doi.org/10.2466/pr0.1996.79.1.227

Klain SC, Olmsted P, Chan KMA, Satterfield T (2017) Relational values resonate broadly and differently than intrinsic or instrumental values, or the New Ecological Paradigm. PLoS One 12(8):e0183962. https://doi.org/10.1371/journal.pone.0183962

Knippenberg L, de Groot WT, van den Born RJ, Knights P, Muraca B (2018) Relational value, partnership, eudaimonia: a review. Curr Opin Environ Sustain 35(2018):39–45

Kollmuss A, Agyeman J (2002) Mind the gap: why do people act environmentally and what are the barriers to pro-environmental behavior? Environ Educ Res 8(3):239–260

Jacobs MH (2009) Why do we like or dislike animals? Hum Dimens Wildl 14(1):1–11

Johnson CY, Bowker JM, Cordell HK (2004) Ethnic variation in environmental belief and behavior: An examination of the new ecological paradigm in a social psychological context. Environ Behav 36:157–186. https://doi.org/10.1177/0013916503251478

Larson K, York A, Andrade R, Wittlinger S (2019) Data from: Phoenix Area Social Survey (PASS): 2017. https://doi.org/10.6073/PASTA/98DD5B92117E9D728B09E582FB4D1B17

Larson KL, Andrade R, York A, Childers D, Coseo P, Earl S et al (2017) Data from: The Phoenix Area Social Survey IV. Arizona State University

Larson LR, Cooper CB, Hauber ME (2016) Emotions as drivers of wildlife stewardship behavior: Examining citizen science nest monitors' responses to invasive house sparrows. Hum Dimens Wildl 21(1):18–33

Larson KL, Fleeger M, Wheeler MM, Andrade R, Brown J, Hall SJ, Lerman SB, Narango DL (2020) Who is abuzz about bees? Explaining residents' attitudes in Phoenix, Arizona. Urban Ecosyst 1-14. https://doi.org/10.1007/s11252-020-01013-2

Levin J, Arluke A, Irvine L (2017) Are people more disturbed by dog or human suffering?: Influence of victim's species and age. Soc Anim 25(1):1–16. https://doi.org/10.1163/15685306-12341440

Loss SR, Will T, Loss SS, Marra PP (2014) Bird–building collisions in the United States: Estimates of annual mortality and species vulnerability. Condor 116(1):8–23

Mariacher A, Gherardi R, Mastrorilli M, Melini D (2016) Causes of admission and outcomes of Long-eared Owl (Asio Otus) in wildlife rescue centres in Italy from 2010 to 2014. Avian Biol Res 9:282–286. https://doi.org/10.3184/175815516X14739467542487

Martínez JC, Rosique AI, Royo MS (2014) Causes of admission and final dispositions of hedgehogs admitted to three Wildlife Rehabilitation Centers in eastern Spain. Hystrix Ital J Mammal 25(2):107–110

Martin TE (1995) Avian life history evolution in relation to nest sites, nest predation, and food. Ecol Monogr 65:101–127. https://doi.org/10.2307/2937160

Merenlender AM, Crall AW, Drill S, Prysby M, Ballard H (2016) Evaluating environmental education, citizen science, and stewardship through naturalist programs: Naturalists and Citizen Science. Conserv Biol 30:1255–1265. https://doi.org/10.1111/cobi.12737

Milfont TL, Duckitt J, Cameron LD (2006) A cross-cultural study of environmental motive concerns and their implications for proenvironmental behavior. Environ Behav 38:745–767. https://doi.org/10.1177/0013916505285933

Miller DA (2010) Morphological plasticity reduces the effect of poor developmental conditions on fledging age in mourning doves. Proc Biol Sci 277:1659–1665. https://doi.org/10.1098/rspb.2010.0022

Mullineaux E (2014) Veterinary treatment and rehabilitation of indigenous wildlife. J Small Anim Pract 55(6):293–300

Narango DL, Tallamy DW, Marra PP (2017) Native plants improve breeding and foraging habitat for an insectivorous bird. Biol Conserv 213:42–50. https://doi.org/10.1016/j.biocon.2017.06.029

Olli E, Grendstad G, Wollebaek D (2001) Correlates of environmental behaviors: bringing back social context. Environ Behav 33:181–208. https://doi.org/10.1177/0013916501332002

Pelletier LG, Sharp E (2008) Persuasive communication and proenvironmental behaviours: how message tailoring and message framing can improve the integration of behaviours through self-determined motivation. Can Psychol 49(3):210

Pitts SL, Hughes BD, Mali I (2017) Rattlesnake nuisance removals and urban expansion in Phoenix, Arizona. West N Am Nat 77:309. https://doi.org/10.3398/064.077.0304

Pyke GH, Szabo JK (2018a) Conservation and the 4 Rs, which are rescue, rehabilitation, release, and research. Conserv Biol 32:50–59. https://doi.org/10.1111/cobi.12937

Pyke GH, Szabo JK (2018b) What can we learn from untapped wildlife rescue databases? The masked lapwing as a case study. Pac Conserv Biol 24:148–156. https://doi.org/10.1071/PC18003

R Core Team (2018) R: A language and environment for statistical computing. R Foundation for Statistical Computing, Vienna, Austria

Robbins P, Polderman A, Birkenholtz T (2001) Lawns and toxins. Cities 18:369–380. https://doi.org/10.1016/S0264-2751(01)00029-4

Romolini M, Grove JM, Locke DH (2013) Assessing and comparing relationships between urban environmental stewardship networks and land cover in Baltimore and Seattle. Landsc Urban Plan 120:190–207. https://doi.org/10.1016/j.landurbplan.2013.08.008

Rosenberg KV, Dokter AM, Blancher PJ, Sauer JR, Smith AC, Smith PA et al (2019) Decline of the North American avifauna. Science 366:120–124. https://doi.org/10.1126/science.aaw1313

Scheelings TF (2015) Morbidity and mortality of reptiles admitted to the Australian wildlife health centre, Healesville Sanctuary, Australia, 2000–13. J Wildl Dis 51:712–718. https://doi.org/10.7589/2014-09-230

Sedinger JS (1986) Growth and development of Canada goose goslings. Condor 88:169. https://doi.org/10.2307/1368912

Shine R, Koenig J (2001) Snakes in the garden: an analysis of reptiles "rescued" by community-based wildlife carers. Biol Conserv 102:271–283. https://doi.org/10.1016/S0006-3207(01)00102-1

Soga M, Evans MJ, Yamanoi T, Fukano Y, Tsuchiya K, Koyanagi TF, Kanai T (2020) How can we mitigate against increasing biophobia among children during the extinction of experience? Biol Conserv 242:108420. https://doi.org/10.1016/j.biocon.2020.108420

Soga M, Gaston KJ (2016) Extinction of experience: the loss of human–nature interactions. Front Ecol Environ 14(2):94–101. https://doi.org/10.1002/fee.1225

Sorensen A, Jordan RC, Blaise G, Brown J, Campbell LK, Aronson MF, Johnson ML (2018) Drivers of public participation in urban restoration stewardship programs: linkages between environmental identity and knowledge, and motivations. Arboricult Urban For 44(6):266–282

Soulsbury CD, White CL (2015) Human–wildlife interactions in urban areas: a review of conflicts, benefits and opportunities. Wildl Res 42(7):541–553. https://doi.org/10.1071/WR14229

Sponarski CC, Vaske JJ, Bath AJ (2015) The role of cognitions and emotions in human–coyote interactions. Hum Dimens Wildl 20:238–254. https://doi.org/10.1080/10871209.2015.1010756

Sullivan BK, Kwiatkowski MA, Schuett GW (2004) Translocation of urban Gila Monsters: a problematic conservation tool. Biol Conserv 117:235–242. https://doi.org/10.1016/j.biocon.2003.07.002

Tribe A, Brown PR (2000) The role of wildlife rescue groups in the care and rehabilitation of Australian fauna. Hum Dimens Wildl 5:69–85. https://doi.org/10.1080/10871200009359180

U.S. Census Bureau (2019) QuickFacts: Maricopa County, Arizona [WWW Document] URL https://www.census.gov/quickfacts/maricopacountyarizona Accessed 5 Apr 2020

Warren PS, Lerman SB, Andrade R, Larson KL, Bateman HL (2019) The more things change: species losses detected in Phoenix despite stability in bird–socioeconomic relationships. Ecosphere 10:e02624. https://doi.org/10.1002/ecs2.2624

Westmoreland D, Best LB, Blockstein DE (1986) Multiple brooding as a reproductive strategy: time-conserving adaptations in mourning doves. Auk 103:196–203. https://doi.org/10.1093/auk/103.1.196

Whittaker D, Vaske JJ, Manfredo MJ (2006) Specificity and the cognitive hierarchy: value orientations and the acceptability of urban wildlife management actions. Soc Nat Resour 19:515–530. https://doi.org/10.1080/08941920600663912

Wimberger K, Downs C (2010) Annual intake trends of a large urban animal rehabilitation centre in South Africa: a case study. Anim Welf 19:501–513
Acknowledgements
Bird rescue data from 2018 were collected and provided by the non-profit organization, Liberty Wildlife (https://libertywildlife.org). This work is supported by the National Science Foundation under grant numbers DEB-1637590 and DEB-1832016 through the Central Arizona-Phoenix Long-Term Ecological Research Program (CAP LTER).
Funding
This work is supported by the National Science Foundation under grant numbers DEB-1637590 and DEB-1832016 through the Central Arizona-Phoenix Long-Term Ecological Research Program (CAP LTER).
Ethics declarations
Ethics approval
Social survey data were obtained with Arizona State University, Institutional Research Board approval (protocol #STUDY00004900).
Consent to participate
Social survey participants gave written consent through mailings.
Consent for publication
Bird rescue data from 2018 were collected and provided by the non-profit organization, Liberty Wildlife (https://libertywildlife.org).
Conflicts of interest
The authors have no conflicts to declare.
Additional information
Andrade and Bateman shared the 1st authorship.
Supplementary Information
Below is the link to the electronic supplementary material.
About this article
Cite this article
Andrade, R., Bateman, H.L., Larson, K.L. et al. To the rescue—Evaluating the social-ecological patterns for bird intakes. Urban Ecosyst 25, 179–192 (2022). https://doi.org/10.1007/s11252-021-01135-1
Accepted:

Published:

Issue Date:

DOI: https://doi.org/10.1007/s11252-021-01135-1
Keywords