Abstract
Plants make important contributions to green roof ecosystem service provision through evapotranspiration, canopy shading, and water retention. Because these plant communities are a critical component of green roof design and function, both seasonal and interspecific variation of these plant communities are important factors in evaluating green roof performance. This study examines variation in both species abundance and 9 leaf traits throughout the 2015 growing season of four New York City green roofs. While community composition varied significantly between each month (pANOSIM = 0.036), three major plant families (Asteraceae, Lamiaceae, and Poaceae) consistently had the greatest green cover and were present during the entirety of the growing season. For leaf traits, period of the growing season had a significant impact on most of the traits measured. Leaf thickness, leaf relative water content (RWC) and saturated water content (SWC) decreased as the growing season progressed, while leaf dry matter content (LDMC) and stomatal density increased, likely due to a seasonal decrease in rainfall as species-level variance in these water traits is low (7.40% and 0.88%, respectively). We also ranked planted and spontaneous species in accordance to both cover and functional trait values, and identified 11 species suitable for green roofs in NYC: Pycnanthemum tenuifolium (Lamiaceae), Symphiotrichum leave, Symphiotrichum pilosum, Rudbeckia hirta, Solidago odora (Asteraceae), Panicum virgatum, Sorghastrum nutrans, Schizachyrium scoparium, Dichanthelium clandestinum, Deschampsia flexuosa (Poaceae), and Oenothera biennis (Onagraceae). Understanding the temporal responses of plant communities and their constituent species is critical in optimizing green roof ecosystem services.
Access options
Buy single article
Instant access to the full article PDF.
USD 39.95
Price includes VAT (USA)
Tax calculation will be finalised during checkout.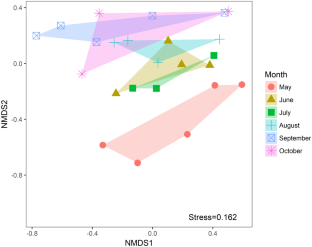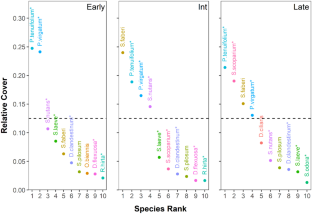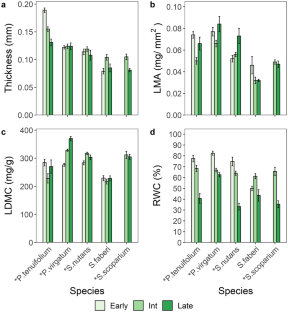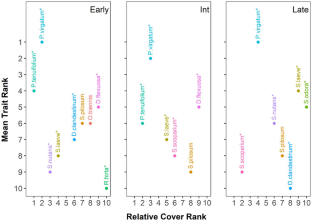 Availability of data and material
Upon publication, the data will be made available for use on the TRY Plant Trait Database.
Code availability
Upon publication, the code will be made available for use on the TRY Plant Trait Database.
References
Aloisio JM, Palmer MI, Giampieri MA, Tuininga AR, Lewis JD (2017) Spatially dependent biotic and abiotic factors drive survivorship and physical structure of green roof vegetation. Ecol Appl 27(1):297–308. https://doi.org/10.1002/eap.1444

Anderson MJ, Crist TO, Chase JM et al (2011) Navigating the multiple meanings of Beta diversity: A roadmap for the practicing ecologist. Ecol Lett 14:19–28. https://doi.org/10.1111/j.1461-0248.2010.01552.x

Arndt SK, Irawan A, Sanders GJ (2015) Apoplastic water fraction and rehydration techniques introduce significant errors in measurements of relative water content and osmotic potential in plant leaves. Physiol Plant 155:355–368. https://doi.org/10.1111/ppl.12380

Balachowski JA, Volaire FA (2018) Implications of plant functional traits and drought survival strategies for ecological restoration. J Appl Ecol 55(2):631–640. https://doi.org/10.1111/1365-2664.12979

Barcelo J, Poschenrieder C (1990) Plant water relations as affected by heavy metal stress: A review. J Plant Nutr 13:1–37. https://doi.org/10.1080/01904169009364057

Bates D, Maechler M, Bolker B, Walker S (2015) Fitting linear mixed-effects models using lme4. J Stat Softw 67(1):1–48. https://doi.org/10.18637/jss.v067.i01

Blanusa T, Vaz Monteiro MM, Fantozzi F et al (2013) Alternatives to Sedum on green roofs: Can broad leaf perennial plants offer better 'cooling service'? Build Environ 59:99–106. https://doi.org/10.1016/j.buildenv.2012.08.011

Bussotti F, Pollastrini M (2015) Evaluation of leaf features in forest trees: Methods, techniques, obtainable information and limits. Ecol Indic 52:219–230. https://doi.org/10.1016/j.ecolind.2014.12.010

Butler C, Butler E, Orians CM (2012) Native plant enthusiasm reaches new heights: Perceptions, evidence, and the future of green roofs. Urban for Urban Gree 11:1–10. https://doi.org/10.1016/j.ufug.2011.11.002

Cornelissen JHC, Lavorel S, Garnier E et al (2003) A handbook of protocols for standardised and easy measurement of plant functional traits worldwide. Aust J Bot 51:335–380. https://doi.org/10.1071/BT02124

Durhman AK, Rowe DB, Rugh CL (2007) Effect of substrate depth on initial growth, coverage, and survival of 25 succulent green roof plant taxa. HortScience 42:588–595. https://doi.org/10.21273/HORTSCI.42.3.588

Edinger GJ, Evans DJ, Gebauer S et al (editors) (2014) Ecological Communities of New York State. Second Edition. A revised and expanded edition of Carol Reschke's Ecological Communities of New York State. New York Natural Heritage Program, New York State Department of Environmental Conservation, Albany, NY. https://www.dec.ny.gov/docs/wildlife_pdf/ecocomm2014.pdf

Edwards EJ, Chatelet DS, Sack L, Donoghue MJ (2014) Leaf life span and the leaf economic spectrum in the context of whole plant architecture. J Ecol 102:328–336. https://doi.org/10.1111/1365-2745.12209

Garnier E, Navas M-L (2011) A trait-based approach to comparative functional plant ecology: concepts, methods and applications for agroecology. Agron Sustain Dev 32:365–399. https://doi.org/10.1007/s13593-011-0036-y

Getter KL, Bradley Rowe D, Cregg BM (2009) Solar radiation intensity influences extensive green roof plant communities. Urban for Urban Gree 8:269–281. https://doi.org/10.1016/j.ufug.2009.06.005

Hyson S (2012) Effects of Green Roof Age and Design on Plant and Invertebrate Communities. Thesis, Barnard College

Itoh M, Froud-Williams RJ (2014) Roles of emergence time and interspecific competition on the dominance and coexistence of Setaria faberi and Digitaria ciliaris in an orchard weed community in Japan. Weed Biol Manag 14(1):31–42. https://doi.org/10.1111/wbm.12030

Johnson C, Schweinhart S, Buffam I (2016) Plant species richness enhances nitrogen retention in green roof plots. Ecol Appl 26:2130–2144. https://doi.org/10.1890/15-1850.1

Lundholm J, Tran S, Gebert L (2015) Plant functional traits predict green roof ecosystem services. Environ Sci Technol 49(4):2366–2374

MacIvor JS, Lundholm J (2011) Performance evaluation of native plants suited to extensive green roof conditions in a maritime climate. Ecol Eng 37:407–417. https://doi.org/10.1016/j.ecoleng.2010.10.004

McGuire KL, Payne SG, Palmer MI et al (2013) Digging the New York City Skyline: soil fungal communities in green roofs and city parks. PLoS One 8(3):e58020

Monterusso M, Rowe DB, Rugh CL (2005) Establishment and persistence of Sedum spp. and native taxa for green roof applications. HortScience 40:391–396. https://doi.org/10.21273/HORTSCI.40.2.391

Nagase A, Dunnett N, Choi MS (2013) Investigation of weed phenology in an establishing semi-extensive green roof. Ecol Eng 58:156–164. https://doi.org/10.1016/j.ecoleng.2013.06.007

Neidich-Ryder C, Kennelly P (2014) Mapping prairie remnants on the Hempstead Plains, Long Island, New York. Environ Monit Assess 186:3011–3022. https://doi.org/10.1007/s10661-013-3597-1

Oberndorfer E, Lundholm J, Bass B et al (2007) Green Roofs as Urban Ecosystems: Ecological Structures, Functions, and Services. Bioscience 57:823. https://doi.org/10.1641/B57100

Oksanen J, Blanchet FG, Friendly M et al (2019) Vegan: Community Ecology Package. R package version 2.5–6. https://CRAN.R-project.org/package=vegan

Peng LLH, Jim CY (2015) Seasonal and diurnal thermal performance of a subtropical extensive green roof: The impacts of background weather parameters. Sustainability (switzerland) 7(8):11098–11113. https://doi.org/10.3390/su70811098

R Core Team (2019) R: A language and environment for statistical computing. R Foundation for Statistical Computing, Vienna, Austria. https://www.R-project.org/

Schneider CA, Rasband WS, Eliceiri KW (2012) NIH Image to ImageJ: 25 years of image analysis. Nat Methods 9(7): 671–675. PMCID: PMC5554542

USDA, NRCS (2019) The PLANTS Database. National Plant Data Team, Greensboro, NC 27401–4901 USA. http://plants.usda.gov

Van Mechelen C, Dutoit T, Kattge J, Hermy M (2014) Plant trait analysis delivers an extensive list of potential green roof species for Mediterranean France. Ecol Eng 67:48–59

Villarreal EL (2007) Runoff detention effect of a sedum green-roof. Nord Hydrol 38:99. https://doi.org/10.2166/nh.2007.031

Vu VQ (2011) ggbiplot: A ggplot2 based biplot. R package version 0.55. http://github.com/vqv/ggbiplot

Wickham H (2016) ggplot2: Elegant Graphics for Data Analysis. Springer-Verlag, New York

Wilke CO (2019) cowplot: Streamlined Plot Theme and Plot Annotations for 'ggplot2'. R package version 1.0.0. https://CRAN.R-project.org/package=cowplot
Acknowledgements
We would like to thank the New York City Parks Department and Barnard College for providing access to the green roof sites used in this study. We also thank Amita Wanar, Angeli Sandoval, Rachel H. Tao, and Sarah G. Bruner for their immense assistance in field sampling, observation, and laboratory processing. Finally, we would like to thank Dr. Meghan L. Avolio, Allison Blanchette, Smriti Pehim-Limbu, Dr. Ava Hoffman, and Dr. Kaitlin Kimmel at the Johns Hopkins University Department of Earth & Planetary Sciences for their editorial input.
Funding
This work was made possible through the financial support of Columbia University's Department of Ecology, Evolution, and Environmental Biology, and the Columbia University Earth Institute.
Ethics declarations
Conflicts of interest
We certify that we have no conflicts of interest regarding this work.
Electronic supplementary material
Below is the link to the electronic supplementary material.
About this article
Cite this article
Yee, E.G., Callahan, H.S., Griffin, K.L. et al. Seasonal patterns of native plant cover and leaf trait variation on New York City green roofs. Urban Ecosyst (2021). https://doi.org/10.1007/s11252-021-01134-2
Keywords
Biodiversity

Urban Ecology

Plant Traits

Native Plants

Green Infrastructure