Abstract
Wildlife is known to be attracted to cities as a result of the ecosystem services associated with synanthorpization. This however often results in conflicts between human activities and wildlife. Accidental encounters between snakes and people in urban areas is a problem Windhoek shares with many cities around the world. Globally, this conflict leads to numerous human envenomations, a serious and neglected health concern according to the World Health Organisation. It is estimated that between 4000 and 30,000 people die from snakebite envenomation annually in sub-Saharan Africa alone. Surrounded by farm and natural land, the capital city of Namibia experiences regular snake occurrence in and around houses, gardens and industrial sites. We investigated reported occurrences of snakes in the city over three years in order to assess possible temporal and spatial trends, and identified possible reasons for such trends. Between August 2015 and July 2018, 509 snakes of 17 species were removed from homes, gardens and industrial sites in the city. Puff adder (Bitis arietans) (32%, n = 163) and western barred spitting cobra (Naja nigricincta nigricincta) (27%, n = 135) dominated removal incidents. Of the other species, only brown house snake (Boaedon capensis) (11%, n = 57) and boomslang (Dispholidus typus viridis) (10%, n = 52) accounted for 10% and more of removals. The number of monthly reports of B. arietans occurrence showed a strong positive relationship with monthly total rainfall while N. n. nigricincta presented a moderately positive relationship with rainfall. The highest number of incidents were reported in January (18%, n = 92) when combining monthly data over the three years. Reports of snake occurrence incidents were highest in the affluent eastern and southern suburbs, possibly as a result of garden irrigation and larger open spaces between buildings, although the study could not measure whether reporting diligence was consistent across all suburbs. Although 76% (n = 388) of snake incidents involved venomous species, no snakebite incidents were reported during the period.
This is a preview of subscription content, log in to check access.
Access options
Buy single article
Instant access to the full article PDF.
US$ 39.95
Price includes VAT for USA
Subscribe to journal
Immediate online access to all issues from 2019. Subscription will auto renew annually.
US$ 99
This is the net price. Taxes to be calculated in checkout.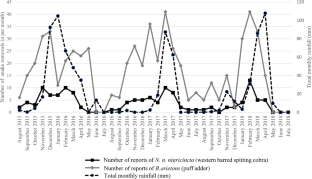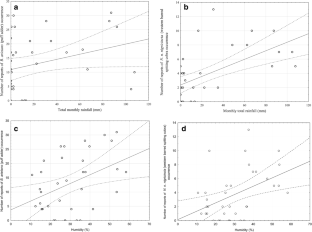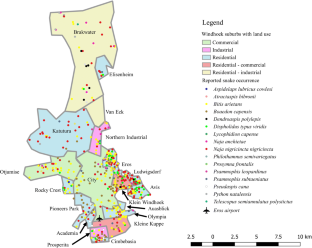 References
Ackley JW, Wu J, Angilletta MJ Jr, Myint SW, Sullivan B (2015) Rich lizards: how affluence and land cover influence the diversity and abundance of desert reptiles persisting in an urban landscape. Biol Conserv 182:87–92

Akani GC, Ebere N, Franco D, Eniang EA, Petrozzi F, Politano E, Luiselli L (2013) Correlation between annual activity patterns of venomous snakes and rural people in the Niger Delta, southern Nigeria. J Venom Anim Toxins Trop Dis 19:2. https://doi.org/10.1186/1678-9199-19-2

Balakrishnan P (2010) An education programme and establishment of a citizen scientist network to reduce killing of non-venomous snakes in Malappuram district, Kerala, India. Conserv Evid 7:9–15

Bauer AM (1992) Herpetofaunal patterns in the Kamanjab District and adjacent Damaraland, Namibia. J Herpetol Assoc Afr 40:37–37. https://doi.org/10.1080/04416651.1992.9650319

Blem CR (1982) Biennial reproduction in snakes: an alternative hypothesis. Copeia 1982:961–963

Branch WR (1999) Reptile systematic studies in southern Africa: a brief history and overview. Trans R Soc S Afr 54:137–156. https://doi.org/10.1080/00359199909520408

Brown GP, Shine R (2006) Influence of weather conditions on activity of tropical snakes. Aus Eco 27:596–605. https://doi.org/10.1046/j.1442-9993.2002.01218.x

Butler H, Malone B, Clemann N (2005) The effects of translocation on the spatial ecology of tiger snakes (Notechis scutatus) in a suburban landscape. Wildl Res 32:165–171. https://doi.org/10.1071/WR04020

Chippaux J-P (2011) Estimate of the burden of snakebites in sub-Saharan Africa: a meta-analytic approach. Toxicon 57:586–599

City of Windhoek (2016) Windhoek strategic plan 2017–2022. Unpublished Report

Clemann N, McGee T, Odgers J (2004) Snake management on private properties in Melbourne, Australia. Hum Dimens Wildl 9:133–142. https://doi.org/10.1080/10871200490442099

Dickman A, Marchini S, Manfredo M (2013) The human dimension in addressing conflict with large carnivores. In: Macdonald DW, Willis KJ (eds) Key topics in conservation biology 2. Wiley, Chichester, pp 110–126

Envirodynamics (2009) Biodiversity inventory for the city of Windhoek. King Khalid wildlife research Centre. Windhoek

Falinski JB (2000) The interpretation of contemporary vegetation transformations on the basis of the theories of synanthropisation and syndynamics. Publications of the Department of Plant Taxonomy of the Adam Mickiewicz University in Poznan 10:9–30

Fidino M, Magle SB (2017) Trends in long-term urban bird research. In: Ecology and conservation of birds in urban environments. Springer, pp 161–184

Fitch HS (1960) Criteria for determining sex and breeding maturity in snakes. Herpeto 16:49–51

Fizzotti B (2018) The effects of roads on puff adder (Bitis arietans) movement. PhD Thesis. University of the Witwatersrand, Johannesburg, South Africa

Gallo T, Fidino M, Lehrer EW, Magle SB (2017) Mammal diversity and metacommunity dynamics in urban green spaces: implications for urban wildlife conservation. Ecol Appl 27:2330–2341

Gayen D, Dey S, Roy US (2017) Diversity of snakes in and around Durgapur city, West Bengal, India. Zoo's Print 32:17–22

Griffin M (2000) The species diversity, distribution and conservation of Namibian reptiles: a review. J NSS 48:116–141

Gutiérrez JM, Warrell DA, Williams DJ et al (2013) The need for full integration of snakebite envenoming within a global strategy to combat the neglected tropical diseases: the way forward. PLoS 7:e2162

Hauptfleisch M, Avenant N (2015) Integrating small mammal community variables into aircraft–wildlife collision management plans at Namibian airports. Integr Zool 10:515–530. https://doi.org/10.1111/1749-4877.12160

Hauptfleisch ML, Avenant NL, Tsowaseb A (2013) Aircraft-wildlife collisions at two major Namibian airports from 2006-2010. S Afr J Wildl Res 43:177–184

Herrmann H-W, Branch WR (2013) Fifty years of herpetological research in the Namib Desert and Namibia with an updated and annotated species checklist. J Arid Environ 93:94–115. https://doi.org/10.1016/j.jaridenv.2012.05.003

Hoare R (2015) Lessons from 20 years of human–elephant conflict mitigation in Africa. Hum Dimens Wildl 20:289–295. https://doi.org/10.1080/10871209.2015.1005855

Jadhav PL, Chavan SP, Trimukhe HS (2018) Snake species diversity and their distribution in and around Nanded city, Maharashtra. India J Entomol Zool Stud 6:1855–1860

Joubert DF, Rothauge A, Smit GN (2008) A conceptual model of vegetation dynamics in the semiarid Highland savanna of Namibia, with particular reference to bush thickening by Acacia mellifera. J Arid Environ 72:2201–2210. https://doi.org/10.1016/j.jaridenv.2008.07.004

Kaplan BS, O'Riain MJ, van Eeden R, King AJ (2011) A low-cost manipulation of food resources reduces spatial overlap between baboons (Papio ursinus) and humans in conflict. Int J Primatol 32:1397–1412. https://doi.org/10.1007/s10764-011-9541-8

Kasturiratne A, Wickremasinghe AR, de Silva N, Gunawardena NK, Pathmeswaran A, Premaratna R, Savioli L, Lalloo DG, de Silva HJ (2008) The global burden of snakebite: a literature analysis and modelling based on regional estimates of envenoming and deaths. PLoS Med 5:e218. https://doi.org/10.1371/journal.pmed.0050218

Lock B (2008) Venomous snake restraint and handling. J Exotic Pet Med 17:273–284

Longkumer T, Armstrong LJ, Santra V, Finny P (2016) Human, snake, and environmental factors in human-snake conflict in North Bihar-a one-year descriptive study. Ch J Glo Heal 3:36–45

Luiselli L (2008) Community ecology of African reptiles: historical perspective and a meta-analysis using null models. Afr J Ecol 46:384–394. https://doi.org/10.1111/j.1365-2028.2007.00870.x

Luniak M (2004) Synurbization–adaptation of animal wildlife to urban development. In: Proc. 4th Int. Symposium Urban Wildl. Conserv. Tucson. Citeseer, pp 50–55

Madden F (2004) Creating coexistence between humans and wildlife: global perspectives on local efforts to address human–wildlife conflict. Hum Dimens Wildl 9:247–257. https://doi.org/10.1080/10871200490505675

Maller C, Farahani L (2018) Snakes in the city: understanding urban residents' responses to greening interventions for biodiversity. In: State of Australian cities national conference (SOAC 2017). Australian Cities Research Network Adelaide, South Australia, pp 1–10

McPherson SC, Brown M, Downs CT (2016) Diet of the crowned eagle (Stephanoaetus coronatus) in an urban landscape: potential for human-wildlife conflict? Urban Ecosyst 19:383–396

Mendelsohn J (2010) Atlas of Namibia: a portrait of the land and its people, 3rd edn. Jonathan Ball Publishing, Cape Town

Morais V, Massaldi H (2006) Economic evaluation of snake antivenom production in the public system. J Venom Anim Toxins Trop Dis 12:497–511. https://doi.org/10.1590/S1678-91992006000300012

Morandi N, Williams J (1997) Snakebite injuries: contributing factors and intentionality of exposure. Wilderness Environ Med 8:152–155. https://doi.org/10.1580/1080-6032(1997)008[0152:SICFAI]2.3.CO;2

Mormile JE, Hill CM (2017) Living with urban baboons: exploring attitudes and their implications for local baboon conservation and management in Knysna, South Africa. Hum Dimens Wildl 22:99–109

Muller GJ, Modler H, Wium CA (2012) Snake bite in southern Africa : diagnosis and management. CME : Your SA J of CPD 30:362–382

Namibia Statistics Agency (2011) Namibia population and housing census 2011 - overview. Windhoek

Namplace (2016) Threats to the environment | Windhoek Green Belt Landscape. http://www.landscapesnamibia.org/windhoek-green-belt/threats-to-the-environment. Accessed 18 Jan 2017

Nhongu K (2015) Snake whisperer to the rescuer. Windhoek Observer 30 April 2015

Nickanor N, Kazembe NL (2016) Increasing levels of urban malnutrition with rapid urbanization in informal settlements of Katutura, Windhoek: neighbourhood differentials and the effect of socio-economic disadvantage. World Health Popul 16:1–17

Omogbai EK, Nworgu ZA, Imhafidon MA et al (2002) Snake bites in Nigeria: a study of the prevalence and treatment in Benin City. Trop J Pharm Res 1:39–44

Ong PS, Fernandez RE, Pine R (1998) Wildlife inventory of Lipa City, province of Batangas (Philippines). SYLVATROP 8:144–151

Pidgeon AM, Flather CH, Radeloff VC et al (2014) Systematic temporal patterns in the relationship between housing development and forest bird biodiversity. Conserv Biol 28:1291–1301

Redpath SM, Bhatia S, Young J (2015) Tilting at wildlife: reconsidering human–wildlife conflict. Oryx 49:222–225

Shine R, Fitzgerald M (1996) Large snakes in a mosaic rural landscape: the ecology of carpet pythons Morelia spilota (Serpentes: Pythonidae) in coastal eastern Australia. Biol Conserv 76:113–122

Shine R, Lambeck R (1990) Seasonal shifts in the thermoregulatory behaviour of australian blacksnakes, Pseudechis porphyriacus (serpentes: elapidae). J Therm Biol 15:301–305. https://doi.org/10.1016/0306-4565(90)90016-B

Simmons RE, Griffin M, Griffin RE, Marais E, Kolberg H (1998) Endemism in Namibia: patterns, processes and predictions. Biodivers Conserv 7:513–530. https://doi.org/10.1023/A:1008879712736

Soulsbury CD, White PC (2016) Human–wildlife interactions in urban areas: a review of conflicts, benefits and opportunities. Wildl Res 42:541–553

Sperry JH, Taylor CA (2008) Habitat use and seasonal activity patterns of the Great Plains Ratsnake (Elaphe guttata emoryi) in central Texas. SOUTHWEST Nat 53:444–449

Syam N, Alas M (2018) Major outcomes of the 71st session of the world health assembly of the World Health Organisation (WHO). South Centre Policy Brief 49:7–8

Teixeira CP, Passos L, Goulart VD et al (2016) Evaluating patterns of human–reptile conflicts in an urban environment. Wild Res 42:570–578

Temby ID (2004) Urban wildlife issues in Australia. In: Shaw WW, Harris LK, Vandruff L (eds) Proceedings of the 4th international symposium on urban wildlife conservation, Tucson, Arizona', pp 26–34

Thatcher HR, Downs CT, Koyama NF (2019) Anthropogenic influences on the time budgets of urban vervet monkeys. Landscape Urban Plan 181:38–44

Uetz P, Freed P, Hošek J (2016) The reptile database. http://www.reptile-database.org. Accessed 4 June 2016

Uetz P, Freed P, Hošek J (2019) The reptile database. http://www.reptile-database.org. Accessed 15 June 2019

van Rensburg P (2016) Overcoming global water reuse barriers: the Windhoek experience. Int J Water Resour Dev 32:622–636. https://doi.org/10.1080/07900627.2015.1129319

Velenskỳ M, Velenskỳ P, Mebert K (2011) Ecology and ethology of dice snakes (Natrix tessellata) in the city district Troja, Prague. Mertensiella 18:157–175

Weise FJ, Wiesel I, Lemeris J, van Vuuren RJ (2015) Evaluation of a conflict-related Brown Hyaena translocation in Central Namibia. Afr J Wildl Res 45:178–186. https://doi.org/10.3957/056.045.0178

Whitaker PB, Shine R (2002) Thermal biology and activity patterns of the eastern brownsnake (pseudonaja textilis): a radiotelemetric study. Herpeto 58:436–452. https://doi.org/10.1655/0018-0831(2002)058[0436:TBAAPO]2.0.CO;2

Wimberger K, Downs CT (2010) Annual intake trends of a large urban animal rehabilitation centre in South Africa: a case study. Anim Welf 19:501

World Health Organisation (2019) Prevalence of snakebite envenoming. https://www.who.int/snakebites/disease/en/. Accessed 19 Dec 2019

World Population Review (2019) Namibia Population 2019 (Demographics, Maps, Graphs). http://worldpopulationreview.com/countries/namibia-population/. Accessed 13 Dec 2019

Zawadzka D, Zawadzki G (2014) Synanthropisation and synurbisation of raven Corvus corax in Poland: a review. Int Stud Sparrows 38:11–16
About this article
Cite this article
Hauptfleisch, M.L., Sikongo, I.N. & Theart, F. A spatial and temporal assessment of human-snake encounters in urban and peri-urban areas of Windhoek, Namibia. Urban Ecosyst (2020). https://doi.org/10.1007/s11252-020-01028-9
Keywords
City

Human-snake encounters

Human-wildlife conflict

Snakes

Namibia

Urban wildlife