Abstract
Prior to European settlement, swamps, marshes, lakes, and streams were the major landscape features of the Chicago region. Much of this has been altered or lost in the past one-hundred-and-fifty years. We examined the changes in aquatic environments and fauna in Cook County, Illinois, using 1890–1910 and 1997–2017 as our focus intervals. The extents of aquatic features from historical topographic maps were imported into a GIS database and compared with the modern USGS National Hydrography Dataset. Historical and modern spatial data on aquatic animals were collected from museum collection and survey reports. Overall, the total area of wetlands and water bodies has decreased by about a third, while swamps and marshes have been drained or converted into lakes and ponds. Fifty-four of 80 historic molluscan species are not recently recorded, and 26 current species are not recorded in the historical data, including 6 considered to be invasive. Of 54 fish species in the historic data, 23 are no longer present and about 50% of the remaining species have undergone range reductions. Three out of 10 species of reptiles have disappeared. All 25 aquatic birds reported from the 1890–1910 period are still extant and an additional 13 have been reported in recent times, possibly due to increased collection effort. The Chicago region provides a case study of the impact of anthropogenic landscape change on biota. Large scale extirpations of native species have corresponded to a shift to a highly fragmented landscape of small ponds and reduced swamps and marshes.
Access options
Buy single article
Instant access to the full article PDF.
US$ 39.95
Tax calculation will be finalised during checkout.
Subscribe to journal
Immediate online access to all issues from 2019. Subscription will auto renew annually.
US$ 79
Tax calculation will be finalised during checkout.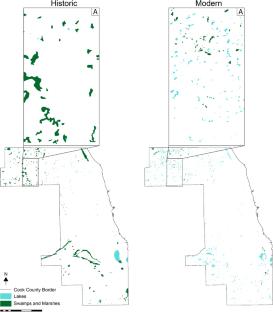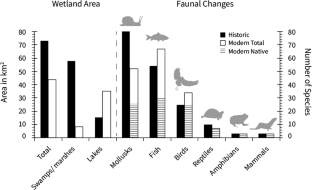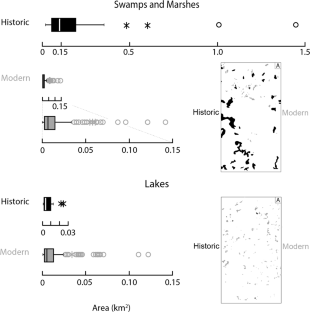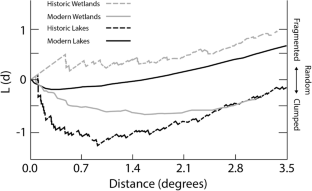 References
Adelmann GW (1998) Reworking the landscape, Chicago style. Hast Cent Rep 28:S6–S11

Ahlers AA, Schooley RL, Heske EJ, Mitchell MA (2010) Effects of flooding and riparian buffers on survival of muskrats (Ondatra zibethicus) across a flashiness gradient. Can J Zool 88:1011–1020. https://doi.org/10.1139/Z10-069

Ahlers AA, Heske EJ, Schooley RL (2016) Prey distribution, potential landscape supplementation, and urbanization affect occupancy dynamics of American mink in streams. Landsc Ecol 31:1601–1613. https://doi.org/10.1007/s10980-016-0350-5

BenDor T (2009) A dynamic analysis of the wetland mitigation process and its effects on no net loss policy. Landsc Urban Plan 89:17–27. https://doi.org/10.1016/j.landurbplan.2008.09.003

BenDor T, Riggsbee JA (2011) Regulatory and ecological risk under federal requirements for compensatory wetland and stream mitigation. Environ Sci Pol 14:639–649. https://doi.org/10.1016/j.envsci.2011.05.005

BenDor T, Brozović N, Pallathucheril VG (2007) Assessing the socioeconomic impacts of wetland mitigation in the Chicago region. J Am Plan Assoc 73:263–282. https://doi.org/10.1080/01944360708977977

BenDor T, Sholtes J, Doyle MW, Bendor T, Sholtes J, Doyle MW (2009) Landscape characteristics of a stream and wetland mitigation program banking program. Ecol Soc Am 19:2078–2092

Bluett RD, Anderson EA, Hubert J, Kruse GF, Lauzon GW (1999) Reintroduction and status of the river otter (Lutra canadensis) in Illinois. Trans Illinois State Acad Sci 92:69–78

Bluett RD, Nielsen CK, Gottfried RW, Miller CA, Woolf A (2004) Status of the River Otter (Lontra canadensis) in Illinois, 1998–2004. Trans Illinois State Acad Sci 97:209–217

Bluett RD, Hulin AC, Hubert PD, Anderson WL (2006) Monitoring the status of mink in Illinois. Trans Illinois State Acad Sci 99(1–2):51

Brandt LA, Lewis AD, Scott L, Darling L, Fahey RT, Iverson L, Nowak DJ, Bodine AR, Bell A, Still S, Butler PR, Dierich A, Handler SD, Janowiak MK, Matthews SN, Miesbauer JW, Peters M, Prasad A, Shann CW (2017) Chicago Wilderness Region Urban Forest Vulnerability Assessment and Synthesis: A Report from the Urban Forestry Climate Change Response Framework Chicago Wilderness Pilot Project

Church SA, Kraus JM, Mitchell JC, Church DR, Taylor DR (2003) Evidence for multiple Pleistocene refugia in the postglacial expansion of the eastern tiger salamander, Ambystoma tigrinum tigrinum . Evolution 57:372–383

Clark FS, Slusher RB (2000) Using spatial analysis to drive reserve design: a case study of a national wildlife refuge in Indiana and Illinois. Landsc Ecol 15:75–84

Cory CB (1912) The mammals of Illinois and Wisconsin. Fieldiana. Zoology., vol XI. Chicag0

Dahl TE (1990) Report To Congress: Wetland Losses in the United States 1780's to 1980's.U S Department of the Interior, Fish and Wildlife Service:1–14

DeCatanzaro R, Chow-Fraser P (2010) Relationship of road density and marsh condition to turtle assemblage characteristics in the Laurentian Great Lakes. J Great Lakes Res 36:357–365. https://doi.org/10.1016/j.jglr.2010.02.003

Dibble ED, Kovalenko K (2009) Ecological Impact of Grass Carp: A Review of the Available Data. J Aquat Plant Manag 47:1–15

Dirzo R, Young HS, Galetti M, Ceballos G, Isaac NJB, Collen B (2014) Defaunation in the Anthropocene. Science 345:401–406. https://doi.org/10.1126/science.1251817

Dourson D (2007) A selected land snail compilation of the Central Knobstone Escarpment on Furnace Mountain in Powell County Kentucky. J Ky Acad Sci 68:119–131

Dudgeon D et al (2006) Freshwater biodiversity: importance, threats, status and conservation challenges. Biol Rev 81:163–182. https://doi.org/10.1017/S1464793105006950

Fahrig L (2017) Ecological Responses to Habitat Fragmentation Per Se. Annu Rev Ecol Evol Syst 48:1–23

Fahrig L et al (2019) Is habitat fragmentation bad for biodiversity ? Biol Cons 230:179–186

Garvey J et al (2012) Fishing down the Bighead and Silver carps: reducing the risk of invasion to the Great Lakes. Illinois Department of Natural Resources, Carbondale

Getz LL (1959) Notes on the ecology of slugs: Arion circumscriptus, Deroceras reticulatum, and D. leave. Am Midl Nat 61:485–498

Gibbs JP, Breisch AR, Ducey PK, Johnson G, Behler JL, Bothner R (2007) Amphibians and Reptiles of New York State: Identification, Natural History and Conservation. Oxford University Press

Greenberg J (2002) A Natural History of the Chicago Region. University of Chicago Press, Chicago

Grossinger RM, Striplen CJ, Askevold RA, Brewster E, Beller EE (2007) Historical landscape ecology of an urbanized California valley: wetlands and woodlands in the Santa Clara Valley. Landsc Ecol 22:103. https://doi.org/10.1007/s10980-007-9122-6

Haag WR, Williams JD (2014) Biodiversity on the brink: an assessment of conservation strategies for North American freshwater mussels. Hydrobiologia 735:45–60. https://doi.org/10.1007/s10750-013-1524-7

Hammerson GA (2007) Regina septemvittata. The IUCN Red List of Threatened Species 2007: e.T63887A12717768. https://doi.org/10.2305/IUCN.UK.2007.RLTS.T63887A12717768.en

Hill L (2000) The Chicago River: A Natural and Unnatural History. Lake Claremont Press

Hoffmeister DF (1990) Mammals of Illinois. University of Illinois Press, Chicago

IUCN (2013) The IUCN Red List of Threatened Species. Version 2013-1. http://www.iucnredlist.org

IUCN (2015) The IUCN Red List of Threatened Species. Version 2015. http://www.iucnredlist.org

IUCN (2017) The IUCN Red List of Threatened Species. Version 2017-3. http://www.iucnredlist.org

Jackrel SL, Reinert HK (2011) Behavioral responses of a dietary specialist, the queen snake (Regina septemvittata), to potential chemoattractants released by its prey. J Herpetol 45:272–276

Jackson CR, Pringle CM (2010) Ecological Benefits of Reduced Hydrologic Connectivity in Intensively Developed Landscapes. Bioscience 60:37–46. https://doi.org/10.1525/bio.2010.60.1.8

Keller RP, Lodge DM (2007) Species Invasions from Commerce in Live Aquatic Organisms: Problems and Possible Solutions. Bioscience 57(5):428–436

Korniushin AV (2007) Non-unionid freshwater bivalves (Sphaeriidae, Corbiculidae, Dreissenidae) of North American fauna. Vestnik zoologii 41:13–22

Laird CA, Page LM (1996) Non-native Fishes Inhabiting the Streams and Lakes of Illinois. Illinois Nat Hist Surv Bull 35:1

Larson DL, McDonald S, Fivizzani AJ, Newton WE, Hamilton SJ (1998) Effects of atrazine on Ambystoma tigrinum metamorphosis: duration, larval growth, and hormonal response. Physiol Zool 71:671–679

Lehikoinen A, Rintala J, Lammi E, Pöysä H (2016) Habitat-specific population trajectories in boreal waterbirds: Alarming trends and bioindicators for wetlands. Anim Conserv 19:88–95. https://doi.org/10.1111/acv.12226

Matthews JW et al (2009) Local and landscape correlates of non-native species invasion in restored wetlands. Ecography 32:1031–1039

Mills EL, Leach JH, Carlton JT, Secor CL (1993) Exotic Species in the Great Lakes: A History of Biotic Crises and Anthropogenic Introductions. J Great Lakes Res 19:1:1–54. https://doi.org/10.1016/S0380-1330(93)71197-1

Montgomery JA, Eames JM (2008) Prairie wolf slough wetlands demonstration project: A case study illustrating the need for incorporating soil and water quality assessment in wetland restoration planning, design and monitoring. Restor Ecol 16:618–628. https://doi.org/10.1111/j.1526-100X.2008.00492.x

Müller-Schwarze D (2011) The Beaver: Its Life and Impact, Second Edition. 2 ed. Cornell University Press

Nichols SJ, Silverman H, Dietz TH, Lynn JW, Garling DL (2005) Pathways of food uptake in native (Unionidae) and introduced (Corbiculidae and Dreissenidae) freshwater bivalves. J Great Lakes Res 31:87–96

Örstan A (2007) A new record of Cecilioides acicula from North America (Pulmonata: Ferussaciidae). Triton 15:38

Quesnelle PE, Lindsay KE, Fahrig L (2015) Relative effects of landscape-scale wetland amount and landscape matrix quality on wetland vertebrates: A meta-analysis. Ecol Appl 25:812–825. https://doi.org/10.1890/14-0362.1.sm

Raesly EJ (2001) Progress and status of river otter reintroduction projects in the United States. Wildl Soc Bull 29:856–862

Ricciardi A, Neves RJ, Rasmussen JB (1998) Impending extinctions of North American freshwater mussels (Unionoida) following the zebra mussel (Dreissena polymorpha) invasion. J Anim Ecol 67:613–619

Riffell SK, Keas BE, Burton TM (2003) Birds in North American Great Lakes coastal wet meadows: is landscape context important? Landsc Ecol 18:95–111. https://doi.org/10.1023/a:1024411218155

Roach JK, Griffith B (2015) Climate-induced lake drying causes heterogeneous reductions in waterfowl species richness. Landsc Ecol 30:1005–1022. https://doi.org/10.1007/s10980-015-0207-3

Roadcap GS, Kelly WR, Bethke CM (2005) Geochemistry of extremely alkaline (pH > 12) ground water in slag-fill aquifers. Ground Water 43:806–816. https://doi.org/10.1111/j.1745-6584.2005.00060.x

Roberts ME, Burr BM (2006) Current conservation status of the blacknose shiner, Notropis heterolepis Trans Illinois State Acad Sci 99:75–86

Robertson MM (2004) The neoliberalization of ecosystem services: Wetland mitigation banking and problems in environmental governance. Geoforum 35:361–373. https://doi.org/10.1016/j.geoforum.2003.06.002

Robertson MM (2006) Emerging ecosystem service markets: Trends in a decade of entrepreneurial wetland banking. Front Ecol Environ 4:297–302. https://doi.org/10.1890/1540-9295(2006)4[297:EESMTI]2.0.CO;2

Robertson M, Hayden N (2008) Evaluation of a market in wetland credits: Entrepreneurial wetland banking in Chicago. Conserv Biol 22:636–646. https://doi.org/10.1111/j.1523-1739.2008.00963.x

Rodewald P (Editor) (2015) The Birds of North America: https://birdsna.org. Cornell Laboratory of Ornithology, Ithaca

Rosenberg MS, Anderson CD (2011) PASSaGE: Pattern Analysis, Spatial Statistics and Geographic Exegesis. Version 2. Methods Ecol Evol 2:229–232. https://doi.org/10.1111/j.2041-210X.2010.00081.x

Rustigian HL, Santelmann MV, Schumaker NH (2003) Assessing the potential impacts of alternative landscape designs on amphibian population dynamics. Landsc Ecol 18:65–81

Schoon KJ (2003) Calumet Beginnings: Ancient Shorelines and Settlements at the South End of Lake Michigan. Indiana University Press

Skelly DK, Werner EE, Cortwright SA (1999) Long-term distributional dynamics of a Michigan amphibian assemblage. Ecology 80:2326–2337

Skultety D, Matthews JW (2017) Urbanization and roads drive non-native plant invasion in the Chicago Metropolitan region. Biol Invasions 19:2553–2566. https://doi.org/10.1007/s10530-017-1464-7

Sousa R, Gutiérrez JL, Aldridge DC (2009) Non-indigenous invasive bivalves as ecosystem engineers. Biol Invasions 11:2367–2385

Strayer DL (2009) Twenty years of zebra mussels: lessons from the mollusk that made headlines. Front Ecol Environ 7:135–141

Sullivan J (1997) An Atlas of Biodiversity. Chicago Wilderness

Tsehaye I, Catalano M, Sass G, Glover D, Roth B (2013) Prospects for fishery-induced collapse of invasive Asian carp in the Illinois. River Fish 38:445–454. https://doi.org/10.1080/03632415.2013.836501

Walston LJ, Najjar SJ, LaGory KE, Drake SM (2015) Spatial ecology of Blanding's turtles (Emydoidea blandingii) in southcentral New Hampshire with implications to road mortality. Herpetological Conservation and Biology 10:284–296

Wang Y, Moskovits DK (2001) Tracking Fragmentation of Natural Communities and Changes in Land Cover: Applications of Landsat Data for Conservation in an Urban Landscape (Chicago Wilderness). Conserv Biol 15:835–843

Ward MP, Semel B, Herkert JR (2010) Identifying the ecological causes of long-term declines of wetland-dependent birds in an urbanizing landscape. Biodivers Conserv 19:3287–3300. https://doi.org/10.1007/s10531-010-9893-y

Wright JT, Schueler T, Cappiella K, Kichell A, Hirschman D (2006) Direct and Indirect Impacts of Urbanization on Wetland Quality. Wetl Watersheds 1:1–81

Waters GT (2006) A Brief Look at Freshwater Mussel Biology. In: Freshwater Bivalve Ecotoxicology. SETAC, Pensacola, pp 51–64

Young LJ, Young JH (1998) Statistical Ecology: A Population Perspective. Kluwer, Boston

Zalasiewicz J, Waters C, Summerhayes C, Williams M (2018) The Anthropocene . Geol Today 34:177–181. https://doi.org/10.1111/gto.12244
Acknowledgements
This paper was the result of a class project for the course Extinctions: Modern and Ancient taught by Roy Plotnick at the University of Illinois at Chicago. We would like to thank Dawn Roberts, Director of Collections, The Chicago Academy of Sciences and Ben Marks, Bird Collections Manager, Field Museum for their help.
Electronic supplementary material
About this article
Cite this article
Pasterski, M.J., Bellagamba, A., Chancellor, S. et al. Aquatic landscape change, extirpations, and introductions in the Chicago Region. Urban Ecosyst 23, 1277–1288 (2020). https://doi.org/10.1007/s11252-020-01001-6
Keywords
Wetlands

Lakes

Urban

Extirpations

Chicago