Abstract
Due to extensive areas of impermeable surfaces, combined sewer overflow (CSO) is currently a major problem in urban areas across the United States. In CSO systems, sewage can travel through underground pipes to be decontaminated in treatment facilities, or it can combine with stormwater after a precipitation event and discharge into local waterways. Many cities are implementing green infrastructure installations, which use vegetation and bioactive soil microbial communities to enhance soil water-holding capacity, thereby minimizing CSO events. Understanding the factors that structure soil microbial communities in green infrastructure will facilitate more effective management of these engineered ecosystems; however, few studies to date have evaluated ecological patterns and processes of microbes in the urban environment. Nitrogen loading is known to be a major factor structuring fungi and bacteria in non-urban soils, and since cities also contain large populations of canines, N-rich urine deposition is a potential factor that could be important for structuring soil microbes in ground-level green infrastructure installations. Our study investigated the effects of canine urine on the urban soil microbial communities in a greenhouse experiment by treating Liriope muscari, a common plant found in New York City green infrastructure, with different concentrations of canine urine for 4 weeks in an experimental setting. We found that urine application significantly decreased total soil microbial biomass and microbial richness, and increased water runoff volume. These findings indicate that canine urine may have negative consequences for soil water-holding capacity and nutrient cycling in urban green infrastructure installations by directly decreasing the abundance and richness of soil microbial communities.
Access options
Buy single article
Instant access to the full article PDF.
USD 39.95
Price includes VAT (USA)
Tax calculation will be finalised during checkout.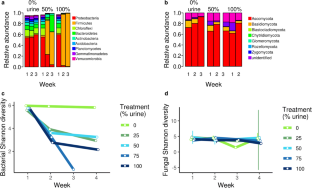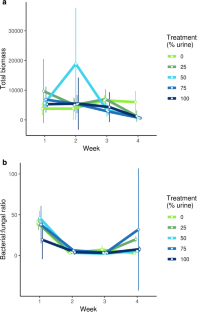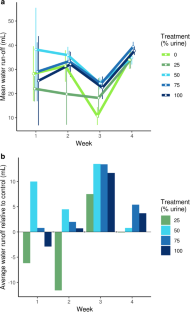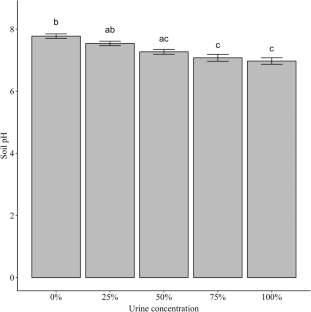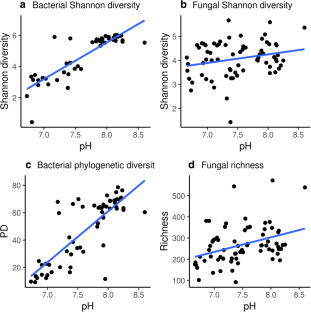 References
Allison SD, Gartner TB, Mack MC, McGuire K, Treseder K (2010) Nitrogen alters carbon dynamics during early succession in boreal forest. Soil Biol Biochem 42:1157–1164. https://doi.org/10.1016/j.soilbio.2010.03.026

Arshad MD, Lowery B, Grossman B (1996) Physical tests for monitoring soil quality. In: Doran JW, Jones AJ (eds) Methods for assessing soil quality, Soil Science Society of America, Madison, pp 123–142

Bardi D, Vivanco J (2009) Regulation and function of root exudates. Plant Cell Environ 32:666–681. https://doi.org/10.1111/j.1365-3040.2009.01926.x

Bellows B (2001) Nutrient cycling in pastures. Appropriate technology transfer for rural areas. https://attra.ncat.org/attra-pub/summaries/summary.php?pub=240. Accessed 14 Apr 2015

Bocquier P (2014) World urbanization prospects 2014 revision. Demogr Res 12:197–236. https://doi.org/10.4054/DemRes.2005.12.9

Broadbent FE (1965) Effect of fertilizer nitrogen on the release of soil nitrogen. Soil Sci Soc Am J 29:692–696. https://doi.org/10.2136/sssaj1965.03615995002900060028x

Cacich A (2018) Most popular breeds by city - find the top dogs in places around the U.S. American Kennel Club, https://www.akc.org/expert-advice/news/most-popular-dog-breeds-by-city/. 15 Dec 2018

Caporaso J G, Lauber C L, Walters W A, Berg-Lyons D, Lozupone C A, Turnbaugh P J, Fierer N, and Knight R (2011) Global patterns of 16S rRNA diversity at a depth of millions of sequences per sample. Proceedings of the National Academy of Sciences of the United States of America 108:4516–4522. https://doi.org/10.1073/pnas.1000080107

Caporaso JG, Kuczynski J, Stombaugh J, Bittinger K, Bushman FD, Costello EK, Fierer N, Peña AG, Goodrich JK, Gordon JI, Huttley GA, Kelley ST, Knights D, Koenig JE, Ley RE, Lozupone CA, McDonald D, Muegge BD, Pirrung M, Reeder J, Sevinsky JR, Turnbaugh PJ, Walters WA, Widmann J, Yatsunenko T, Zaneveld J, Knight R (2010) QIIME allows analysis of high-throughput community sequencing data. Nat Methods 7:335–336. https://doi.org/10.1038/nmeth.f.303

Carter T, Jackson CR (2007) Vegetated roofs for stormwater management at multiple spatial scales. Landsc Urban Plan 80:84–94. https://doi.org/10.1016/j.landurbplan.2006.06.005

Cesar's Way (2015) How often should a dog urinate. Cesarsway.com. https://www.cesarsway.com/dog-behavior/housebreaking-issues/how-often-should-a-dog-urinate. 20 Feb 2015

Chaer GM, Fernandes M, Myrold D, Bottomley P (2009) Comparative resistance and resilience of soil microbial communities and enzyme activities in adjacent native forest and agricultural soils. Microb Ecol 58:414–424. https://doi.org/10.1007/s00248-009-9508-x

Clough TJ, Sherlock RR, Cameron KC, Ledgard SF (1996) Fate of urine nitrogen on mineral and peat soils in New Zealand. Plant Soil 178:141–152. https://doi.org/10.1007/BF00011172

Edgar RC (2013) UPARSE: highly accurate OTU sequences from microbial amplicon reads. Nat Methods 10:996–998. https://doi.org/10.1038/nmeth.2604

Feeney SA, Brown N, Shaltiel J (2015) American Kennel Club names most popular New York City dog breeds in 2015. https://www.amny.com/lifestyle/pets/akc-names-most-popular-nyc-dog-breeds-in-2015-1.13291618. 25 Feb 2015

Fierer N, Grandy AS, Six J, Paul EA (2009) Searching for unifying principles in soil ecology. Soil Biol Biochem 41:2249–2256

Frostegård Å, Bååth E (1996) The use of phospholipid fatty acid analysis to estimate bacterial and fungal biomass in soil. Biol Fert Soils 22:59–65. https://doi.org/10.1007/BF00384433

Gill AS, Lee A, McGuire KL (2017) Phylogenetic and functional diversity of total (DNA) and active (RNA) bacterial communities in urban green infrastructure bioswale soils. Appli Environ Microbiol 83:1–15. https://doi.org/10.1128/AEM.00287-17

Gómez-Baggethun E, Barton DN (2013) Classifying and valuing ecosystem services for urban planning. Ecol Econ 86:235–245. https://doi.org/10.1016/j.ecolecon.2012.08.019

Harada Y, Whitlow TH, Templer PH, Howarth RW, Walter MT, Bassuk NL, Russell-Anelli J (2018) Nitrogen biogeochemistry of an urban rooftop farm. Front Ecol Evol 6:1–14. https://doi.org/10.3389/fevo.2018.00153

He Y, Qi Y, Dong Y, Xiao S, Peng Q, Liu X, Sun L (2013) Effects of nitrogen fertilization on soil microbial biomass and community functional diversity in temperate grassland in inner Mongolia, China. CLEAN-Soil Air Water 41:1216–1221. https://doi.org/10.1002/clen.201200021

Hill GT, Mitkowski NA, Aldrich-Wolfe L, Emele LR, Jurkonie DD, Ficke A, Maldonado-Ramirez S, Lynch ST, Nelson EB (2000) Methods for assessing the composition and diversity of soil microbial communities. Appl Soil Ecol 15:25–36. https://doi.org/10.1016/S0929-1393(00)00069-x

Hovanec TA, DeLong EF (1996) Comparative analysis of nitrifying bacteria associated with freshwater and marine aquaria. Appl Environ Microbiol 62:2888–2896

Kendall PT, Blaza SE, Holme DW (1982) Assessment of endogenous nitrogen output in adult dogs of contrasting size using a protein-free diet. J Nutr 112:1281–1286

Kirchmann H, Schön M, Börjesson G, Hamnér K, Kätterer T (2013) Properties of soils in the Swedish long-term fertility experiments: VII. Changes in topsoil and upper subsoil at Örja and Fors after 50 years of nitrogen fertilization and manure application. Acta Agric Scand Sect B Soil Plant Sci 63:25–36. https://doi.org/10.1080/09064710.2012.711352

Lauber CL, Hamady M, Knight R, Fierer N (2009) Pyrosequencing-based assessment of soil pH as a predictor of soil bacterial community structure at the continental scale. Appl Environ Microbiol 75:5111–5120. https://doi.org/10.1128/AEM.00335-09

Mancinelli RL, McKay CP (1983) Effects of nitric oxide and nitrogen dioxide on bacterial growth. Appl Environ Microbiol 46:198–202

Mandic L, Djukić D, Beatovic I, Jovovic Z, Pesakovic M, Stevovic V (2013) Effect of different fertilizers on the microbial activity and productivity of soil under potato cultivation. Afr J Biotechnol 10:6954–6960

McDonald RI, Kareiva P, Forman RT (2008) The implications of current and future urbanization for global protected areas and biodiversity conservation. Biol Conserv 141:1695–1703. https://doi.org/10.1016/j.biocon.2008.04.025

McMurdie PJ, Holmes S (2013) Phyloseq: an R package for reproducible interactive analysis and graphics of microbiome census data. PLoS One 22:e61217. https://doi.org/10.1371/journal.pone.0061217

McGuire K L, Payne S G, Palmer M I, Gillikin C M, Keefe D, Kim S J, Gedallovich S M, Discenza J, Rangamannar R, Koshner J A, Massmann A L, Orazi G, Essene A, Leff J W, and Fierer N (2013) Digging the New York City skyline: soil fungal communities in green roofs and city parks. PLoS One 8:e58020. https://doi.org/10.1371/journal.pone.0058020

Michael PS (2018) The roles of surface soil carbon and nitrogen in regulating the surface soil pH and redox potential of sulfidic soil materials of acid sulfate soils. Pertanika J Trop Agric Sci 41(4):1627–1642

Michel KE, King LG (1997) Measurement of urinary urea nitrogen content as an estimate of the amount of total urinary nitrogen loss in dogs in intensive care units. J Am Vet Med Assoc 210:356–35&

Müller T, Walter B, Wirtz A, Burkovski A (2006) Ammonium toxicity in bacteria. Curr Microbiol 52(5):400–406

Murphy DV, Cookson WR, Braimbridge M, Marschner P, Jones DL, Stockdale EA, Abbott LK (2011) Relationship between soil organic matter and the soil microbial biomass (size, functional diversity, and community structure in crop and pasture systems in a semi-arid environment. Soil Res 49:582–594. https://doi.org/10.1071/SR11203

Murray P, Baron E (2003) Manual of clinical microbiology. American Society for Microbiology, Washington, DC

National Research Council (2008) Urban stormwater management in the United States. The National Academies Press, Washington, DC

New York Department of Sanitation (2009) A summary of sanitation rules and regulations. http://www1.nyc.gov/assets/dsny/downloads/pdf/about/laws/DSNY_RulesRegs_2014.pdf. Accessed 20 Feb 2016

Oberndorfer E, Lundholm J, Bass B, Coffman RR, Doshi H, Dunnett N, Gaffin S, Kohler M, Liu K, Rowe B (2007) Green roofs as urban ecosystems: ecological structures, functions, and services. BioScience 57:823–833. https://doi.org/10.1641/B571005

Orwin KH, Bertram JE, Clough TJ, Condron LM, Sherlock RR, O'Callaghan M, Ray J, Baird DB (2010) Impact of bovine urine deposition on soil microbial activity, biomass, and community structure. Appl Soil Ecol 44:89–100. https://doi.org/10.1016/j.apsoil.2009.10.004

Osborne CA (2003) The ins and out of polyuria and polydipsia. Veterinary News. http://veterinarynews.dvm360.com/ins-and-outs-polyuria-and-polydipsia. 20 Febr 2015

Petersen SO, Roslev P, Bol R (2004) Dynamics of a pasture soil microbial community after deposition of cattle urine amended with [13C] urea. Appl Environ Microbiol 70:6363–6369. https://doi.org/10.1128/AEM.70.11.6363-6369.2004

PetPrescription (2005) Dog weight tables. PetPrescription.co.uk. https://www.petprescription.co.uk/healthcare/dog%20information/dog%20weight%20tables/. 25 February 2015

Pradhan SK, Pitkänen S, Heinonen-Tanski H (2008) Fertilizer value of urine in pumpkin (Cucurbita maxima L.) cultivation. Agric Food Sci 19:57–68

Ramirez KS, Leff JW, Barberán A, Bates ST, Betley J, Crowther TW, Kelly EF, Oldfield EE, Shaw EA, Steenbock C, Bradford MA, Wall DH, Fierer N (2014) Biogeographic patterns in below-ground diversity in New York City's central park are similar to those observed globally. Proc Biol Sci 281(1795):20141988. https://doi.org/10.1098/rspb.2014.1988

Rawis WJ, Pachepsky YA, Ritchie JC, Sobecki TM, Bloodworth H (2003) Effect of soil organic carbon on soil water retention. Geoderma 116:61–76. https://doi.org/10.1016/S0016-7061(03)00094-6

Rooney D, Kennedy N, Deering L, Gleeson D, Clipson N (2006) Effect of sheep urine deposition on the bacterial community structure in an acidic upland grassland soil. Appl Environ Microbiol 72:7231–7237. https://doi.org/10.1128/AEM.00926-06

Rousk J, Brookes PC, Bååth E (2009) Contrasting soil pH effects on fungal and bacterial growth suggest functional redundancy in carbon mineralization. Appl Environ Microbiol 75:1589–1596. https://doi.org/10.1128/AEM.02775-08

Rousk J, Baath E, Brookes PC, Lauber CL, Lozupone C, Caporaso JG, Knight R, Fierer N (2010) Soil bacterial and fungal communities across a pH gradient in an arable soil. ISME J 4:1340–1351

Shand CA, Williams BL, Dawson LA, Smith S, Young ME (2002) Sheep urine affects soil solution nutrient composition and roots: difference between field and sward box soils and the effects of synthetic and natural sheep urine. Soil Biol Biochem 34:163–171. https://doi.org/10.1016/S0038-0717(01)00163-8

Singh BK, Nunan N, Millard P (2009) Response of fungal, bacterial and ureolytic communities to synthetic sheep urine deposition in a grassland soil. FEMS Microbiol Ecol 70:109–117. https://doi.org/10.1111/j.1574-6941.2009.00731.x

StatsBee (2012) New York City's pet population. New York City Economic Development Corporation. http://wwwnycedccom/blog-entry/new-york-city-s-pet-population 20 Feb 2015

Treseder KK (2008) Nitrogen additions and microbial biomass: a meta-analysis of ecosystem studies. Ecol Lett 11:1111–1120. https://doi.org/10.1111/j.1461-0248.2008.01230.x

Villarreal EL, Bengtsson L (2005) Response of a Sedum green-roof to individual rain events. Ecol Eng 25:1–7. https://doi.org/10.1016/j.ecoleng.2004.11.008

Wilkinson C, Doocey R, Sciulli L (2006) New absurd times: 1.5 million dogs, give or take a million. Juniper Berry Magazine. http://www.junipercivic.com/juniperberryarticle.asp?nid=213#.WWlY-bFh29Y. Accessed 20 Jan 2016

Williams BL, Shand CA, Sellers S, Young ME (1999) Impact of synthetic sheep urine on N and P in two pastures in the Scottish uplands. Plant Soil 214:93–103

Williams BL, Grayston SJ, Reid EJ (2000) Influence of synthetic sheep urine on the microbial biomass, activity and community structure in two pastures in the Scottish uplands. Plant Soil 225:175–185

Wu J (2014) Urban ecology and sustainability: the state-of-the-science and future directions. Landsc Urban Plan 125:209–221. https://doi.org/10.1016/j.landurbplan.2014.01.018

Xu HJ, Li S, Su JQ, Nie S, Gibson V, Li H, Zhu YG (2014) Does urbanization shape bacterial community composition in urban park soils? A case study in 16 representative Chinese cities based on the pyrosequencing method. FEMS Microbiol Ecol 87:182–192. https://doi.org/10.1111/1574-6941.12215

Zhong W, Gu T, Wang W, Zhang B, Lin X, Huang Q, Shen W (2010) The effects of mineral fertilizer and organic manure on soil microbial community and diversity. Plant Soil 326:511–522. https://doi.org/10.1007/s11104-009-9988-y
Acknowledgements
The New York City Department of Parks and Recreation provided invaluable assistance in acquiring soil for this experiment. We also thank Fatima Yahya, Onanji Mijoso, Terra Hiebert, and Charles Paulino for laboratory assistance, Jon Nichols and Nicole deRoberts for assistance with the gas chromatography, Nicholas Gershberg for help with plant management, and John Glendinning for consultation on urine composition. This project was funded by the National Science Foundation (DEB 1325185).
About this article
Cite this article
Lee, J.M., Tan, J., Gill, A.S. et al. Evaluating the effects of canine urine on urban soil microbial communities. Urban Ecosyst 22, 721–732 (2019). https://doi.org/10.1007/s11252-019-00842-0
Keywords
Green infrastructure

Canine urine

Nitrogen cycling

Soil microbial communities

Microbial diversity

Stormwater management