Abstract
In an era of rapid urban growth, conserving biodiverse urban green spaces is challenging, especially in developing countries. Culturally protected areas including sacred sites are known to contribute to biodiversity conservation in semi-urban and rural areas, but their role in dense urban settings is critically understudied. We, therefore, assessed biodiversity patterns of two types of Hindu places of worship (temples, kattes) and underlying environmental parameters in the Indian megacity of Bengaluru. We analyzed how variables of the urban matrix (age of development, housing density) and type of sacred sites related to biodiversity measures (species abundance, richness, beta diversity), differentiated for cultivated, spontaneous (i.e., wild growing), native and non-native plant species. Native species prevailed in cultivated (66%) and spontaneous (93%) species assemblages, and urbanization parameters significantly related to some biodiversity measures. Beta diversity was highest in sacred sites located in the newest quarters, while abundance of cultivated and non-native species increased with decreasing housing density. Higher richness in low density (i.e., wealthier) quarters demonstrates 'luxury effect' for sacred sites. Plots in temples showed higher diversity measures than in kattes, likely due to different management practices. While results demonstrate effects of urbanization on biodiversity measures for temples and kattes, these sites still function as habitats for native species in Bengaluru – and not as foci for invasive alien species as noticed for other urban green spaces. We conclude that urban sacred sites allow people to benefit from multiple ecosystems services and thus play an important role in the urban green infrastructure of quickly growing megacities.
This is a preview of subscription content, log in to check access.
Access options
Buy single article
Instant access to the full article PDF.
US$ 39.95
Price includes VAT for USA
Subscribe to journal
Immediate online access to all issues from 2019. Subscription will auto renew annually.
US$ 99
This is the net price. Taxes to be calculated in checkout.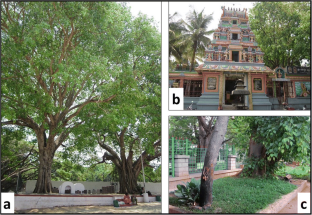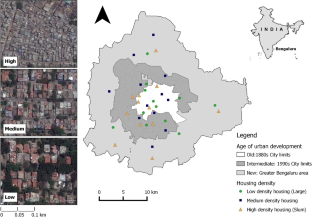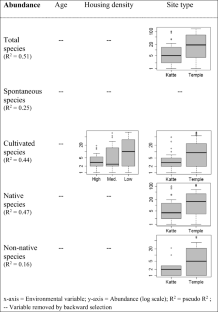 References
Abendroth S, Kowarik I, Müller N, von der Lippe M (2012) The green colonial heritage: Woody plants in parks of Bandung, Indonesia. Landsc Urban Plan 106:12–22

Aronson MF, La Sorte FA, Nilon CH, Katti M, Goddard MA, Lepczyk CA, Warren PS, Williams NS, Cilliers S, Clarkson B, Dobbs C (2014) A global analysis of the impacts of urbanization on bird and plant diversity reveals key anthropogenic drivers. Proc R Soc B 281(1780):20133330

Aronson MF, Handel SN, La Puma IP, Clemants SE (2015) Urbanization promotes non-native woody species and diverse plant assemblages in the New York metropolitan region. Urban Ecosyst 18(1):31–45

Arshad HSH, Routray JK (2018) From socioeconomic disparity to environmental injustice: the relationship between housing unit density and community green space in a medium city in Pakistan. Local Environ 23(5):536–548

Barrett GW, Barrett TL (2001) Cemeteries as repositories of natural and cultural diversity. Conserv Biol 15:1820–1824. https://doi.org/10.1046/j.1523-1739.2001.00410.x

Bhagwat S, Rutte C (2006) Sacred groves: potential for biodiversity management. Front Ecol Environ 4:519–524. https://doi.org/10.1890/1540-9295(2006)4[519:SGPFBM]2.0.CO;2

Bhagwat SA, Kushalappa CG, Williams PH, Brown ND (2005) The role of informal protected areas in maintaining biodiversity in the Western Ghats of India. Ecol Soc 19:1853–1862. https://doi.org/10.1111/j.1523-1739.2005.00248.x

Bonthoux S, Brun M, Di Pietro F et al (2014) How can wastelands promote biodiversity in cities? A review. Landsc Urban Plan 132:79–88. https://doi.org/10.1016/j.landurbplan.2014.08.010

Boughton EH, Quintana-Ascencio PF, Nickerson D, Bohlen PJ (2011) Management intensity affects the relationship between non-native and native species in subtropical wetlands. Appl Veg Sci 14:210–220. https://doi.org/10.1111/j.1654-109X.2010.01116.x

Census of India (2011) Provisional population totals paper 1 of 2011: Karnataka. Directorate of Census Operations, Government of India, New Delhi

Cohen-Cline H, Turkheimer E, Duncan GE (2015) Access to green space, physical activity and mental health: a twin study. J Epidemiol Community Health 69(6):523–529

De Lacy P, Shackleton CM (2017a) Aesthetic and spiritual ecosystem services provided by urban sacred sites. Sustainability 9:1628

De Lacy P, Shackleton CM (2017b) Woody plant species richness, composition and structure in urban sacred sites, Grahamstown, South Africa. Urban Ecosyst 20(5):1169–1179. https://doi.org/10.1007/s11252-017-0669-y

Eicher Goodearth Pvt. Ltd (2002) Bangalore city map: a map book covering 480 sq. kms of Bangalore, including Yelahanka, Whitefield and Putenhalli. Eicher Goodearth Pvt. Ltd, New Delhi

Fischer LK, Rodorff V, von der Lippe M, Kowarik I (2016) Drivers of biodiversity patterns in parks of a growing south American megacity. Urban Ecosyst 19:1–19. https://doi.org/10.1007/s11252-016-0537-1

Frascaroli F, Bhagwat S, Guarino R, Chiarucci A, Schmid B (2016) Shrines in Central Italy conserve plant diversity and large trees. Ambio 45:468–479. https://doi.org/10.1007/s13280-015-0738-5

Frosch B, Deil U (2011) Forest vegetation on sacred sites of the Tangier Peninsula (NW Morocco) - discussed in a SW-Mediterranean context. Phytocoenologia 41:153–181. https://doi.org/10.1127/0340-269X/2011/0041-0503

Fuentes N, Saldana A, Kühn I, Klotz S (2015) Climatic and socio-economic factors determine the level of invasion by alien plants in Chile. Plant Ecol Divers 8:371–377. https://doi.org/10.1080/17550874.2014.984003

Gao H, Ouyang Z, Chen S, van Koppen CSA (2013) Role of culturally protected forests in biodiversity conservation in Southeast China. Biodivers Conserv 22:531–544. https://doi.org/10.1007/s10531-012-0427-7

Gaston KJ (2010) Valuing common species. Science 327(5962):154–155

Goddard MA, Dougill AJ, Benton TG (2010) Scaling up from gardens: biodiversity conservation in urban environments. Trends Ecol Evol 25:90–98. https://doi.org/10.1016/j.tree.2009.07.016

Gopal D, Nagendra H, Manthey M (2015) Vegetation in Bangalore's slums: composition, species distribution, density, diversity, and history. Environ Manag 55:1390–1401. https://doi.org/10.1007/s00267-015-0467-3

Gopal D, von der Lippe M, Kowarik I (2018) Sacred sites as habitats of culturally important plant species in an Indian megacity. Urban For Urban Green 32:113–122. https://doi.org/10.1016/j.ufug.2018.04.003

Grove JM, Locke DH, O'Neil-Dunne JP (2014) An ecology of prestige in New York City: examining the relationships among population density, socio-economic status, group identity, and residential canopy cover. Environ Manag 54(3):402–419

Hollander M, Wolfe DA, Chicken E (2015) Nonparametric statistical methods. John Wiley & Sons, Inc., Hoboken, NJ, USA

Hope D, Gries C, Zhu W, Fagan WF, Redman CL, Grimm NB, Nelson AL, Martin C, Kinzig A (2003) Socioeconomics drive urban plant diversity. Proc Natl Acad Sci U S A 100:8788–8792

Irwin EG, Bockstael NE (2007) The evolution of urban sprawl: evidence of spatial heterogeneity and increasing land fragmentation. Proc Natl Acad Sci U S A 104:20672–20677. https://doi.org/10.1073/pnas.0705527105

Jackson W, Ormsby A (2017) Urban sacred natural sites–a call for research. Urban Ecosyst 20(3):675–681

Jaganmohan M, Vailshery LS, Mundoli S, Nagendra H (2018) Biodiversity in sacred urban spaces of Bengaluru, India. Urban For Urban Green 32:64–70

Jim CY, Chen WY (2006) Perception and attitude of residents toward urban green spaces in Guangzhou (China). Environ Manag 38(3):338–349

Kehimkar I (2000) Common Indian wild flowers. Oxford University Press, Mumbai, India

Kent M (2011) Vegetation description and data analysis: a practical approach, 2nd edn. John Wiley & Sons, Sussex, UK

Keswani K (2017) The practice of tree worship and the territorial production of urban space in the Indian neighbourhood. J Urban Des 22(3):370–387

Kindt R, Coe R (2005) Tree diversity analysis. A manual and software for common statistical methods for ecological and biodiversity studies. World Agroforestry Centre (ICRAF), Nairobi

Kowarik I, Buchholz S, von der Lippe M, Seitz B (2016) Biodiversity functions of urban cemeteries: evidence from one of the largest Jewish cemeteries in Europe. Urban For Urban Green 19:68–78. https://doi.org/10.1016/j.ufug.2016.06.023

Krishen P (2006) Trees of Delhi. Penguin Books, New Delhi, India

Kurian DJ (2004) Plants that heal. Oriental Watchman Publishing House, Pune, India

Lambin EF, Turner BL, Geist HJ, Agbola SB, Angelsen A, Bruce JW, Coomes OT, Dirzo R, Fischer G, Folke C, George PS, Homewood K, Imbernon J, Leemans R, Li X, Moran EF, Mortimore M, Ramakrishnan PS, Richards JF, Skånes H, Steffen W, Stone GD, Svedin U, Veldkamp TA, Vogel C, Xu J (2001) The causes of land-use and land-cover change: moving beyond the myths. Glob Environ Chang 11:261–269. https://doi.org/10.1016/S0959-3780(01)00007-3

Lin BB, Fuller RA (2013) Sharing or sparing? How should we grow the world's cities? J Appl Ecol 50:1161–1168. https://doi.org/10.1111/1365-2664.12118

Luck GW, Smallbone LT, O'Brien R (2009) Socio-economics and vegetation change in urban ecosystems: patterns in space and time. Ecosystems 12:604–620. https://doi.org/10.1007/s10021-009-9244-6

McDonnell MJ, Hahs AK (2008) The use of gradient analysis studies in advancing our understanding of the ecology of urbanizing landscapes: current status and future directions. Landsc Ecol 23:1143–1155. https://doi.org/10.1007/s10980-008-9253-4

Muthulingam U, Thangavel S (2012) Density, diversity and richness of woody plants in urban green spaces: a case study in Chennai metropolitan city. Urban For Urban Green 11:450–459. https://doi.org/10.1016/j.ufug.2012.08.003

Nagendra H (2016) Nature in the city: Bengaluru in the past, present and future. Oxford University Press, New Delhi

Nagendra H, Gopal D (2011) Tree diversity, distribution, history and change in urban parks: studies in Bangalore, India. Urban Ecosyst 14:211–223. https://doi.org/10.1007/s11252-010-0148-1

Nagendra H, Sudhira HS, Katti M, Schewenius M (2013) Sub-regional assessment of India: effects of urbanization on land use, biodiversity and ecosystem services. In: Elmqvist T, Fragkias M, Goodness J et al (eds) Urbanization, biodiversity and ecosystem services: challenges and opportunities: a global assessment. Springer Netherlands, Dordrecht, pp 65–74. https://doi.org/10.1007/978-94-007-7088-1_6

National Institute of Urban Affairs (2008) Urban poverty reduction strategy for Bangalore. New Delhi

Neginhal S (2006) Golden trees, greenspaces, and urban forestry. Self published, Bangalore, India

Oksanen J, Kindt R, Legendre P, et al (2015) Vegan: community ecology package. R package version 2.2-1. R Development Core Team, Vienna. http://CRAN.R-project.org/package=vegan (accessed 17 March 2017)

Pauchard A, Aguayo M, Pena E, Urrutia R (2006) Multiple effects of urbanization on the biodiversity of developing countries: the case of a fast-growing metropolitan area (Concepcion, Chile). Biol Conserv 127:272–281

Pearse WD, Cavender-Bares J, Hobbie SE, Avolio ML, Bettez N, Roy Chowdhury R, Darling LE, Groffman PM, Grove JM, Hall SJ, Heffernan JB, Learned J, Neill C, Nelson KC, Pataki DE, Ruddell BL, Steele MK, Trammell TLE (2018) Homogenization of plant diversity, composition, and structure in north American urban yards. Ecosphere 9(2). https://doi.org/10.1002/ecs2.2105

R Development Core Team (2015) R: A language and environment for statistical computing, reference index version 3.1.3. R Foundation for Statistical Computing, Vienna, Austria. URL: http://www.R-project.org/. (accessed 17 March 2017)

Ramalho CE, Hobbs RJ (2012) Time for a change: dynamic urban ecology. Trends Ecol Evol 27:179–188. https://doi.org/10.1016/j.tree.2011.10.008

Rupprecht CDD, Byrne JA, Ueda H, Lo AY (2015) 'It's real, not fake like a park': residents' perception and use of informal urban green-space in Brisbane, Australia and Sapporo, Japan. Landsc Urban Plan 143:205–218. https://doi.org/10.1016/j.landurbplan.2015.07.003

Serret H, Raymond R, Foltête JC, Clergeau P, Simon L, Machon N (2014) Potential contributions of green spaces at business sites to the ecological network in an urban agglomeration: the case of the Ile-de-France region, France. Landsc Urban Plan 131:27–35. https://doi.org/10.1016/j.landurbplan.2014.07.003

Shanahan DF, Lin BB, Bush R, Gaston KJ, Dean JH, Barber E, Fuller RA (2015) Toward improved public health outcomes from urban nature. Am J Public Health 105(3):470–477

Sharma GP, Esler KJ, Blignaut JN (2010) Determining the relationship between invasive alien species density and a country's socio-economic status. S Afr J Sci 106:1–6. https://doi.org/10.4102/sajs.v106i3/4.113

Shwartz A, Turbé A, Simon L, Julliard R (2014) Enhancing urban biodiversity and its influence on city-dwellers : an experiment. Biol Conserv 171:82–90. https://doi.org/10.1016/j.biocon.2014.01.009

Soga M, Gaston KJ (2016) Extinction of experience: the loss of human-nature interactions. Front Ecol Environ 14:94–101. https://doi.org/10.1002/fee.1225

Sudhira HS, Nagendra H (2013) Local assessment of Bangalore: graying and greening in Bangalore – impacts of urbanization on ecosystems, ecosystem services and biodiversity. In: Elmqvist T, Fragkias M, Goodness J et al (eds) Urbanization, biodiversity and ecosystem services: challenges and opportunities: a global assessment. Springer Netherlands, Dordrecht, pp 75–91

Sudhira HS, Ramachandra TV, Subrahmanya MHB (2007) Bangalore. Cities 24:379–390. https://doi.org/10.1016/j.cities.2007.04.003

Tomasetto F, Duncan RP, Hulme PE (2013) Environmental gradients shift the direction of the relationship between native and alien plant species richness. Divers Distrib 19:49–59. https://doi.org/10.1111/j.1472-4642.2012.00939.x

Venables WN, Ripley BD (2002) Modern applied statistics with S, 4th edn. Springer, New York. isbn:0-387-95457-0

Verschuuren B, Wild R, McNeely J, Oviedo G (2010) Sacred natural sites: conserving nature and culture. Earthscan, London

Wang HF, MacGregor-Fors I, Lopez-Pujol J (2012) Warm-temperate, immense, and sprawling: plant diversity drivers in urban Beijing, China. Plant Ecol 213:967–992. https://doi.org/10.1007/s11258-012-0058-9

Weber F, Kowarik I, Säumel I (2014) A walk on the wild side: perceptions of roadside vegetation beyond trees. Urban For Urban Green 13:205–212. https://doi.org/10.1016/j.ufug.2013.10.010

Woods CL, Cardelus CL, Scull P et al (2017) Stone walls and sacred forest conservation in Ethiopia. Biodivers Conserv 26(1):209–221. https://doi.org/10.1007/s10531-016-1239-y

Yılmaz H, Kuşak B, Akkemik Ü (2017) The role of Aşiyan cemetery (İstanbul) as a green urban space from an ecological perspective and its importance in urban plant diversity. Urban For Urban Green 33:92–98. https://doi.org/10.1016/j.ufug.2017.10.011

Zuur AF, Ieno EN, Walker NJ, Saveliev AA, Smith GM (2009) Mixed effects models and extensions in ecology with R. Springer, New York
Acknowledgements
Gesellschaft von Freunden der TU Berlin and Technische Universität Berlin funded this study. We thank H.S. Sudhira and Harini Nagendra for sharing map data of Bengaluru for different time periods; and HN and Leonie Fischer for their valuable inputs during the course of this research.
About this article
Cite this article
Gopal, D., von der Lippe, M. & Kowarik, I. Sacred sites, biodiversity and urbanization in an Indian megacity. Urban Ecosyst 22, 161–172 (2019). https://doi.org/10.1007/s11252-018-0804-4
Keywords
Unconventional greenspaces

Native species

Urban greenery

Biodiversity conservation

Religious site