Abstract
As most of Europe's metropolitan landscapes grow, a change is occurring in their surrounding rural environment. The consequences thereof mainly involve losses of traditional land uses and changes in the socioecomic structures of the local population. The lack of coupling 'urban society-countryside' can be considered to constitute a driving force of this process. The present paper focuses upon the rural-urban network around the metropolis of Madrid (Central Spain). We developed a quantitative model to explain the socio-ecological rural-urban linkages, taking into account the influence of the metropolis in the network of neighbouring municipalities. The results show a rural landscape gradient ranging from silvo-pastoral to agricultural land uses and maintaining different interactions with the local socioeconomy. Urban-rural polarisation of the territory and accessibility to the metropolis are the main factors influencing the landscape dynamics. Territorial cohesion among municipalities and connectivity with the metropolis are factors determining the socio-ecological structure. The agricultural area presents good social cohesion, but a weak connection with the City. The silvo-pastoral landscape, on the contrary, maintains prominent links with the metropolis, but a non-significant interconnection between the small towns. The model tested constitutes a useful tool for analysing socio-ecological connectivity and for quantifying, designing and promoting territorial cohesion policies.
Access options
Buy single article
Instant access to the full article PDF.
USD 39.95
Price includes VAT (USA)
Tax calculation will be finalised during checkout.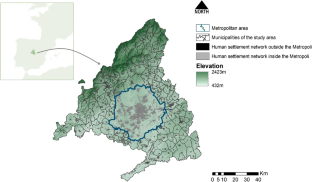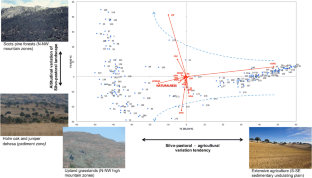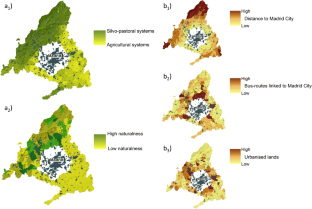 References
Acosta-Gallo B, Sanchez Jardón L, Del Pozo A, Casado MA, Montalvo J, Pineda FD (2008) Grassland species composition and morpho-funcional traits along an altitudinal gradient in a Mediterranean environment: relationship whit soil water availability and evaporative dynamic. Acta Oecol 34:26–37. https://doi.org/10.1016/j.actao.2008.03.001

Agnoletti M (2014) Rural landscape, nature conservation and culture: some notes on research trends and management approaches from a (southern) European perspective. Landsc Urban Plan 126:66–73. https://doi.org/10.1016/j.landurbplan.2014.02.012

Antrop M (2000) Changing patterns in the urbanized countryside of Western Europe. Landsc Ecol 15:257–270. https://doi.org/10.1023/A:1008151109252

Antrop M (2004) Landscape change and the urbanization process in Europe. Landsc Urban Plan 67:9–26. https://doi.org/10.1016/S0169-2046(03)00026-4

Antrop M (2006) Sustainable landscapes: contradiction, fiction or utopia? Landscape Urban Plan 75:187–197. https://doi.org/10.1016/j.landurbplan.2005.02.014

Arnaiz-Schmitz C, Schmitz MF, Herrero-Jáuregui C, Gutiérrez-Angonese J, Pineda FD, Montes C (2018). Identifying socio-ecological networks in rural-urban gradients: Diagnosis of a changing cultural Landscape Sci Total Environ 612:625–635. https://doi.org/10.1016/j.scitotenv.2017.08.215

Barbero-Sierra C, Marques MJ, Ruiz-Pérez M (2013) The case of urban sprawl in Spain as active and irreversible driving force for desertification. J Arid Environ 90:95–102. https://doi.org/10.1016/j.jaridenv.2012.10.014

Barlow M (1995) Greater Manchester: conurbation complexity and local government structure. Polit Geogr 14:379–400

Beckley T (1994) Community stability and the relationship between economic and social well-being in forest dependent communities. Soc Natur Resour 8:261–266. https://doi.org/10.1080/08941929509380919

Blondel J, Aronson J (1995) Biodiversity and ecosystem function in the Mediterranean Basin: human and non-human determinants. In: Davis GW, Richardson DD (eds) Mediterranean-type ecosystems. Springer–Verlag, Berlin, pp 43–119

CAM (1997) Map of vegetation and land uses of Madrid Region, 1:50.000. Council of Environment and Regional Development, Madrid Government

Castle EN, Wu J, Webber BA (2011) Place orientation and rural-urban interdependence. Appl Econ Perspect Policy 33:179–204. https://doi.org/10.1093/aepp/ppr009

CEC (Commission of the European Communities) (1999) European spatial development perspective: Towards balanced and Sustain Dev of the territory of the EU. Office for Official Publications of the European Communities, Luxembourg

De Aranzabal I, Schmitz MF, Aguilera P, Pineda FD (2008) Modeling of landscape changes derived from the dynamics of socio-ecological systems. A case of study in a semiarid Mediterranean landscape. Ecol Indic 8:672–685. https://doi.org/10.1016/j.ecolind.2007.11.003

Di Castri F, Mooney HA (eds) (1973) Mediterranean type ecosystems. Origin and structure. Springer-Verlag, Berlin

Dupy G (1995) The territories of the automobile. Anthropos-Economics, Paris

EC (European Commission) (2006) Urban sprawl in Europe. The ignored challenge. In: Report. European Environment Agency, Copenhagen

EC (European Commission) (2014) Investment for jobs and growth: Promoting development and good governance in EU regions and cities: Sixth report on economic and social cohesion. European Commission, Brussels

EPRC (European Policies Research Centre) (2010) The objective of economic and social cohesion in the economic policies of member states. In: Final Report. EPRC and Euroreg, Glasgow

Faludi A (2006) From European spatial development to territorial cohesion policy. Reg Stud 40:667–678. https://doi.org/10.1080/00343400600868937

Ferrara C, Carlucci M, Grigoriadis E, Corona P, Salvati L (2017) A comprehensive insight into the geography of forest cover in Italy: exploring the importance of socioeconomic local contexts. Forest Policy Econ 75:12–22. https://doi.org/10.1016/j.forpol.2016.11.008

Foley JA, DeFries R, Asner GP, Barford C, Bonan G, Carpenter SR, Chapin FS, Coe MT, Daily GC, Gibbs HK, Helkowski JH, Holloway T, Howard EA, Kucharik CJ, Monfreda C, Patz JA, Prentice IC, Ramankutty N, Snyder PK (2005) Global consequences of land use. Science 309:570–574. https://doi.org/10.1126/science.1111772

Forman RTT (2008) Urban regions: ecology and planning beyond the City. Cambridge Univ. Press, New York

Forman RTT (2014) Urban ecology. Science of cities. Cambridge Univ. Press, Cambridge

Forman RTT, Godron M (1986) Landscape ecology. Wiley, New York

Frey WH, Zimmer Z (2001) Defining the city. In: Paddison R (ed) Handbook of Urban Studies. Sage, London, pp 14–35

García-Delgado JL (2007) Economic structure of Madrid. Civitas Ediciones S.L, Madrid

Geyer HS (ed) (2002) International handbook of urban system: studies of urbanization and migration in advanced and developing countries. Edward Elgar Publishing, Cheltenham

Gil-Alonso F, Bayona J, Pujadas I (2016) From boom to crash: Spanish urban areas in a decade of change (2001-2011). Eur Urban Reg Stud 23:198–216. https://doi.org/10.1177/0969776413498762

Gkartzios M (2013) Leaving Athens: narratives of counterurbanisation in times of crisis. J Rural Stud 32:158–167. https://doi.org/10.1016/j.jrurstud.2013.06.003

Hansen AJ, Rasker R, Maxwell B, Rotella JJ, Johnson JD, Parmenter AW, Langner U, Cohen WB, Lawrence RL, Kraska MPV (2002) Ecological causes and consequences of demographic change in the new west. BioScience 52:151–162. https://doi.org/10.1641/0006-3568(2002)052[0151:ECACOD]2.0.CO;2

Haque MS (2004) The myths of economic growth (GNP): implications for human development. In: Mudacumura G, Haque MS (eds) Handbook of development policy studies. Marcel Dekker, New York, pp 1–24

Healey P (2002) Urban-rural relationships, Spatial Strategies and Territorial Development. Built Environ 28:331–339

IECM (2016) Territorial Data Base. Statistical Institute of the Region of Madrid. http://www.madrid.org/bdt. Accessed March 10 2016

Joffre R, Rambal S, Ratte JP (1999) The dehesa system of southern Spain and Portugal as a natural ecosystem mimic. Agrofor Syst 45:57–79. https://doi.org/10.1023/A:1006259402496

Krosby M, Breckheimer I, Pierce DJ, Singleton PH, Hall SA, Halupka KC, Gaines WL, Long RA, McRae BH, Cosentino BL, Schuett-Hames JP (2015) Focal species and landscape "naturalness" corridor models offer complementary approaches for connectivity conservation planning. Landsc Ecol 30:2121–2132. https://doi.org/10.1007/s10980-015-0235-z

Lamb YJ, Purcell AT (1990) Perception of naturalness in landscape and its relationship to vegetation structure. Landsc Urban Plan 19:333–352. https://doi.org/10.1016/0169-2046(90)90041-Y

Levitt J (ed) (2002) Conservation in the internet age. Island Press, Washington DC

Martín-Vicente A, Fernández-Alés R (2006) Long term persistence of dehesas. Evidences from history. Agrofor Syst 67:19–28. https://doi.org/10.1007/s10457-005-1110-8

McCloskey JM, Spalding H (1989) A reconnaissance – level inventory of the amount of wilderness remaining in the world. AMBIO 18:221–227

Mitchell CJA (2004) Making sense of counterurbanization. J Rural Stud 20:15–34. https://doi.org/10.1016/S0743-0167(03)00031-7

Mockrin MH, Reed SE, Pejchar L, Salo J (2017) Balancing housing growth and land conservation: conservation development preserves private lands near protected areas. Landsc Urban Plan 157:598–607. https://doi.org/10.1016/j.landurbplan.2016.09.015

Modica G, Vizzari M, Pollino M, Fichera CR, Zoccali P, Di Fazio S (2012) Spatio-temporal analysis of the urban–rural gradient structure: an application in a Mediterranean mountainous landscape (Serra san Bruno, Italy). Earth Syst Dynam 3:263–279. https://doi.org/10.5194/esd-3-263-2012

Müller A, Bøcher PK, Svenning JCh (2015) Where are the wilder parts of anthropogenis landscapes? A mapping case study for Denmark. Landscape Urban Plan144:90–102

Nassauer JI, Allan JD, Johengen T, Kosek SE, Infante D (2004) Exurban residential subdivision development: effects on water quality and public perception. Urban Ecosyst 7:267–281. https://doi.org/10.1023/B:UECO.0000044039.65448.48

Paddison R (ed) (2001) Handbook of Urban Studies. Sage, London

Petrosillo I, Aretano R, Zurlini G (2015) Socioecological systems. Reference Module in Earth Systems and Environmental Sciences :1–7. https://doi.org/10.1016/B978-0-12-409548-9.09518-X

Pineda FD, Schmitz, M (coords.) (2011) Territorial ecological connectivity. Case studies of ecological and socioeconomic connectivity. National Parks Autonomous Agency, Ministry of Environment and Rural and Marine Affairs, Madrid

Pineda FD, De Nicolás JP, Ruiz M, Peco B, Bernáldez FG (1981) Succession, diversité et amplitude de niche dans les påturages du centre de la péninsule ibérique. Vegetatio 47:267–277. https://doi.org/10.1007/BF00118404

Redman C, Grove MJ, Kuby L (2004) Integrating social science into the long-term ecological research (LTER) network: social dimensions of ecological change and ecological dimensions of social change. Ecosystems 7:161–171. https://doi.org/10.1007/s10021-003-0215-z

Rees W, Wackernagel M (2008) Urban ecological footprints: why cities cannot be sustainable—and why they are a key to sustainability. In: Gaston KG (ed) Urban ecology. Springer, Boston, pp 537–555

Rivas-Martínez S (2011) Map of vegetation series, geoseries and geopermaseries from Spain. Report of the potential vegetation map of Spain (I, II. 2007–2011). MAGRAMA, Madrid

Rosell C, Álvarez G, Cahil S, Campeny R, Rodríguez A, Séiler A (2003) Habitat fragmentation in relation to transport infrastructures in Spain. MARM, Madrid

Schmitz MF, De Aranzabal I, Aguilera P, Rescia A, Pineda FD (2003) Relationship between landscape typology and socioeconomic structure. Scenarios of change in Spanish cultural landscapes. Ecol Model 168:343–356. https://doi.org/10.1016/S0304-3800(03)00145-5

Schmitz MF, De Aranzabal I, Pineda FD (2007a) Spatial analysis of visitor preferences in the outdoor recreational niche of Mediterranean cultural landscapes. Environ Conserv 34:300–312. https://doi.org/10.1017/S0376892907004249

Schmitz MF, Sánchez IA, De Aranzabal I (2007b) Influence of management regimes of adjacent land uses on the woody plant richness of hedgerows in Spanish cultural landscapes. Biol Conserv 135:542–554. https://doi.org/10.1016/j.biocon.2006.10.053

Schmitz MF, Matos DGG, De Aranzabal I, Ruiz-Labourdette D, Pineda FD (2012) Effects of a protected area on land-use dynamics and socioeconomic development of local populations. Biol Conserv 149:122–135. https://doi.org/10.1016/j.biocon.2012.01.043

Serra P, Vera A, Tulla AF, Salvati L (2014) Beyond urban-rural dichotomy: exploring socioeconomic land-use processes of change in Spain (1991-2011). Appl Geogr 55:71–81. https://doi.org/10.1016/j.apgeog.2014.09.005

Shuqing Z, Da L, Tang Z, Fang H, Song K, Fang J (2006) Ecological consequences of rapid urban expansion: shanghai, China. Front Ecol Environ 4:341–346. https://doi.org/10.1890/1540-9295(2006)004[0341:ECORUE]2.0.CO;2

Sohn C, Reitel B (2013) The role of national states in the construction of cross-border metropolitan regions in Europe: a scalar approach. Eur Urban Reg Stud 23:306–321. https://doi.org/10.1177/0969776413512138

Vaishar A, Zapletalová J (2009) Small towns as centers of rural micro-regions. European Countryside 1(2):70–81. https://doi.org/10.2478/v10091/009-0006-4

Visscher RS, Nassauer JI, Brown DG, Currie WS, Parker DC (2014) Exurban residential household behaviors and values: influence of parcel size and neighbors on carbon storage potential. Landsc Urban Plan 132:37–46. https://doi.org/10.1016/j.landurbplan.2014.08.004

Weilenmann B, Seidl I, Schulz T (2017) The socio-economic determinants of urban sprawl between 1980 and 2010 in Switerzland. Landsc Urban Plan 157:468–482. https://doi.org/10.1016/j.landurbplan.2016.08.002

World Bank (2015) World development indicators. The World Bank http://wwwworldbankorg/data Accessed March 1 2016

Wrbka T, Erb KH, Schulz NB, Peterseil J, Hahn C, Haberl H (2004) Linking pattern and process in cultural landscapes. An empirical study based on spatially explicit indicators. Land Use Policy 21:289–306. https://doi.org/10.1016/j.landusepol.2003.10.012

Xun B, Yu D, Wang X (2017) Prioritizing habitat conservation outside protected areas in rapidly urbanizing landscapes: a patch network approach. Landsc Urban Plan 157:532–541
Acknowledgements
This study was supported by the projects CULTURESCAPES (H2015/HUH-3383), funded by the European Social Fund and the Madrid Regional Government, and ECOGRADIENTS (CGL2014-53782-P), funded by the Spanish Ministry of Economy and Competitiveness.
Appendices
Appendix 1
Appendix 2
Appendix 3
About this article
Cite this article
Arnaiz-Schmitz, C., Díaz, P., Ruiz-Labourdette, D. et al. Modelling of socio-ecological connectivity. The rural-urban network in the surroundings of Madrid (Central Spain). Urban Ecosyst 21, 1199–1212 (2018). https://doi.org/10.1007/s11252-018-0797-z
Keywords
Landscape–socioeconomy model

Metropolis

Rural-urban linkages

Small towns

Socio-ecological connectivity

Territorial cohesion