Abstract
Urbanization has a massive impact on ecological function and impedes the provisioning of environmental services. The interaction between urbanization and the environment has been researched extensively. However, the existing research focused on the urbanization characteristics of large metropolitan areas. In this paper, we investigate the urban fragmentation patterns of small and mid-sized cities in Idaho, USA. To capture the urban morphology for each site within the study we use both concentric ring and transect analysis as well as several spatial/landscape metrics. Our results show that the characteristics of urbanization in small and mid-sized cities (and those in second-tier regions that attract relatively little scholarly attention) are consistent with growth phase theory of urbanization, urbanization along a gradient, and urbanization patterns of metropolises.
This is a preview of subscription content, log in to check access.
Access options
Buy single article
Instant access to the full article PDF.
US$ 39.95
Price includes VAT for USA
Subscribe to journal
Immediate online access to all issues from 2019. Subscription will auto renew annually.
US$ 99
This is the net price. Taxes to be calculated in checkout.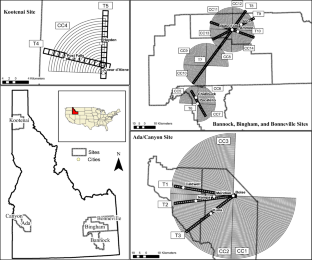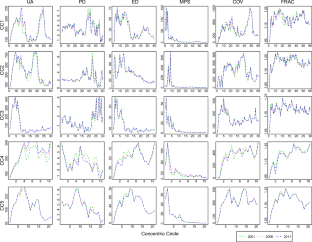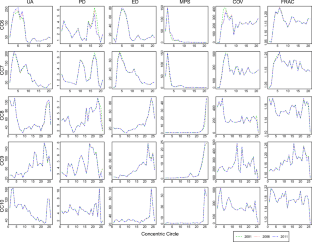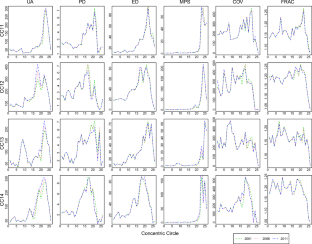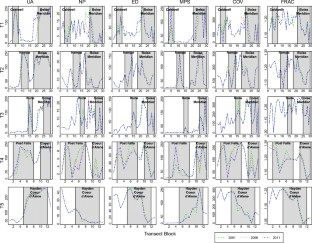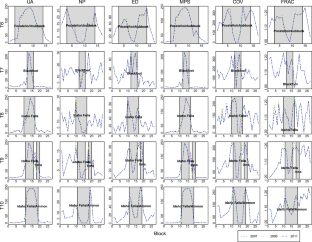 References
Aguilera F, Valenauela LM, Botequilha-Leitao A (2011) Landscape metrics in the analysis of urban land use patterns: a case study in a Spanish metropolitan area. Landsc Urban Plan 99:226–238

Alberti M (2005) The effects of urban patterns on ecosystem function. Int Reg Sci Rev 28:168–192

Dahal KR, Benner S, Lindquist E (2017) Urban hypotheses and spatiotemporal characterization of urban growth in the Treasure Valley of Idaho, USA. Appl Geogr 79:11–25

Dietzal C, Herold M, Hemphill JJ, Clarke KC (2005) Spatio-temporal dynamics in California's Central Valley: empirical links to urban theory. Int J Geogr Inf Sci 19:175–195

Dobbs R, Remes J, Smit S (2011) The worlds new growth frontier: midsize cities in emerging markets. McKinsey Quarterly. http://www.mckinsey.com/global-themes/urbanization/the-worlds-new-growth-frontier-midsize-cities-in-emerging-markets. Accessed 27 June 2017

Forman RTT, Godron M (1986) Landscape ecology. Wiley, New York

Hawley JH (1920) History of Idaho: The Gem of the Mountains. The S. J. Clarke Publishing Company, Chicago

Homer CG, Dewitz JA, Yang L, Jin S, Danielson P, Xian G, Coulston J, Herold ND, Wickham JD, Megown K (2015) Completion of the 2011 National Land Cover Database for the conterminous United States-Representing a decade of land cover change information. Photogramm Eng Remote Sens 81:345–354

Irwin EG, Bockstael NE (2007) The evolution of urban sprawl: evidence of spatial hererogeneity and increasing land fragmentation. Proc Natl Acad Sci U S A 104:20672–20677

Jenerette GD, Potere D (2010) Global analysis and simulation of land-use change associated with urbanization. Landsc Ecol 25:657–670

Li J, Li C, Zhu F, Song C, Wu J (2013) Spatiotemporal pattern of urbanization in shanghai, China between 1989 and 2005. Landsc Ecol 28:1545–1565

Liao FH, Wilhelm FM, Solomon M (2016) The effects of ambient water quality and eurasion watermilfoil on lakefront property values in the Coeur d'Alene area of northern Idaho, USA. Sustain 8:44–56

Luck M, Wu J (2002) A gradient analysis of urban landscape pattern: a case study from the Phoenix metropolitan region, Arizona, USA. Landsc Ecol 17:327–339

McGarigal K, Cushman S A, Ene E. (2012) FRAGSTATS v4: Spatial pattern analysis program for categorical and continuous maps. Computer software program produced by the authors at the University of Massachusetts, Amherst. Available at the following website: http://www.umass.edu/landeco/research/fragstats/fragstats.html

New Geography (2017a) Mid sized cities rankings – 2017 best cities for job growth. http://www.newgeography.com/content/005621-mid-sized-cities-rankings-2017-best-cities-job-growth. Accessed 6 November 2017

New Geography (2017b) Small cities rankings – 2017 best cities for job growth. http://www.newgeography.com/content/005620-small-cities-rankings-2017-best-cities-job-growth. Accessed 6 November 2017

Partridge MD, Rickman DS, Ali K, Olfert MR (2008) Lost in space: population growth in the American hinterlands and small cities. J Econ Geogr 8:727–757

Ramachandra TV, Bharath HA, Sanna DD (2012) Insights to urban dynamics through landscape spatial pattern analysis. Int J Appl Earth Obs Geoinf 18:329–343

Schneider A, Woodcock CE (2008) Compact, dispersed, fragmented, extensive? A comparison of urban growth in twenty-five global cities using remotely sensed data, pattern metrics and census information. Urban Stud 45:659–692

Schwantes CA (1991) In the mountain shadows: a history of Idaho. University of Nebraska Press, Lincoln

Seto KC, Fragkias M (2005) Quantifiying spatiotemporal patterns of urban land-use change in four cities of China with time series landscape metrics. Landsc Ecol 20:871–888

Shrestha MK, York AM, Boone CG, Zhang S (2012) Land fragmentation due to rapid urbanization in the Phoenix metropolitan area: analyzing the spatiotemporal patterns and drivers. Appl Geogr 32:522–531

Solon J (2009) Spatial context of urbanization: landscape pattern and changes between1950 and 1990 in the Warsaw metropolitan area, Poland. Landsc Urban Plan 93:250–261

Tian G, Wu J (2015) Comparing urbanization patterns in Guangzhou of China and Phoenix of the USA: the influences of roads and rivers. Ecol Indic 52:22–30

Tian G, Jiang J, Yang Z, Zhang Y (2011) The urban growth, size distribution and spatio-temporal dynamics pattern of the Yangtze River Delta megapolitan region, China. Ecol Model 222:865–878

U. S. Census (2017) The South is home to 10 of the 15 fastest-growing large cities. https://www.census.gov/newsroom/press-releases/2017/cb17-81-population-estimates-subcounty.html. Accessed 6 November 2017

U.S. Census Bureau, Population Division (2012) Annual Estimates of the Residential Populating for Selected Age Groups by Sex [Data File]. https://factfinder.census.gov/faces/tableservices/jsf/pages/productview.xhtml?pid=PEP_2011_PEPAGESEX&prodType=table. Accessed 20 March 2017

Weng YC (2007) Spatiotemporal changes of landscape pattern in response to urbanization. Landsc Urban Plan 81:341–353

Wu Q, Hu D, Wang R, Li H, He Y, Wang M, Wang B (2006) A GIS-based moving window analysis of landscape pattern in the Beijing metropolitan area, China. Int J Sust Dev World Ecol 13:419–434

Wu J, Jenerette GD, Buyantuyev A, Redman CL (2011) Quantifying spatiotemporal patterns of urbanization: the case of the two fastest growing metropolitan regions in the United States. Ecol Complex 8:1–8

Xian G, Homer C, Dewitz J, Fry J, Hossain N, Wickha J (2011) The change of impervious surface area between 2001 and 2006 in the conterminous United States. Photogramm Eng Remote Sens 77:758–762

Xu C, Liu M, Zhang C, An S, Yu W, Chen JM (2007) The spatiotemportal dynamics of rapid urban growth in the Nanjing metropolitan region of China. Landsc Ecol 22:925–937

Yu YJ, Ng CN (2007) Spatial and temporal dynamics of urban sprawl along two urban-rural transects: a case study of Guangzhou, China. Landsc Urban Plan 79:96–109

Zhang S, York AM, Boone CG, Shrestha M (2013) Methodological advances in the spatial analysis of land fragmentation. Prof Geogr 65:512–526
Acknowledgements
This research was supported by the National Science Foundation award number IIA – 1301792 from the National Science Foundation Idaho Environmental Program to Stimulate Competitive Research Program. Its contents are solely the responsibility of the authors and do not necessarily represent the official views of the National Science Foundation. We would also like to thank Colden Baxter, Sue Parsons, Li Huang, and Stephan Joy who offered guidance and insight during the progression of this research.
About this article
Cite this article
Felt, C., Fragkias, M., Larson, D. et al. A comparative study of urban fragmentation patterns in small and mid-sized cities of Idaho. Urban Ecosyst 21, 805–816 (2018). https://doi.org/10.1007/s11252-018-0770-x
Keywords
Spatial metrics

Spatial pattern analysis

Urbanization

Idaho

Urban growth