Abstract
Research in urban ecology depends on frameworks that meaningfully integrate our understanding of biophysical and social change. Although the coupled nature of urban ecosystems is widely accepted, the core mechanisms we use to integrate the social and biophysical aspects of urban ecosystems – their social-ecological feedbacks – are poorly understood. This paper considers how feedbacks are used to conceptualize social-ecological change, noting their utility and their limitations. In so doing, we suggest that coproduction provides a meaningful alternative to feedbacks, one that captures not only the structure-function relationships usually assumed in studies of biophysical landscape change, but also the structure-agency relationships that facilitate our most comprehensive understanding of social change. By addressing both the stepwise forms of transformation that a feedback approach captures and the simultaneous forms of transformation captured by a coproduction approach, a more comprehensive assessment of the ways that social and ecological change take place is afforded. We contend that thinking in terms of coproduction is essential for moving beyond the interdisciplinary approach that usually guides urban ecology models, toward a more integrated, trans-disciplinary approach.
This is a preview of subscription content, log in to check access.
Access options
Buy single article
Instant access to the full article PDF.
US$ 39.95
Price includes VAT for USA
Subscribe to journal
Immediate online access to all issues from 2019. Subscription will auto renew annually.
US$ 99
This is the net price. Taxes to be calculated in checkout.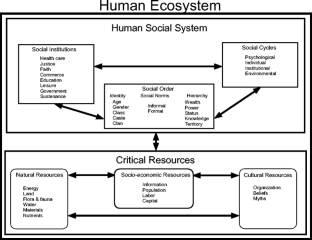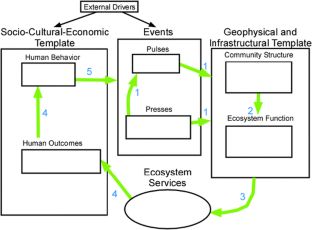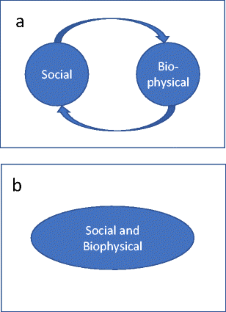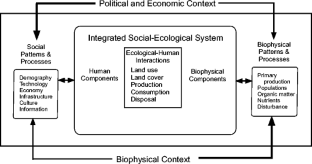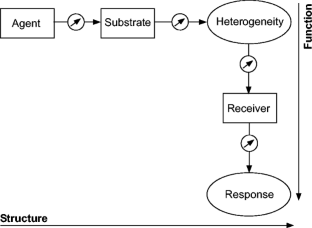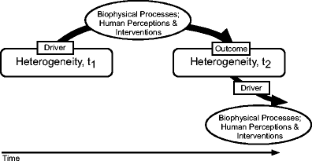 Notes
1.

A distinction between the term urban and city is drawn by many scholars, and in this paper, to signal Lefebvre's (1970) assertion, that, by tracing the capitalist flows that bind the spatial configurations we tend to refer to as "city" and "countryside," we are poised to recognize a completely urban world. That is to say, the consequential flows between cities and their surrounding territories – be they of materials, information, people, power relations, and so on – establish forms of interconnection that are most meaningfully regarded as constituting the urban form. Thus, urban systems include cities but are never confined to them, or defined by their boundaries. In the social sciences, geographers have been particularly prolific in generating such urban mappings (e.g., Harvey 1973) and have recently advanced highly influential propositions such as Brenner's (2014) suggestion of planetary urbanism. This idea takes issue with definitions of the urban and urbanization that use the city and its demographic contours as a primary basis for analysis. Instead, planetary urbanism emphasizes the almost infinite connectivity between concentrated city zones and their hinterlands. See also the formulation of "ecologies of urbanism" in Rademacher and Sivaramakrishnan 2017 and Rademacher and Sivaramakrishnan 2013.

2.

By "Model template," we mean to refer to a representation of the components, flows, or interactions that can exist within a system. A model template is used to develop models of specific systems, places, or circumstances. A single template, then, can beget many potential models.

3.

In Rademacher 2015, the author notes that, "whether described as "agency for nature," as "multispecies ethnography" (Kirksey and Helmreich 2010; Ogden et al. 2013), or through a host of other terms, sensitivity to the sometimes profound role of nonhuman nature in structuring (Abrams 1982)---albeit with tremendous dynamism and unpredictability---the human individual and collective capacity for agentive action has compelled new analyses of power relations, new historiographies, and a particularly complex idea of the human agent. Multispecies ethnographies, together with the field of science and technology studies and its use of actor-network theory (Callon 1986; Latour 1988, 1993a, 1993b; Latour and Woolgar 1986), flourish among a host of scholarly movements and "posthumanities" (Wolfe 2009). But the work of assembling robust ethnographic and clearly historicized portraits of urban socionatural transformation, and of reaching beyond the laboratory and other conventional domains in which we analytically locate urban scientific knowledge production and ideas of urban nature, is notably scarce in these otherwise vibrant fields" (Rademacher 2015:143).

4.

5.

In the biophysical sciences, we note the generative work of researchers associated with the two urban sites among the US National Science Foundation's Long Term Ecosystem Research (LTER) initiatives. These urban ecology research centers have long forged new ground in scientific theory and research on urban ecosystems and have made significant contributions to the research tools available to scientists, social researchers, and design practitioners. An exemplary recent volume that captures the interdisciplinary accomplishments of this work, and its innovative models of urban ecosystems, is Pickett, Cadenasso, and McGrath's (2013) Resilience in Ecology and Urban Design: Linking Theory and Practice for Sustainable Cities, but the wealth of particular and integrative studies produced in the Phoenix and Baltimore LTER's, as well as other ecosystem-science grounded urban ecology research consortia in North America and beyond, is vast indeed. For our purposes, it is critical to notice longstanding efforts among ecosystem scientists to capture social dynamics in their conceptual and research models, and to join studies of urban biophysical processes and change with sophisticated studies of social context and processes.

6.

It is important here to emphasize that systems may operate at multiple levels. At whatever level, systems are integrated and interactive entities. Material systems are parts of nested hierarchies. A model template will identify specific mechanisms and causes (the interactions, actions, influences, and constraints that result in a state change or a change of systems).

7.

Since 1980, the United States National Science Foundation has supported long term ecosystem research at several sites in North America (http://www.lternet.edu/). Two of these are expressly urban sites: the Baltimore Ecosystem Study (http://www.lternet.edu/sites/bes) and Central Arizona-Phoenix Long Term Ecosystem Study (http://caplter.asu.edu/). Both urban LTER sites maintain extensive online libraries of data and analyses.

8.

Important to note that an "agent" in this rendering can be abiotic, or even a policy: anything that effects a change.

9.

This example, elaborated in Huang, Zhou, and Cadenasso (2011), is based on data from Baltimore, a city where certain census block groups are hotter due, in part, to less extensive tree cover. This condition results in more sun-exposed surfaces, and these surfaces absorb heat during the day and reradiate it at night. We note that these are also census block groups that may be considered particularly socially vulnerable in other important ways, including relative income, high rates of poverty, lower levels of education, higher numbers of elderly residents, and higher residential percentages of ethnic minorities.
References
Abrams P (1982) Historical sociology. Cornell University Press, Ithaca

Adger WN (2000) Social and ecological resilience: are they related? Prog Hum Geogr 24:347–364

Brenner N (ed) (2014) Implosions/explosions: toward a study of planetary urbanization. Jovis, Berlin

Burch WR Jr (1988) Human ecology and environmental management. In: Agee JK, Darryll RJ (eds) Ecosystem Management for Parks and Wilderness. University of Washington Press, Seattle, pp 145–159

Cadenasso ML, Pickett STA, Grove JM (2006) Integrative approaches to investigating human-natural systems: the Baltimore ecosystem study. Nat Sci Soc 14:4–14

Cadenasso ML, Pickett STA, Weathers KC, Jones CG (2003) A framework for a theory of ecological boundaries. Bioscience 53:750–758

Callon M (1995) Four models for the dynamics of science. In: Jasanoff S, Markle GE, Petersen JC, Pinch T (eds) Handbook of science and technology. Sage, New York, pp 249–292

Callon M (2009) Some elements of a sociology of translation: domestication of the scallops and the fishermen of St. Brieuc Bay. In: Law J (ed) Power, Action, Belief: A new sociology of knowledge? Routledge, New York, pp 196–223

Carpenter S, Walker B, Anderies JM, Abel N (2001) From metaphor to measurement: resilience of what to what? Ecosystems 4:765–781

Childers DL, Cadenasso ML, Grove JM, Marshall V, McGrath B, Pickett STA (2015) An ecology for cities: a transformational nexus of design and ecology to advance climate change resilience and urban sustainability. Sustainability 7:377403791–377403791. https://doi.org/10.3390/su7043774

Collins SL, Carpenter SR, Swinton SM, et al (2011) An integrated conceptual framework for long-term social-ecological research. Front Ecol Environ 9:351–357. https://doi.org/10.1890/100068

Diener R et al (2001) Switzerland: An Urban Portrait. Four Volumes. ETH Studio Basel. Zurich. Birkhauser

Dove MR (2001) Inter-disciplinary borrowing in environmental anthropology and the critique of modern science. In: Crumley CL (ed) New Directions in Anthropology and Environment: Intersections. Walnut Creek. AltaMira Press, pp 90–110

Dow K (2000) Social dimensions of gradients in urban ecosystems. Urban Ecosystems 4:255–275

Egerton F (1973) Changing concepts of the balance of nature. Q Rev Biol 48(2):322–350 https://doi.org/10.1086/407594

Gieryn T (1995) The boundaries of science. In: Jasanoff et. Al., eds. Handbook of Science and Technology Studies. Thousands oaks. Sage, pp 393–443

Gotham and Campanella (2010) Toward a research agenda on transformative resilience: challenges and opportunities for post-trauma urban ecosystems. Crit Plann 17:9–23

Grove JM, Burch WR (1997) A social ecology approach and applications of urban ecosystem and landscape analyses: a case study of Baltimore, Maryland. Urban Ecosystems 1:259–275

Grove M, Cadenasso ML, Pickett STA, Machlis G, Burch Jr WR (2015) The Baltimore School of Urban Ecology. Yale University Press, New Haven

Harvey D (1973) Social justice and the City. Johns Hopkins University Press, Baltimore

Harvey D (2010) The enigma of capital and the crises of capitalism. Oxford University Press, New York

Huang G, Zhou W, Cadenasso ML (2011) Is everyone hot in the city?: spatial pattern of land surface temperatures, land cover, and neighborhood socioeconomic characteristics in Baltimore, City, MD. J Environ Manag 92:1753–1759

Holling CS (1996) Engineering resilience versus ecological resilience. In: Schulze PC (ed) Engineering within ecological constraints. National Academy Press, Washington, DC, pp 31–44

Jasanoff S (2003) (no?) accounting for expertise. Sci Public Policy 30(30):157–162

Jasanoff S (2004a) Ordering knowledge, ordering society. In: States of knowledge: the co-production of science and social order. Routledge, New York

Jasanoff S (ed) (2004b) States of knowledge: the co-production of science and social order. Routledge, New York

Jennings DE, Duan JJ, Shrewsbury PM (2015) Biotic mortality factors affecting emerald ash borer (Agrilus planipennis) are highly dependent on life stage and host tree crown condition. Bull Entomol Res 105:598–606. https://doi.org/10.1017/S0007485315000498

Jones BA, McDermott SM (2015) Linking environmental management to health outcomes: a case study of the emerald ash borer. Applied Economic Letters 22:1409–1414. https://doi.org/10.1080/13504851.2015.1034836

Kingsland SE (2005) The evolution of American ecology, 1890–2000. Johns Hopkins University Press, Baltimore

Kirksey SE, Helmreich S (2010) The emergence of multispecies ethnography. Cult Anthropol 25:545–576

Kottak C (1999) The new ecological anthropology. Am Anthropol 101(1):23–35

Latour B (1988) Science in action: how to follow scientists and engineers through society. Harvard University Press, Cambridge

Latour B (1993a) We Have Never Been Modern. Catherine porter, transl. Harvard University Press, Cambridge

Latour B (1993b) The pasteurization of France. Harvard University Press, Cambridge

Latour B, Woolgar S (1986) Laboratory life: the construction of scientific facts. Princeton University Press, Princeton

Lefebrve (1970) The urban revolution. University of Minnesota Press, Minneapolis

Lachmund J (2013) Greening berlin: the coproduction of science, politics, and urban nature. MIT Press, Cambridge

Lemos MC, Morehouse BJ (2005) The co-production of science and policy in integrated assessments. Glob Environ Chang 15:57–68

Levine S (2014) Assessing resilience: why quantification misses the point. Humanitarian Policy Group Working Paper

Machlis GE, Jo EF, Jr WRB (1997) The human ecosystem part I: the human ecosystem as an organizing concept in ecosystem management. Soc Nat Resour 10(4):347–367

McGrath B, Shane DG (2012) Metropolis, megalopolis and the metacity. Page in C. G. Crysler, S. Cairns, and H. Heynen, editors. The Sage handbook of architectural theory. Sage, London

Mercader RJ, McCullough DG, Storer AJ et al (2015) Evaluation of the potential use of a systemic insecticide and girdled trees in area wide management of the emerald ash borer. For Ecol Manag 350:70–80. https://doi.org/10.1016/j.foreco.2015.04.020

Muñoz-Erickson TA, Miller CA, Miller TR (2017) How cities think: knowledge co-production for urban sustainability and resilience. Forests 8:203. https://doi.org/10.3390/f8060203

Ogden L, Heynen N, Oslender U, West P, Kassam K-A, Robbins P (2013) Global assemblages, resilience, and earth stewardship in the Anthropocene. Front Ecol Environ 11:341–347

Orr Y, Lancing JS, Dove MR (2015) Environmental anthropology: systemic perspectives. Annu Rev Anthropol 44:153–168

Pickett et al (2017) Dynamic heterogeneity: a framework to promote ecological integration and hypothesis generation in urban systems. Urban Ecosystems 20:1–14

Pickett STA, Cadenasso ML (2008) Linking ecological and built components of urban mosaics: an open cycle of ecological design. J Ecol 96:8–12

Pickett STA, Cadenasso ML (2002) The ecosystem as a multidimensional concept: meaning, model, and metaphor. Ecosystems 5:1–10

Pickett STA, Cadenasso ML, Jones CG (2000) Generation of heterogeneity by organisms: creation, maintenance, and transformation. In: Hutchings ML, John EA, Stewart AJA (eds) Ecological consequences of habitat heterogeneity. Blackwell, Malden

Pickett STAMLC, McGrath B (eds) (2013) Resilience in ecology and Urban Design: linking theory and practice for sustainable cities. Springer, New York

Pickett STA, Kolasa J, Jones CG (2007) Ecological understanding. Academic Press, San Diego

Pickett STA, Grove JM (2009) Urban ecosystems: what would Tansley do? Urban Ecosystems 12(1):1–8

Pickett STA, Cadenasso ML, Grove JM et al (2011) Urban ecological systems: scientific foundations and a decade of progress. J Environ Manage 92:331–362. https://doi.org/10.1016/j.jenvman.2010.08.022

Pickett STA, Parker VT, Fiedler P (1992) The new paradigm in ecology: implications for conservation biology above the species level. In: Fiedler P, Jain S (eds) Conservation biology: the theory and practice of nature conservation, Preservation and Management. Chapman and Hall, New York, Pp, pp 65–88

Qureshi S, Haase D, Coles R (2014) The theorized urban gradient (TUG) method—a conceptual framework for socio-ecological sampling in complex urban agglomerations. Ecol Indic 36:100–110

Rademacher A (2015) Urban political ecology. Annu Rev Anthropol 44:137–152

Rademacher A, Sivaramakrishnan K (eds) (2013) Ecologies of Urbanism in India: Metropolitan Civility and Sustainability. Hong Kong: HKU press and. Columbia University Press

Rademacher A, Sivaramakrishnan K (2017) Places of Nature in Ecologies of Urbanism. Hong Kong: HKU press and. Columbia University Press

Rappaport R (1968) Pigs for the ancestors: ritual in the ecology of a new Guinea people. Yale University Press, New Haven & London

Redman CL, Grove JM, Kuby LH (2004) Integrating social science into the long-term ecological research (LTER) network: social dimensions of ecological change and ecological dimensions of social change. Ecosystems 7:161–171

Simberloff D (2014) The "balance of nature"-evolution of a Panchreston. PLoS Biol 12:e1001963. https://doi.org/10.1371/journal.pbio.1001963

Walker J, Cooper M (2011) Genealogies of resilience: from systems ecology to the political economy of crisis adaptation. Security Dialogue 14(2):143–160. https://doi.org/10.1177/0967010611399616

Wolfe C (2009) What is Posthumanism? University of Minnesota Press, Minneapolis

Wu J, Wu T (2013) Ecological resilience as a foundation for urban design and sustainability. In: Pickett STA, Cadenasso ML, McGrath B (eds) Resilience in ecology and urban design: linking theory and practice for sustainable cities. Springer, New York, pp 211–229

Vayda AP, McKay BJ (1975) New directions in ecology and ecological anthropology. Annu Rev Anthropol 4:293–306
Acknowledgments
The authors are grateful to the NYUrban Greening Lab for support of the Urban Ecology Collaborative Workshop, NYU Berlin, July 2014. MLC and STAP acknowledge funding support from the NSF Long-term Ecological Research (LTER) Program under Grant No. DEB-1637661.
About this article
Cite this article
Rademacher, A., Cadenasso, M.L. & Pickett, S.T.A. From feedbacks to coproduction: toward an integrated conceptual framework for urban ecosystems. Urban Ecosyst 22, 65–76 (2019). https://doi.org/10.1007/s11252-018-0751-0
Keywords
Coproduction

Social-ecological systems

Framework

Transdisciplinary

Urban ecology

Feedback