Abstract
Urbanisation is one of the most severe drivers of current global biodiversity loss and has contributed to severe declines in many amphibian species. The aim of this study was to determine whether artificial stormwater ponds, designed to control water flow, can act as refuges for amphibians in urban areas. Moreover, we analysed the influence of habitat and landscape quality on amphibian species richness of 46 stormwater ponds (STOPON) in comparison to 46 control ponds (CONTROL).
Our study revealed that environmental conditions clearly varied between STOPON and CONTROL. The most pronounced differences were that STOPON were larger, shallower, sunnier, more isolated by streets and had a greater cover of built-up area and lower cover of arable land surrounding them. Nevertheless, the amphibian assemblages of STOPON and CONTROL were very similar. All nine amphibian species (including three threatened species) detected in this study were found in both pond types. Moreover, species richness (2.8 ± 0.2 vs. 2.3 ± 0.2) and the frequency of each species did not differ between STOPON and CONTROL. The only exception was Pelophylax spp., which occurred more regularly in STOPON. Both habitat and landscape quality affected amphibian species richness; however, the explanatory power of the habitat models was about twice as high as those of the landscape models.
In conclusion, stormwater ponds play an important role for amphibians in urban areas. In comparison to CONTROL, the low landscape quality in the surroundings of STOPON seemed to be compensated by a higher habitat quality due to regular management.
This is a preview of subscription content, log in to check access.
Access options
Buy single article
Instant access to the full article PDF.
US$ 39.95
Price includes VAT for USA
Subscribe to journal
Immediate online access to all issues from 2019. Subscription will auto renew annually.
US$ 99
This is the net price. Taxes to be calculated in checkout.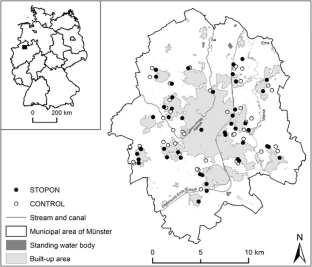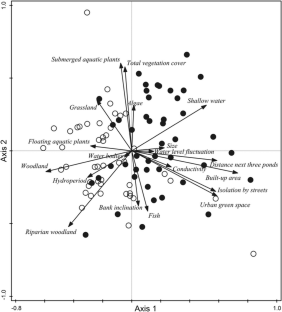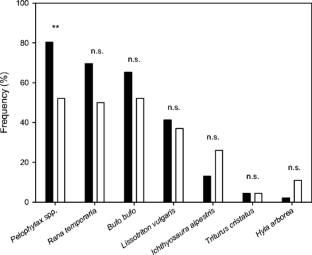 References
Alford RA, Dixon PM, Pechmann JHK (2001) Global amphibian population declines. Nature 414:449–500

Baber MJ, Babbitt KJ (2004) Influence of habitat complexity on predator-prey interactions between the fish (Gambusia holbrooki) and tadpoles of Hyla squirella and Gastrophryne carolinensis. Copeia 2004:173–177

Baldwin RF, deMaynadier PG (2009) Assessing threats to pool-breeding amphibian habitat in an urbanizing landscape. Biol Conserv 142:1628–1638

Balmford A, Green RE, Jenkins M (2003) Measuring the changing state of nature. Trends Ecol Evol 18:326–330

Barnosky AD, Matzke N, Tomiya S et al (2011) Has the Earth's sixth mass extinction already arrived? Nature 471:51–57

Beebee TJC, Griffiths RA (2005) The amphibian decline crisis: a watershed for conservation biology? Biol Conserv 125:271–285

Birx-Raybuck DA, Price SJ, Dorcas ME (2010) Pond age and riparian zone proximity influence anuran occupancy of urban retention ponds. Urban Ecosyst 13:181–190

Booth DB, Jackson RJ (1997) Urbanization of aquatic systems: degradation, thresholds, stormwater detection and the limits of mitigation. J Am Water Resour As 33:1077–1090

Brand AB, Snodgrass JW (2009) Value of artificial habitats for amphibian reproduction in altered landscapes. Conserv Biol 24:295–301

City of Münster (2014) Münster – Data and Facts http://www.muenster.de. Accessed 9 July 2016

Collins JP, Storfer A (2003) Global amphibian declines: sorting the hypotheses. Divers Distrib 9:89–98

Coster SS, Powell JSV, Babbitt KJ (2014) Characterizing the width of amphibian movements during post breeding migration. Conserv Biol 28:756–762

Cushman SA (2006) Effects of habitat loss and fragmentation on amphibians: a review and prospectus. Biol Conserv 128:231–240

Donnelly R, Marzluff JM (2006) Relative importance of habitat quantity, structure, and spatial pattern to birds in urbanizing environments. Urban Ecosyst 9:99–117

DWD (Deutscher Wetterdienst) (2014) Mittelwerte 30-jähriger Perioden http://www.dwd.de. Accessed 9 July 2016

Ehrenfeld JB (2000) Evaluating wetlands within an urban context. Ecol Eng 15:253–265

Eichel S, Fartmann T (2008) Management of calcareous grasslands for Nickerl's fritillary (Melitaea aurelia) has to consider habitat requirements of the immature stages, isolation, and patch area. J Insect Conserv 12:677–688

Fahrig L (2003) Effects on habitat fragmentation on biodiversity. Ann Rev Ecol Evol S 34:487–515

Ficetola GF, De Bernardi F (2004) Amphibians in a human-dominated landscape: the community structure is related to habitat features and isolation. Biol Conserv 119:219–230

Gallagher MT (2011) Watershed-scale analysis of pollutant distributions in stormwater management ponds. Urban Ecosyst 14:469–484

Glandt D (2011) Grundkurs Amphibien- und Reptilienbestimmung: Beobachten, Erfassen und Bestimmen aller europäischen Arten. Quelle & Meyer, Wiebelsheim

Glandt D (2014) Wasserfallen als Hilfsmittel der Amphibienerfassung – eine Standortbestimmung. In: Kronshage A, Glandt D (Eds.) Wasserfallen für Amphibien – praktische Anwendung im Artmonitoring. Abhandlungen aus dem Westfälischen Museum für Naturkunde, Münster 77:9–50

Gledhill DG, James P, Davies DH (2008) Pond diversity as a determinant of aquatic species richness in an urban landscape. Landsc Ecol 23:1219–1230

Grimm NB, Faeth SH, Golubiewski NE, Redman CL, Wu J, Bai X, Briggs J (2008) Global change and the ecology of cities. Science 319:756–760

Günther R (ed) (2009) Die Amphibien und Reptilien Deutschlands. Spektrum Akademischer Verlag, Heidelberg

Hachtel M, Schlüpmann M, Thiesmeier B, Weddeling K (eds) (2009) Methoden der Feldherpetologie. Supplement der Zeitschrift für Feldherpetologie 15:1–424

Hachtel M, Schlüpmann M, Weddeling K, Thiesmeier B, Geiger A, Willigalla C (2011) Handbuch der Amphibien und Reptilien Nordrhein-Westfalens. Laurenti Verlag, Bielefeld

Hamer AJ, McDonnell MJ (2008) Amphibian ecology and conservation in the urbanising world: a review. Biol Conserv 141:2423–2449

Hamer AJ, Parris KM (2011) Local and landscape determinants of amphibian communities in urban ponds. Ecol Appl 21(2):379–390

Hamer AJ, Smith PJ, McDonnell MJ (2012) The importance of habitat design and aquatic connectivity in amphibian use of urban stormwater retention ponds. Urban Ecosyst 15:451–471

Hartung H, Ostheim G, Glandt D (1995) Eine neue tierschonende Trichterfalle zum Fang von Amphibien im Laichgewässer. Metelener Schriftenreihe für Naturschutz 5:125–128

Hassall C (2014) The ecology and biodiversity of urban ponds. WIREs Water 1:187–206

Hassall C, Anderson S (2015) Stormwater ponds can contain comparable biodiversity to unmanaged wetlands in urban areas. Hydrobiologia 745:137–149

Hels T, Buchwald E (2001) The effect of road kills on amphibian populations. Biol Conserv 99:331–340

Herrmann J (2012) Chemical and biological benefits in a stormwater wetland in Kalmar, SE Sweden. Limnologica 42:299–309

Hill MJ, Biggs J, Thornhill I, Briers RA, Gledhill DG, White JC, Wood PJ, Hassall C (2016) Urban ponds as an aquatic biodiversity resource in modified landscapes. Glob Chang Biol. doi:10.1111/gcb.13401

Jahn P, Jahn K (1997) Vergleich quantitativer und halbquantitativer Erfassungsmethoden bei verschiedenen Amphibienarten im Laichgewässer. In: Henle K, Veith M (Eds.) Naturschutzrelevante Methoden der Feldherpetologie. Mertensiella 7:61–69

Jeliazkov A, Chiron F, Garnier J, Besnard A, Silvestre M, Jiguet F (2014) Level-dependence of the relationships between amphibian biodiversity and environment in pond systems within an intensive agricultural landscape. Hydrobiologia 723:7–23

Kret E, Poirazidis K (2015) The influence of habitat features on amphibian distribution in northeastern Greece. J Nat Hist 49:5–8

Lambin EF, Turner BL, Geist HJ et al (2001) The causes of land-use and land-cover change: moving beyond the myths. Glob Environ Chang 11:261–269

LANUV NRW (Landesamt für Natur, Umwelt, und Verbraucherschutz Nordrhein-Westfalen) (2011) Rote Liste und Artenverzeichnis der Lurche – Amphibia – in Nordrhein-Westfalen. 4. Fassung. https://www.lanuv.nrw.de. Accessed 19 September 2016

Le Viol I, Mocq J, Julliard R, Kerbiriou C (2009) The contribution of motorway stormwater retention ponds to the biodiversity of aquatic macroinvertebrates. Biol Conserv 142:3163–3171

Le Viol I, Chiron F, Julliard R, Kerbiriou C (2012) More amphibians than expected in highway stormwater ponds. Ecol Eng 47:146–154

Marsh DM, Trenham PC (2001) Metapopulation dynamics and amphibian conservation. Conserv Biol 15(1):40–49

McKinney ML (2006) Urbanization as a major cause of biotic homogenization. Biol Conserv 127:247–260

Morgan LA, Buttemer WA (1996) Predation by the non-native fish Gambusia holbrooki on small Litoria aurea and L. dentata tadpoles. Aust Zool 30:143–149

Naeem S, Duffy JE, Zavaleta E (2012) The function of biological diversity in an age of extinction. Science 336:1401–1406

Paul MJ, Meyer JL (2001) Streams in the urban landscape. Ann Rev Ecol Evol S 32:333–365

Pechmann JHK, Wilbur HM (1994) Putting declining amphibian populations in perspective – natural fluctuations and human impacts. Herpetologica 50(1):65–84

Pimm SL, Russell GJ, Gittleman JL, Brooks TM (1995) The future of biodiversity. Science 269:347–350

Poniatowski D, Fartmann T (2010) What determines the distribution of a flightless bush-cricket (Metrioptera brachyptera) in a fragmented landscape? J Insect Conserv 14:637–645

R Development Core Team (2016) R: a language and environment for statistical computing http://www.r-project.org. Accessed 04 March 2016

Reh W, Seitz A (1990) The influence of land use on the genetic structure of populations of the common frog (Rana temporaria). Biol Conserv 54:239–249

Sala OE, Chapin FS, Armesto JJ et al (2000) Biodiversity – global biodiversity scenarios for the year 2100. Science 287:1770–1774

Scher O, Thièry A (2005) Odonata, Amphibia and environmental characteristics in motorway stormwater retention ponds (southern France). Hydrobiologia 551:237–251

Semlitsch RD (2008) Differentiating migration and dispersal processes for pond-breeding amphibians. J Wildl Manag 72:260–267

Simon JA, Snodgrass JW, Casey RE, Sparling DW (2009) Spatial correlates of amphibian use of constructed wetlands in an urban landscape. Landsc Ecol 24:361–373

Skelly DK, Werner EE, Cortwright SA (1999) Long-term distributional dynamics of a Michigan amphibian assemblage. Ecology 80:2326–2337

Snep RPH, Opdam PFM, Baveco JM, WallisDeVries MF, Timmermans W, Kwak RGM, Kuypers V (2006) How peri-urban areas can strengthen animal populations within cities: a modeling approach. Biol Conserv 127:345–355

Steele MK, Heffernan JB (2014) Morphological characteristics of urban water bodies: mechanisms of change and implications for ecosystem function. Ecol Appl 24:1070–1084

Stuart NS, Chanson JS, Cox NA, Young BE, Rodrigues ASL, Fischman DL, Waller RW (2004) Status and trends of amphibian declines and extinction worldwide. Science 360:1783–1786

Tetzlaff I (2007) Froschlurche: Die Stimmen aller heimischen Arten. Audio-CD, Ample, Germering

Tonne F (1954) Besser bauen mit Besonnungs- und Tageslicht-Planung. Hofmann, Schorndorf/Stuttgart

Tóth Z, Hoi H, Hettyey A (2011) Intraspecific variation in the egg-wrapping behaviour of female smooth newts, Lissotriton vulgaris. Amphibia-Reptilia 32:77–82

Uhlmann D, Horn W (2001) Hydrobiologie der Binnengewässer. Eugen Ulmer, Stuttgart

United Nations (2010) World urbanization prospects: the 2009 revision. United Nations, New York

Vági B, Kovács T, Bancila R, Hartel T, Anthony BP (2013) A landscape-level study on the breeding site characteristics of ten amphibian species in Central Europe. Amphibia-Reptilia 34:63–73

Villareal EL, Semadeni-Davies A, Bengtsson L (2004) Inner city stormwater control using a combination of best management practices. Ecol Eng 22:279–298

von Bülow B (2014) Erfahrungen mit Unterwasserfallen für Amphibien. In: Kronshage A, Glandt D (Eds.) Wasserfallen für Amphibien – praktische Anwendung im Artmonitoring. Abhandlungen aus dem Westfälischen Museum für Naturkunde, Münster 77:179–188

Vos CC, Chardon JP (1998) Effects of habitat fragmentation and road density on the distribution pattern of the moor frog Rana arvalis. J Appl Ecol 35:44–56

Wake DB (1991) Declining amphibian populations. Science 253:860–860

Wake DB, Vredenburg VT (2008) Are we in the midst of the sixth mass extinction? A view from the world of amphibians. P Natl Acad Sci USA 105:11466–11473

Werner EE, Glennemeier KS (1999) Influence of forest canopy cover on the breeding pond distribution of several amphibian species. Copeia 1999:1–12

Willigalla C, Fartmann T (2012) Patterns in the diversity of dragonflies (Odonata) in cities across Central Europe. Eur J Entomol 109:235–245
Acknowledgements
The study was funded by a Ph.D. scholarship of the Deutsche Bundesstiftung Umwelt (DBU). J. Möhring and M. Genius gave permissions for the investigation. We would like to thank G. Stuhldreher and J. Thiele for advice on statistical methods. We are grateful to C. Nilon, M. Streitberger, M. Zundel and two anonymous reviewers for valuable comments on an earlier version of the manuscript. Furthermore, we thank K.-H. Holtmann and M. Zundel for assistance during field work.
Appendix 1
Appendix 1
About this article
Cite this article
Holtmann, L., Philipp, K., Becke, C. et al. Effects of habitat and landscape quality on amphibian assemblages of urban stormwater ponds. Urban Ecosyst 20, 1249–1259 (2017). https://doi.org/10.1007/s11252-017-0677-y
Keywords
Aquatic connectivity

Fragmented landscape

Global change

Landscape structure

Retention pond

Species richness