Abstract
What type of urban nature do urban dwellers prefer? Contributing to this ongoing discussion, this study presents the results of an internet and on-site field survey on general use and visitation pattern conducted in Grunewald Forest via a questionnaire; this is a 3000 ha area southwest of Berlin, Germany. The questions were developed in close cooperation with the local forestry administration and targeted the uncovering of user-specific needs and climate change-related conflicts. More than 1300 valid answers were analyzed, which made it possible to (1) identify and characterize different visitor groups, (2) identify reasons for an urban forest visit, (3) uncover the needs for infrastructure and information, (4) reflect on the survey methods used. The interesting findings include (I) the reasons for a visit highly coincide with forest-related properties in particular; however, the infrastructure preferences reveal the desire for managed greenspace; and (II) the answers obtained from the field differ significantly from those obtained online in various respects. The differences found suggest that the survey, with both online and on-site answers, is a major advantage for future studies regarding urban green infrastructure use. These results can be fruitfully used to inform urban forest management regarding user needs and create a better forestry information policy in the future.
Access options
Buy single article
Instant access to the full article PDF.
US$ 39.95
Tax calculation will be finalised during checkout.
Subscribe to journal
Immediate online access to all issues from 2019. Subscription will auto renew annually.
US$ 79
Tax calculation will be finalised during checkout.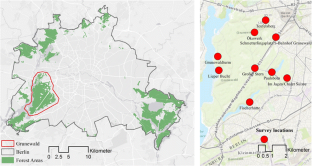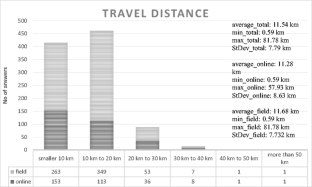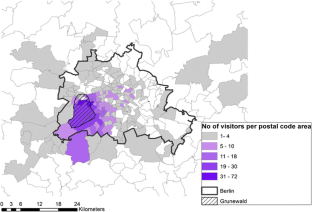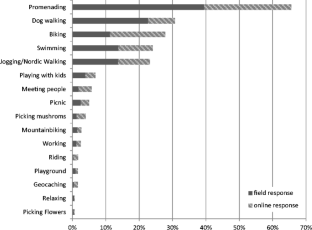 References
Arnberger A, Aikoh T, Eder R et al (2010) How many people should be in the urban forest? A comparison of trail preferences of Vienna and Sapporo forest visitor segments. Urban For Urban Green 9:215–225. doi:10.1016/j.ufug.2010.01.002

Arnberger A, Haider W (2005) Social effects on crowding preferences of urban forest visitors. Urban For Urban Green 3:125–136. doi:10.1016/j.ufug.2005.04.002

Balram S, Dragićević S (2005) Attitudes toward urban green spaces: Integrating questionnaire survey and collaborative GIS techniques to improve attitude measurements. Landsc Urban Plan 71(2–4):147–162. doi:10.1016/j.landurbplan.2004.02.007

Baumgardner D, Varela S, Escobedo FJ et al (2012) The role of a peri-urban forest on air quality improvement in the Mexico City megalopolis. Environ Pollut 163:174–183. doi:10.1016/j.envpol.2011.12.016

Bertram C, Larondelle N (2016) Going to the woods is going home: Recreational benefits of a larger urban forest site. A travel cost analysis for Berlin, Germany. doi:10.1016/j.ecolecon.2016.10.017

Brack CL (2002) Pollution mitigation and carbon sequestration by an urban forest. Environ Pollut 116:195–200

Bratman GN, Daily GC, Levy BJ, Gross JJ (2015) The benefits of nature experience: Improved affect and cognition. Landsc Urban Plan 138:41–50. doi:10.1016/j.landurbplan.2015.02.005

Bundschuh A, Schramm E (2009) Soziale Funktionen und soziale Nutzung des Waldes. 1–15

Cerritos College - Office of Research and Planning (2013) A brief guide to the analysis of open-ended survey questions.http://cms.cerritos.edu/uploads/ResearchandPlanning/. Accessed 28 March 2017

Dobbs C, Escobedo FJ, Zipperer WC (2011) A framework for developing urban forest ecosystem services and goods indicators. Landsc Urban Plan 99:196–206. doi:10.1016/j.landurbplan.2010.11.004

EASAC (2009) Ecosystem services and biodiversity in Europe: EASAC Policy report:09

Escobedo FJ, Nowak DJ (2009) Spatial heterogeneity and air pollution removal by an urban forest. Landsc Urban Plan 90:102–110

Folke C, Jansson Å, Rockström J et al (2011) Reconnecting to the biosphere. Ambio 40:719–738. doi:10.1007/s13280-011-0184-y

Forest Service (DOA) (1980) The 1980 National Outdoor Recreation Trends Symposium. In: The 1980 National Outdoor Recreation Trends Symposium. Upper Darby, Notheastern Forest Experiment Station, pp 1–245

Gundersen VS, Frivold LH (2008) Public preferences for forest structures: A review of quantitative surveys from Finland, Norway and Sweden. Urban For Urban Green 7:241–258. doi:10.1016/j.ufug.2008.05.001

James P, Tzoulas K, Adams MD et al (2009) Towards an integrated understanding of green space in the European built environment. Urban For Urban Green 8:65–75. doi:10.1016/j.ufug.2009.02.001

Janse G, Konijnendijk CC (2007) Communication between science, policy and citizens in public participation in urban forestry-experiences from the Neighbourwoods project. Urban For Urban Green 6:23–40. doi:10.1016/j.ufug.2006.09.005

Jansson A, Nohrstedt P (2001) Carbon sinks and human freshwater dependence in Stockholm County. Ecol Econ 39:361–370

Jim CY, Chen WY (2009) Ecosystem services and valuation of urban forests in China. Cities 26:187–194

Kabisch N, Haase D (2014) Green justice or just green? Provision of urban green spaces in Berlin, Germany. Landsc Urban Plan 122:129–139. doi:10.1016/j.landurbplan.2013.11.016

Konijnendijk CC (2000) Adapting forestry to urban demands - role of communication in urban forestry in europe. Landsc Urban Plan 52:89–100. doi:10.1016/S0169-2046(00)00125-0

Konijnendijk CC, Nielsen AB, Schipperijn J et al (2007) Assessment of urban forestry research and research needs in Nordic and Baltic countries. Urban For Urban Green 6:297–309. doi:10.1016/j.ufug.2007.08.001

Konijnendijk CC, Ricard RM, Kenney A, Randrup TB (2006) Defining urban forestry – a comparative perspective of North America and Europe. Urban For Urban Green 4:93–103. doi:10.1016/j.ufug.2005.11.003

Larondelle N, Haase D, Kabisch N (2014) Mapping the diversity of regulating ecosystem services in European cities. Glob Environ Chang 26:119–129. doi:10.1016/j.gloenvcha.2014.04.008

Lindsay J (1980) Trends in outdoor recreation activity conflicts. In: Proceedings of the 1980 National Outdoor Recreation Trends Symposium, Upper Darby, PA: USDA Forest Service. 1:215–221

Lovell ST, Taylor JR (2013) Supplying urban ecosystem services through multifunctional green infrastructure in the United States. Landsc Ecol 28:1447–1463. doi:10.1007/s10980-013-9912-y

Lyytimäki J, Sipilä M (2009) Hopping on one leg – the challenge of ecosystem disservices for urban green management. Urban For Urban Green 8:309–315. doi:10.1016/j.ufug.2009.09.003

McPherson EG, Nowak D, Heisler G et al (1997) Quantifying urban forest structure, function, and value: the Chicago urban forest climate project. Urban Ecosyst 1:49–61

Mcpherson EG, Simpson JR (2003) Potential energy savings in buildings by an urban tree planting programme. Urban for urban Greening2 2:73–86.

Meierjürgen U (1995) Freiraumerholung in Berlin – Die Entwicklung eines forstpolitischen Ansatzes für eine Raumplanung des stadtnahen Erholungswaldes. University Freiburg

Mitchell R, Popham F (2008) Effect of exposure to natural environment on health inequalities: an observational population study. Lancet 372:1655–1660

Poe MR, McLain RJ, Emery M, Hurley PT (2013) Urban Forest justice and the rights to wild foods, medicines, and materials in the City. Hum Ecol 41:409–422. doi:10.1007/s10745-013-9572-1

Pooley JA, O'Connor M (2000) Environmental education and attitudes: emotions and beliefs are what is needed. Environ Behav 32:711–723. doi:10.1177/0013916500325007

Priego C, Breuste JH & Rojas J (2008) Perception and value of Nature in urban landscapes: A comparative analysis of cities in Germany, Chile and Spain. Landscape Online 7:1–22. doi:10.3097/LO.200807

Ribe RG (1989) The aesthetics of forestry: what has empirical preference research taught us? Environ Manag 13:55–74. doi:10.1007/BF01867587

Senatsverwaltung für Stadtentwicklung und Umwelt (2012) Population prognosis for berlin and districts 2011–2030. Berlin

Senatsverwaltung für Stadtentwicklung und Umwelt Berlin (2008) Netzwerk Umweltbildung Berlin - Erlebnisraum StadtNatur. 1–2

Senatsverwaltung für Stadtentwicklung und Umwelt Berlin (2015) Baden und Hundeauslauf an Schlachtensee und Krumme Lanke:6

Soares AL, Rego FC, McPherson EG et al (2011) Benefits and costs of street trees in Lisbon, Portugal. Urban For Urban Green 10:69–78. doi:10.1016/j.ufug.2010.12.001

Statistische Ämter des Bundes und der Länder (2011) Zensus 2011 - Bildung und Erwerbstätigkeit

Statistische Ämter des Bundes und der Länder (2014) Region and Population - Household. In: online source. http://www.statistik-portal.de/statistik-portal/de_jb01_jahrtab4.asp. Accessed 12 May 2015

Treptow-Köpenick F (2015) Pressemittelung: Bezirksamt BSR übernimmt Reinigungsleistung im Forstrevier am Teufelssee

Tyrväinen L, Silvennoinen H, Kolehmainen O (2003) Ecological and aesthetic values in urban forest management. Urban For Urban Green 1:135–149

U.S. EPA (2000) Projecting land-use change: A summary of models for assessing the effects of community growth and change on land-use patterns

von Döhren P, Haase D (2015) Ecosystem disservices research: a review of the state of the art with a focus on cities. Ecol Indic 52:490–497. doi:10.1016/j.ecolind.2014.12.027

Ward Thompson C, Roe J, Aspinall P et al (2012) More green space is linked to less stress in deprived communities: evidence from salivary cortisol patterns. Landsc Urban Plan 105:221–229. doi:10.1016/j.landurbplan.2011.12.015

Watson AE, Niccolucci MJ, Williams DR (1994) The nature of conflict between hikers and recreational stock users in the John Muir wilderness. J Leis Res 26:372–385

Watson AE, Williams DR, Daigle JJ (1991) Sources of conflict between hikers and mountain bike riders in the rattlesnake NRA. J Park Recreat … 9:59–71.

West ST, Shores KA, Mudd LM (2012) Association of available parkland, physical activity, and overweight in America's largest cities. J Public Health Manag Pract 18(5):423–430

Wolch J, Jerrett M, Reynolds K, McConnell R, Chang R, Dahmann N, Brady K, Gilliland F, Su JG, Berhane K (2011) Childhood obesity and proximity to urban parks and recreational resources: A longitudinal cohort study. Health Place 17(1):207–214. doi:10.1016/j.healthplace.2010.10.001

Xiao Q, McPherson GE, Ustin SL et al (2000) Winter rainfall interception by two mature open-grown trees in Davis, California. Hydrol Process 14:763–784

Zandersen M, Tol RSJ (2009) A meta-analysis of forest recreation values in Europe. J For Econ 15:109–130. doi:10.1016/j.jfe.2008.03.006
Acknowledgements
Herewith we thank our colleague Dr. Sebastian Scheuer for valuable help comments during the development of this article. Furthermore we thank Leonie Fischer and Sophie Schuppe for valuable comments on an earlier version of the paper. The German Federal Ministry of Agriculture and Food provided welcome financial support through the project "WAHYKLAS", funded within the German Waldklimafonds, 28 W-C-4-031-01. Last but not least, we thank our colleagues from the FP7 collaborative project GREENSURGE (FP7-ENV.2013.6.2-5-603567) for fruitful discussions and comments.
About this article
Cite this article
Larondelle, N., Haase, D. Back to nature! Or not? Urban dwellers and their forest in berlin. Urban Ecosyst 20, 1069–1079 (2017). https://doi.org/10.1007/s11252-017-0660-7
Keywords
Urban forest

Berlin

Survey

Nature perception

Urban forest management