Abstract
An important limitation of studies on the ecological value of urban habitats is the question of habitat connectivity. While connectivity allows spread and genetic exchange of species, isolation can lead to the extinction of populations through inbreeding and loss of genetic diversity. However, while practitioners already start improving urban habitat patches by means of restoration, issues of connectivity have not been taken in account although being crucial for a self-sustaining habitat network. In our study, we evaluate the connectivity of public urban grasslands such as lawns, grasslands in residential areas, playgrounds or parks in the city of Münster, Germany. Employing a graph theory approach, which uses a map (graph) of habitat patches to calculate functional connectivity measures using patch area size and patch connectivity, we studied four groups of different plant dispersal distances (2 m, 20 m, 44 m and 100 m). This approach can be recommended for planning issues due to the output of different indicator values and comparably low data demands. Our results show for the first time, that connectivity of urban grasslands is extremely low for species of short-distance dispersal but slightly increases for long-distance dispersal. Except two larger conglomerations of well-connected patches, urban grasslands were found to be mostly sparsely connected. Thus, future research should focus on options to improve connectivity and to prioritize patches for ecological improvement. The graph theory approach turned out to be a useful tool to analyse urban habitat connectivity but also to illustrate results obtained.
Access options
Buy single article
Instant access to the full article PDF.
USD 39.95
Price excludes VAT (USA)
Tax calculation will be finalised during checkout.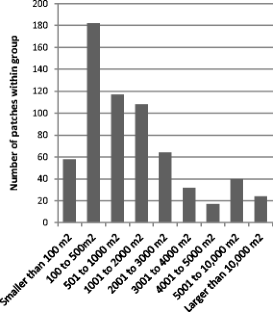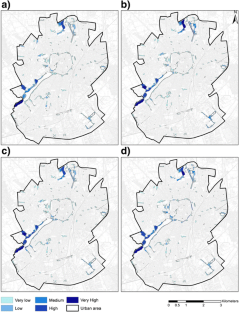 References
Baranyi G, Saura S, Podani J, Jordán F (2011) Contribution of habitat patches to network connectivity: redundancy and uniqueness of topological indices. Ecol Indic 11:1301–1310

Bastin L, Thomas C (1999) The distribution of plant species in urban vegetation fragments. Landsc Ecol 14:493–507

Beninde J, Veith M, Hochkirch A (2015) Biodiversity in cities needs space: a meta-analysis of factors determining intra-urban biodiversity variation. Ecol Lett 18:581–592

Bertoncini AP, Machon N, Pavoine S, Muratet A (2012) Local gardening practices shape urban lawn floristic communities. Landsc Urban Plan 105:53–61

Bullock J, Shea K, Skarpaas O (2006) Measuring plant dispersal: an introduction to field methods and experimental design. Plant Ecol 186:217–234

Bunn A, Urban D, Keitt T (2000) Landscape connectivity: a conservation application of graph theory. J Environ Manag 59:265–278

Cain M, Damman H, Muir A (1998) Seed dispersal and the Holocene migration of woodland herbs. Ecol Monogr 68:325–347

Cain M, Milligan B, Strand A (2000) Long-distance seed dispersal in plant populations. Am J Bot 87:1217–1227

City of Münster (2014) Münster im Spiegel der Zahlen Münster – Data and Facts. Amt für Stadtentwicklung, Stadtplanung, Verkehrsplanung der Stadt Münster. Accessed on 20th of October 2015 from http://www.muensterde/stadt/stadtplanung/zahlenhtml

Crooks KR, Sanjayan MA (eds) (2006) Connectivity conservation. UK, Cambridge

De Sousa CA (2003) Turning brownfields into green space in the city of Toronto. Landsc Urban Plan 62:181–198

Devi BS, Murthy M, Debnath B, Jha C (2013) Forest patch connectivity diagnostics and prioritization using graph theory. Ecol Model 251:279–287

Donath T, Hölzel N, Otte A (2003) The impact of site conditions and seed dispersal on restoration success in alluvial meadows. Appl Veg Sci 6:13–22

Fischer LK, von der Lippe M, Kowarik I (2013a) Urban land use types contribute to grassland conservation: the example of berlin. Urban For Urban Greening 12:263–272

Fischer LK, von der Lippe M, Kowarik I (2013b) Urban grassland restoration: which plant traits make desired species successful colonizers? Appl Veg Sci 16:272–285

Fischer LK, von der Lippe M, Rillig MC, Kowarik I (2013c) Creating novel urban grasslands by reintroducing native species in wasteland vegetation. Biol Conserv 159:119–126

Fuller PA, Irvine KN, Devine-Wright P, Warren PH, Gaston KJ (2007) Psychological benefits of greenspace increase with biodiversity. Biol Lett 3:390–394

Galpern P, Manseau M, Fall A (2011) Patch-based graphs of landscape connectivity: a guide to construction, analysis and application for conservation. Biol Conserv 144:44–55

Haase D (2008) Urban ecology of shrinking cities: an unrecognised opportunity? Nat Cult 31:1–8

Horn HS, Nathan R, Kaplan SR (2001) Long-distance dispersal of tree seeds by wind. Ecol Res 16:877–885

Klaus VH (2013) Urban grassland restoration: a neglected opportunity for biodiversity conservation. Rest Ecol 21:665–669

Kong F, Yin H, Nakagoshi N, Zong Y (2010) Urban green space network development for biodiversity conservation: identification based on graph theory and gravity modelling. Landsc Urban Plan 95:16–27

Laita A, Kotiaho J, Mönkkönen M (2011) Graphtheoretic connectivity measures: what do they tell us about connectivity? Landsc Ecol 26:951–967

Moilanen A, Nieminen M (2002) Simple connectivity measures in spatial ecology. Ecology 83:1131–1145

Niemelä J (2014) Ecology of urban greenspaces: the way forward in answering major research questions. Landsc Urban Plan 125:298–303

NRW (2013) Digitale Orthophotos Aerial images Geoserver. Accessed 14th of December 2013 from http://www.geoservernrwde

Pascual-Hortal L, Saura S (2006) Comparison and development of new graph-based landscape connectivity indices: towards the prioritization of habitat patches and corridors for conservation. Landsc Ecol 21:959–967

Pascual-Hortal L, Saura S (2007) Impact of spatial scale on the identification of critical habitat patches for the maintenance of landscape connectivity. Landsc Urban Plan 83:176–186

Rayfield B, Fortin MJ, Fall A (2011) Connectivity for conservation: a framework to classify network measures. Ecology 92:847–858

Rayfield B, Pelletier D, Dumitru M, Cardille JA, Gonzalez A (2016) Multipurpose habitat networks for short‐range and long‐range connectivity: a new method combining graph and circuit connectivity. Methods Ecol Evol 7:222–231

Rudolph M, Velbert F, Schwenzfeier S, Kleinebecker T, Klaus VH (2016) Patterns and potentials of plant species richness in high- and low-maintenance urban grasslands. Appl Veg Sci. doi:10.1111/avsc.12267

Saura S, Pascual-Hortal L (2007) A new habitat availability index to integrate connectivity in landscape conservation planning: comparison with existing indices and application to a case study. Landsc Urban Plan 83:91–103

Saura S, Rubio L (2010) A common currency for the different ways in which patches and links can contribute to habitat availability and connectivity in the landscape. Ecography 33:523–537

Saura S, Torné J (2009) Conefor sensinode 22: a software package for quantifying the importance of habitat patches for landscape connectivity. Environ Model Softw 24:135–139

Saura S, Estreguil C, Mouton C, Rodrguez-Freire M (2011) Network analysis to assess landscape connectivity trends: application to European forests 1990-2000. Ecol Indic 11:407–416

Smith RM, Thompson K, Hodgson JG, Warren PH, Gaston KJ (2006) Urban domestic gardens IX: composition and richness of the vascular plant flora, and implications for native biodiversity. Biol Conserv 129:312–322

Statistische Ämter des Bundes und der Länder (2012) Regionaldatenbank Deutschland Feststellung des Gebietsstandes Zahl der Gemeinden Regional database. Accessed 10th of October 2015 from: https://www.regionalstatistikde/genesis/online

Sundseth K, Creed P (2008) Natura 2000: protecting Europe's biodiversity. European Commission, Directorate general for the Environment Brussels, Belgium

Szabó S, Novák T, Elek Z (2012) Distance models in ecological network management: a case study of patch connectivity in a grassland network. J Nat Conserv 20:293–300

Thomson FJ, Moles AT, Auld TD, Kingsford RT (2011) Seed dispersal distance is more strongly correlated with plant height than with seed mass. J Ecol 99:1299–1307

Vergnes A, Le Viol I, Clergeau P (2012) Green corridors in urban landscapes affect the arthropod communities of domestic gardens. Biol Conserv 145:171–178

Visconti P, Elkin C (2009) Using connectivity metrics in conservation planning when does habitat quality matter? Divers Distrib 15:602–612

Vittoz P, Engler R (2007) Seed dispersal distances: a typology based on dispersal modes and plant traits. Bot Helv 117:109–124

Wesche K, Krause B, Culmsee H, Leuschner C (2012) Fifty years of change in central European grassland vegetation: large losses in species richness and animal-pollinated plants. Biol Conserv 150:76–85

Willson M (1993) Dispersal mode, seed shadows, and colonization patterns. Vegetatio 107(108):261–280

Wolch JR, Byrne J, Newell JP (2014) Urban green space, public health, and environmental justice: the challenge of making cities just green enough. Landsc Urban Plan 125:234–244

Xie Y, Sha Z, Yu M (2008) Remote sensing imagery in vegetation mapping: a review. J Plant Ecol 1:9–23

Zetterberg A, Mrtberg UM, Balfors B (2010) Making graph theory operational for landscape ecological assessments, planning, and design. Landsc Urban Plan 95:181–191
Acknowledgments
We thank Dirk Dreier and Christoph Kuttenkeuler from the Amt für Grünflächen, Nachhaltigkeit und Umwelt (environmental office) of the City of Münster for their help during data acquisition and for their support while identifying public urban grassland patches.
About this article
Cite this article
Hejkal, J., Buttschardt, T.K. & Klaus, V.H. Connectivity of public urban grasslands: implications for grassland conservation and restoration in cities. Urban Ecosyst 20, 511–519 (2017). https://doi.org/10.1007/s11252-016-0611-8
Published:

Issue Date:

DOI: https://doi.org/10.1007/s11252-016-0611-8
Keywords
Integral index of connectivity

Conefor sensinode

Habitat fragmentation

Isolation

Conservation planning

Urban biodiversity