Abstract
Urbanization has caused the local extinction of several butterfly species around the world, while others have managed to thrive in urban areas. Butterflies of the genus Eumaeus are among the most striking and colorful lycaenid butterflies in the Americas, but their neurotoxic hostplants, cycads, are a highly threatened plant group. The main threats for cycads are the loss and modification of their habitats and their removal for ornamental purposes, which in addition to their slow growth rate, make them highly vulnerable. Ornamental cycads are taken from natural habitats to urban areas, where they are playing an important role for Eumaeus reproduction. We here report two cases in which two Eumaeus species (E. childrenae, E. atala) are following and utilizing ornamental cycads to reproduce in urban areas, showing how significant urban areas can be, ecologically speaking. Aside from having enormous potential as flagship species for conservation in urban areas, these butterfly and plant species, and their interactions, shed encouraging light on the idea of putting reconciliation ecology ideas into action.
Access options
Buy single article
Instant access to the full article PDF.
US$ 39.95
Tax calculation will be finalised during checkout.
Subscribe to journal
Immediate online access to all issues from 2019. Subscription will auto renew annually.
US$ 79
Tax calculation will be finalised during checkout.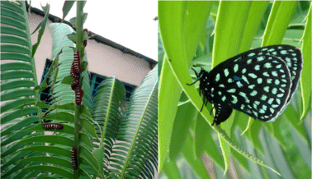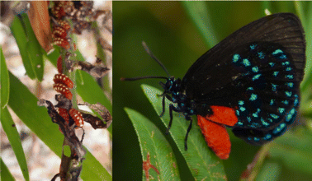 References
(INEGI) Instituto Nacional de Estadística Geografía e Informática (2011) Censo de Población y Vivienda 2010. INEGI, Aguascalientes

Aronson MFJ et al. (2014) A global analysis of the impacts of urbanization on bird and plant diversity reveals key anthropogenic drivers. Proc R Soc B 281:20133330

Castillo-Campos G (1991) Vegetación y flora del municipio de Xalapa. Veracruz. INECOL, Xalapa

Czech B, Krausman PR (1997) Distribution and causation of species endangerment in the United States. Science 277:1116–1117

Davis AM, Glick TF (1978) Urban ecosystems and island biogeography. Environ Conserv 5:299–304

Fattorini S (2011) Insect extinction by urbanization: a long term study in Rome. Biol Conserv 144:370–375

Graves SD, Shapiro AM (2003) Exotics as host plants of the California butterfly fauna. Biol Conserv 110:413–433

Grimm NB, Faeth SH, Golubiewski NE, Redman CL, Wu J, Bai X, Briggs JM (2008) Global change and the ecology of cities. Science 319:756–760

Güneralp B, Seto KC (2013) Futures of global urban expansion: uncertainties and implications for biodiversity conservation. Environ Res Lett 8:014025

Hammer RL (1996) New food plants for Eumaeus atala in Florida. News Lepidopterists Soc 38:10

Hernández-Baz F, Rodríguez-Vargas DU (2014) Libro rojo de la fauna del estado de Veracruz. Gobierno del Estado de Veracruz, Procuraduría Estatal de Protección al Medio Ambiente. Universidad Veracruzana, Xalapa

Koi S (2013) Ecology and conservation of Eumaeus atala Poey 1832 (Lepidoptera: Lycaenidae). University of Florida, Gainesville, Master's Thesis

Koi S, Daniels J (2015) New and revised life history of the Florida hairstreak Eumaeus atala (Lepidoptera: Lycaenidae) with notes on its current conservation status. Fla Entomol 98:1134–1147

Kowarik I (2011) Novel urban ecosystems, biodiversity, and conservation. Environ Pollut 159:1974–1983

Lemoine R (2012) Cambios en la cobertura vegetal de la ciudad de Xalapa-Enríquez, Veracruz y zonas circundantes entre 1950 y 2010. Universidad Veracruzana, Xalapa, BSc Thesis

McDonnell MJ, MacGregor-Fors I (2016) The ecological future of cities. Science 352:936–938

McKinney ML (2002) Urbanization, biodiversity, and conservation. Bioscience 52:883–890

McKinney ML (2008) Effects of urbanization on species richness: a review of plants and animals. Urban Ecosyst 11:161–176

Minno MC (2010) Butterfly extinctions in South Florida. Am Butterflies 18:16–22

New TR, Sands DPA (2002) Conservation concerns for butterflies in urban areas of Australia. J Insect Conserv 6:207–215

Pauchard A, Aguayo M, Peña E, Urrutia R (2006) Multiple effects of urbanization on the biodiversity of developing countries: the case of a fast-growing metropolitan area (Concepción, Chile). Biol Conserv 127:272–281

Ramírez-Restrepo L, Halffter G (2013) Butterfly diversity in a regional urbanization mosaic in two Mexican cities. Landsc Urban Plan 115:39–48

Ramírez-Restrepo, L, MacGregor-Fors I (2016) Butterflies in the city: a review of urban diurnal Lepidoptera. Urban Ecosystems, doi: 10.1007/s11252-016-0579-4

Ramírez-Restrepo L, Cultid-Medina CA, MacGregor-Fors I (2015) How many butterflies are there in a city of circa half a million people? Sustain 7:8587–8597

Rosenzweig ML (2003) Win-win ecology–how the Earth's species can survive in the midst of human enterprise. Oxford University Press, New York

Ruszczyk A (1986) Mortality of Papilio scamander scamander (Lep., Papilionidae) pupae in four districts of Porto Alegre (S. Brazil) and the causes of superabundance of some butterflies in urban areas. Rev Bras Biol 46:567–579

Sanderson EW, Huron A (2011) Conservation in the city. Conserv Biol 25:421–423

Shapiro AM (2002) The Californian urban butterfly fauna is dependent on alien plants. Divers Distrib 8:31–40

Smith E (2000) A field study and re-establishment of the butterfly Eumaeus atala (Lycenidae) in Miami-Dade County, Florida. Florida International University, Miami, Master's Thesis

Tilden J (1956) San Francisco's vanishing butterflies. Lepidoptera News 10:133–145

US Census Bureau (2016a) QuickFacts - Miami-Dade County, Florida. Retrieved from: http://www.census.gov/quickfacts/table/PST045215/12086US

US Census Bureau (2016b) QuickFacts - Broward County, Florida. Retrieved from: http://www.census.gov/quickfacts/table/PST045215/12011US

US Census Bureau (2016c) QuickFacts - Palm Beach County, Florida. Retrieved from: https://www.census.gov/quickfacts/table/PST045215/12099/accessible

Vitousek PM, Mooney HA, Lubchenco J, Melillo JM (1997) Human domination of Earth's ecosystems. Science 277:494–499

Williams-Linera G, Manson RH, Isunza-Vera E (2002) La fragmentación del bosque mesófilo de montaña y patrones de uso del suelo en la región oeste de Xalapa, Veracruz, México. Madera Bosques 8:73–89
Acknowledgments
We are most grateful to Keith R. Willmott and Madhusudan Katti for their comments and suggestions to a previous version of this work. Andrew Vovides provided valuable information about the cycads of Xalapa. SK thanks the dedicated volunteers who help monitor the Atala butterfly colonies throughout southeast Florida. LR-R acknowledges the scholarship and financial support provided by the National Council of Science and Technology (CONACYT 213179/244461, Convocatoria 290649), COLCIENCIAS (Convocatoria 568-2012), and the Doctoral Program of INECOL.
About this article
Cite this article
Ramírez-Restrepo, L., Koi, S. & MacGregor-Fors, I. Tales of urban conservation: Eumaeus butterflies and their threatened cycad hostplants. Urban Ecosyst 20, 375–378 (2017). https://doi.org/10.1007/s11252-016-0599-0
Keywords
Cycads

Hostplants

Urban ecology

Lycaenidae

Eumaeus childrenae
Eumaeus atala