Abstract
Plants in cities must cope with various anthropogenic environments that differ from surrounding landscapes. Moreover, the differences in biotic and abiotic conditions among these habitats filter species with suitable traits and niche requirements. Here we aim to identify those attributes that promote species occurrence across and within urban habitat types of large cities. Species composition of spontaneously occurring vascular plant species was recorded in 1-ha plots in seven different urban habitat types in each of 32 European cities. Each species was characterized in terms of dispersal type, growth form, height, seed bank longevity, seed mass, selected leaf traits and ecological indicators including Ellenberg indicator values, Grime's life strategies, and immigration pathways using information from available species-trait databases. For each species, total frequency of occurrence across all plots and habitat frequency of occurrence across plots of given habitat types were calculated and regression trees were used to relate them to traits and ecological indicators. The most frequently occurring species in the cities tended to be human-dispersed, nutrient-demanding plants that prefer drier to mesic soil conditions. These species do not possess the S-strategy and usually produce seeds of low mass forming short-term persistent seed banks. Habitat-specific responses were also revealed, indicating the effects of between- and within-habitat heterogeneity on trends in species performance in cities. Such patterns can be overlooked when differences in species occurrences in particular urban habitat types are not considered; thus, habitat-specific responses can resolve inconsistencies found when whole urban floras are analysed as a whole.
Access options
Buy single article
Instant access to the full article PDF.
US$ 39.95
Tax calculation will be finalised during checkout.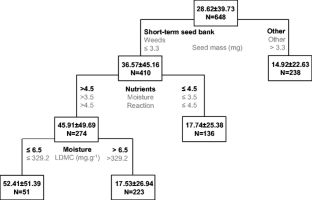 References
Breiman L, Friedman JH, Olshen RA, Stone CG (1984) Classification and regression trees. Wadsworth International Group, Belmont

Celesti-Grapow L, Pyšek P, Jarošík V, Blasi C (2006) Determinants of native and alien species richness in the urban flora of Rome. Divers Distrib 12:490–501

Chocholoušková Z, Pyšek P (2003) Changes in composition and structure of urban flora over 120 years: a case study of the city Plzeň. Flora 198:366–376

Cornelissen JHC, Lavorel S, Garnier E, Díaz S, Buchmann N, Gurvich DE, Reich PB, ter Steege H, Morgan HD, van der Heijden MGA, Pausas J, Poorter H (2003) Handbook of protocols for standardised and easy measurement of plant functional traits worldwide. Aust J Bot 51:335–380

De'ath G, Fabricius KE (2000) Classification and regression trees: a powerful yet simple technique for ecological data analysis. Ecology 81:3178–3192

Díaz S, Cabido M, Zak M, Carretero EM, Aranibar J (1999) Plant functional traits, ecosystem structure and land-use history along a climatic gradient in Central-Western Argentina. J Veg Sci 10:651–660

Ellenberg H, Weber HE, Düll R, Wirth W, Werner W, Paulißen D (1992) Zeigewerte von Pflantzen in Mittleuropa, 2nd edn. Scr Geol 18:1–258

Gilbert OL (1989) Ecology of Urban Habitats. Chapman and Hall, London

Godefroid S, Koedam N (2007) Urban plant species patterns are highly driven by density and function of built-up areas. Landsc Ecol 22:1227–1239

Grime JP (1979) Plant strategies and vegetation processes. John Wiley, Chichester

Hautekèete N-C, Frachon L, Luczak C, Toussaint B, Van Landuyt W, Van Rossum F, Piquot Y (2015) Habitat types shapes long-term plant biodiversity budgets in two densely populated regions in North-Western Europe. Divers Distrib 21:631–642

Hill MO, Roy DB, Thompson K (2002) Hemeroby, urbanity and ruderality: bioindicators of disturbance and human impact. J Appl Ecol 39:708–720

Horbert M, Kirchgeorg A, Von Stülpnagel A (1983) Egrebnisse stadtklimatischer Untersuchungen als Beitrag zur Freiraumplanung. Umweltbundesamt, Berlin

Jäger EJ, Werner K, et al. (2005) Exkursionsflora von Deutschland. In: Band 4. Gefäßpflantzen: Kritischer Band, 10th edn. Spektrum Akademischer. Verlag, Elsevier, München

Jäger EJ, Ebel F, Hanelt P, Müller GK (2008) Exkursionsflora von Deutschland. In: Band 5. Krautige Zier- und Nutzpflantzen. Spektrum Akademisher Verlag. Springer-Verlag, Berlin

Kleyer M (2002) Validation of plant functional types across two contrasting landscapes. J Veg Sci 13:167–178

Kleyer M, Bekker RM, Knevel IC, Bakker JP, Thompson K, Sonnenschein M, Poschlod P, van Groenendael JM, Klimeš L, Klimešová J, Klotz S, Rusch GM, Hermy M, Adriaens D, Boedeltje G, Bossuyt B, Dannemann A, Endels P, Götzenberger L, Hodgson JG, Jackel A-K, Kühn I, Kunzmann D, Ozinga WA, Römermann C, Stadler M, Schlegelmilch J, Steendam HJ, Tackenberg O, Wilmann B, Cornelissen JHC, Eriksson O, Garnier E, Peco B (2008) The LEDA Traitbase: a database of life-history traits of northwest European flora. J Ecol 96:1266–1274

Klotz S (1989) Merkmale der Stadtflora. Braun-Blanquetia 3:57–90

Klotz S, Kühn I, Durka W, et al. (2002) BiolFlor – Eine Datenbank mit biologisch-ӧkologischen Merkmalen zur Flora von Deutschland. Bundesamt für Naturschutz, Bonn-Bad Godesberg

Knapp S, Kühn I, Wittig R, Ozinga WA, Poschlod P, Klotz S (2008a) Urbanization causes shifts in species' trait state frequencies. Preslia 80:375–388

Knapp S, Kühn I, Schweiger O, Klotz S (2008b) Challenging urban species diversity: contrasting phylogenetic patterns across plant functional groups in Germany. Ecol Lett 11:1054–1064

Knapp S, Kühn I, Bakker JP, Kleyer M, Klotz S, Ozinga WA, Poschlod P, Thompson K, Thuiller W, Rӧmermann C (2009) How species traits and affinity to urban land-use control large-scale species frequency. Divers Distrib 15:533–546

Knapp S, Kühn I, Stolle J, Klotz S (2010) Changes in the functional composition of a central European urban flora over three centuries. Perspect Plant Ecol 12:235–244

Kowarik I (2011) Novel urban ecosystems, biodiversity and conservation. Environ Pollut 159:1974–1983

Kühn I, Klotz S (2006) Urbanization and homogenization – comparing the floras of urban and rural areas in Germany. Biol Conserv 127:292–300

Kühn I, Durka W, Klotz S (2004) BiolFlor – a new plant-trait database as a tool for plant invasion ecology. Divers Distrib 10:363–365

Kuttler W (1993) Stadtklima. In: Sukopp H, Wittig R (eds) Stadtö kologie. Gustav Fischer, Stuttgart, Jena, pp. 113–153

La Sorte FA, McKinney ML, Pyšek P (2007) Compositional similarity among urban floras within and across continents: biogeographical consequences of human-mediated biotic intercharge. Glob Chang Biol 13:913–921

Lake JC, Leishman MR (2004) Invasion success of exotic plants in natural ecosystems: the role of disturbance, plant attributes and freedom from herbivores. Biol Conserv 117:215–226

Landolt E (2000) Some results of a floristic inventory within the city of Zürich (1984-1988. Preslia 72:441–445

Lavorel S, Garnier E (2002) Predicting changes in community composition and ecosystem functioning from plant traits: revisiting the holy grail. Funct Ecol 16:545–556

Lavorel S, Grigulis K, Lamarque P, Colace MP, Garden D, Girel J, Pellet G, Douzet R (2011) Using plant functional traits to understand the landscape distribution of multiple ecosystem services. J Ecol 99:135–147

Leishman MR, Wright IJ, Moles AT, Westoby M (2000) The evolutionary ecology of seed size. In: Fenner M (ed) Seeds – the ecology of regeneration in plant communities CAB International, Wallingford, pp. 31–57

Lososová Z, Horsák M, Chytrý M, Čejka T, Danihelka J, Fajmon K, Hájek O, Juřičková L, Kintrová K, Láníková D, Otýpková Z, Řehořek V, Tichý L (2011) Diversity of central European urban biota: effects of human-made habitat types on plants and land snails. J Biogeogr 38:1152–1163

Lososová Z, Chytrý M, Tichý L, Danihelka J, Fajmon K, Hájek O, Kintrová K, Kühn I, Láníková D, Otýpková Z, Řehořek V (2012) Native and alien floras in urban habitats: a comparison across 32 cities of Central Europe. Glob Ecol Biogeogr 21:545–555

Lososová Z, Čeplová N, Chytrý M, Tichý L, Danihelka J, Fajmon K, Láníková D, Preislerová Z, Řehořek V (2016) Is phylogenetic diversity a good proxy for functional diversity of plant communities? A case study from urban habitats J Veg Sci. doi:10.1111/jvs.12414

McDonnell MJ, Pickett STA, Groffnan P, Bohlen P, Pouyat R, Zipperer WC, Parmelee RW, Carreiro MM, Medley K (1997) Ecosystem processes along an urban-to-rural gradient. Urban Ecosyst 1:21–36

Niemelä J, Kotze DJ, Yli-Pelkonen V (2009) Comparative urban ecology: challenges and possibilities. In: McDonnell MJ, Hahs AK, Breuste JH (eds) Ecology of Cities and towns: A comparative research. Cambridge University Press, Cambridge, pp. 9–25

Oke TR (1982) The energetic basis of the urban heat island. Q J R Meteorol Soc 108:1–24

Pickett STA, Cadenasso ML, Grove JM, Nilon CH, Pouyat RV, Zipperer WC, Costanza R (2001) Urban ecological systems: linking terrestrial, ecological, physical, and socioeconomic components of metropolitan areas. Annu Rev Ecol Syst 32:127–157

Prach K, Pyšek P, Bastl M (2001) Spontaneous vegetation succession in human-disturbed habitats: a pattern across seres. Appl Veg Sci 4:83–88

Preston CD (2000) Engulfed by suburbia or destroyed by the plough: the ecology of extinction in Middlesex and Cambridgeshire. Watsonia 23:59–81

Pyšek P, Chocholoušková Z, Pyšek A, Jarošík V, Chytrý M, Tichý L (2004) Trends in species diversity and composition of urban vegetation over three decades. J Veg Sci 15:781–788

Ricotta C, Di Nepi M, Guglietta D, Celesti-Grapow L (2008) Exploring taxonomic filtering in urban environments. J Veg Sci 19:229–238

Šerá B, Šerý M (2004) Number and weight of seeds and reproductive strategies of herbaceous plants. Folia Geobot 39:27–40

Suding KN, Lavorel S, Chapin IIIFS, Cornelissen JHC, Díaz S, Garnier S, Goldberg D, Hooper DU, Jackson ST, Navas M-L (2008) Scaling environmental change through the community-level: a trait-based response-and-effect framework for plants. Glob Chang Biol 14:1125–1140

Sudnik-Wójcikowska B, Galera H (2005) Floristic differences in some anthropogenic habitats in Warsaw. Ann Bot Fenn 42:185–193

Sukopp H (1998) Urban Ecology – Scientific and Practical Aspects. In: Breuste J, Feldmann H, Uhlmann O (eds) Urban Ecology. Springer Verlag, Berlin, pp. 3–16

Sukopp H, Starfinger U (1999) Disturbance in urban ecosystems. In: LR W (ed) Ecosystems of disturbed grounds. Elsevier, Amsterdam, pp. 397–413

ter Braak CJF, Barendregt LG (1986) Weighted averaging of species indicator values – its efficiency in environmental calibration. Math Biosci 78:57–72

Thompson K, Grime JP (1979) Seasonal variation in the seed banks of herbaceous species in ten contrasting habitats. J Ecol 67:893–921

Thompson K, McCarthy MA (2008) Traits of British alien and native urban plants. J Ecol 96:853–859

Thompson K, Band SR, Hodgson JG (1993) Seed size and shape predict persistence in soil. Funct Ecol 7:236–241

Thorton I (1991) Metal contamination of soils in urban areas. In: Bullock P, Gregory PJ (eds) Soils in the Urban Environment. Blackwell, Oxford, pp. 47–75

van der Veken S, Verheyen K, Hermy M (2004) Plant species loss in an urban area (Turnhout, Belgium) from 1880 to 1999 and its environmental determinants. Flora 199:516–523

Violle C, Navas M-L, Vile D, Kazakou E, Fortunel C, Hummel I, Garnier E (2007) Let the concept of trait be functional! Oikos 116:882–892

Vitousek PM, Mooney HA, Lubchenco J, Melillo JM (1997) Human domination of Earth's ecosystems. Science 277:494–499

von der Lippe M, Kowarik I (2007) Long-distance dispersal of plants by vehicles as a driver of plant invasions. Conserv Biol 21:986–996

von der Lippe M, Kowarik I (2008) Do cities export biodiversity? Traffic as dispersal vector across urban-rural gradients. Divers Distrib 14:18–25

Williams NSG, Schwartz MV, Vesk PA, McCarthy MA, Hahs AK, Clemants SE, Corlett TR, Duncan RP, Norton BA, Thompson K, McDonnell MJ (2009) A conceptual framework for predicting the effects of urban environments on floras. J Ecol 97:4–9

Williams NSG, Hahs AK, Vesk PA (2015) Urbanisation, plant traits and the composition of urban floras. Perspect Plant Ecol 17:78–86

Wittig R, Durwen KJ (1982) Ecological-value spectra of spontaneous urban floras. In: Bornkamm R, Lee JA, Seaward MRD (eds) Urban Ecology. Blackwell Scientific Publications, Oxford, pp. 23–31

Zerbe S, Maurer U, Schmitz S, Sukopp H (2003) Biodiversity in berlin and its potential for nature conservation. Landsc Urban Plan 62:139–148

Zobel M (1997) The relative role of species pool in determining plant species richness: an alternative explanation of species coexistence? Trends Ecol Evol 12:266–269
Acknowledgments
We thank Milan Chytrý, Jiří Danihelka, Karel Fajmon, Deana Láníková, Zdenka Preislerová, Vladimír Řehořek, Lubomír Tichý, Tomáš Čejka, Michal Horsák, Tomáš Juřička, Lucie Juřičková and Stanislav Němejc for their help in the field. We also thank two anonymous reviewers whose comments helped improve the manuscript. This work was supported by the Czech Science Foundation (project 14-10723S).
Electronic supplementary material
About this article
Cite this article
Kalusová, V., Čeplová, N. & Lososová, Z. Which traits influence the frequency of plant species occurrence in urban habitat types?. Urban Ecosyst 20, 65–75 (2017). https://doi.org/10.1007/s11252-016-0588-3
Keywords
City

Europe

Ellenberg indicator values

Plant traits

Regression tree

Seed bank

Urban ecology