Abstract
Nest predation is an important ecological driver that can mold avian communities. Previous studies performed in urban areas support both predatory relaxation and increases when assessing natural and artificial nest predation. In this study, we assessed artificial nest predation pressure in a neotropical city considering spatial and habitat traits. Our results show that artificial nest predation was driven by the interaction between location and urbanization intensity, with visual predators being responsible for most predation. This supports the notion that urban areas can act as landscape entities that filter biodiversity. Our study, showing both predation relaxation and intensification in the same urban system, suggests that nest predation dynamics can be diverse throughout urban areas. Thus, the predation paradox can occur in parallel with scenarios in which rises in predator numbers can actually decrease nest survivorship. Future studies investigating nest predation in urban areas should take into account the spatial environmental heterogeneity of their system in order to fully capture the patterns and biases related to nest predation.
Access options
Buy single article
Instant access to the full article PDF.
US$ 39.95
Tax calculation will be finalised during checkout.
Subscribe to journal
Immediate online access to all issues from 2019. Subscription will auto renew annually.
US$ 79
Tax calculation will be finalised during checkout.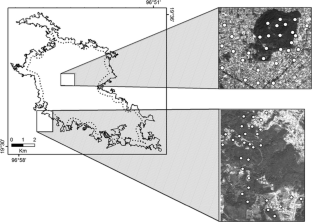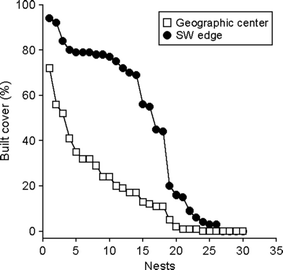 References
Bayne EM, Hobson KA (1999) Do clay eggs attract predator to artificial nests? J Field Ornithol 70:1–7

Benítez Badillo G (2011) Crecimiento de la población y expansión urbana de la ciudad de Xalapa, Veracruz y sus efectos sobre la vegetación y agroecosistemas. Ph. D. Dissertation, Colegio de Postgraduados, Instituto de Enseñanza e Investigación en Ciencias Agrícolas, Veracruz

Blair RB (2001) Birds and butterflies along urban gradients in two ecoregions of the United States: is urbanization creating a homogeneous fauna? In: Lockwood JL, McKinney ML (eds) Biotic Homogenization. Kluwer Academic, Boston, pp 33–56

Burnham KP, Anderson DR (2002) Model selection and multimodel inference: a practical information theoretic approach. Springer, New York

Castillo-Campos G (1991) Vegetación y flora del municipio de Xalapa, Veracruz. INECOL, Xalapa

Chace JF, Walsh JJ (2006) Urban effects on native avifauna: a review. Landsc Urban Plan 74:46–69

Clement P (2010) House finch (Carpodacus mexicanus). In: del Hoyo J, Elliott A, Sargatal J, Christie DA, de Juana E (eds) Handbook of the birds of the world alive. Lynx Edicions, Barcelona

Croci S, Butet A, Clergeau P (2008) Does urbanization filter birds on the basis of their biological traits? Condor 110:223–240

Czech B, Krausman PR, Devers PK (2000) Economic associations among causes of species endangerment in the United States. Bioscience 50:593–601

Danielson WR, DeGraff RM, Fuller TK (1997) Rural and suburban forest edges: effect on egg predators and nest predation rates. Landsc Urban Plan 38:25–36

DeGraaf RM, Maier TJ, Fuller TK (1999) Predation of small eggs in artificial nests: effects of nest position, edge, and potential predator abundance in extensive forest. Wilson Bull 111:236–242

Evans K, Newson S, Gaston K (2009) Habitat influences on urban avian assemblages. Ibis 151:19–39

Fernández-Juricic E, Jokimäki J (2001) A habitat island approach to conserving birds in urban landscapes: case studies from southern and northern Europe. Biodivers Conserv 10:2023–2043

Fischer JD, Schneider SC, Ahlers AA, Miller JR (2015) Categorizing wildlife responses to urbanization and conservation implications of terminology. Conserv Biol 29:1246–1248

Fischer JD, Cleeton SH, Lyons TP, Miller JR (2012) Urbanization and the predation paradox: the role of trophic dynamics in structuring vertebrate communities. Bioscience 62:809–818

Gering JC, Blair RB (1999) Predation on artificial bird nests along an urban gradient: predatory risk or relaxation in urban environments? Ecography 22:532–541

Grimm N, Faeth S, Golubiewski N, Redman C, Wu J, Bai X, Briggs J (2008) Global change and the ecology of cities. Science 319:756–760

González-García F, Terrazas T (1983) Las aves de Xalapa, Veracruz. Instituto Nacional de Investigaciones sobre Recursos Bióticos. Secretaría de Desarrollo Urbano y Ecología, Xalapa

González-García F, Straub R, Lobato García JA, MacGregor-Fors I (2014) Birds of a Neotropical green city: an up-to-date review of the avifauna of the city of Xalapa with additional unpublished records. Urban Ecosyst 17:991–1012

Gurrola-Hidalgo MA, Sánchez-Hernández C, Romero-Almaraz ML (2009) Dos nuevos registros de alimentación de Quiscalus mexicanus y Cyanocorax sanblasianus en la Costa de Chamela, Jalisco, México. Acta Zool Mex 25:427–430

Huhta E, Jokimäki J, Helle P (1998) Predation on artificial nests in a forest dominated landscape - the effects of nest type, patch size and edge structure. Ecography 21:464–471

Hurvich CM, Tsai CL (1989) Regression and time series model selection in small samples. Biometrika 76:297–307

Jokimäki J, Huhta E (2000) Artificial nest predation and abundance of birds along an urban gradient. Condor 102:838–847

Jokimäki J, Kaisanlahti-Jokimäki M-L, Sorace A, Fernández-Juricic E, Rodriguez-Prieto I, Jiménez M (2005) Evaluation of the "safe nesting zone" hypothesis across an urban gradient: a multi-scale study. Ecography 28:59–70

Lemoine Rodríguez R (2012) Cambios en la cobertura vegetal de la ciudad de Xalapa-Enríquez, Veracruz y zonas circundantes entre 1950 y 2010. Bsc Thesis, Universidad Veracruzana

Lindell C (2000) Egg type influences predation rates in artificial nest experiment. J Field Ornithol 71:16–21

López-Flores V, MacGregor-Fors I, Schondube J (2009) Artificial nest predation along a Neotropical urban gradient. Landsc Urban Plan 92:90–95

MacGregor-Fors I (2010) How to measure the urban-wildland ecotone: redefining "peri-urban" areas. Ecol Res 25:883–887

MacGregor-Fors I, Schondube J (2011) Gray vs. green urbanization: relative importance of urban features for urban bird communities. Basic Appl Ecol 12:372–381

Martin TE (1995) Avian life history evolution in relation to nest sites, nest predation and food. Ecol Monogr 65:101–127

Marzluff JM, Bowman R, Donnelly R (2001) A historical perspective on urban bird research: trends, terms, and approaches. In: Marzluff JM, Bowman R, Donnely R (eds) Avian Ecology and Conservation in an Urbanizing World. Kluwer Academic, Boston. pp 1–17

McKinney ML (2002) Urbanization, biodiversity and conservation. Bioscience 52:883–890

McKinney ML (2006) Urbanization as a major cause of biotic homogenization. Biol Conserv 127:247–260

Ortega-Álvarez R, MacGregor-Fors I (2011) Spreading the word: the ecology of urban birds outside the United States, Canada, and western Europe. Auk 128:415–418

Paton PW (1994) The effect of edge on avian nest success: how strong is the evidence? Conserv Biol 8:17–26

Pickett STA, Cadenasso ML, Grove JM, Boone CG, Groffman PM, Irwin E, Kaushal SS, Marshall V, McGrath BP, Nilon CH, Pouyat RV, Szlavecz K, Troy A, Warrenm P (2010) Urban ecological systems: scientific foundations and a decade of progress. J Environ Manage 92:331–362

Puga-Caballero A, MacGregor-Fors I, Ortega-Álvarez R (2014) Birds at the urban fringe: avian community shifts in different peri-urban ecotones of a megacity. Ecol Res 29:619–628

Sieving KE, Willson MF (1998) Nest predation and avian species diversity in northwestern forest understory. Ecology 79:2391–2402

Thorington KK, Bowman R (2003) Predation rate on artificial nests increases with human housing density in suburban habitats. Ecography 26:188–196

Whelan CJ, Dilger ML, Robson D, et al. (1994) Effect of olfactory cues on artificial-nest experiments. Auk 111:945–952

White G, Burnham K (1999) Program MARK: survival estimation from populations of marked animals. Bird Study 46:120–139

Williams-Linera G (2002) El Bosque de niebla del Centro de Veracruz: ecología, historia y destinos en tiempos de fragmentación y cambio climático. CONABIO-INECOL, Xalapa

Yahner RH, DeLong CA (1992) Avian predation and parasitism on artificial nests and eggs in two fragmented landscapes. Wilson Bull 104:162–186

Yahner RH, Mahan G (1996) Effects of egg type on depredation of artificial ground nests. Wilson Bull 108:129–136
Acknowledgments
We are most grateful to the anonymous reviewers for their comments and suggestions that enhanced the clarity and quality of our paper, as well as to Jeffrey G. Lee for proofreading the paper, and Richard Lemoine Rodríguez for help with GIS.
About this article
Cite this article
Rivera-López, A., MacGregor-Fors, I. Urban predation: a case study assessing artificial nest survival in a neotropical city. Urban Ecosyst 19, 649–655 (2016). https://doi.org/10.1007/s11252-015-0523-z
Keywords
Bird nests

Predation paradox

Mexico

Nest survivorship

Urban ecology

Veracruz