Abstract
Urbanization has been considered as a major threat to biodiversity, making its ecology of increasing interest. Many urban ecology studies have been developed in a short time-scale, measuring real-time patterns. However, long-term studies are imperative to understand the responses of some species to the urbanization process. In this study, we aimed to assess the information provided by a recent one-year citywide bird survey when compared to a published 'historical' bird list of a neotropical city (Xalapa, Mexico) that compiles information of the past three decades, mainly from urban greenspaces. Specifically, we contrasted species richness values and assessed differences in species composition between both lists. We recorded 51 species in the one-year citywide survey, representing ~15 % of those reported in the historical list. Nonetheless, the upper-bound confidence interval of the citywide survey richness prediction represented ~66 %. Most of the species recorded in the one-year citywide survey are insectivores and granivores, a pattern that agrees with previous findings that underline the importance of insectivores as part of urban bird communities in the Neotropics. Although we used robust methods to compare our one-year citywide bird list and the historical list for the city of Xalapa, we acknowledge the limitations of comparing them. However, our results shed some light on the kind and type of information that one-year citywide surveys can provide and the importance of long-term studies for comprehending the processes involved in biodiversity changes within urban areas over time. Undoubtedly, establishing long-term citywide surveys sampling birds and other biodiversity groups will allow us to better understand the response of biodiversity to urbanization over time.
Access options
Buy single article
Instant access to the full article PDF.
US$ 39.95
Tax calculation will be finalised during checkout.
Subscribe to journal
Immediate online access to all issues from 2019. Subscription will auto renew annually.
US$ 79
Tax calculation will be finalised during checkout.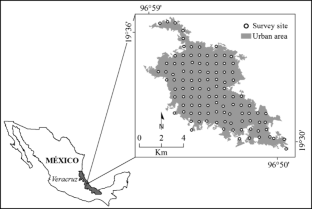 References
(AOU) American Ornithologists' Union (1998) Check-list of North American. Birds, 7a ed. American Ornithologists' Union, Washington, D.C.

Alberti M (2005) The effects of urban patterns on ecosystem functions. Int Reg Sci Rev 28:168–192

Alberti M, Waddell P (2000) An integrated urban development and ecological simulation model. Integr Assess 1:215–227

Alberti M, Marzluff JM, Schulenberger E, Bradley G, Ryan C, Zumbrunnen C (2003) Integrating humans into ecology: Opportunities and challenges for studying urban ecosystems. Bioscience 53:1169–1179

Alvey AA (2006) Promoting and preserving biodiversity in the urban forest. Urban For Urban Gree 5:195–201

Aronson MFJ, La Sorte FA, Nilon CH et al. (2014) A global analysis of the impacts of urbanization on bird and plant diversity reveals key anthropogenic drivers. Proc. R. Soc. B 281:20133330

Benítez Badillo G (2011) Crecimiento de la población y expansión urbana de la ciudad de Xalapa, Veracruz y sus efectos sobre la vegetación y agroecosistemas. Ph. D. Dissertation, Colegio de Postgraduados - Instituto de Enseñanza e Investigación en Ciencias Agrícolas, Veracruz.

Berkowitz AR, Nilon CH, Hollweg KS (2003) Understanding urban ecosystems–a new frontier for science and education. Springer, New York

Berlanga H, Kennedy JA, Rich TD et al. (2010) Saving our shared birds: Partners in flight tri-national vision for landbird conservation. Cornell lab of ornithology, New York

Biamonte E, Sandoval L, Chacón E, Barrantes G (2011) Effect of urbanization on the avifauna in a tropical metropolitan area. Landsc Ecol 26:183–194

Blair RB (1999) Birds and butterflies along an urban gradient: Surrogate taxa for assessing biodiversity? Ecol Appl 9:164–170

Bridgewater PB (2002) Biosphere reserves: Special places for people and nature. Environ Sci Pol 5:9–12

Carbó-Ramírez P, Zuria I (2011) The value of small urban greenspaces for birds in a Mexican city. Landsc Urban Plan 100:213–222

Castellanos-González A (2004) Distribución y abundancia de Polygonum capitatum BUCH-HAM. Ex D. Don en calles del centro histórico de Xalapa, Veracruz. B. Sc. Thesis, Universidad Veracruzana. México

Castillo-Campos G (1991) Vegetación y flora del municipio de Xalapa. Veracruz. Instituto de Ecología A.C, Xalapa

Chace JF, Walsh JJ (2006) Urban effects on native avifauna: A review. Landsc Urban Plan 74:46–69

Chao A, Lee SM (1992) Estimating the number of classes via simple coverage. J Am Stat Assoc 87:210–217

Chao A, Shen TJ (2006) Program SPADE (species prediction and diversity estimation). Version 31 http://chao.stat.nthu.edu.tw/. Accessed 10 April 2015

Chesser RT, Banks RC, Cicero C et al. (2014) Fifty-fifth supplement to the American Ornithologists Union Check-list of North American 271 Birds. Auk 131:CSi–CSxv

Clergeau P, Savard JPL, Mennechez G, Falardeau G (1998) Bird abundance and diversity along an urban-rural gradient: A comparative study between two cities on different continents. Condor 3:413–425

Colwell RK, Chao A, Gotelli NJ, Lin SY, Mao CX, Chazdon RL, Longino JT (2012) Models and estimators linking individual-based and sample-based rarefaction, extrapolation and comparison of assemblages. J Plant Ecol 5:3–21

Cornelis J, Hermy M (2004) Biodiversity relationships in urban and suburban parks in Flanders. Landsc Urban Plan 69:385–401

Croci S, Butet A, Clergeau P (2008) Does urbanization filter birds on the basis of their biological traits? Condor 110:223–240

Crooks KR, Suarez AV, Bolger DT (2004) Avian assemblages along a gradient of urbanization in a highly fragmented landscape. Biol Conserv 115:451–462

Czech B, Krausman PR (1997) Distribution and causation of species endangerment in the United States. Science 277:1116–1117

Czech B, Krausman PR, Devers PK (2000) Economic associations among causes of species endangerment in the United States. Bioscience 50:593–601

Davies ZG, Edmondson JL, Heinemeyer A, Leake JR, Gaston K (2011) Mapping an urban ecosystem service: quantifying above-ground carbon storage at a city-wide scale. J Appl Ecol 48:1125–1134

del Hoyo J, Elliott A, Sargatal J, Christie DA de Juana E (eds) (2015) Handbook of the Birds of the World Alive. Lynx Edicions, Barcelona(retrieved from http://www.hbw.com/). Accessed 10 April 2015

Deng JS, Wang K, Hong Y, Qi JG (2009) Spatio-temporal dynamics and evolution of land use change and landscape pattern in response to rapid urbanization. Landsc Urban Plan 92:187–198

Evans KL, Newson SE, Gaston KJ (2009) Habitat influences on urban avian assemblages. Ibis 151:19–39

Fernández-Juricic E (2000) Bird community composition patterns in urban parks of Madrid: The role of age, size and isolation. Ecol Res 15:373–383

Gaston KJ, Davies RG, Orme DL et al. (2007) Spatial turnover in the global avifauna. Proc R Soc Lond 274:1567–1574

González-García F, Straub R, Lobato-García JA, MacGregor-Fors I (2014) Birds of a neotropical green city: An up-to-date review of the avifauna of the city of Xalapa with additional unpublished records. Urban Ecosyst 17:991–1012

Grimm NB, Grove JM, Pickett ST, Redman CL (2000) Integrated approaches to long-term studies of urban ecological systems. Bioscience 50:571–584

Grimm NB, Faeth SH, Golubiewski NE, Redman CL, Wu J, Bai X, Briggs JM (2008) Global change and the ecology of cities. Science 319:756–760

Hadidian J, Sauer J, Swarth C, Handly P, Droege S, Williams C, Huff J, Didden G (1997) A citywide breeding bird survey for Washington, D.C. Urban Ecosys 1:87–102

Hohtla E (1978) Differential changes in bird community structure with urbanisation: A study in Central Finland. Ornis Scand 9:94–100

(INEGI) Instituto Nacional de Estadística, Geografía e Informática (2010) Censo Nacional de Población y Vivienda 2010. INEGI, Aguascalientes

Jetz W, Thomas GH, Joy JB, Hartmann K, Mooers AO (2012) The global diversity of birds in space and time. Nature 491:444–448

Kennedy C, Pincetl S, Bunje P (2011) The study of urban metabolism and its applications to urban planning and design. Environ Pollut 159:1965–1973

Koleff P, Gaston PKJ, Lennon JJ (2003) Measuring beta diversity for presence–absence data. J Anim Ecol 72:367–382

Kowarik I (2011) Novel urban ecosystems, biodiversity, and conservation. Environ Pollut 159:1974–1983

Lemoine R (2012) Cambios en la cobertura vegetal de la ciudad de Xalapa-Enríquez, Veracruz y zonas circundantes entre 1950 y 2010. Thesis, Facultad de Biología, Universidad Veracruzana, Xalapa, B. Sc

Lennon JJ, Koleff P, Greenwood JJD (2001) The geographical structure of British bird distributions: Diversity, spatial turnover and scale. J Anim Ecol 70:966–979

MacGregor-Fors I (2010) How to measure the urban-wildland ecotone: redefining 'peri-urban' areas. Ecol Res 25:883–887

MacGregor-Fors I, Morales-Pérez L, Schondube JE (2012) From forest to cities: Effects of urbanization on tropical birds. In: Lepczyk CA, Warren PS (eds) Urban bird ecology and conservation. University of California Press, California, pp. 33–48

Magurran A, McGill BJ (2010) Challenges and opportunities in the measurement and assessment of biological diversity. In: Magurran A, McGill BJ (eds) Biological diversity: Frontiers in measurement and assessment. Oxford University Press, Oxford

Marzluff JM, Bowman R, Donnely R (2001) A historical perspective on urban bird research: Trends, terms, and approaches. In: Marzluff JM, Bowman R, Donnely R (eds) Avian Conservation and Ecology in an Urbanizing World. Kluwer Academic, Boston, pp. 1–18

McDonnell MJ, Pickett STA, Groffman P, Bohlen P, Pouyat RV, Zipperer WC, Parmelee RW, Carreiro MM, Medley K (1997) Ecosystem processes along an urban-to rural gradient. Urban Ecosyst1:21–36.

McCaffrey RE, Mannan RW (2012) How scale influence birds'responses to habitat features in urban residential areas. Landsc Urban Plan 105:274–280

McCaffrey RE, Turner WR, Borens AJ (2012) A new approach to urban bird monitoring: The Tucson bird count. In: Lepczyk CA, Warren PS (eds) Urban bird ecology and conservation. University of California Press, California, pp. 139–154

McKinney ML (2002) Urbanization, biodiversity and conservation. Bioscience 52:883–890

McKinney ML (2006) Urbanization as a major cause of biotic homogenization. Biol Conserv 127:247–260

McKinney ML (2008) Effects of urbanization on species richness: A review of plants and animals. Urban Ecosyst 11:161–176

Miller JR, Hobbs RJ (2002) Conservation where people live and work. Conserv Biol 16:330–337

Montgomery MR (2008) The urban transformation of the developing world. Science 319:761–764

Moreno CE, Pineda E, Escobar F, Sánchez-Rojas G (2007) Shortcuts for biodiversity valuation: A review of terms and recommendations about the use of target groups, bioindicators and surrogates. Int J Environ Health 1:71–86

Navarro-Sigüenza AG, Rebón-Gallardo MF, Gordillo-Martínez A, Peterson AT, Berlanga-García H, Sánchez-González LA (2014) Biodiversidad de aves en México. Rev Mex Biodivers 85:476–495

Nilon CH, Warren PS, Wolf J (2011) Baltimore birdscape study: Identifying habitat and land-cover variables for an urban bird-monitoring project. Urban habitats http://www.urbanhabitats.org/v06n01/baltimore_full.html. Accessed 10 April 2015

Ortega-Álvarez R, MacGregor-Fors I (2009) Living in the big city: Effects of urban land-use on bird community structure, diversity, and composition. Landsc Urban Plan 90:189–195

Ortega-Álvarez R, MacGregor-Fors I (2011a) Spreading the Word: The ecology of urban birds outside the United States, Canada, and Western Europe. Auk 128:415–418

Ortega-Álvarez R, MacGregor-Fors I (2011b) Dusting-off the file: A review of knowledge on urban ornithology in Latin America. Landsc Urban Plan 101:1–10

Pellissier V, Cohen M, Boulay A, Clergeau P (2012) Birds are also sensitive to landscape composition and configuration within the city centre. Landsc Urban Plan 104:181–188

Puga-Caballero A, MacGregor-Fors I, Ortega-Álvarez R (2014) Birds at the urban fringe: Avian community shifts in different peri-urban ecotones of a megacity. Ecol Res 29:619–628

Ralph CJ, Droege S, Sauer JR (1995) Managing and monitoring birds using point counts: Standards and applications. USDA, California

Ralph CJ, Geupel GR, Pyle P, Martin TE, DeSante DF, Milá B (1996) Manual de métodos de campo para el monitoreo de aves terrestres. Gen. Tech. Rep. PSW-GTR-159. Pacific Southwest Research Station, Forest Service, U.S. Department of Agriculture, Albany, CA, USA

Ranazzi L, Manganaro A, Salvati L (2002) Density fluctuations in an urban population of Tawny Owl Strix aluco: A long-term study in Rome, Italy. Ornis Svec 12:63–67

Reis E, López-Iborra GM, Torres R (2012) Changes in bird species richness through different levels of urbanization: Implications for biodiversity conservation and garden design in Central Brazil. Landsc Urban Plan 107:31–42

Rosenzweig M (2003) Win-Win Ecology – How the Earth's species can survive in the midst of human enterprise. Oxford University Press, New York

Ruelas IE, Hoffman SW, Goodrich LJ (2005) Stopover ecology of Neotropical migrants in Veracruz, Mexico. In: Ralph CJ, Rich TD (eds) Bird conservation implementation and integration in the Americas. U.S. Forest Service, Albany, pp. 657–673

Simon U, Kübler S, Böhner J (2007) Analysis of breeding bird communities along an urban-rural gradient in Berlin, Germany, by Hasse Diagram Technique. Urban Ecosyst 10:17–28

Strohbach MW, Hrycyna A, Warren PS (2014) 150 years of changes in bird life in Cambridge, Massachusetts from 1860 to 2012. Wilson J Ornithol 126:192–206

(TCLO) The Cornell Lab of Ornithology (2011) All About Birds. http://www.allaboutbirds.org. Accessed 10 April 2015

Turner WR (2003) Citywide biological monitoring as a tool for ecology and conservation in urban landscapes: The case of the Tucson Bird Count. Landsc Urban Plan 65:149–166

(UN) United Nations (2012) World urbanization prospects: The 2012 revision http://esa.un.org/unpd/wpp/. Accessed 10 April 2015

Williams-Linera G, Manson RH, Isunza EV (2002) La fragmentación del bosque mesófilo de montaña y patrones de uso del suelo en la región oeste de Xalapa, Veracruz, México. Madera Bosques 8:73–89
Acknowledgments
We are most grateful to Paige S. Warren and Javier Laborde Dovalí for their comments and suggestions, which greatly enhanced the clarity and quality of our paper. We are also thankful to Arturo Zavaleta Aguilar, Ina Falfán, Bruno Florio Lessi, Salvador Gónzalez de León, Víctor Castelazo Calva, and María Elisa Sandoval Seres for assisting us during field work. JFE-I acknowledges the scholarship and financial support provided by the National Council of Science and Technology (CONACYT 366146), and the Doctoral Program of the Instituto de Ecología, A.C. (INECOL).
About this article
Cite this article
Escobar-Ibáñez, J.F., MacGregor-Fors, I. Peeking into the past to plan the future: Assessing bird species richness in a neotropical city. Urban Ecosyst 19, 657–667 (2016). https://doi.org/10.1007/s11252-015-0517-x
Keywords
Bird list

Bird richness

Citywide

Long-term

Species composition

Urban ecology