Abstract
Urban sprawl along the Mediterranean coast is characterized by single-family houses and domestic gardens. Many new residences are secondary homes for socio-demographically diverse tourists. We explore the differences between the residence types in terms of their garden structures and plant compositions using socioeconomic and legacy attributes. Outdoor areas of 245 primary and secondary homes were investigated to determine plant compositions, land cover and household characteristics. Then, the outdoor land cover was compared between the two residence types. Vector fitting in ordination space assessed the influences of socioeconomic and legacy effects on plant compositions. Finally, generalized linear models (GLMs) assessed the influence of these variables on garden structures. Relevant differences exist in the plant compositions of primary and secondary residences. Furthermore, secondary residences have larger areas of trees, shrubs, flowers and swimming pools, while vegetable gardens are more common at primary residences. Overall, socioeconomic effects appeared to strongly constrain the features of household gardens.
This is a preview of subscription content,
to check access.
Access this article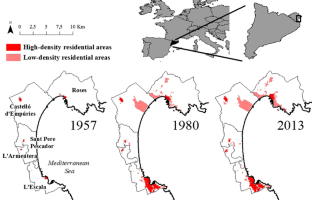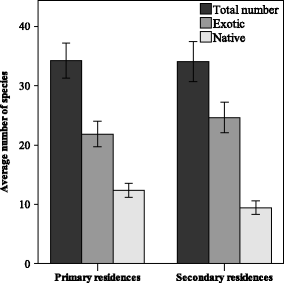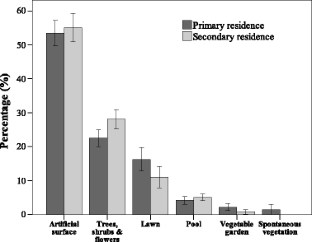 References
Acar C, Acar H, Eroglu E (2007) Evaluation of ornamental plant resources to urban biodiversity and cultural changing: a case study of residential landscapes in Trabzon City (Turkey). Build Environ 42(1):218–229

Askew LE, McGuirk PM (2004) Watering the suburbs: distinction, conformity and the suburban garden. Aust Geogr 35(1):17–37

Bernholt H, Kehlenbeck K, Gebauer J, Buekert A (2009) Plant species richness and diversity in urban and peri-urban gardens of Niamey, Niger. Agrofor Syst 77(3):159–179

Berry BJL (1976) The counterurbanization process: urban America since 1970. In: Brian J, Berry L (eds) Urbanization and counterurbanization. Sage, New York

Bhatti M, Church A (2000) I never promised you a rose garden: gender, leisure and home-making. Leis Stud 19(3):183–197

Bigirimana J, Bogaert J, De Cannière C, Bigendako M-J, Parmentier I (2012) Domestic garden plant diversity in Bujumbura, Burundi: role of the socio-economical status of the neighborhood and alien species invasion risk. Landsc Urban Plan 107(2):118–126

Bolós O, Vigo J, Masallers RM, Ninot JM (2005) Flora manual dels Països Catalans [Flora manual of the Catalan Countries], 3rd edn. Editorial Pòrtic, Barcelona

Bray JR, Curtis JT (1957) An ordination of upland forest communities of southern Wisconsin. Ecol Monogr 27(4):325–349

Bruegmann R (2005) Sprawl: a compact history. University of Chicago Press, Chicago

CAATEEG – Col·legi d'Aparelladors, Arquitectes Tècnics i Enginyers d'Edificació de Girona (2012) Web site of the "Col·legi d'Aparelladors, Arquitectes Tècnics i Enginyers d'Edificació de Girona". http://www.aparellador.cat/. Accessed 12 Nov 2012

Cagmani R, Gibelli MC (2002) I Costi Colletivi Della Città Dispersa. Alinea Editrice s.r.l, Florence

Catalán B, Saurí D, Serra P (2008) Urban sprawl in the Mediterranean? Patterns of growth and change in the Barcelona Metropolitan Region 1993–2000. Landsc Urban Plan 85(3–4):174–184

Chesire PC, Hay D (1986) Urban problems in Western Europe: an economic analysis. Unwin Hyman, London

Cook EM, Hall SJ, Larson KL (2012) Residential landscapes as social-ecological systems: a synthesis of multi-scalar interactions between people and their home environment. Urban Ecosyst 15(1):19–52

Daniels GD, Kirkpatrick JB (2006) Comparing the characteristics of front and back domestic gardens in Hobart, Tasmania, Australia. Landsc Urban Plan 78(4):344–352

De Cáceres M, Legendre P, Moretti M (2010) Improving indicator species analysis by combining groups of sites. Oikos 119(10):1674–1684

Dematteis G (1998) Suburbanización y Periurbanización. Ciudades Anglosajonas y Ciudades Latinas. In: Monclus FJ (ed) La Ciudad Dispera. Centre de Cultura Contemporània de Barcelona, Barcelona, pp 17–33

DGCE - Directorate General for Cadastre Electronic Site (2012) Spanish government. Ministry of Finances and Public Administrations, Madrid, http://www1.sedecatastro.gob.es/ovcInicio.aspx. Acccessed 1 Oct 2012

Domene E, Saurí D (2003) Modelos Urbanos y Consumo de Agua: El Riego de Jardines Privados en la Región Metropolitana de Barcelona. Investig Geogr 32:5–17

Dufrene M, Legendre P (1997) Species assemblages and indicator species: the need for a flexible asymmetrical approach. Ecol Monogr 67(3):345–366

Durà A (2003) Population deconcentration and social restructuring in Barcelona, a European Mediterranean City. Cities 20(6):387–394

EEA - European Environment Agency (2006) Urban Sprawl in Europe: The Ignored Challenge. Report Number 10/2006. Copenhagen: EEA. http://www.eea.europa.eu/publications/eea_report_2006_10. Accessed 10 Aug 2014

Faith D, Minchin P, Belbin L (1987) Compositional dissimilarity as a robust measure of ecological distance. Vegetatio 69(1–3):57–68

Fraguell RM (1994) Turisme Residencial i Territori: La Segona Residencia a la Regió de Girona. L'Eix editorial, Girona

Garcia X, Ribas A, Llausàs A, Saurí D (2013) Socio-demographic profiles in suburban developments: implications for water-related attitudes and behaviors along the Mediterranean Coast. Appl Geogr 41:46–54

Garcia X, Llausàs A, Ribas A (2014) Landscaping patterns and sociodemographic profiles in suburban areas: implications for water conservation along the Mediterranean Coast. Urban Water J 11(1):31–41

Goddard MA, Dougill AJ, Benton TG (2009) Scaling up from gardens: biodiversity conservation in urban environments. Trends Ecol Evol 25(2):90–98

Hair JF, Anderson RE, Tatham RL, Black WC (1999) Análisis Multivariante. Prentice Hall, Madrid

Hall P, Hay D (1980) Growth centres in the European urban system. Heinemann, London

Head L, Muir P, Hampel E (2004) Australian backyard gardens and the journey of migration. Geogr Rev 94(3):326–347

Hof A, Wolf N (2014) Estimating potential outdoor water consumption in private urban landscapes by coupling high-resolution image analysis, irrigation water needs and evaporation estimation in Spain. Landsc Urban Plan 123:61–72

Hope D, Gries C, Zhu W, Fagan WF, Redman CL, Grimm NB, Nelson AL, Martin C, Kinzig A (2003) Socioeconomics drive urban plant diversity. Proc Natl Acad Sci U S A 100(15):8788–8792

Hutcheson G, Sofroniou N (1999) The multivariate social scientist. SAGE Publications Ltd., London

ICC - Cartographic Institute of Catalonia (2013) Insitut Cartogràfic de Catalunya, Generalitat de Catalunya. http://www.icc.es. Accessed 21 Apr 2013

IDESCAT - Statistical Institute of Catalonia (2014) Institut d'Estadística de Catalunya, Generaliat de Catalunya, Barcelona, Spain. http://www.idescat.cat. Accessed 20 Feb 2014

IPNI - The International Plant Names Index (2012) http://www.ipni.org. Accessed 30 November 2012

Kendal D, Nicholas SG, Williams SG, Williams KJH (2012a) A cultivated environment: exploring the global distribution of plants in gardens, parks and streetscapes. Urban Ecosyst 15:637–652

Kendal D, Williams KJH, Williams NSG (2012b) Plant traits link people's plant preferences to the composition of their gardens. Landsc Urban Plan 105(1–2):34–42

Kendal D, Williams NSG, Williams KJH (2012c) Drivers of diversity and tree cover in gardens, parks and streetscapes in an Australian city. Urban For Urban Gree 11(3):257–265

Kincaid C (2005) Guidelines for Selecting the Covariance Structure in Mixed Model Analysis. In SUGI 30 Proceedings, Paper 198–30, Philadelphia, USA

Kinzig AP, Warren P, Martin C, Hope D, Katti M (2005) The effects of human socioeconomic status and cultural characteristics on urban patterns of biodiversity. Ecol Soc 10(1):23

Kirkpatrick JB, Daniels GD, Zagorski T (2007) Explaining variation in front gardens between suburbs of Hobart, Tasmania, Australia. Landsc Urban Plan 79(3–4):314–322

Kruskal JB (1964) Nonmetric multidimensional scaling: a numerical method. Psychometrika 29(2):115–129

La Sorte FA, Aronson MFJ, Nicholas SG et al (2014) Beta diversity of urban floras among European and non-European cities. Glob Ecol Biol 23(7):769–779

Larsen L, Harlan SL (2006) Desert dreamscapes. Residential landscape preference and behavior. Landsc Urban Plan 78(1–2):85–100

Larson KL, Casagrande D, Harlan SL, Yabiku ST (2009) Residents' yard choices and rationales in a Desert City: social priorities, ecological impacts, and decision tradeoffs. Environ Manag 44(5):921–937

Legendre P, Legendre L (1998) Numerical ecology. Elsevier, Amsterdam

Long JS (1997) Regression models for categorical and limited dependent variables. In: Everitt BS, Hothorn T (eds) A handbook of statistical analyses using R. Sage Publications, Thousand Oaks

Loram A, Tratalos J, Warren PH, Gaston KJ (2007) Urban domestic gardens (X): the extent and structure of the resource in five major cities. Landsc Ecol 22(4):601–615

Lubbe CS, Siebert SJ, Cilliers SS (2010) Plant diversity in urban domestic gardens along a socio-economic gradient in the Tlokwe Municipal Area, North-West Province. S Afr J Bot 76(2):411–412

Luck GW, Smallbone LT, O'Brien R (2009) Socio-economic and vegetation change in urban ecosystems: patterns in space and time. Ecosystems 12:604–620

Marco A, Barthelemy C, Dutoit T, Bertaudière-Montes V (2010) Bridging human and natural sciences for a better understanding of urban floral patterns: the role of planting practices in Mediterranean gardens. Ecol Soc 15(2):2

Martí C (2005) La Transformació del Paisatge Litoral de la Costa Brava. Anàlisi de l'evolució (1956–2003), Diagnosi de l'estat acutal i Prognosi de Futur (PhD thesis). University of Girona, Girona

Martí C, Pintó J (2012) Cambios Recientes en el Paisaje Litorla de la Costa Brava. Doc Anàlisi Geogr 58(2):239–264

Misetic A (2006) Place attachment and second home. Drustvena Istrazivanja 15(1–2):27–42

MSC - Meteorological Service of Catalonia (2014) Servei Meteorològic de Catalunya, Generalitat de Catalunya. http://www.meteo.cat/servmet/index.html. Accessed 21 July 2014

Nel·lo O (2001) Ciutat de Ciutats: Reflexions Sobre el Procés d'urbanització a Catalunya. Empúries, Barcelona, Spain

Oksanen J (2008) Multivariate analysis of ecological communities in R: Vegan tutorial. http://cran.stat.sfu.ca/. Accessed 24 Aug 2013

Padullés J, Vila J, Barriocanal C (2014a) Examining floristic boundaries between garden types at the global scale. Investig Geogr 61:71–86

Padullés J, Vila J, Barriocanal C (2014b) Maintenance, modifications, and water use in private gardens of Alt Empordà, Spain. HortTechnology 24(3):374–383

R Development Core Team (2012) R: a language and environment for statistical computing. R Foundation for Statistical Computing, Vienna, http://www.R-project.org. Accessed 1 Sept 2012

Smith RM, Thompson K, Hodgson JG, Warren PH, Gaston KJ (2006) Urban domestic gardens (IX): composition and richness of the vascular plant flora, and implications for native biodiversity. Biol Conserv 129(3):312–322

Stedman RC (2006) Understanding place attachment among second home owners. Am Behav Sci 50(2):187–205

Thompson JL, Gebauer J, Hammer K, Buerkert A (2009) The structure of urban and peri-urban gardens in Khartoum, Sudan. Genet Resour Crop Evol 57(4):487–500

Troy A, Grove JM, O'Neil-Dunne JPM, Pickett STA, Cadenasso ML (2007) Predicting opportunities for greening and patterns of vegetation on private urban lands. Environ Manag 40:394–412

Valdunciel J (2011) Paisatge i Models Urbans Contemporanis. Les Comarques Gironines (1979–2006): Del Desarrollismo a la Globalització (PhD thesis). University of Girona, Girona

Van den Berg AE, Van Winsum-Westra M (2010) Manicured, romantic, or wild? The relation between need for structure and preferences for garden styles. Urban For Urban Greening 9(3):179–186

Van den Berg L, Drewett R, Klaasen LH, Rossi A (1982) Urban Europe: a study of growth and decline. Pergamon, Oxford

Van Heezik Y, Freeman C, Porter S, Dickinson KJM (2013) Garden size, householder knowledge, and socio-economic status influence plant and bird diversity at the scale of individual gardens. Ecosystem 16(8):1442–1454

Vuong QH (1989) Likelihood ratio tests for model selection and non-nested hypotheses. Econometrica 57(2):307–333

Yabiku ST, Casagrande DG, Farley-Metzger E (2008) Preferences for landscape choice in a Southwestern Desert City. Environ Behav 40(3):382–400
Acknowledgments
The authors would like to thank all the participants who agreed to complete the survey. This work was supported by the Spanish Ministry of Economy and Competiveness under Grant [CSO2010-17488; FPI BES-2011-046475].
About this article
Cite this article
Padullés Cubino, J., Vila Subirós, J. & Barriocanal Lozano, C. Floristic and structural differentiation between gardens of primary and secondary residences in the Costa Brava (Catalonia, Spain). Urban Ecosyst 19, 505–521 (2016). https://doi.org/10.1007/s11252-015-0496-y
Published:

Issue Date:

DOI: https://doi.org/10.1007/s11252-015-0496-y
Keywords