Abstract
Urbanization tends to remove or isolate green areas into fragments or restrict them to narrow corridors inserted in a matrix of buildings. Nevertheless, urban green areas may act as refuges for fauna and bats are among the animals able to use such habitats. Using bioacoustics we investigated the influence of green areas on the activity of insectivorous bats in the metropolitan area of Recife, a conurbation of 4 million people in the Atlantic forest of Northeastern Brazil. Bat activity was statistically higher in green areas, based on calls (t = 2.5298, p = 0.0165), but not on feeding buzzes (t = 1.8132, p = 0.0817) or social calls (t = −1.5551, p = 0.1329). Several species were able to persist in an urban matrix and calls were classified into 16 sonotypes, belonging to five families (Emballonuridae, Molossidae, Noctilionidae, Phyllostomidae and Vespertilionidae). However, activity was significantly more associated with areas with vegetation, indicating that green remnants are hotspots for bat activity. Our results indicate that most insectivorous bats have a biased use of the urban landscape and the maintenance of urban green areas is essential to preserve them and the environmental services they provide.
This is a preview of subscription content, log in to check access.
Access options
Buy single article
Instant access to the full article PDF.
US$ 39.95
Price includes VAT for USA
Subscribe to journal
Immediate online access to all issues from 2019. Subscription will auto renew annually.
US$ 99
This is the net price. Taxes to be calculated in checkout.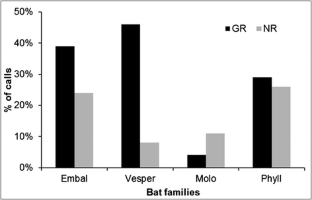 References
Anthony ELP, Kunz TH (1977) Feeding strategies of the little brown bat, Myotis lucifugus, in southern New Hampshire. Ecology 58:775–786

Ávila-Flores R, Fenton MB (2005) Use of spatial features by foraging insectivorous bats in a large urban landscape. J Mammal 86:1193–1204

Ayres M, Ayres Jr. M, Ayres DL, Santos AS (2007) Bioestat: aplicações estatísticas nas áreas das Ciências Biomédicas Versão 5.0. Sociedade Civil Mamirauá - MCT-CNPq, Belém.

Baschak LA, Brown RD (1995) An ecological framework for the planning, design and management of urban river greenways. Landsc Urban Plan 33:211–225

Basham R, Law B, Banks P (2011) Microbats in a 'leafy' urban landscape: are they persisting, and what factors influence their presence? Aust Ecol 36:663–678

Bernard E, Fenton MB (2007) Bats in a fragmented landscape: species composition, diversity and habitat interactions in savannas of Santarém, Central Amazonia, Brazil. Biol Conserv 134:332–343

Bernard E, Aguiar LMS, Brito D, Cruz-Neto AP, Gregorin R, Machado RB, Oprea M, Paglia AP, Tavares VC (2012) Uma Análise de Horizontes sobre a Conservação de Morcegos no Brasil. In: Freitas TRO, Vieira EM (eds) Mamíferos do Brasil: Genética, Sistemática, Ecologia e Conservação. Sociedade Brasileira de Mastozoologia, Rio de Janeiro, pp 19–35

Boyles JG, Cryan PM, McCracken GF, Kunz TH (2011) Economic importance of bats in agriculture. Science 332:41–42. doi:10.1126/science.1201366

Clare EL, Fraser EE, Braid HE, Fenton MB, Hebert PDN (2009) Species on the menu of a generalist predator, the eastern red bat (Lasiurus borealis): using a molecular approach to detect arthropod prey. Mol Ecol 18:2532–2542

Dixon MD (2012) Relationship between land cover and insectivorous bat activity in an urban landscape. Urban Ecosyst 15:683–695

Ethier K, Fahrig L (2011) Positive effects of forest fragmentation, independent of forest amount, on bat abundance in eastern Ontario, Canada. Landsc Ecol 26:865–876

Evelyn MJ, Stiles DA, Young RA (2004) Conservation of bats in suburban landscapes: roost selection by Myotis yumanensis in a residential area in California. Biol Conserv 115:463–473

Fabianek F, Gagnon D, Delorme M (2011) Bat distribution and activity in Montréal Island green spaces: responses to multi-scale habitat effects in a densely urbanized area. Ecoscience 18:9–17

Farias HM (2012) Monitoramento e identificação acústica de espécies de morcegos da mata atlântica por sinais de ecolocalização: Contribuições ecológicas e potencial para conservação. Dissertation, Universidade Estadual de Santa Cruz

Federico P, Hallam TG, McCracken GF, Purucker ST, Grant WE, Correa-Sandoval AN, Westbrook JK, Medellin RA, Cleveland CJ, Sansone CG, López JD Jr, Betke M, Moreno-Valdez A, Kunz TH (2008) Brazilian free tailed bats as insect pest regulators in transgenic and conventional cotton crops. Ecol Appl 18:826–837

Gaisler J, Zukal J, Rehak Z, Homolka M (1998) Habitat preference and flight activity of bats in a city. J Zool 244:439–445

Geggie JF, Fenton MB (1985) A comparison of foraging by Eptesicus fuscus (Chiroptera: Vespertilionidae) in urban and rural environments. Can J Zool 63:263–266

Gehrt SD, Chelsvig JE (2003) Bat activity in an urban landscape: patterns at the landscape and microhabitat scale. Ecol Appl 13:939–950

Glendell M, Vaughan N (2002) Foraging activity of bats in historic landscape parks in relation to habitat composition and park management. Anim Conserv 5:309–316

Goddard MA, Dougill AJ, Bentonn TG (2008) Scaling up from gardens: biodiversity conservation in urban environments. Trends Ecol Evol 25:90–98

Griffin DR, Thompson D (1986) High altitude echolocation of insects by bats. Behav Ecol Sociobiol 10:303–306

Hale JD, Fairbrass AJ, Matthews TJ, Sadler JP (2012) Habitat composition and connectivity predicts bat presence and activity at foraging sites in a large UK conurbation. Plos One 7(3):e33300. doi:10.1371/journal.pone.0033300

Hanspach J, Fischer J, Ikin K, Stott J, Law BS (2012) Using trait-based filtering as a predictive framework for conservation: a case study of bats on farms in southeastern Australia. J Appl Ecol 49:842–850

Hourigan CL, Johnson C, Robson SKA (2006) The structure of a micro-bat community in relation to gradients of environmental variation in a tropical urban area. Urban Ecosyst 9:67–82

Hourigan CL, Catterall CP, Jones D, Rhodes M (2010) The diversity of insectivorous bat assemblages among habitats within a subtropical urban landscape. Aust Ecol 35:849–857

Instituto Brasileiro de Geografia e Estatística IBGE (2010) Cidades: Recife. http://www.ibge.gov.br/home/estatistica/populacao/censo2010/calendario.sht. Accessed 11 Sept 2014

Jones G, Jacobs DS, Kunz TH, Willig MR, Racey PA (2009) Carpe noctem: the importance of bats as bioindicators. Endanger Species Res 8:93–115

Jong J, Ahlén I (1991) Factors affecting the distribution pattern of bats in Uppland, central Sweden. Ecography 14:92–96

Jung K, Kalko EKV (2010) Where forest meets urbanization: foraging plasticity of aerial insectivorous bats in an anthropogenically altered environment. J Mammal 91:144–153

Jung K, Kalko EKV (2011) Adaptability and vulnerability of high flying neotropical aerial insectivorous bats to urbanization. Divers Distrib 17:262–274

Kunz TH, Braun de Torrez E, Bauer D, Lobova T, Fleming TH (2011) Ecosystem services provided by bats. Ann N Y Acad Sci 1223:1–38. doi:10.1111/j.1749-6632.2011.06004.x

Kurta A, Teramino JA (1992) Bat community structure in an urban park. Ecography 15:257–261

Lee Y-F, McCracken GC (2002) Foraging activity and food resource use of Brazilian free-tailed bats Tadarida brasiliensis (Molossidae). Ecoscience 9:306–313

Loeb SC, Post CJ, Hall ST (2009) Relationship between urbanization and bat community structure in national parks of the southeastern U.S. Urban Ecosyst 12:197–214

Luck GW, Smallbone L, Threlfall C, Law B (2013) Patterns in bat functional guilds across multiple urban centres in south-eastern Australia. Landsc Ecol 28:455–469

Magle SB, Theobald DM, Crooks KR (2009) A comparison of metrics predicting landscape connectivity for a highly interactive species along an urban gradient in Colorado, USA. Landsc Ecol 24:267–280

Marinello MM, Bernard E (2014) Wing morphology of Neotropical bats: a quantitative and qualitative analysis with implications for habitat use. Can J Zool 92:141–147. doi:10.1139/cjz-2013-0127

Mckinney ML (2002) Urbanization, biodiversity, and conservation. Bioscience 52:883–890

McKinney ML (2006) Urbanization as a major cause of biotic homogenization. Biol Conserv 127:247–260

Niemela J (1999) Ecology and urban planning. Biodivers Conserv 8:119–131

Oliveira TH, Dantas JG, Botler M, Silva RRV, Silva JPF, Neves TF (2013) Mensuração e distribuição do verde urbano no município do Recife – PE: bases para a gestão ambiental urbana. http://www.dsr.inpe.br/sbsr2013/files/p0594.pdf. Accessed 11 Sept 2014

Pacheco SM, Sodré M, Gama AR, Bredt A, Cavallini EM, Marques RV, Guimarães MM, Bianconi G (2010) Morcegos urbanos: status do conhecimento e plano de ação para a conservação no Brasil. Chiroptera Neotropical 16:630–647

Pickett STA, Cadenasso ML, Grove JM, Nilon CH, Pouyat RV, Zipperer WC, Costanza R (2001) Urban ecological systems: linking terrestrial ecological, physical, and socioeconomic components of metropolitan areas. Annu Rev Ecol Syst 32:127–157

Russo D, Ancillotto L (2015) Sensitivity of bats to urbanization: a review. Mamm Biol 80:205–212

Russo D, Jones G (2015) Bats as indicators: an introduction. Mamm Biol 80:157–158

Schnitzler HU, Kalko EKV (2001) Echolocation by insect eating bats. Bioscience 51:557–569

Threlfall C, Law B, Penman T, Banks PB (2011) Ecological processes in urban landscapes: mechanisms influencing the distribution and activity of insectivorous bats. Ecography 34:814–826

Threlfall CG, Law B, Banks PB (2012) Influence of landscape structure and human modifications on insect biomass and bat foraging activity in an urban landscape. PLoS ONE 7(6):e38800. doi:10.1371/journal.pone.0038800

Threlfall C, Law B, Banks PB (2013) The urban matrix and artificial light restricts the nightly ranging behaviour of Gould's long-eared bat (Nyctophilus gouldi). Aust Ecol 38:921–930

Uieda W, Bredt A, Pinto PP (2008) Dieta, abrigos e comportamento do morcego fitófago Artibeus lituratus (Phyllostomidae) em Brasília, Distrito Federal, e sua relação com as plantas usadas na arborização urbana. In: Pacheco SM, Marques RV, Esberárd CEL (eds) Morcegos no Brasil: Biologia, Sistemática, Ecologia e Conservação. Armazém Digital, Porto Alegre, pp 427–444

Whitaker JO Jr (1995) Food of the big brown bat Eptesicus fuscus from maternity colonies in Indiana and Illinois. Am Midl Nat 134:346–360
Acknowledgments
We would like to thank the Departmento de Zoologia, Universidade Federal de Pernambuco, for supporting our research on urban bats. This manuscript is part of M.L.V.S.A.'s Honours Thesis at CCB - UFPE and we thank the Conselho Nacional de Desenvolvimento Científico e Tecnológico (CNPq), Programa Institucional de Bolsas de Iniciação Científica (PIBIC 12023649) for the grant received. Carina Rodrigues Silva provided support with sonotype classification. We thank Dr. M.B. Fenton, two anonymous reviewers and the Associate Editor Dr. Charles Nilon for comments on this manuscript.
Electronic supplementary material
Below is the link to the electronic supplementary material.
About this article
Cite this article
Silva de Araújo, M.L.V., Bernard, E. Green remnants are hotspots for bat activity in a large Brazilian urban area. Urban Ecosyst 19, 287–296 (2016). https://doi.org/10.1007/s11252-015-0487-z
Keywords
Activity

Bioacoustics

Chiroptera

Echolocation

Urban fauna