Abstract
Correlations between urbanization and biodiversity are well known, but the causes driving such associations are lacking. We used a long-term, quasi-experimental approach to study the responses of avian communities to suburban and exurban development around Seattle, WA, USA. We measured indices of bird abundance, reproduction, and survival for 12 years at many locations, including 5 forest 'reserves,' 10 existing 'developments,' and 11 'changing' sites where ongoing development converted forests to single-family residential neighborhoods. In the first few years of clearing, building, and occupation of new neighborhoods by humans avian communities shifted from those typical of second-growth forest to those more characteristic of developments. During this time avian diversity increased and numerical dominance by abundant birds declined. Species that adapted and exploited development reproduced more successfully there than did forest-dependent species that avoided development. Adults of species that thrived in developments attained equal annual survival across reserved to developed landscapes, while species that avoided neighborhoods tended to survive poorly outside of reserves. The humans living in our study areas frequently fed birds and provided nest boxes. These actions were positively correlated with increases in secondary cavity nesting and seed eating birds. Humans also maintained outdoor cats and 11 % of humans both fed birds and let their cats outside. These actions were negatively correlated with the abundance of birds regularly using feeders. We suggest that a key management goal in urban ecosystems is the maintenance of avian diversity because a diverse avifauna engages a diversity of humans.
Access options
Buy single article
Instant access to the full article PDF.
USD 39.95
Price excludes VAT (USA)
Tax calculation will be finalised during checkout.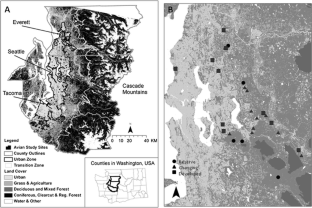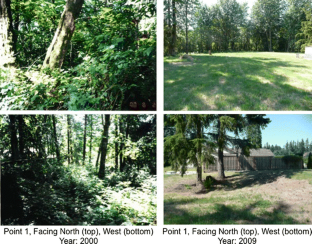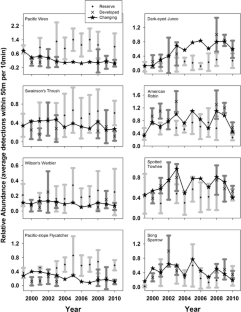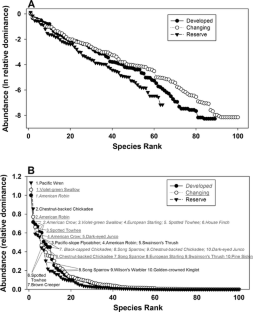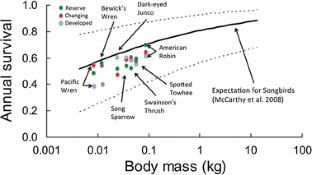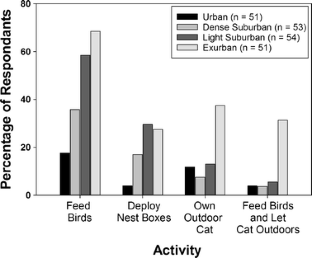 References
Alberti MA, Marzluff JM (2004) Ecological resilience in urban ecosystems: linking urban patterns to human and ecological functions. Urban Ecosyst 7:241–265

Alberti MA, Botsford E, Cohen A (2001) Quantifying the urban gradient: linking urban planning and ecology. In: Marzluff JM, Bowman R, Donnelly R (eds) Avian ecology and conservation in an urbanizing world. Kluwer Academic Publishers, Norwell, pp 89–116

Alberti MA, Marzluff JM, Shulenberger E, Bradley G, Ryan C, ZumBrunnen C (2003) Integrating humans into ecology: opportunities and challenges for urban ecology. Bioscience 53:1169–1179

Aldrich JW, Coffin RW (1980) Breeding bird populations from forest to suburbia after thirty-seven years. Am Birds 34:3–7

Battin J (2004) When good animals love bad habitats: ecological traps and the conservation of animal populations. Conserv Biol 18:1482–1491

Beatley T (2011) Biophilic cities, integrating nature into urban design and planning. Island Press, Washington

Blair RB (1996) Land use and avian species diversity along an urban gradient. Ecol Appl 6:506–519

Blair RB (2004) The effects of urban sprawl on birds at multiple levels of biological organization. Ecology and Society 9 (5):2. [online] URL: http://www.ecologyandsociety.org/vol9/iss5/art2

Blewett CM, Marzluff JM (2005) Effects of urban sprawl on snags and the abundance and productivity of cavity-nesting birds. Condor 107:677–692

Bock CE, Jones ZF, Bock JH (2008) The oasis effect: response of birds to exurban development in a southwestern savanna. Ecol Appl 18:1093–1106

Brittingham MC, Temple SA (1988) Impacts of supplemental feeding on survival rates of black-capped chickadees. Ecology 69:581–589

Buckland ST, Anderson DR, Burnham KP, Laake JL, Borchers DL, Thomas L (2001) Introduction to distance sampling: estimating abundance of biological populations. Oxford University Press, London

Buckland ST, Anderson DR, Burnham KP, Laake JL, Borchers DL, Thomas L (eds) (2004) Advanced distance sampling. Oxford University Press, London

Burnham KP, Anderson DR (2002) Model selection and multimodel inference: a practical information-theoretic approach. Springer, New York

Calvert AM, Bishop CA, Elliot RD, Krebs EA, Kydd TM, Machtans CS, Robertson GJ (2013) A synthesis of human-related avian mortality in Canada. Avian Conserv Ecol 8(2):11

Catterall CP (2009) Responses of faunal assemblages to urbanization: global research paradigms and an avian case study. In: McDonnell MJ, Hahs AK, Breuste JH (eds) Ecology of cities and towns: a comparative approach. Cambridge University Press, Cambridge, pp 129–155

Chamberlain DE, Cannon AR, Toms MP, Leech DI, Hatchwell BJ, Gaston KJ (2009) Avian productivity in urban landscapes: a review and meta-analysis. Ibis 151:1–18

Christoferson LL, Morrison ML (2001) Integrating methods to determine breeding and nesting status of three western songbirds. Wildl Soc Bull 29:688–696

Clergeau P, Croci S, Jokimäki J, Kaisanlahti-Jokimäki M-L, Dinetti M (2006) Avifauna homogenization by urbanization: analysis at different European latitudes. Biol Conserv 127:336–344

Clucas B, Marzluff JM (2011) Coupled relationships between humans and animals in urban areas. In: Niemela J (ed) Handbook of urban ecology. Oxford University Press, Oxford, pp 135–147

Clucas B, Marzluff JM (2012) Attitudes and actions toward birds in urban areas: human cultural differences influence bird behavior. Auk 129:8–16

Clucas B, Marzluff JM, Kübler S, Meffert P (2011) New directions in urban avian ecology: reciprocal connections between birds and humans in cities. In: Endlicher W, Hostert P, Kowarik I, Kulke E, Lossau J, Marzluff JM, van der Meer E, Mieg H, Nutzmann G, Schulz M, Wessolek G (eds) Perspectives in Urban Ecology: studies of ecosystems and interactions between humans and nature in the metropolis of Berlin. Springer, New York, pp 167–196

Clucas B, Rabotyagov S, Marzluff JM (2015) How much is that birdie in my backyard? A cross-continental economic evaluation of native urban songbirds. Urban Ecoystems Online First

Connell JH (1978) Diversity in tropical rain forests and coral reefs. Science 199:1302–1310

Cramp S (1980) Changes in the breeding birds of inner London since 1900. Proc Int Ornithol Congress 17:1316–1320

Crooks KR, Soulé ME (1999) Mesopredator release and avifaunal extinctions in a fragmented system. Nature 400:563–566

Davis RA, Gole C, Roberts JD (2013) Impacts of urbanization on the native avifauna of Perth, Western Australia. Urban Ecosyst 16:427–452

de Leeuw ED (1992) Data quality in mail, telephone and face to face surveys. T.T-Pubilkaties, Amsterdam

Devictor V, Julliard R, Covet D, Lee A, Jiguet F (2007) Functional homogenization effect of urbanization on bird communities. Conserv Biol 21:741–751

Dickinson JL, Bonney R (2012) Citizen science: public participation in environmental research. Cornell University Press, Ithaca

Donnelly RE, Marzluff JM (2004) Importance of reserve size and landscape context to urban bird conservation. Conserv Biol 18:733–745

Donnelly RE, Marzluff JM (2006) Relative importance of habitat quantity, structure, and spatial pattern to birds in urbanizing environments. Urban Ecosyst 9:99–117

Driscoll MF (1977) The ten commandments of statistical inference. Am Math Mon 84:628

Dunn EH, Tessaglia-Hymes DL (1999) Birds at your feeder: a guide to feeding habits, behavior, distribution, and abundance. W. W Norton, New York

Dunn RR, Gavin MC, Sanchez MC, Solomon JN (2006) The pigeon paradox: dependence of global conservation on urban nature. Conserv Biol 20:1814–1816

Evans CE, Abrams E, Reitsma R, Roux K, Salmonsen L, Marra PP (2005) The Neighborhood Nestwatch program: participant outcomes of a citizen-science ecological research project. Conserv Biol 19:589–594

Faeth SH, Warren PS, Shochat E, Marussich WA (2005) Trophic dynamics in urban communities. Bioscience 55:399–407

Farwell LS, Marzluff JM (2012) A new bully on the block: does urbanization promote Bewick's wren (Thryomanes bewickii) aggressive exclusion of Pacific wrens (Troglogytes pacificus)? Biol Conserv 161:128–141

Fisher RA (1925) Theory of statistical estimation. Proc Camb Philos Soc 22:700–725

Fuller RA, Warren PH, Armsworth PR, Barbosa O, Gaston KJ (2008) Garden bird feeding predicts the structure of urban avian assemblages. Divers Distrib 14:131–137

Fuller RA, Irvine KN, Davies ZG, Armsworth PR, Gaston KJ (2012) Interactions between people and birds in urban landscapes. Stud Avian Biol 45:249–266

Gehlbach FR (2005) Native Texas avifauna altered by suburban entrapment and method for easily assessing natural avifaunal value. Bull Tex Ornithol Soc 38:35–47

Grubb TC Jr, Cimprich DA (1990) Supplementary food improves the nutritional condition of wintering woodland birds: evidence from ptilochronology. Orn Scand 21:277–281

Hahs A, McDonnell M (2008) The use of gradient analysis studies in advancing our understanding of the ecology of urbanizing landscapes: current status and future directions. Landsc Ecol 23:1143–1155

Hansen AJ, Knight RL, Marzluff JM, Powell S, Brown K, Hernandez P, Jones K (2005) Effects of exurban development on biodiversity: patterns, mechanisms, research needs. Ecol Appl 15:1893–1905

Hanski IA, Gilpin ME (eds) (1997) Metapopulation biology: ecology, genetics, and evolution. Academic, San Diego

Hepinstall JA, Alberti MA, Marzluff JM (2008) Predicting land cover change and avian community responses in rapidly urbanizing environments. Landsc Ecol 23:1257–1276

Hepinstall JA, Marzluff JM, Alberti MA (2012) Predicting avian community response to increasing urbanization. Stud Avian Biol 45:223–248

Hochachka WM, Dhondt AA (2000) Density-dependent decline of host abundance resulting from a new infectious disease. Proc Natl Acad Sci U S A 97:5303–5306

Hostetler M, Drake D (2009) Conservation subdivisions: a wildlife perspective. Landsc Urban Plan 90:95–101 IBM (2010) IBM SPSS Statistics. V. 19

International Bird Census Committee (1970) An international standard for a mapping method in bird census work recommended by the International Bird Census Committee. Audubon Field Notes 24:722–726

Johnson DH (2008) In defense of indices: The case of bird surveys. J Wildl Manag 72:857–868

Johnston RF, Selander RK (1964) House sparrows: rapid evolution of races in North America. Science 144:548–550

Jorgensen A, Gobster PH (2010) Shades of green: measuring the ecology of urban green space in the context of human health and well-being. Nature +. Culture 5:338–363

Kaplan R, Kaplan S (1989) The experience of nature: a psychological perspective. Cambridge University Press, New York

Kellert SR (2012) Birthright: people and nature in the modern world. Yale University Press, New Haven

Kuo FE (2003) The role of arboriculture in a healthy social ecology. J Arboric 2:148–155

Laake J, Rexstad E (2008) RMark-an alternative approach to building linear models in Mark. (http://www.phidot.org/software/mark/rmark/)

Lepczyk CA, Mertig AG, Liu J (2004) Assessing landowner activities related to birds across rural-to-urban landscapes. Environ Manag 33:110–125

Lepczyk CA, Warren PS, Machabée L, Kinzig AP, Mertig AG (2012) Who feeds the birds? Stud Avian Biol 45:267–284

Lerman SB, Warren PB, Gan H, Shochat E (2012) Linking foraging decisions to residential yard bird composition. PLoS One 7(8):e43497

Liu JG, Dietz T, Carpenter SR et al (2007) Complexity of coupled human and natural systems. Science 317:1513–1516

Loss SR, Blair RB (2011) Reduced density and nest survival of ground-nesting songbirds relative to earthworm invasions in northern hardwood forests. Conserv Biol 25:983–992

Loss SR, Will T, Marra PP (2013) The impact of free-ranging cats on wildlife in the United States. Nat Commun 4:1396. doi:10.1038/ncomms2380

Loss SR, Will T, Loss SS, Marra PP (2014) Bird-building collisions in the United States: estimates of annual mortality and species vulnerability. Condor 116:8–23

MacGrgor-Fors I, Morales-Perez L, Schondube JE (2012) From forests to cities: effects of urbanization on tropical birds. Stud Avian Biol 45:33–49

Maller C, Townsend M, Pryor A, Brown P, St Leger L (2005) Healthy nature healthy people: 'Contact with nature' as an upstream health promotion intervention for populations. Health Promot Int 21:45–54

Marzluff JM (2001) Worldwide urbanization and its affects on birds. Pages 19–47. In: Marzluff JM, Bowman R, Donnelly R (eds) Avian conservation and ecology in an urbanizing world. Kluwer, Norwell, pp 19–47

Marzluff JM (2005) Island biogeography for an urbanizing world: how extinction and colonization may determine biological diversity in human-dominated landscapes. Urban Ecosyst 8:155–175

Marzluff JM (2012) Urban evolutionary ecology. Stud Avian Biol 45:287–308

Marzluff JM (2014) Welcome to subirdia. Yale University Press, New Haven

Marzluff JM, Angell T (2005) Cultural coevolution: how the human bond with crows and ravens extends theory and raises new questions. J Ecol Anthropol 9:67–73

Marzluff JM, Bradley GA (2003) Ecological restoration in the settled-wildland interface. In: Friederici P (ed) Ecological restoration of southwestern ponderosa pine forests. Island Press, Washington DC, pp 353–370

Marzluff JM, Ewing K (2001) Restoration of fragmented landscapes for the conservation of birds: A general framework and specific recommendations for urbanizing landscapes. Restor Ecol 9:280–292

Marzluff JM, Miller ML (2014) Crows and crow feeders: observations on interspecific semiotics. In: Witzany G (ed) Biocommunication of animals. Springer, Dordrecht, pp 191–211

Marzluff JM, Rodewald AD (2008) Conserving biodiversity in urbanizing areas: nontraditional views from a bird's perspective. Cities Environ 1:6

Marzluff JM, Bowman R, Donnelly RE (2001) A historical perspective on urban bird research: trends, terms, and approaches. In: Marzluff JM, Bowman R, Donnelly R (eds) Avian conservation and ecology in an urbanizing world. Kluwer, Norwell, pp 1–17

Marzluff JM, Withey JC, Whittaker KA, Oleyar MD, Unfried TM, Rullman S, DeLap J (2007) Consequences of habitat utilization by nest predators and breeding songbirds across multiple scales in an urbanizing landscape. Condor 109:516–534

Marzluff JM, Shulenberger E, Endlicher W, Alberti MA, Bradley G, Ryan C, ZumBrunnen C, Simon U (eds) (2008) Urban Ecology: an international perspective on the interaction between humans and nature. Springer, New York

McCarthy MA, Citroen R, McCall SC (2008) Allometric scaling and Bayesian priors for annual survival of birds and mammals. Am Nat 172:216–222

McDonnell MJ, Pickett STA, Groffman P, Bohlen P, Pouyat RV, Zipperer WC, Parmelee RW, Carreiro MM, Medley K (1997) Ecosystem processes along an urban-to-rural gradient. Urban Ecosyst 1:21–36

Melles S, Glenn S, Martin K (2003) Urban bird diversity and landscape complexity: species-environment associations along a multiscale habitat gradient. Conserv Ecol 7(1):5

Menge BA, Sutherland JP (1987) Community regulation: variation in disturbance, competition, and predation in relation to environmental stress and recruitment. Am Nat 130:730–757

Milder JC (2007) A framework for understanding conservation development and its ecological implications. Bioscience 57:757–768

Miller JR (2005) Biodiversity conservation and the extinction of experience. Trends Ecol Evol 20:430–434

Miller JR, Hobbs RJ (2002) Conservation where people live and work. Conserv Biol 16:330–337

Natuhara Y, Hashimoto H (2009) Spatial pattern and process in urban animal communities. In: McDonnell MJ, Hahs AK, Breuste JH (eds) Ecology of cities and towns: a comparative approach. Cambridge University Press, Cambridge, pp 197–214

Oleyar MD, Greve AI, Withey JC, Bjorn AM (2008) An integrated approach to evaluating urban forest functionality. Urban Ecosyst 11:289–308

Paker YY, Yom-Tov Y, Alon-Mozes T, Barnea A (2013) The effect of plant richness and urban garden structure on bird species richness, diversity and community structure. Landsc Urban Plan 122:186–195

Palumbi SR (2001) The evolution explosion: how humans cause rapid evolutionary change. W. W. Norton, New York

Quinn T (1997) Coyote (Canis latrans) food habits in three urban habitat types of western Washington. Northwest Sci 71:1–5

Ralph CJ, Geupel GR, Pyle P, Martin TE, Desante DF (1993) Handbook of Field Methods for Monitoring Landbirds. U.S. Department of Agriculture, Forest Service, Pacific Southwest Research Station, Albany. General Technical Report PSW-GTR-144

Recher HF, Serventy DF (1991) Long term changes in the relative abundances of birds in Kings Park, Perth, Western Australia. Conserv Biol 5:90–102

Robb GN, McDonald RA, Chamberlain DE, Reynolds J, Harrison THE, Bearhop S (2008a) Winter feeding of birds increases productivity in the subsequent breeding season. Biol Lett 4:220–223

Robb GN, McDonald RA, Chamberlain DE, Bearhop S (2008b) Food for thought: supplementary feeding as a driver of ecological change in avian populations. Front Ecol Environ 6:476–484

Robinson DH, Wainer H (2002) On the past and future of null hypothesis significance testing. J Wildl Manag 66:263–271

Robinson L, Newell JP, Marzluff JM (2005) Twenty-five years of sprawl in the Seattle region: growth management responses and implications for conservation. Landsc Urban Plan 71:51–72

Rodewald AD, Shustack DP (2008) Urban flight: understanding individual and population-level responses of Nearctic-Neotropical migratory birds to urbanization. J Anim Ecol 77:83–91

Rolshausen G, Segelbacher G, Hobson KA, Schaefer HM (2009) Contemporary evolution of reproductive isolation and phenotypic divergence in sympatry along a migratory divide. Curr Biol 19:2097–2101

Root T (1988) Environmental factors associated with avian distributional boundaries. J Biogeogr 15:489–505

Rosenstock S, Anderson D, Giesen K, Leukering T, Carter M (2002) Landbird counting techniques: Current practices and an alternative. Auk 119:46–53

Rullman S, Marzluff JM (2014) Raptor presence along an urban-wildland gradient: influences of prey abundance and land-cover. J Raptor Res, 48:xxx

Ryder TB, Reitsma R, Evans B, Marra PP (2010) Quantifying avian nest survival along an urbanization gradient using citizen and scientist generated data. Ecol Appl 20:419–426

Shochat E, Warren PS, Faeth SH, McIntyre NE, Hope D (2006) From pattern to emerging processes in mechanistic urban ecology. Trends Ecol Evol 21:186–191

Smith SB, McKay JE, Richardson JK, Murphy MT (2012) Edges, trails, and reproductive performance of spotted towhees in urban greenspaces. Stud Avian Biol 45:167–181

Thomas L, Laake JL, Strindberg S, Marques FFC, Buckland ST, Borchers DL, Anderson DR, Burnham KP, Hedley SL, Pollard JH, Bishop JRB, Marques TA [online] (2006) Distance 5.0. Release 1. Research Unit for Wildlife. Population Assessment, University of St. Andrews, UK. <http://www.ruwpa.st-and.ac.uk/distance > (1 September 2007)

Thompson W (2002) Towards reliable bird surveys: Accounting for individuals present but not detected. Auk 119:18–25

Toms M (2003) The BTO/CJ garden birdwatch book. British Trust for Ornithology, Thetford

Turner WR, Nakamura T, Dinetti M (2004) Global urbanization and the separation of humans from nature. Bioscience 54:585–590

Unfried TM, Hauser L, Marzluff JM (2013) Effects of urbanization on song sparrow (Melospiza melodia) population connectivity. Conserv Genet 14:41–53

Vickery PD, Hunter ML Jr, Wells JV (1992) Use of a new reproductive index to evaluate relationship between habitat quality and breeding success. Auk 109:697–705

Vigallon SM, Marzluff JM (2005) Abundance, nest sites, and nesting success of Steller's jays along a gradient of urbanization in western Washington. Northwest Sci 79:22–27

Vitousek PM, Mooney HA, Lubchenco J, Melillo JM (1997) Human domination of Earth's ecosystems. Science 277:494–499

White GC, Burnham KP (1999) Program MARK: Survival estimation from populations of marked animals. Bird Study 46(Supplement):120–138

Whittaker RH (1967) Gradient analysis of vegetation. Biol Rev 42:207–264

Whittaker KA, Marzluff JM (2009) Species-specific survival and relative habitat use in an urban landscape during the postfledging period. Auk 126:288–299

Whittaker KA, Marzluff JM (2012) Post-fledging mobility in an urban landscape. Stud Avian Biol 45:183–198

Withey JC, Marzluff JM (2005) Dispersal by juvenile American Crows influences population dynamics across a gradient of urbanization. Auk 122:206–222

Withey JC, Marzluff JM (2009) Multi-scale use of lands providing anthropogenic resources by American Crows in an urbanizing landscape. Landsc Ecol 24:281–293

Yeh PJ (2004) Rapid evolution of a sexually selected trait following population establishment in a novel habitat. Evolution 58:166–174
Acknowledgments
Tina (Rohila) Blewett, Heather Cornell, Roarke Donnelly, Laura Farwell, Jeff Hepinstall, Cara Ianni, Sonja Kübler, Peter Meffert, Lin Robinson, Stan Rullman, Ben Shryock, Jorge Tomasevic, Thomas Unfried, Kara Whittaker, and John Withey helped collect the data we present. Michael Abs, Marina Alberti, Gordon Bradley, Wilfried Endlicher, Kern Ewing, Ingo Kowarik, Maciej Luniak, Marc Miller, Maresi Nerad, Clare Ryan, Eric Shulenberger, Ute Simon, Gerd Wessolek, and Craig ZumBrunnen broadened our understanding of the urban world. Their collaboration enabled successful proposals that funded our joint research from the U.S. National Science Foundation (DEB-9875041, IGERT-0114351, BCS 0120024, and BCS 0508002), the German Research Foundation (RTG Graduiertenkolleg 780), and the University of Washington (Rachel Wood's Endowed Graduate Program).
About this article
Cite this article
Marzluff, J.M., Clucas, B., Oleyar, M.D. et al. The causal response of avian communities to suburban development: a quasi-experimental, longitudinal study. Urban Ecosyst 19, 1597–1621 (2016). https://doi.org/10.1007/s11252-015-0483-3
Published:

Issue Date:

DOI: https://doi.org/10.1007/s11252-015-0483-3
Keywords
Urban Birds

Diversity

Survivorship

Reproduction

Nesting success

Abundance

Survey technique

Seattle

Urbanization gradient

domestic cat

bird feeder

human action