Abstract
Green roofs have been implemented on new buildings as a tool to mitigate the loss of post-industrial or brownfield land. For this to be successful, the roofs must be designed appropriately; that is with the right growing media, suitable substrate depth, similar vegetation and with a comparable soil microbial community for a healthy rhizosphere. This study compared soil microbial communities (determined using phospholipid fatty acid or PLFA analysis) of two extensive green roofs and two post-industrial sites in Greater London. It was found that green roof rootzones constructed using engineered growing media are not depauperate, but can have an abundant soil microbial community that in some cases may be more diverse and numerous than communities found in brownfield areas. In this preliminary study, one green roof supported abundant soil microbial communities that were dominated by gram negative and aerobic bacteria, whilst fungal abundance was similar across all sites analysed. Furthermore, ratios of fungal: bacterial PLFA's were larger from post-industrial sites but overall were consistent with bacterial dominated soils typical of early successional habitats.
Access options
Buy single article
Instant access to the full article PDF.
USD 39.95
Price excludes VAT (USA)
Tax calculation will be finalised during checkout.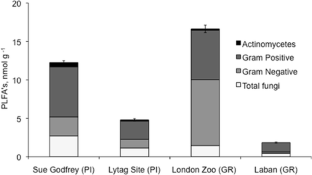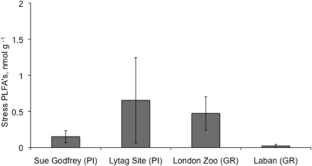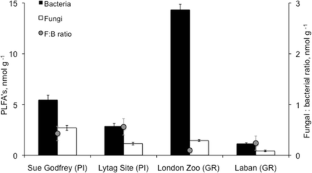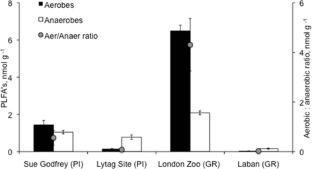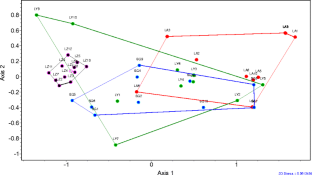 References
Arnold SS, Fernandez IJ, Rustad LE, Zibilske LM (1999) Microbial response of an acid forest soil to experimental soil warming. Biol Fertil Soils 30:239–44

Baniulyte D, Favila E, Kelly JJ (2009) Shifts in microbial community composition following surface application of dredged river sediments. Microb Ecol 57:160–169

Babikova Z, Gilbert L, Bruce TJA, Birkett M, Caulfield JC, Woodcock C, Pickett JA, Johnson D. (2013) Underground signals carried through common mycelial networks warn neighbouring plants of aphid attack. Ecol Letters 16:835–843

Bardgett RD (2000) Patterns of below-ground primary succession at Glacier Bay, south-east Alaska. Bull Br Ecol Soc 31:2

Bardgett RD, Walker LR (2004) Impact of coloniser plant species on the development of decomposer microbial communities following deglaciation. Soil Biol Biochem 36:555–559

Bardgett RD, Kandeler E, Tscherko D, Hobbs PJ, Jones TH, Thompson LJ, Bezemer TM (1999) Below-ground microbial community development in a high temperature world. Oikos 85:10

Blume E, Bischoff M, Reichert J, Moorman T, Konopka A, Turco R (2002) Surface and subsurface microbial biomass, community structure and metabolic activity as a function of soil depth and season. Appl Soil Ecol 592:12

Bossio DA, Scow KM (1998) Impacts of carbon and flooding on soil microbial communities: phospholipid fatty acid profiles and substrate utilization patterns. Microb Ecol 35:265–78

Brenneisen S (2006) Space for urban wildlife: designing green roofs as habitats in Switzerland. Urban Habitats 4:10

Thurrock Council (2007) Thurrock biodiversity study 2006–2011

Cycon M, Wojcik M, Borymski S, Piotrowska-Seget Z (2012) A broad-spectrum analysis of the effects of teflubenzuron exposure on the biochemical activities and microbial community structure of soil. J Environ Manag 108:27–35

Drenovsky RE, Elliott GN, Graham KJ, Scow KM (2004) Comparison of phospholipid fatty acid (PLFA) and total soil fatty acid methyl esters (TSFAME) for characterizing soil microbial communities. Soil Biol Biochem 36:1793–1800

Dunnett N, Kingsbury N (2008) Planting green roofs and living walls. Timber Press, Portland

Emilsson T (2008) Vegetation development on extensive vegetated green roofs: influence of substrate composition, establishment method and species mix. Ecol Eng 33:265–277

Fan L, Wang S, Chen C, Hsieh H, Chen J, Chen T, Chao W (2014) Microbial community structure and activity under various pervious pavements. J Environ Eng 140(3):04013012

Fierer N, Schimel JP, Holden PA (2003) Variations in microbial community composition through two soil depth profiles. Soil Biol Biochem 35:167–176

Fowler J, Cohen L, Jarvis P (1998) Practical statistics for field biology, 2nd edn. Wiley, Chichester

Francis RA, Lorimer J (2011) Urban reconciliation ecology: the potential of living roofs and walls. J Environ Manag 92:1429–1437

Frostegård A, Bååth E (1996) The use of phospholipid fatty acid analysis to estimate bacterial and fungal biomass in soil. Biol Fertil Soils 22:6

Frostegård A, Tunlid A, Bååth E (1991) Microbial biomass measured as total lipid phosphate in soils of different organic content. J Microbiol Methods 14:151–63

Frostegård Å, Tunlid A, Bååth E (2011) Use and misuse of PLFA measurements in soils. Soil Biol Biochem 43:1621–1625

Gange AB, Brown VK (2002) Soil food web components affect plant community structure during early succession. Ecol Res 17:11

Gange A, Brown VK, Farmer LM (1990) A test of mycorrhizal benefit in an early successional plant community. New Phytol 115:7

Gange A, Brown VK, Sinclair GS (1993) Vesicular-arbuscular mycorrhizal fungi - a determinant of plant community structure in early succession. Funct Ecol 7:7

Garland JL (1996) Analytical approaches to the characterisation of samples of microbial communities using petterns of potential C source utilisation. Soil Biol Biochem 28:9

Gibson CWD (1998) Brownfield: red data. The values artificial habitats have for uncommon invertebrates. English Nature Research Report

Goodfellow M, Williams ST (1983) Ecology of actinomycetes. Annu Rev Microbiol 37:27

Grime JP, Mackey JML, Hillier SH, Read DJ (1987) Floristic diversity in a model system using experimental microcosms. Nature 328:3

Hackl E, Pfeffer M, Donat C, Bachmann G, Zechmeisterboltenstern S (2005) Composition of the microbial communities in the mineral soil under different types of natural forest. Soil Biol Biochem 37:661–671

Hahn AS, Quideau SA (2013) Shifts in soil microbial community biomass and resource utilization along a Canadian glacier chronosequence. Can J Soil Sci 93:305–318

Hartley W, Uffindell L, Plumb A, Rawlinson HA, Putwain P, Dickinson NM (2008) Assessing biological indicators for remediated anthropogenic urban soils. Sci Total Environ 405:358–369

Jones R (2003) A celebration of urban entomology. Br J Entomol Nat Hist 16:12

Klironomos JN, McCune J, Hart M, Neville J (2000) The influence of arbuscular mycorrhizae on the relationship between plant diversity and productivity. Ecol Lett 3:137–141

Li M, Zhou Q, Tao M, Wang Y, Jiang L, Wu Z (2010) Comparative study of microbial community structure in different filter media of constructed wetland. J Environ Sci 22:127–133

Liu Y, Li X, Xing Z, Zhao X, Pan Y (2013) Responses of soil microbial biomass and community composition to biological soil crusts in the revegetated areas of the Tengger Desert. Appl Soil Ecol 65:52–59

McGuire KL, Payne SG, Palmer MI, Gillikin CM, Keefe D, Kim SJ, Gedallovich SM, Discenza J, Rangamannar R, Koshner JA, Massmann AL, Orazi G, Essene A, Leff JW, Fierer N (2013) Digging the New York City skyline: soil fungal communities in green roofs and city parks. PLoS ONE 8(3):e58020. doi:10.1371/journal.pone.0058020

Molineux CJ (2010) Development of suitable growing media for effective green roofs. Royal Holloway University, Egham

Molineux CJ, Fentiman CH, Gange AC (2009) Characterising alternative recycled waste materials for use as green roof growing media in the U.K. Ecol Eng 35:1507–1513

Molineux CJ, Connop SP, Gange AC (2014) Manipulating soil microbial communities in extensive green roof substrates. Sci Total Environ 493:632–638

Moore JC, de Ruiter PC (2000) Invertebrates in detrital food webs along gradients of productivity. Cabi, New York

Newman AP, Pratt CJ, Coupe SJ, Cresswell N (2002) Oil bio-degradation in permeable pavements by microbial communities. Water Sci Technol 45(7):51–56

npower (2007) Environmental assessment scoping report: proposed new generation units at Tilbury power station

Oberndorfer E, Lundholm J, Bass B, Coffman RR, Doshi H, Dunnett N, Gaffin S, Köhler M, Liu KKY, Rowe B (2007) Green roofs as urban ecosystems: ecological structures, functions, and services. Bioscience 57:823–833

Ohtonen R, Fritze H, Pennanen T, Jumpponen A, Trappe J (1999) Ecosystem properties and microbial community changes in primary succession on a glacier forefront. Oecologia 119:239–246

Papatheodorou EM, Argyropouloub MD, Stamoua GP (2004) The effects of large- and small-scale differences in soil temperature and moisture on bacterial functional diversity and the community of bacterivorous nematodes. Appl Soil Ecol 24:13

Potthoff M, Steenwerth KL, Jackson LE, Drenovsky RE, Scow KM, Joergensen RG (2006) Soil microbial community composition as affected by restoration practices in California grassland. Soil Biol Biochem 38:1851–1860

Ramsey PW, Rillig MC, Feris KP, Holben WE, Gannon JE (2006) Choice of methods for soil microbial community analysis: PLFA maximizes power compared to CLPP and PCR-based approaches. Pedobiologia 20:6

Rumble H, Gange AC (2013) Soil microarthropod community dynamics in extensive green roofs. Ecol Eng 57:197–204

Schadek U, Strauss B, Biedermann R, Kleyer M (2009) Plant species richness, vegetation structure and soil resources of urban brownfield sites linked to successional age. Urban Ecosyst 12:115–126

Silva L, Cachada A, Freitas AC, Pereira R, Rocha-Santos T, Duarte AC (2010) Assessment of fatty acid as a differentiator of usages of urban soils. Chemosphere 81:968–975

Smalla K, Wachtendorf U, Heuer H, Liu WT, Forney L (1998) Analysis of BIOLOG GN substrate utilization patterns by microbial communities. Appl Environ Microbiol 64:6

Smith RS, Shiel RS, Bardgett RD, Millward D, Corkhill P, Evans P, Quirk H, Hobbs PJ, Kometa ST (2008) Long-term change in vegetation and soil microbial communities during the phased restoration of traditional meadow grassland. J Appl Ecol 45:670–679

Tscherko D, Hammesfahr U, Zeltner G, Kandeler E, Bocker R (2005) Plant succession and rhizosphere microbial communities in a recently deglaciated alpine terrain. Basic Appl Ecol 6:16

Unger IM, Kennedy AC, Muzika R-M (2009) Flooding effects on soil microbial communities. Appl Soil Ecol 42:1–8

Van der Heijden MGA, Klironomos JN, Ursic M, Moutoglis P, Streitwolf-Engel R, Boller T (1998) Mycorrhizal fungal diversity determines plant biodiversity, ecosystem variability and productivity. Nature 396:72–75

Van Der Heijden MGA, Bakker R, Verwaal J, Scheublin TR, Rutten M, Van Logtestijn R, Staehelin C (2006) Symbiotic bacteria as a determinant of plant community structure and plant productivity in dune grassland. FEMS Microbiol Ecol 56:178–187

Van Gestel M, Ladd J, Amato M (1992) Microbial biomass responses to seasonal change and imposed drying regimes at increasing depths of undisturbed topsoil profiles. Soil Biol Biochem 24:9

Vestal RJ, White DC (1989) Lipis analysis in microbial ecology: quantitative approaches to the study of microbial communities. Bioscience 39:6

Vogelsang KM, Reynolds HL, Bever JD (2006) Mycorrhizal fungal identity and richness determine the diversity and productivity of a tallgrass prairie system. New Phytol 172:554–562

Wardle DA, Bardgett RD, Klironomos JN, Setälä H, van der Putten WH, Wall DH (2004) Ecological linkages between aboveground and belowground biota. Science 11;304(5677):1629–1633

Wheater CP (1999) Urban habitats. Routledge, London

White DC, Ringelberg DB (1995) Utility of signature lipid biomarker analysis in determining in situ viable biomass, community structure, and nutritional physiological status of the deep subsurface microbiota. CRC Press, Boca Raton

Wu X, Xu J, Dong F, Liu X, Zheng Y (2014) Responses of soil microbial community to different concentration of fomesafen. J Hazard Mater 273C:155–164

Yoshitake S, Uchida M, Nakatsubo T, Kanda H (2006) Characterization of soil microflora on a successional glacier foreland in the high Arctic on Ellesmere Island, Nunavut, Canada using phospholipid fatty acid analysis. Polar Biosci 19:73–84

Yuangen Y, Campbell CD, Clark L, Cameron CM, Paterson E (2006) Microbial indicators of heavy metal contamination in urban and rural soils. Chemosphere 63:1942–1952

Zar JH (2005) Biostatistical analysis. Pearson Education, Upper Saddle River

Zhang Y, Zhang H, Li X, Su Z, Zhang C (2008) The cadA gene in cadmium-resistant bacteria from cadmium-polluted soil in the Zhangshi Area of Northeast China. Curr Microbiol 56:236–239
Acknowledgments
We are grateful to the Natural Environment Research Council (NERC) for funding this research, and to the EU FP7 project Transitioning towards Urban Resilience and Sustainability (TURAS) for post-analysis funding. Thanks also goes to Laban Dance Centre, Deptford (London) and ZSL London Zoo, Regent's Park (London) for access to the green roof sites. We would also like to thank our reviewers for their constructive comments and feedback.
About this article
Cite this article
Molineux, C.J., Gange, A.C., Connop, S.P. et al. Are microbial communities in green roof substrates comparable to those in post-industrial sites?—a preliminary study. Urban Ecosyst 18, 1245–1260 (2015). https://doi.org/10.1007/s11252-015-0450-z
Published:

Issue Date:

DOI: https://doi.org/10.1007/s11252-015-0450-z
Keywords
Brownfield

Biodiversity

Substrate

Growing media

PLFA

Microbes

Bacteria

Fungi