Abstract
Urban gardens provide a rich habitat for species that are declining in rural areas. However, collecting data in gardens can be logistically-challenging, time-consuming and intrusive to residents. This study examines the potential of citizen scientists to record hedgehog sightings and collect habitat data within their own gardens using an online questionnaire. Focussing on a charismatic species meant that the number of responses was high (516 responses were obtained in six weeks, with a ~50:50 % split between gardens with and without hedgehog sightings). While many factors commonly thought to influence hedgehog presence (e.g. compost heaps) were present in many hedgehog-frequented gardens, they were not discriminatory as they were also found in gardens where hedgehogs were not seen. Respondents were most likely to have seen hedgehogs in their garden if they had also seen hedgehogs elsewhere in their neighbourhood. However, primary fieldwork using hedgehog 'footprint tunnels' showed that hedgehogs were found to be just as prevalent in gardens in which hedgehogs had previously been reported as gardens where they had not been reported. Combining these results indicates that hedgehogs may be more common in urban and semi-urban gardens than previously believed, and that casual volunteer records of hedgehogs may be influenced more by the observer than by habitat preferences of the animal. When verified, volunteer records can provide useful information, but care is needed in interpreting these data.
Access options
Buy single article
Instant access to the full article PDF.
US$ 39.95
Tax calculation will be finalised during checkout.
Subscribe to journal
Immediate online access to all issues from 2019. Subscription will auto renew annually.
US$ 79
Tax calculation will be finalised during checkout.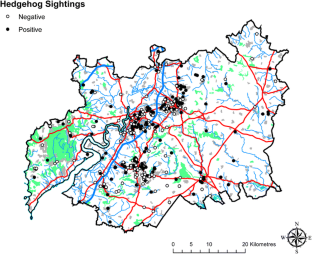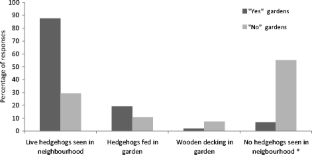 References
Baker PJ, Harris S (2007) Urban mammals: what does the future hold? An analysis of the factors affecting patterns of use of residential gardens in Great Britain. Mamm Rev 37:297–315

Cannon AR, Chamberlain DE, Toms MP, Hatchwell BJ, Gaston KJ (2005) Trends in the use of private gardens by wild birds in Great Britain 1995–2002. J Appl Ecol 42:659–671

Catlin-Groves C (2012) The citizen science landscape: from volunteers to citizen sensors and beyond. Int J Zool 2012:349630

Davies ZG, Fuller RA, Loram A, Irvine KN, Sims V, Gaston KJ (2009) A national scale inventory of resource provision for biodiversity within domestic gardens. Biol Conserv 142:761–771

Delaney DG, Sperling CD, Adams CS, Leung B (2008) Marine invasive species: validation of citizen science and implications for national monitoring networks. Biol Invasions 10:117–128

Doncaster CP, Rondinini C, Johnson PCD (2001) Field test for environmental correlates of dispersal in hedgehogs Erinaceus europaeus. J Anim Ecol 70:33–46

Dowding CV, Harris S, Poulton S, Baker PJ (2010) Nocturnal ranging behaviour of urban hedgehogs, Erinaceus europaeus, in relation to risk and reward. Anim Behav 80:13–21

Field A (2009) Discovering statistics using SPSS. Sage, London

Field D, Voss P, Kuczenski T, Hammer R, Radeloff V (2010) Reaffirming social landscape analysis in landscape ecology: a conceptual framework. Soc Nat Resour 16:349–361

Fitzpatrick MC, Preisser EL, Ellisonm AM, Elkinton JS (2009) Observer bias and the detection of low-density populations. Ecol Appl 19:1673–1679

Gaglio G, Allen S, Bowden L, Bryant M, Morgan ER (2010) Parasites of European hedgehogs (Erinaceus europaeus) in Britain: epidemiological study and coprological test evaluation. Eur J Wildl Res 56:839–844

Galesic M, Bosnjak M (2009) Effects of questionnaire length on participation and indicators of response quality in a web survey. Public Opinion Quart 73:349–360

Gaston KJ, Warren PH, Thompson K, Smith RM (2005) Urban domestic gardens (IV) The extent of the resource and its associated features. Biodivers Conserv 14:3327–3349

Gregory RD, Baillie SR (1998) Large-scale habitat use of some declining British birds. J Appl Ecol 35:785–799

Haklay M (2013) Citizen Science and Volunteered Geographic Information – overview and typology of participation. In: Sui DZ, Elwood S, Goodchild MF (eds) Crowdsourcing Geographic Knowledge: Volunteered Geographic Information (VGI) in Theory and Practice. Springer, Berlin, pp 105–122

Hof AR, Bright PW (2009) The value of green-spaces in built-up areas for western hedgehogs. Lutra 52:69–82

Holbrook A, Cho YI, Johnson T (2006) The impact of question and respondent characteristics on comprehension and mapping difficulties. Public Opinion Quart 70:565–595

Hubert P, Julliard R, Biagianti S, Poulle ML (2011) Ecological factors driving the higher hedgehog (Erinaceus europeaus) density in an urban area compared to the adjacent rural area. Landsc Urban Plan 103:34–43

Huijser MP, Bergers PJM (2000) The effect of roads and traffic on hedgehog (Erinaceus europaeus) populations. Biol Conserv 95:111–116

Irwin A (1995) Citizen science: a study of people, expertise and sustainable development. Routledge, London

Jepson C, Asch DA, Hershey JC, Ubel PA (2005) In a mailed physician survey, questionnaire length had a threshold effect on response rate. J Clin Epidemiol 58:103–105

Kristiansson H (1990) Population variables and causes of mortality in a hedgehog (Erinaceus europaeus) population in southern Sweden. J Zool 220:391–404

Kwak N, Radler B (2002) A comparison between mail and web surveys: response pattern, respondent profile and data quality. J Off Stat 18:257–273

Lehmann EL (1975) Nonparametrics: Statistical methods based on ranks. Holden-Day, San Francisco

Lietz P (2010) Research into questionnaire design: a summary of the literature. Int J Mark Res 52:249–272

Louv R (2008) Last child in the woods: Saving our children from nature-deficit disorder. Algonquin Books, New York

MacKenzie DI, Nichols JD, Lachman GB, Droege S, Royle JA, Langtim CA (2002) Estimating site occupancy rates when detection probabilities are less than one. Ecology 83:2248–2255

Mammal Society (2012) National hedgehog volunteer survey information pack. Mammal Society, Southampton

Mason CF (2000) Thrushes now largely restricted to the built environment in eastern England. Divers Distrib 6:189–194

MetOffice (2012) UK winter temperatures 2011–2012 [online] available at: <http://www.metoffice.gov.uk/climate/uk/2012/winter.html> (accessed 22nd August 2012)

Morris PA (1985) The effects of supplementary feeding on movements of hedgehogs (Erinaceus europaeus). Mamm Rev 15:23–33

Morris PA (2006) The New Hedgehog Book. Whittet Books Ltd, Stowmarket

Nakash RA, Hutton JL, Jørstad-Stein EC, Gates S, Lamb SE (2006) Maximising response to postal questionnaires – A systematic review of randomised trials in health research. BMC Med Res Methodol 6:5

Newson SE, Woodburn RJW, Noble DG, Baillie SR, Gregory RD (2005) Evaluating the breeding bird survey for producing national population size and density estimates. Bird Stud 52:42–54

PTES and BHPS (2007) HogWatch survey report. Available at http://www.hogwatch.org.uk/Downloads/HogWatchSurveyReport.pdf. Accessed 2 May 2012

Reeve NJ (1994) Hedgehogs. T. & A.D. Poyser Ltd, London

Rondinini C, Doncaster CP (2002) Roads as barriers to movement for hedgehogs. Funct Ecol 16:504–509

Rolstad S, Adler J, Ryden A (2011) Response burden and questionnaire length: is shorter better? A review and meta-analysis. Value Health 14:1101–1108

Ryall C, Hatherell P (2003) A survey of strategies adopted by UK Wildlife Trusts. Environmentalist 23:81–87

Sandry N (2013) Nature deficit disorder. Educating Young Children: Learning and Teaching in the Early Childhood Years 19: 32

Schmidt BR (2003) Count data, detection probabilities and the demography, dynamics, distribution and decline of amphibians. Comptes Rendus Biologies 326:S119–S124

Sewell D, Beebee TJC, Griffiths RA (2010) Optimising biodiversity assessments by volunteers: the application of occupancy modelling to large-scale amphibian surveys. Biol Conserv 143:2102–2110

Shaw P (2003) Multivariate statistics for the environmental sciences. Hodder Arnold, London

Shirk JL, Ballard HL, Wilderman CC, Phillips T, Wiggins A, Jordan R, McCallie E, Minarchek M, Lewenstein BV, Krasny ME, Bonney R (2012) Public participation in scientific research: a framework for deliberate design. Ecol Soc 17:29

Silvertown J (2009) A new dawn for citizen science. Trends Ecol Evol 24:467–471

Stafford R, Hart AG, Collins L, Kirkhope CK, Williams RL, Rees SG, Lloyd JR, Goodenough AE (2010) Eu-social science: the role of internet social networks in the collection of bee biodiversity data. PLoS ONE 5:e14381

Stafford R, Hart AG, Goodenough AE (2013) A visual method to identify significant latitudinal changes in species' distributions. Ecol Inform 15:74–84

Toms MP, Newson SP (2006) Volunteer surveys as a means of inferring trends in garden mammal populations. Mamm Rev 36:309–317

Ward JF, MacDonald DW, Doncaster CP (1997) Responses of foraging hedgehogs to badger odour. Anim Behav 53:709–720

Wilson JD, Morris AJ, Arroyo BE, Clark SC, Bradbury RB (1999) A review of the abundance and diversity of invertebrate and plant foods of granivorous birds in northern Europe in relation to agricultural change. Agric Ecosyst Environ 75:13–30

Yan T, Conrad FG, Tourangeau R, Couper MP (2011) Should I stay or should I go: the effects of progress feedback, promised task duration, and length of questionnaire on completing web surveys. Int J Pub Opinion Res 23:131–147

Young RP, Davison J, Trewby ID, Wilson GJ, Delahay RJ, Doncaster CP (2006) Abundance of hedgehogs (Erinaceus europaeus) in relation to the density and distribution of badgers (Meles meles). J Zool 269:349–356
Acknowledgments
We would like to thank Lucy Clarke for providing the hedgehog tunnels used in this study. We also thank the reviewers for thoughtful comments which improved the paper from the initial draft. All work in this study, including the work with human volunteers participating in the questionnaire or the hedgehog tunnel survey, was approved by the University of Gloucestershire ethics committee prior to commencing.
Electronic supplementary material
Below is the link to the electronic supplementary material.
About this article
Cite this article
Williams, R.L., Stafford, R. & Goodenough, A.E. Biodiversity in urban gardens: Assessing the accuracy of citizen science data on garden hedgehogs. Urban Ecosyst 18, 819–833 (2015). https://doi.org/10.1007/s11252-014-0431-7
Keywords
Hedgehog

Garden

Urban biodiversity

Mammal

Citizen science