Abstract
The value of ponds in urban areas historically has been overlooked. While some recent studies have described considerable biodiversity in urban areas, it is unclear as to how far this extends to different urban habitats. The aims of this study were to determine the condition of 21 urban ponds in Bradford (northern England) and to quantify the connectivity of wetlands in the district. The study showed that macroinvertebrate and plant biodiversity was substantially lower than would be expected based on pristine reference sites. Of the 21 ponds surveyed, 15 were found to be classified as having very poor ecological quality, with 5 being classed as poor and just 1 was classed as moderate. The number of aquatic plant species found in the ponds ranged from 0 to 6 and the number of macroinvertebrate families found ranged from 4 to 13. It was suspected that the aquatic plant diversity was low due to management techniques such as the removal of emergent vegetation. The average distance to a wetland was found to be higher in urban areas (533 m) compared to rural areas (448 m) although this difference was small, which indicates that the low diversity found in urban ponds is likely due to habitat variables.
Access options
Buy single article
Instant access to the full article PDF.
US$ 39.95
Tax calculation will be finalised during checkout.
Subscribe to journal
Immediate online access to all issues from 2019. Subscription will auto renew annually.
US$ 79
Tax calculation will be finalised during checkout.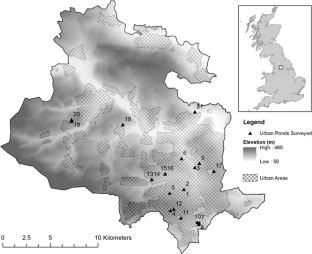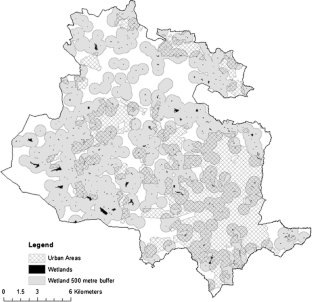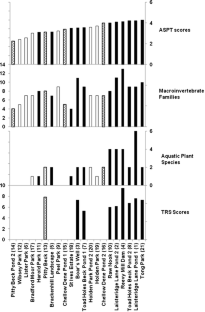 References
Akasaka M, Takamura N, Mitsuhashi H, Kadono Y (2010) Effects of land use on aquatic macrophyte diversity and water quality of ponds. Freshw Biol 55(4):909–922. doi:10.1111/j.1365-2427.2009.02334.x

Bazzanti M, Coccia C, Giuseppina Dowgiallo M (2010) Microdistribution of macroinvertebrates in a temporary pond of central Italy: taxonomic and functional analyses. Limnologica Ecol Manag Inland Waters 40(4):291–299

Biggs J, Williams P, Whitfield M, Fox G, Nicolet P (2000) Biological techniques of still water quality assessment phase 3. Method development, R&D technical report E110. Environ Agency Swindon

Biggs J, Williams P, Whitfield M, Nicolet P, Weatherby A (2005) 15 years of pond assessment in Britain: results and lessons learned from the work of pond conservation. Aquat Conserv Mar Freshwat Ecosyst 15(6):693–714

Boyer T, Polasky S (2004) Valuing urban wetlands: a review of non-market valuation studies. Wetlands 24(4):744–755. doi:10.1672/0277-5212(2004)024[0744:vuwaro]2.0.co;2

Cangiano A (2014) The impact of migration on population growth. Paper presented at the migration observatory briefing

Céréghino R, Biggs J, Oertli B, Declerck S (2008) The ecology of European ponds: defining the characteristics of a neglected freshwater habitat. Hydrobiologia 597(1):1–6

Corbet PS, Suhling F, Soendgerath D (2006) Voltinism of odonata: a review. Int J Odonatology 9:1–44

Davies B, Biggs J, Williams P, Whitfield M, Nicolet P, Sear D, Bray S, Maund S (2008) Comparative biodiversity of aquatic habitats in the European agricultural landscape. Agric Ecosyst Environ 125(1–4):1–8

De Meester L, Declerck S, Stoks R, Louette G, Van De Meutter F, De Bie T, Michels E, Brendonck L (2005) Ponds and pools as model systems in conservation biology, ecology and evolutionary biology. Aquat Conserv Mar Freshwat Ecosyst 15(6):715–725

Development Core Team R (2013) R: A language and environment for statistical computing. R Foundation for Statistical Computing, Vienna

Fontanarrosa MS, Collantes MB, Bachmann AO (2013) Aquatic insect assemblages of man-made permanent ponds, Buenos Aires City, Argentina. Neotrop Entomol 42(1):22–31

Freshwater Biological Association (2008) Freshwater benthis macroinvertebrate standard sampling procedure. In: Practical Guidance on Sampling and Collecting. Freshwater Biological Association. http://www.fba.org.uk/recorders/publications_resources/sampling-protocols/contentParagraph/01/document/CourseInvertSamplingProtocol.pdf Accessed 18 Apr 2014

Gee JHR, Smith BD, Lee KM, Griffiths SW (1997) The ecological basis of freshwater pond management for biodiversity. Aquat Conserv Mar Freshwat Ecosyst 7(2):91–104. doi:10.1002/(sici)1099-0755(199706)7:2<91::aid-aqc221>3.0.co;2-o

Gledhill DG, James P, Davies DH (2005) Urban pond: A landscape of multiple meanings. Paper presented at the 5th International Postgraduate Research Conference in The Built and Human Environment. University of Salford

Gledhill D, James P, Davies D (2008) Pond density as a determinant of aquatic species richness in an urban landscape. Landsc Ecol 23(10):1219–1230

Goddard M, Dougill AJ, Benton TG (2013) Why garden for wildlife? social and ecological drivers, motivations and barriers for biodiversity management in residential landscapes. Ecol Econ 86(C):258–273

Goertzen D, Suhling F (2013) Promoting dragonfly diversity in cities: major determinants and implications for urban pond design. J Insect Conserv 17(2):399–409. doi:10.1007/s10841-012-9522-z

Hassall C (2014) The ecology and biodiversity of urban ponds. WIREs Water 1:187–206

Hassall C, Hollinshead J, Hull A (2011) Environmental correlates of plant and invertebrate species richness in ponds. Biodivers Conserv 20(13):3189–3222

Hitchings SP, Beebee TJC (1997) Genetic substructuring as a result of barriers to gene flow in urban Rana temporaria (common frog) populations: implications for biodiversity conservation. Hered 79(2):117–127

Howard S (2002) A guide to monitoring the ecological quality of ponds and canals using PSYM. In: PSYM Method. Freshwater Habitats Trust. http://www.freshwaterhabitats.org.uk/wordpress/wp-content/uploads/2013/09/NPMN_PSYM_MANUAL_July09.pdf Accessed 18 Apr 2014

Hsu C-B, Hsieh H-L, Yang L, Wu S-H, Chang J-S, Hsiao S-C, Su H-C, Yeh C-H, Ho Y-S, Lin H-J (2011) Biodiversity of constructed wetlands for wastewater treatment. Ecol Eng 37(10):1533–1545. doi:10.1016/j.ecoleng.2011.06.002

Lomolino MV (2000) Ecology's most general, yet protean pattern: the species-area relationship. J Biogeogr 27(1):17–26

Manuel P (2003) Cultural perceptions of small urban wetlands: cases from the Halifax regional municipality, nova Scotia, Canada. Wetlands 23(4):921–940

McKinney ML (2008) Effects of urbanization on species richness: a review of plants and animals. Urban Ecosyst 11:161–176

Nassauer J (2004) Monitoring the success of metropolitan wetland restorations: cultural sustainability and ecological function. Wetlands 24(4):756–765

Oertli B, Joye DA, Castella E, Juge R, Cambin D, Lachavanne J-B (2002) Does size matter? the relationship between pond area and biodiversity. Biol Conserv 104(1):59–70

Oertli B, Biggs J, Céréghino R, Grillas P, Joly P, Lachavanne J-B (2005) Conservation and monitoring of pond biodiversity: introduction. Aquat Conserv Mar Freshwat Ecosyst 15(6):535–540

Office for National Statistics (2013) 2011 Census: Household composition - Households, local authorities in the United Kingdom. In: 2011 Census. Office for National Statistics. http://www.ons.gov.uk/ons/rel/census/2011-census/key-statistics-and-quick-statistics-for-local-authorities-in-the-united-kingdom---part-3/rft-qs113uk.xls Accessed 18 Apr 2014

Schaeffer JS, Bland JK, Janssen J (2012) Use of a storm water retention system for conservation of regionally endangered fishes. Fish 37(2):66–75

Sinsch U (1990) Migration and orientation in anuran amphibians. Ethol Ecol Evol 2(1):65–79

Staddon P, Lindo Z, Crittenden PD, Gilbert F, Gonzalez A (2010) Connectivity, non-random extinction and ecosystem function in experimental metacommunities. Ecol Lett 13(5):543–552. doi:10.1111/j.1461-0248.2010.01450.x

Triantis KA, Sfenthourakis S (2012) Island biogeography is not a single-variable discipline: the small island effect debate. Divers Distrib 18(1):92–96

Vermonden K, Leuven RSEW, van der Velde G, van Katwijk MM, Roelofs JGM, Jan Hendriks A (2009) Urban drainage systems: an undervalued habitat for aquatic macroinvertebrates. Biol Conserv 142(5):1105–1115. doi:10.1016/j.biocon.2009.01.026

Williams P, Whitfield M, Biggs J, Bray S, Fox G, Nicolet P, Sear D (2004) Comparative biodiversity of rivers, streams, ditches and ponds in an agricultural landscape in Southern England. Biol Conserv 115(2):329–341

Williams P, Whitfield M, Biggs J (2008) How can we make new ponds biodiverse? a case study monitored over 7 years. Hydrobiologia 597(1):137–148. doi:10.1007/s10750-007-9224-9

Wood SN (2011) Fast stable restricted maximum likelihood and marginal likelihood estimation of semiparametric generalized linear models. J R Stat Soc Ser B (Stat Methodol) 73(1):3–36

Wood PJ, Barker S (2000) Old industrial mill ponds: a neglected ecological resource. Appl Geogr 20(1):65–81. doi:10.1016/S0143-6228(99)00015-6

Wood PJ, Greenwood MT, Agnew MD (2003) Pond biodiversity and habitat loss in the UK. Area 35(2):206–216. doi:10.1111/1475-4762.00249

Zedler J, Kercher S (2005) Wetland resources: status, trends, ecosystem services, and restorability. Annu Rev Environ Resour 30:39–74
Acknowledgments
This study was funded by the University of Leeds. We would like to thank Bradford Council and the Bradford Environmental Education Service for permission to survey their sites, and Anne Heeley and Estelle Skinner for their assistance in determining the location and ownership of a number of the urban ponds.
Electronic supplementary material
Below is the link to the electronic supplementary material.
About this article
Cite this article
Noble, A., Hassall, C. Poor ecological quality of urban ponds in northern England: causes and consequences. Urban Ecosyst 18, 649–662 (2015). https://doi.org/10.1007/s11252-014-0422-8
Keywords
Pond

PSYM

Invertebrates

Plants

Generalised additive model

Urban