Abstract
The growing number of urban ecology studies has raised concern about the importance of comprehending the ecological patterns and processes of urban areas in order to manage and plan them properly. In this study, we performed a rapid descriptive ecological assessment of the biodiversity patterns in a neotropical mid-sized urban area from a multi-taxonomic approach, contrasting seven taxonomic groups (i.e., vascular plants, fungi, ants, butterflies, beetles, amphibians, birds) in areas with different degree of urbanization intensity. Results of this study show that diversity patterns differ depending on the taxonomic group; thus, it was not possible to generalize specific trends in species richness, abundance, and species composition because each taxon seems to respond differently to the process or level of urbanization. Our results also highlight the relevance of using multi-taxonomic approaches to understand the relationship between biodiversity and urban environments, and underline potential benefits and limitations of using each of the studied groups when considering rapid biodiversity assessments. Based on our results, we suggest the following recommendations when performing rapid biological assessments in urban areas: evaluate as many taxa as possible, choosing the set of taxonomic groups in relation to the objectives of the study, wide the temporal and spatial survey window as much as possible, focus on several biodiversity measures, and interpreting results cautiously, as rapid assessments do not necessarily reflect ecological patterns, but just part of the history.
Access options
Buy single article
Instant access to the full article PDF.
US$ 39.95
Tax calculation will be finalised during checkout.
Subscribe to journal
Immediate online access to all issues from 2019. Subscription will auto renew annually.
US$ 79
Tax calculation will be finalised during checkout.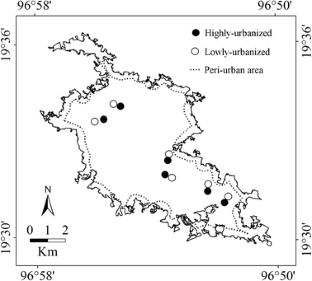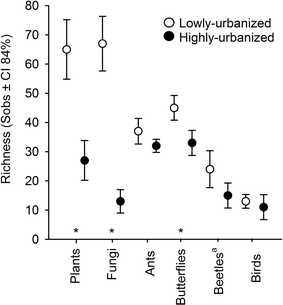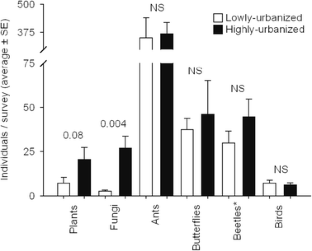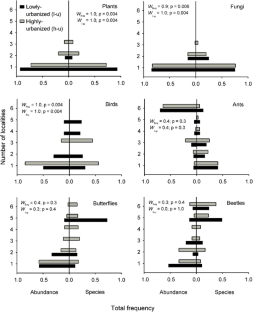 References
(CBD) Convention on Biological Diversity (2011) Aichi Biodiversity Targets. CBD, http://www.cbd.int/sp/targets/

(INEGI) Instituto Nacional de Estadística, Geografía e Informática (2010) Censo Nacional de Población y Vivienda 2010. INEGI, Aguascalientes

(PNUD) Programa de las Naciones Unidas para el Desarrollo (1996) Urban agriculture: Food, jobs and sustainable cities. PNUD, New York

(UN) United Nations (2013) World urbanization prospects, the 2011 revision. http://esa.un.org/unup/

(USAID) United States Agency for International Development (2010) Urbanization in Latin America and the Caribbean: Trends and challenges, Washington, D.C.

Arenas-Cruz MA (2014) Diversidad de anfibios en áreas verdes urbanas de Xalapa. Veracruz, MSc Thesis, Instituto de Ecología, A.C., Xalapa

Arnett RH, Thomas MC (2001) American beetles, volume I: Archostemata. Staphyliniformia. CRC Press, Boca Raton, Myxophaga, Adephaga, Polyphaga

Arnett RH, Thomas MC, Skelley PE, Frank JH (2002) American beetles, volume II: Polyphaga: Scarabaeoidea through Curculionoidea. CRC Press, Boca Raton

Benítez Badillo G (2011) Crecimiento de la población y expansión urbana de la ciudad de Xalapa, Veracruz y sus efectos sobre la vegetación y agroecosistemas. Ph D. Thesis, Colegio de Postgraduados - Instituto de Enseñanza e Investigación en Ciencias Agrícolas, Veracruz

Berkowitz AR, Nilon CH, Hollweg KS (2003) The importance of understanding urban ecosystems: Themes. In: Berkowitz AR, Nilon CH, Hollweg KS (eds) Understanding urban ecosystems - A new frontier for science and education. Sringer-Verlag, New York, pp 15–17

Bessette AE, Bessette AR, Fischer SW (1997) Mushrooms of Northeastern North America. Syracuse University Press, Syracuse

Bestelmeyer BT, Agosti D, Alonso LE, Brandao CRF, Brown WL, Delabie JHC, Silvestre R (2000) Field techniques for the study of ground-dwelling ants: An overview, description, and evaluation. In: Agosti D, Majer JD, Alonso LE, Shultz TR (eds) Ants - Standard methods for measuring and monitoring biodiversity. Smithsonian Institution Press, Washington, pp 122–144

Blair RB (1999) Birds and butterflies along an urban gradient: Surrogate taxa for assessing biodiversity? Ecol Appl 9:164–170

Bolton B (1994) Identification guide to the ant genera of the World. Harvard University Press, Cambridge

Borror DJ, Tripplehorn CA, Johnson NF (1989) An introduction to the study of insects. Saunders College Publishing, Philadelphia

Bräuniger C, Knapp S, Kühn I, Klotz S (2010) Testing taxonomic and landscape surrogates for biodiversity in an urban setting. Landsc Urban Plan 97:283–295

Breitenbach J, Kränzlin F (1984) Fungi of Switzerland, volume 1. Ascomycetes. VerlagMykologia, Lucerne

Carbó-Ramírez P, Zuria I (2011) The value of small urban greenspaces for birds in a Mexican city. Landsc Urban Plan 100:213–222

Carbó-Ramírez P, Romero-González e P, Zuria I (2011) Primer reporte para México de coloración aberrante (leucismo parcial) en cuitlacoche pico curvo (Toxostoma curvirostre). Huitzil 12:1–4

Castellanos-González A (2004) Distribución y abundancia de Polygonum capitatum BUCH-HAM. Ex D. Don en calles del centro histórico de Xalapa, Veracruz. BscThesis, Facultad de Biología, Universidad Veracruzana, Xalapa

Castillo-Campos G (1991) Vegetación y flora del municipio de Xalapa. Veracruz. Instituto de Ecología A.C, Xalapa

Cervantes-Cornihs E, Zuria I, Castellanos I (2009) Depredación de nidos artificiales en cercas vivas de un sistema agro-urbano en Hidalgo, México. Interciencia 34:777–783

Chávez-Zichinelli CA, MacGregor-Fors I, Talamás-Rhoana P et al (2010) Stress responses of the house sparrow (Passer domesticus) to different urban land-uses. Landsc Urban Plan 98:183–189

Clarke KR, Warwick RM (1999) The taxonomic distinctness measure of biodiversity: weighting of steplengths between hierarchical levels. Mar Ecol-ProgSer 184:21–29

Clergeau P, Croci S, Jokimäki J et al (2006) Avifauna homogenisation by urbanisation: analysis at different European latitudes. Biol Conserv 127:336–344

Colwell RK (2013) EstimateS: Statistical estimation of species richness and shared species from samples. Version 9. http://viceroy.eeb.uconn.edu/estimates. Accessed 4 Dec 2013

Crawley MJ (2005) Statistics - An introduction using R. John Wiley, Hoboken

De'Ath G, Fabricius KE (2000) Classification and regression trees: a powerfull yet simple technique for ecological data analysis. Ecology 81:3178–3192

Dennis RWG (1978) British ascomycetes. J. Cramer, Vaduz

Development Core Team R (2011) R: a language and environment for statistical computing. R Foundation for Statistical Computing, Vienna, Austria, Available at: http://www.r-project.org/

Gío-Argáez R, Hernández Ruiz I, Sáinz-Hernández E (1989) Ecología Urbana. CONACYT–SGDSDDF–SESIC-SEP–UNAM–Secretaría de Desarrollo Urbano y Ecología–UAM. México, D.F.

Glassberg J (2007) A swift guide to the butterflies of Mexico and Central America. Sunstreak, Morristown

Gómez-Aíza L, Zuria I (2010) Aves visitantes a las flores de maguey (Agave salmiana) en una zona urbana del centro de México. Ornitol Neotrop 21:17–30

González-García FR, Straub JA, Lobato García A, MacGregor-Fors I (2014) Birds of a neotropical green city: an up-to-date review of the avifauna of the city of Xalapa with additional unpublished records. Urban Ecosystems. doi:10.1007/s11252-014-0370-3

González-Oreja JA, Bonache-Regidor C, Buzo-Franco D, De la Fuente-Díaz Ordáz AA, Hernández-Santín L (2007) Caracterización ecológica de la avifauna de los parques urbanos de la Ciudad de Puebla (México). Ardeola 54:53–67

González-Oreja JA, Bonache-Regidor C, De La Fuente-Díaz-Ordaz AA (2010) Far from the noisy world? Modelling the relationships between park size, tree cover and noise levels in urban green spaces of the city of Puebla, Mexico. Interciencia 35:486–492

Gotelli NJ, Colwell RK (2001) Quantifying biodiversity: procedures and pitfalls in the measurement and comparison of species richness. EcolLett 4:379–391

Grimm NB, Faeth SH, Golubiewski NE, et al. (2008) Global change and the ecology of cities. Science (80) 319:756–760

Hanssen J, Knudsen L (1982) Nordic Macromycetes 2. Nordsvanmp, Copenhague

Hernández Baz F, Llorente Bousquets JE, Luis Martínez A, Vargas Fernández I (2010) Las mariposas de Veracruz - Guía Ilustrada. Consejo Veracruzano de Investigación Ciencia y Desarrollo Tecnológico, Veracruz

Heyer WR DMA, McDiarmid RW, Hayek LAC, Foster MS (1994) Measuring and monitoring biological diversity - Standard methods for amphibians. Smithsonian Institute Press, Washington, DC

Hogsden KL, Hutchinson TC (2004) Butterfly assemblages along a human disturbance gradient in Ontario, Canada. Can J Zool 82:739–748

Hölldobler B, Wilson EO (1990) The Ants. Harvard University Press, Cambridge

Horak E (2005) Röhrlinge und Blätterpilze in Europa. Elsevier, Munich

Hough M (1998) Naturaleza y ciudad: Planificación urbana y procesos ecológicos. Editorial Gili, Barcelona

Jost L (2007) Partitioning diversity into independent alpha and beta components. Ecology 88:2427–2439

Jost L, Chao A, Chazdon RL (2011) Compositional similarity and β (beta) diversity. In: Gotelli NJ, Colwell RK (eds) In: Magurran AE, McGillBJ (eds) Frontiers in measuring biodiversity. Oxford University Press, New York, pp 66–87

Knight RL, Rust MK (1990) The urban ants of California with distribution note of imported species. Southwest Nat 15:167–178

Largent D (1973) How to identify mushrooms to genus I - Macroscopic features. Mad River Press, Eureka

Largent D, Johnson D, Watling R (1977) How to identify mushrooms to genus III - Microscopic features. Mad River Press, Eureka

Lemoine R (2012) Cambios en la cobertura vegetal de la ciudad de Xalapa-Enríquez, Veracruz y zonas circundantes entre 1950 y 2010. Facultad de Biología, Universidad Veracruzana, Xalapa, Bsc Thesis

Lodge JD, Ammirati JF, O' Dell TE, Mueller GM (2004) Collecting and describing macrofungi. In: Mueller GM, Bills GF, Foster MS (eds) Biodiversity of fungi. Inventory and monitoring methods. Elsevier Academic Press, San Diego

López-Flores V, MacGregor-Fors I, Schondube JE (2009) Artificial nest predation along a neotropical urban gradient. Landsc Urban Plan 92:90–95

Lot A, Chiang F (1986) Manual de herbario. Consejo Nacional de la Flora de México, México, D.F.

Lyytimäki J, Petersen LK, Normander B, Bezák P (2008) Nature as a nuisance? Ecosystem services and disservices to urban lifestyle. Environ Sci 5:161–172

MacGregor-Fors I (2008) Relation between habitat attributes and bird richness in a western Mexico suburb. Landsc Urban Plan 84:92–98

MacGregor-Fors I (2010) How to measure the urban-wild land ecotone: Redefining 'peri-urban' areas. Ecol Res 25:883–887

MacGregor-Fors I, Ortega-Álvarez R (2011) Fading from the forest: Bird community shifts related to urban park site-specific and landscape traits. Urb For Urban Gree 10:239–246

MacGregor-Fors I, Ortega-Álvarez R (2013) Ecología urbana: Experiencias en América Latina. www1.inecol.edu.mx/libro_ecologia_urbana

MacGregor-Fors I, Payton M (2013) Contrasting diversity values: statistical inferences based on overlapping confidence intervals. PLoS One 8:e56794

MacGregor-Fors I, Morales-Pérez L, Schondube JE (2010) Migrating to the city: Responses of neotropical migrant bird communities to urbanization. Condor 112:711–717

MacGregor-Fors I, Hernández Ordoñez O, Ortega-Álvarez R (2013) Urban croaking: Diversity and distribution of anurans in a neotropical city. Urban Ecosyst 16:389–396

MacKay WP, MacKay E (1989) A guide to the species identification of the New World ants. Sociobiology 16:3–47

Magurran AE, McGill (2011) Biological diversity: Frontiers in measurement and assessment. Oxford University Press, Oxford

Malagamba-Rubio A, MacGregor-Fors I, Pineda-López R (2013) Comunidades de aves en áreas verdes de la ciudad de Santiago de Querétaro, México. Ornitol Neotrop 24:371–386

Maya-Elizarrarás E (2011) Aves explotadoras de áreas verdes urbanas: un ejemplo de la Zona Metropolitana de Guadalajara, Jalisco. Canto del Centzontle 2:104–109

McKinney ML (2002) Urbanization, biodiversity and conservation. Bioscience 52:883–890

McKinney ML (2006) Urbanization as a major cause of biotic homogenization. Biol Conserv 127:247–260

McKinney ML (2008) Do humans homogenize or differentiate biotas? It depends. J Biogeogr 35:1960–1961

Moreno CE, Pineda E, Escobar F, Sánchez-Rojas G (2007) Shortcuts for biodiversity valuation: A review of terms and recommendations about the use of target groups, bioindicators and surrogates. Int J Environ Health 1:71–86

Morón MA, Terrón RA (1988) Entomología Práctica. Instituto de Ecología A.C., México, D.F.

Mueller GM, Bills GF, Foster SM (2004) Biodiversity of fungi: Inventory and monitoring methods. Elsevier Academic Press, San Diego

O'Dell TE, Lodge DJ, Mueller GM (2004) Approaches to sampling macrofungi. In: Mueller GM, Bills GF, Foster MS (eds) Biodiversity of fungi - Inventory and monitoring methods. Elsevier Academic Press, San Diego

Ortega-Álvarez R, MacGregor-Fors I (2009) Living in the big city: Effects of urban land-use on bird community structure, diversity, and composition. Landsc Urban Plan 90:189–195

Ortega-Álvarez R, MacGregor-Fors I (2010) What matters most? Relative effect of urban habitat traits and hazards on urban park birds. Ornitol Neotrop 21:519–533

Ortega-Álvarez R, MacGregor-Fors I (2011) Dusting-off the File: a review of knowledge on urban ornithology in Latin America. Landsc Urban Plan 101:1–10

Ortega-Álvarez R, Pineda-López R, Pablo-López R, Lindig-Cisneros R, Gómez-Álvarez G, MacGregor-Fors I (2011) Cambio global y urbanización: un enfoque ornitológico. Canto del Centzontle 2:110–111

Pablo-López RE (2009) Primer registro del perico argentino (Myiopsitta monachus) en Oaxaca, México. Huitzil 10:48–51

Pablo-López RE, Díaz-Porras DF (2011) Los campus universitarios como refugios de aves: el caso de la Universidad Autónoma "Benito Juárez" de Oaxaca (UABJO), Oaxaca, México. Canto del Centzontle 2:48–63

Palomino D, Carrascal LM (2007) Threshold distances to nearby cities and roads influence the bird community of a mosaic landscape. Biol Conserv 140:100–109

Pechmann JHK, Wilbur HM (1994) Putting declining amphibian populations in perspective natural fluctuations and human impacts. Herpetologica 50:65–84

Pegler DN (1983) Agaric flora of the Lesser Antilles. Kew Bulletin Additional Series IX. HMSO, London

Pineda-López R, Febvre N, Martínez M (2010) Importancia de proteger pequeñas áreas periurbanas por su riqueza avifaunística: el caso de Mompaní, Querétaro, México. Huitzil 11:69–80

Pollard E, Yates TJ (1993) Monitoring butterflies for ecology and conservation. Chapman and Hall, London

Ralph CJ, Droege S, Sauer JR (1995) Managing and monitoring birds using point counts: Standards and applications. United States Department of Agriculture, Albany

Ramírez-Bastida P, Varona-Graniel DE, DeSucre-Medrano AE (2011) Aves en los relictos de un gran lago: los humedales de la Ciudad de México y áreas vecinas. Canto del Centzontle 2:72–86

Ramírez-Restrepo L (2010) Diversidad de mariposas (Nymphalidae: Biblidinae, Heliconiinae, Itomiinae y Satyrinae) en un mosaico regional de urbanización en Xalapa y Coatepec, Veracruz. Msc Thesis, Instituto de Ecología, A.C., Xalapa, México

Rapoport E, López-Moreno IR (1987) Aportes a la ecología urbana de la Ciudad de México. Limusa, México, D.F.

Ruelas Inzunza E, Aguilar Rodríguez SH (2010) La avifauna urbana del Parque Ecológico Macuiltépetl en Xalapa, Veracruz, México. Ornitol Neotrop 21:87–103

Ruszczyk A, de Mellender Araujo A (1992) Gradients in butterfly species diversity in an urban area in Brazil. J Lepidopt Soc 46:255–264

Sattler T, Pezzatti GB, Nobis MP, Obrist MK, Roth T, Moretti M (2014) Selection of multiple umbrella species for functional and taxonomic diversity to represent urban biodiversity. ConservBiol (doi: 10.1111/cobi.12213)

Sáyago R, MacGregor-Fors I (2010) The arrival of Barn Swallows (Hirundo rustica) to a neotropical city is related to precipitation in wintering areas. Ornitol Neotrop 21:105–108

Soykan CU, Brand LA, Ries L, Stromberg JC, Hass C, Simmons DA, Patterson WJD, Sabo JL (2012) Multitaxonomic diversity patterns along a desert riparian–upland gradient. PLoS ONE 7:e28235

Vitousek PM, Mooney HA, Lubchenco J, Melillo JM (1997) Human domination of earth's ecosystems. Science 277:494–499

Weller B, Ganzhorn JU (2004) Carabid beetle community composition, body size, and fluctuating asymmetry along an urban–rural gradient. Basic ApplEcol 5:193–201

Williams-Linera G, Manson RH, Isuzna EV (2002) La fragmentación del bosque mesófilo de montaña y patrones de uso del suelo en la región oeste de Xalapa, Veracruz, México. Madera Bosques 8:73–89

World Bank (2009) World development report 2009: Reshaping economic geography. Washington, D.C.

Zuria I, Rendón-Hernández G (2010) Notes on the breeding biology of common resident birds in an urbanized area of Hidalgo, Mexico. Huitzil 11:35–41
Acknowledgments
We are grateful to Richard Lemoine, Emmanuel Arriaga, Martha L. Baena, José Luis Sánchez Huerta, Ángeles Arenas-Cruz, Juan Carlos Corona, David Ramos, Fidel Tapia Padilla, Luis Ángel Espinoza and Miguel A. Domínguez López for their help with field work, specimen identification, and site selection. We also thank the local authorities (Ayuntamiento de Xalapa) for authorizing our survey within the city of Xalapa (Oficio CMA/896/2012). This study was funded by the Dirección General del Instituto de Ecología, A. C. through the "Proyectos de Investigación de Alto Valor Estratégico para la Sociedad" (project: "Patrones ecológicos y percepción social de la diversidad biológica que habita en la ciudad de Xalapa: Un enfoque multidisciplinario").
About this article
Cite this article
MacGregor-Fors, I., Avendaño-Reyes, S., Bandala, V.M. et al. Multi-taxonomic diversity patterns in a neotropical green city: a rapid biological assessment. Urban Ecosyst 18, 633–647 (2015). https://doi.org/10.1007/s11252-014-0410-z
Keywords
Urban ecology

Mexico

Plants

Fungi

Ants

Butterflies

Beetles

Amphibians

Birds