Abstract
Numerous bee species were collected from a single green roof over the blooming period of the dominant exotic plant type, Sedum, a succulent stonecrop widely used in the green roof industry. As green roofs become more common in cities, an understanding of the potential positive and negative impacts of widespread use of this exotic but useful plant is needed. In this study we sampled bees visiting a green roof in downtown Toronto and compared the proportion of Sedum pollen in the loads they were carrying back to nesting locations. It was found that smaller bees (e.g. Lasioglossum, Hylaeus) were significantly less common on the roof compared with medium (e.g. Apis, Megachile) and large-sized bees (e.g. Bombus, Andrena). The proportion of Sedum pollen in the pollen loads of foraging bees collected was high amongst all bees (average of 80.5 % of total pollen load), but significantly greater for exotic bees compared to native bees. Moreover, native bees had significantly greater numbers of non-Sedum pollen types comprising more than >20 % of their pollen loads, meaning bees could be visiting flowers at ground level and on the roof in the same foraging bout. As the number of green roofs in cities increase, the characteristics of their designs, including the vegetation type and diversity, could have a significant impact in shaping local urban bee communities.
This is a preview of subscription content, log in to check access.
Access options
Buy single article
Instant access to the full article PDF.
US$ 39.95
Price includes VAT for USA
Subscribe to journal
Immediate online access to all issues from 2019. Subscription will auto renew annually.
US$ 99
This is the net price. Taxes to be calculated in checkout.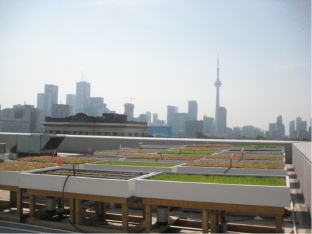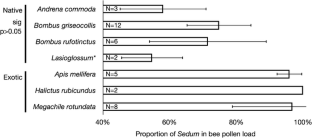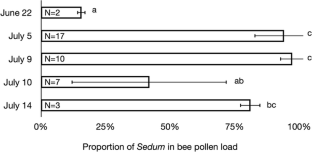 References
Banaszak -Cibicka W, Żmihorski M (2012) Wild bees along an urban gradient: winners and losers. J Insect Conserv 16:331–343

Bosch J, Retana J, Cerdá X (1997) Flowering phenology, floral traits and pollinator composition in a herbaceous mediterranean plant community. Oecologia 109:583–591

Braaker S, Ghazoul J, Obrist MK, Moretti M (2014) Habitat connectivity shapes urban arthropod communities: the key role of green roofs. Ecology 95:1010–1021

Brenneisen S (2006) Space for urban wildlife: designing green roofs as habitats in Switzerland. Urban Habitats 4:27–36

Cane J (2003) Exotic non-social bees (Hymenoptera: Apoidea) in North America: ecological implications. In: Strickler KV, Cane JH (eds) For non-native crops, whence pollinators of the future? Thomas Say Publications in Entomology, Maryland, pp 113–126

Cane JH, Payne JA (1988) Foraging ecology of the bee Habropoda laboriosa (Hymenoptera: Anthophoridae), an oligolege of blueberries (Ericaceae: Vaccinium) in the southeastern United States. Ann Entomol Soc Am 81:419–427

Castleton HF, Stovin V, Beck SBM, Davison JB (2010) Green roofs: building energy savings and the potential for retrofit. Ener Build 42:1582–1591

Chittka L, Schürkens S (2001) Successful invasion of a floral market. Nature 411:653–653

Clausen R (1975) Sedum of North America North of the Mexican Plateau. Cornell University Press, Ithaca

Colla SR, Willis E, Packer L (2009) Can green roofs provide habitat for urban bees (hymenoptera: apidae)? CATE 2:1–12

Costa CM, Yang S (2009) Counting pollen grains using readily available, free image processing and analysis software. Ann Bot 104:1005–1010

Czemiel Berndtsson J (2010) Green roof performance towards management of runoff water quantity and quality: a review. Ecol Eng 36:351–360

Dingemans-Bakels FN (1972) The pollen-collecting activities of some Andrenid bees. Zool Meded 47:465–467

Dornhaus A, Chittka L (2004) Information flow and regulation of foraging activity in bumble bees (Bombus spp.). Apidologie 35:183–192

Dunnett N, Kingsbury N (2004) Planting green roofs and living walls. Timber Press, Portland

Dvorak B, Volder A (2010) Green roof vegetation for North American ecoregions: a literature review. Land Urban Plann 96:197–213

Frankie GW, Thorp RW, Schindler M, Hernandez J, Ertter B, Rizzardi M (2005) Ecological patterns of bees and their host ornamental flowers in two northern California cities. J Kansas Entomol Soc 78:227–246

Fussell M, Corbet A (1992) Flower usage by bumble-bees: a basis for forage plant management. J Appl Ecol 29:451–465

Getter KL, Rowe DB (2008) Media depth influences sedum green roof establishment. Urb Ecosyst 11:361–372

Getter KL, Rowe DB, Robertson GP, Cregg BM, Andresen JA (2009) Carbon sequestration potential of extensive green roofs. Environ Sci Tech 43(19):7564–7570

Ghazoul J (2004) Alien abduction: disruption of native plant‐pollinator interactions by invasive species. Biotropica 36:156–164

Gibbs J (2010) Revision of the metallic species of Lasioglossum (Dialictus) in Canada (Hymenoptera, Halictidae, Halictini). Zootaxa 2591:1–382

Goulson D, Stout JC (2001) Homing ability of bumblebees; evidence for a large foraging range? Apidologie 32:105–112

Greenleaf SS, Williams NM, Winfree R, Kremen C (2007) Bee foraging ranges and their relationship to body size. Oecologia 153:589–596

Grixti JC, Packer L (2006) Changes in the bee fauna (Hymenoptera: Apoidea) of an old field site in southern Ontario, revisited after 34 years. Can Ent 138:147–164

Harder LD (1990) Behavioral responses by bumble bees to variation in pollen availability. Oecologia 85:41–47

Jato MV, Iglesias MI, Rodriguez-Gracia V (1994) A contribution to the environmental relationship of the pollen spectra of honeys from Ourense (NW Spain). Grana 33:260–267

Kadas G (2006) Rare invertebrates colonizing green roofs in London. Urban Habitats 4:66–86

Kearns CA, Inouye DW (1993) Techniques for pollination biologists. University Press of Colorado, Colorado

Knuth P (1906) Handbook of flower pollination Vol. 2. Clarendon Press, Oxford

Ksiazek K, Fant J, Skogen K (2012) An assessment of pollen limitation on Chicago green roofs. Land Urban Plann 107:401–408

Ksiazek K, Tonietto R, Ascher JS (2014) Ten bee species new to green roofs in the Chicago area. G Lakes Entomol 47:47–52

Larson DL, Royer RA, Royer MR (2006) Insect visitation and pollen deposition in an invaded prairie plant community. Biol Conserv 130:148–159

Loder A (2014) 'There's a meadow outside my workplace': a phenomenological exploration of aesthetics and green roofs in Chicago and Toronto. Land Urban Plann 126:94–106

Lovell JH, Cockerell TDA (1906) Notes on the bees of southern maine: anthophoridae, halictoididae, macropidae and panurgidae. Psyche 13:109–113

Lowenstein DM. Matteson KC. Xiao I, Silva AM. Minor ES (2014) Humans, bees, and pollination services in the city: The case of Chicago, IL (USA). Biodivers Conserv 1–18. doi: 10.1007/s10531-014-0752-0

Lundholm J, MacIvor JS, MacDougall Z, Ranalli M (2010) Plant species and functional group combinations affect green roof ecosystem functions. Plos One 5:e9677

MacIvor JS, Lundholm J (2011) Insect species composition and diversity on intensive green roofs and adjacent level-ground habitats. Urban Ecosyst 14:225–241

MacIvor JS, Margolis L, Puncher CL, Carver Mathews BJ (2013) Decoupling factors affecting plant diversity and cover on extensive green roofs. J Environ Manag 130:297–305

MacIvor JS, Cabral JM, Packer L (2014) Pollen specialization by solitary bees in an urban landscape. Urban Ecosyst 17:139–147

Madre F, Vergnes A, Machon N, Clergeau P (2013) A comparison of 3 types of green roof as habitats for arthropods. Ecol Eng 57:109–117

Matteson KC, Langellotto GA (2010) Determinates of inner city butterfly and bee species richness. Urban Ecosyst 13:333–347

Morales CL, Aizen MA (2002) Does invasion of exotic plants promote invasion of exotic flower visitors? a case study from the temperate forests of the southern Andes. Biol Invasions 4:87–100

O'Brien MF, Swanson DR, Monsma J (2012) Anthidium oblongatum (Apoidea: Megachilidae) confirmed as a Michigan resident, with notes on other Michigan Anthidium species. G Lakes Entomol 45:102–105

Oberndorfer E, Lundholm J, Bass B, Coffman RR, Doshi H, Dunnett N, Gaffin S, Köhler M, Liu KKY, Rowe B (2007) Green roofs as urban ecosystems: ecological structures, functions, and services. Bioscience 57:823–833

Pilar O, Armesto-Baztan S, Diaz-Losada E (2005) Initial data on the specific heterogeneity found in the bee pollen loads produced in the "Baixa Limia-Serra do Xures" nature reserves. Acta Bot Galica 152:361–375

Rowe DB, Getter KL, Durhman AK (2012) Effects of green roof media depth on crassulacean plant succession over seven years. Land Urban Plann 104:310–319

Schrader S, Böning M (2006) Soil formation on green roofs and its contribution to urban biodiversity with emphasis on collembolans. Pedobiologia 50:347–356

Seeley TD (1985) The information-center strategy of honey bee foraging. In: Hölldobler B, Lindauer M (eds) Experimental behavioral ecology and sociobiology. Sinauer, Sunderland, pp 75–90

Snodgrass EC, Snodgrass LL (2006) Green roof plants: a resource and planting guide. Timber Press, Portland

Spongberg SA (1978) Genera of Crassulaceae in the southeastern United States. Ann Arnold Arboretum 59:198–248

Stout JC, Kells AR, Goulson D (2002) Pollination of the invasive exotic shrub Lupinus arboreus (Fabaceae) by introduced bees in Tasmania. Biol Conserv 106:425–434

Sutton RK, Harrington JA, Skabelund L, MacDonagh P, Coffman RR, Koch G (2012) Prairie-based green roofs: literature, templates, and analogs. J Green Build 7:143–172

Tonietto R, Fant J, Ascher J, Ellis K, Larkin D (2011) A comparison of bee communities of Chicago green roofs, parks and prairies. Land Urb Plann 103:102–108

Torrance S. Bass B. MacIvor JS. McGlade T (2013) City of Toronto guidelines for biodiverse green roofs. pp. 37. https://www1.toronto.ca/staticfiles/City%20Of%20Toronto/City%20Planning/Zoning%20&%20Environment/Files/pdf/B/biodiversegreenroofs_2013.pdf, City of Toronto

Tuell JK, Ascher JS, Isaacs R (2009) Wild bees (Hymenoptera: Apoidea: Anthophila) of the Michigan highbush blueberry agroecosystem. Ann Entomol Soc Am 102:275–287

VanWoert ND, Rowe DB, Andresen JA, Rugh CL, Fernandez RT, Xiao L (2005) Green roof stormwater retention. J Environ Qual 34:1036–1044

Villarreal EL, Bengtsson L (2005) Response of a Sedum green-roof to individual rain events. Ecol Eng 25:1–7

von Frisch K (1967) The dance language and orientation of bees. Harvard Univ, Press

Williams NSG. Lundholm J. MacIvor JS (2014) Can green roofs support biodiversity conservation goals? J Appl Ecol

Winfree R, Bartomeus I, Cariveau D (2011) Native pollinators in anthropogenic habitats. Ann Rev Ecol Evol Syst 42:1–22

Wyatt R (1981) Ant-pollination of the granite outcrop endemic Diamorpha smallii (Crassulaceae). Amer J Bot 68:1212–1217

Zurbuchen A, Landert L, Klaiber J, Müller A, Hein S, Dorn S (2010) Maximum foraging ranges in solitary bees: only few individuals have the capability to cover long foraging distances. Biol Conserv 143:669–676
Acknowledgments
We thank Dr. Laurence Packer for comments and feedback. Sheila Dumesh and Tom Onefurko for help confirming bee identifications, Jonathan Huang for help mounting pollen slides, Matt Perotto and Catherine Yoon for maintaining the green roof plants and Liat Margolis for coordinating the GRITlab. Funding for the research was provided by an NSERC awarded to Scott, and CANPOLIN funding to Bahar and Ally. Additional support was made available by an NSERC Discovery grant (Laurence Packer), and a MITACS award in collaboration with Scott Torrance Landscape Architects Inc.
About this article
Cite this article
MacIvor, J.S., Ruttan, A. & Salehi, B. Exotics on exotics: Pollen analysis of urban bees visiting Sedum on a green roof. Urban Ecosyst 18, 419–430 (2015). https://doi.org/10.1007/s11252-014-0408-6
Keywords
Pollination

Urban

Native

Vegetated roof

Enhancement

Extensive

Diversity

Habitat design