Abstract
Human-wildlife interactions in urban areas, both positive and negative, often involve people and birds. We assess the economic value placed on interactions with common native songbirds in two different urban areas (Berlin, Germany and Seattle, Washington, USA) by combining a revealed preference (recalled expenditures on bird feed) and a stated preference approach (determining willingness to pay for conservation or reduction of birds). Residents in both cities purchase bird food, engage in a range of bird-supporting activities and are generally willing to pay a small amount for native songbird conservation. Demographic, cultural and socio-economic factors, as well as specific attitudes towards birds and general attitudes about conservation were found to influence these decisions. This study presents the first attempt at estimating the economic value of enjoying common native urban songbirds and estimates the lower bound to be about 120 million USD/year in Seattle and 70 million USD/year in Berlin.
Access options
Buy single article
Instant access to the full article PDF.
US$ 39.95
Tax calculation will be finalised during checkout.
Subscribe to journal
Immediate online access to all issues from 2019. Subscription will auto renew annually.
US$ 79
Tax calculation will be finalised during checkout.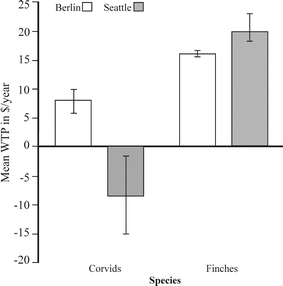 Notes
1.

This kind of correction implicitly assumes that the respondent's decision to answer "yes" to the WTP conditioning question is independent of observed covariates. We tested this assumption by estimating a binary response (logit) with a range of covariates and were not able to find significant predictors of this choice.
References
Amt für Statistik Berlin-Brandenburg (2010) Die Klein Berlin-Statistik. Retrieved June 1, 2012 from www.statistik-berlin-brandenburg.de

Becker N, Choresh Y, Bahat O, Inbar M (2010) Cost benefit analysis of conservation efforts to preserve an endangered species: The Griffon Vulture (Gyps fulvus) in Israel. J Bioecon 12:55–70

Booth JE, Gaston KJ, Evans KL, Armsworth PR (2011) The value of species rarity in biodiversity recreation: A birdwatching example. Biol Conserv 144:2728–2732

Cameron AC, Trivedi PK (2005) Microeconometrics: methods and applications. Cambridge University Press, New York

Cameron TA, Quiggin J (1994) Estimation using contingent valuation data from a dichotomous choice with follow-up questionnaire. J Environ Econ Manag 27:218–234

Carver E (2009) Birding in the United States: a demographic and economic analysis. Addendum to the (2006) National Survey of Fishing, Hunting, and Wildlife-Associated Recreation. U.S. Fish and Wildlife Service, Arlington, VA

Clark WR (1987) Economics and marketing of 'Canada's Capistrano'. In: Diamond A, Fillion F (eds) The Value of Birds. International Council for Bird Preservation Technical Publication, Cambridge, pp 31–48

Clucas B, McHugh K, Caro T (2008) Flagship species on covers of US conservation and nature magazines. Biodivers Conserv 17:1517–1528

Clucas B, Marzluff JM, Kübler S, Meffert P (2011) New directions in urban avian ecology: reciprocal connections between birds and humans in cities. In: Endlicher W (ed) Perspectives of Urban Ecology. Springer-Verlag Berlin, Heidelberg, Germany, pp 167–196

Clucas B, Marzluff JM (2012) Attitudes and actions towards birds in urban areas: human cultural differences influence bird behavior. Auk 129:8–16

Cochran WG (1977) Sampling techniques, 3rd edn. Wiley and Sons, New York

Czajkowski M, Giergiczny M, Kronenberg J, Tryjanowski P (2014) The economic recreational value of a white stork nesting colony: A case of 'stork village' in Poland. Tour Manag 40:352–360

Davies ZG, Fuller RA, Dallimer M, Loram A, Gaston KJ (2012) Household factors influencing participation in bird feeding activity: a national scale analysis. PLoS One 7(6):e39692. doi:10.1371/journal.pone.0039692

DeGraaf RM, Payne BR (1975) Economic values of non-game birds and some urban wildlife research needs. Trans North Am Wildl Nat Resour Conf 40:281–287

de Leeuw ED (ed) (1992) Data quality in mail, telephone and face to face surveys. T.T-Pubilkaties, Amsterdam

Duffield J (1991) Existence and nonconsumptive values for wildlife: application to wolf recovery in Yellowstone National Park. In: Kling CL (ed) Benefits and Costs in Natural Resources Planning. Department of Agricultural Economics, University of California, Davis, p 272

Dunn RR, Gavin MC, Sanchez MC, Solomon JN (2006) The pigeon paradox: dependence of global conservation on urban nature. Conserv Biol 20:1814–1816

Edwards PE, Parsons GR, Myers KH (2011) The economic value of viewing migratory shorebirds on the Delaware Bay: An application of the single site travel cost model using on-site data. Hum Dimens Wildl 16:435–444

Farmer MC, Wallace MC, Shiroya M (2011) Bird diversity indicated ecological value in urban home prices. Urban Eco. doi:10.1007/s11252-011-0209-0

FIS Broker (2008) Senate Department for Urban Development. Retrieved December 1, 2008 from http://fbinter.stadt-berlin.de/fb/index.jsp

Fuller RA, Irvine KN, Devine-Wright P, Warren PH, Gaston KJ (2007) Psychological benefits of greenspace increase with biodiversity. Biol Lett 3:390–394

Fuller RA, Warren PH, Armsworth PR, Barbosa O, Gaston KJ (2008) Garden bird feeding predicts the structure of urban avian assemblages. Divers Distrib 14:131–137

Greene WH (2003) Econometric analysis, 5th edn. Prentice-Hall, New Jersey

Haab TC, McConnell KE (2003) Valuing environmental and natural resources: the econometrics of non-market valuation. In: Elgar E (ed) Environmental Economics. New Horizons, Massachusetts

Haab TC, Interis MG, Petrolia DR, Whitehead JC (2013) From Hopeless to Curious? Thoughts on Hausman's "Dubious to Hopeless" Critique of Contingent Valuation. App Econ Perspect Policy 35:593–612

Hamilton SF, Sunding DL, Zilberman D (2003) Public goods and the value of product quality regulations: the case of food safety. J Public Econ 87:799–817

Hausman J (2012) Contingent valuation: from dubious to hopeless. J Econ Perspect 26:43–56

Heyman E, Gunnarsson B (2011) Management effect on bird and arthropod interaction in suburban woodlands. BMC Ecol 11:1–8

Hougner C, Colding J, Söderqvist T (2006) Economic valuation of a seed dispersal service in the Stockholm National Urban Park, Sweden. Ecol Econ 59:364–374

Jorgensen A, Gobster PH (2010) Shades of green: measuring the ecology of urban green space in the context of human health and well-being. Nature +. Culture 5:338–363

Kaval P, Roskruge M (2009) The value of native bird conservation: A New Zealand case study. (Department of Economics Working Paper Series, Number 09/11). University of Waikato, Hamilton, New Zealand

Kellert SR (1994) Attitudes, knowledge and behaviour towards wildlife among the industrial superpowers: The United States, Japan and Germany. In: Manning A, Serpell J (eds) Animals and human society: changing perspectives. Routledge, London, p 240

Kinzig A, Warren PS, Martin C, Hope D, Katti M (2005) The effects of human socioeconomic status and cultural characteristics on urban patterns of biodiversity. Ecol Soc 10:23

Kling CL, Phaneuf DJ, Zhao J (2012) From Exxon to BP: Has some number become better than no number? J Econ Perspect 26:3–26

Knoche S, Lupi F (2013) Economic benefits of publicly accessible land for ruffed grouse hunters. J Wildl Manag 77:1294–1300

Lepczyk CA, Mertig AG, Liu J (2004) Assessing landowner activities related to birds across rural-to-urban landscapes. Environ Manag 33:110–125

Little RJ (2007) Comment: Struggles with survey weighting and regression modeling. Stat Sci 22:171–174

Loomis JB, White DW (1996) Economic benefits of rare and endangered species: summary and meta-analysis. Ecol Econ 18:197–206

Maller C, Townsend M, Pryor A, Brown P, St Leger L (2005) Healthy nature healthy people: 'Contact with nature' as an upstream health promotion intervention for populations. Health Promot Int 21:45–54

Marzluff JM (2001) Worldwide urbanization and its effects on birds. In: Marzluff JM, Bowman R, Donnelly R (eds) Avian conservation and ecology in an urbanizing world. Kluwer, Norwell, Massachusetts, pp 19–47

Rehdanz K (2007) Species diversity and human well-being: a spatial econometricapproach. Research Unit Sustainability and Global Change Working Paper #FNU-151. Hamburg University and Centre for Marine and Atmospheric Science

Richardson L, Loomis J (2009) The total economic value of threatened, endangered and rare species: an updated meta-analysis. Ecol Econ 68:1535–1548

Robb GN, McDonald RA, Chamberlain DE, Bearhop S (2008) Food for thought: supplementary feeding as a driver of ecological change in avian populations. Front Ecol Environ 6:476–484

Rubin J, Helfand G, Loomis J (1991) A benefit-cost analysis of the northern spotted owl. J For 12:25–30

Sagoff M (2011) The quantification and valuation of ecosystem services. Ecol Econ 70:497–502

Salles JM (2011) Valuing biodiversity and ecosystem services: Why put economic values on Nature? C R Biol 334:469–482

SAS Institute (2010) SAS system version 9.2. SAS Institute, Cary, NC

Stevens TH, Echeverria J, Glass RJ, Hager T, More TA (1991) Measuring the existence value of wildlife: what do CVM estimates really show? Land Econ 67:390–400

Strohbach MW, Haase D, Kabisch N (2009) Birds and the city: urban biodiversity, land use, and socioeconomics. Ecol Soc 14:31

Tisdell C, Wilson C, Nantha HS (2005) Association of public support for survival of wildlife species with their likeability. Anthrozoös 18:160–174

U.S. Census Bureau (2000) State and county quick facts. Retrieved Oct 1, 2009 from http://quickfacts.census.gov

U.S. Census Bureau (2011) State and county quick facts. Retrieved June 1, 2012 from http://quickfacts.census.gov

U.S. Department of the Interior, U.S. Fish and Wildlife Service, and U.S. Department of Commerce, U.S. Census Bureau (2011) National survey of fishing, hunting, and wildlife-associated recreation, Washington
Acknowledgments
We would like to thank Kate Kourbatova, Yih En Lim, Erica Petru, and Diana Rayo for research assistance in Seattle and specially thank Helena Franke and Sonja Kübler for conducting the human surveys in Berlin. Wilfried Enlicher encouraged and supported our work in Berlin and Mark Colwell and two anonymous reviewers provided helpful comments on earlier versions of the manuscript. This research was partially supported by a McIntire-Stennis Cooperative Forestry Research Program grant (United States Department of Agriculture) to BC, SR and JMM and by the German Research Foundation (Deutsche Forschungsgemeinschaft) to BC and JMM as part of the Urban Ecology Group (Stadtökologische Perspektiven - Optimierung urbaner Naturentwicklung) at Humboldt Universität in Berlin, Germany.
About this article
Cite this article
Clucas, B., Rabotyagov, S. & Marzluff, J.M. How much is that birdie in my backyard? A cross-continental economic valuation of native urban songbirds. Urban Ecosyst 18, 251–266 (2015). https://doi.org/10.1007/s11252-014-0392-x
Keywords
Birds

Conservation

Human surveys

Urban wildlife

Willingness to pay