Abstract
Although Brazil is recognized as a country of megadiversity many Brazilian cities have an overwhelming number of exotic street trees in their urban environments. Here we investigate this situation in the city of Fortaleza, Brazil's fifth largest city. Through an extensive qualitative survey, complemented by published quantitative surveys, we developed the most complete inventory done to date in Fortaleza. We registered the largest possible number of plant species which we could record in the public treescape of the city. We recorded 219 tree species, of which 158 were exotic to Fortaleza's ecosystems. Of the 61 native species, some were represented only by relictual individuals spared during urban growth and only 39 native species were cultivated plants. Most of these 39 cultivated natives are represented by a small number of individuals in the city, while most of common trees are exotic species. We show that many native plants that are potentially suitable for ornamental use in urban settings are being ignored and argue that exotics are overvalued, including some plants that are invasive. We also discuss the consequences of the predominance of alien species for the public perception of native biodiversity. We advocate that increasing the number of native plants in cities has many advantages from an ecological perspective.
Access options
Buy single article
Instant access to the full article PDF.
USD 39.95
Price excludes VAT (USA)
Tax calculation will be finalised during checkout.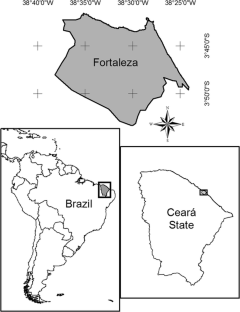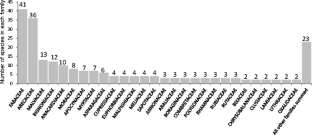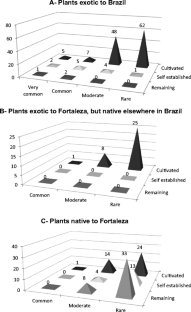 References
Aguiar A, Barbosa RI, Barbosa JBF, Mourão M (2014) Invasion of Acacia mangium in Amazonian savannas following planting for forestry. Plant Ecol Divers 7:359–369. doi:10.1080/17550874.2013.771714

Barros EFS, Guilherme FAG, Carvalho RDS (2010) Arborização urbana em quadras de diferentes padrões construtivos na cidade de Jataí. Rev Árvore 34:287–295

Borges LA de AP (2002) Subsídios para o planejamento da arborização no bairro Padre Andrade, Fortaleza. Undergraduate thesis (Biological Science) - Universidade Federal do Ceará, Fortaleza

Castro ASF, Moro MF, Rocha FCL (2011) Plantas dos espaços livres da Reitoria da Universidade de Fortaleza (UNIFOR), Ceará, Brasil. Rev Bras Biociências 9:126–129

Castro ASF, Moro MF, Menezes MOT (2012) O Complexo Vegetacional da Zona Litorânea no Ceará: Pecém, São Gonçalo do Amarante. Acta Bot Brasilica 26:108–124. doi:10.1590/S0102-33062012000100013

Cullen J, Knees SG, Cubey HS (2011) The European garden flora, flowering plants: A manual for the identification of plants cultivated in Europe, both out-of-doors and under glass. Volumes I, II, III, IV and V. Cambridge University Press, Cambridge

Dearborn DC, Kark S (2010) Motivations for conserving urban biodiversity. Conserv Biol 24:432–440. doi:10.1111/j.1523-1739.2009.01328.x

Dislich R, Kisser N, Pivello VR (2002) A invasão de um fragmento florestal em São Paulo (SP) pela palmeira australiana Archontophoenix cunninghamiana H. Wendl. & Drude. Rev Bras Botânica 25:55–64. doi:10.1590/S0100-84042002000100008

Figueiredo MA (1997) A cobertura vegetal do Ceará (Unidades Fitoecológicas). Atlas do Ceará. IPLANCE, Fortaleza

Fortaleza (2003) Inventário ambiental de Fortaleza. Prefeitura Municipal de Fortaleza, Fortaleza

Forzza RC, Baumgratz JFA, Bicudo CEM et al (2010) Catálogo de plantas e fungos do Brasil—Vols I & II. Jardim Botânico do Rio de. Janeiro, Rio de Janeiro

Gaston KJ, Warren PH, Thompson K, Smith RM (2005) Urban domestic gardens (IV): the extent of the resource and its associated features. Biodivers Conserv 14:3327–3349. doi:10.1007/s10531-004-9513-9

Harrington RA, Kujawski R, Ryan HDP (2003) Invasive plants and the green industry. J Arboric 29:42–48

IBGE [Instituto Brasileiro de Geografia e Estatística] (2010) Sinopse do censo demográfico 2010—Brasil., http://www.censo2010.ibge.gov.br/sinopse. Accessed 6 Dec 2012

Ignatieva M (2012) Plant material for urban landscapes in the era of globalization: Roots, challenges and innovative solutions. In: Weiland U, Richter M (eds) Appl. urban Ecol. a Glob. Framew. Wiley-Blackwell, Oxford, pp 139–151

Kweon B-SS, Sullivan WC, Wiley AR (1998) Green common spaces and the social integration of inner-city older adults. Environ Behav 30:832–858. doi:10.1177/001391659803000605

Lewinsohn TM, Prado PI (2002) Biodiversidade brasileira. Editora Contexo, São Paulo, 176 p

Lombardo MA (1985) Ilha de calor nas metrópoles: O exemplo de São Paulo. Hucitec, São Paulo, p 244

Lorenzi H, de Souza HM (2008) Plantas ornamentais no Brasil: Arbustivas, herbáceas e trepadeiras. Plantarum, Nova Odessa

Matias LQ, Nunes EP (2001) Levantamento florístico da Área de Proteção Ambiental de Jericoacoara, Ceará. Acta Bot Brasilica 15:35–43

McKinney ML (2006) Urbanization as a major cause of biotic homogenization. Biol Conserv 127:247–260. doi:10.1016/j.biocon.2005.09.005

Menezes MOT (2004) The use of date palms (Phoenix sp.) as resting and sleeping sites by Callithrix jacchus in Northeastern Brazil. Neotrop Primates 12:53–55

Moro MF, Westerkamp C (2011) The alien street trees of Fortaleza (NE Brazil): qualitative observations and the inventory of two districts. Ciência Florest 21:789–798

Moro MF, Castro ASF, de Araújo FS (2011) Composição florística e estrutura de um fragmento de vegetação savânica sobre os tabuleiros pré-litorâneos na zona urbana de Fortaleza, Ceará. Rodriguésia 62:407–423

Moro MF, Westerkamp C, Martins FR (2013) Naturalization and potential impact of the exotic tree Azadirachta indica A.Juss. in Northeastern Brazil. Check List 9:153–156

Moro MF, Westerkamp C, de Araújo FS (2014) How much importance is given to native plants in cities' treescape? A case study in Fortaleza, Brazil. Urban For Urban Green 13:365–374. doi:10.1016/j.ufug.2014.01.005

Pemberton RW, Liu H (2009) Marketing time predicts naturalization of horticultural plants. Ecology 90:69–80

Richardson DM (1998) Forestry trees as invasive aliens. Conserv Biol 12:18–26. doi:10.1111/j.1523-1739.1998.96392.x

Richardson DM, Pyšek P (2012) Naturalization of introduced plants: ecological drivers of biogeographical patterns. New Phytol 196:383–396. doi:10.1111/j.1469-8137.2012.04292.x

Richardson DM, Rejmánek M (2011) Trees and shrubs as invasive alien species—a global review. Divers Distrib 17:788–809. doi:10.1111/j.1472-4642.2011.00782.x

Richardson DM, Pysek P, Rejmánek M et al (2000) Naturalization and invasion of alien plants: concepts and definitions. Divers Distrib 6:93–107

Richardson DM, Carruthers J, Hui C et al (2011) Human-mediated introductions of Australian acacias—a global experiment in biogeography. Divers Distrib 17:771–787. doi:10.1111/j.1472-4642.2011.00824.x

Rocha RT, Leles PSDS, Oliveira Neto SN (2004) Arborização de vias públicas em Nova Iguaçu, RJ: o caso dos bairros Rancho Novo e Centro. Rev Árvore 28:599–607

Ruszczyk A, Nascimento ES (1999) Biologia dos adultos de Methona themisto (Hübner, 1818) (Lepidoptera, Nymphalidae, Ithomiinae) em praças públicas de Uberlândia, Minas Gerais, Brasil. Rev Bras Biol 59:577–583

Santos AR, Rocha CFD, Bergallo HG (2009) Native and exotic species in the urban landscape of the city of Rio de Janeiro, Brazil: density, richness, and arboreal deficit. Urban Ecosyst 13:209–222. doi:10.1007/s11252-009-0113-z

Silva PSL, Silva KMB, Lôbo RNB, Silva PIB (2007) Growth of seven perennial plant species adapted to the Brazilian Semi-Arid. Acta Bot Brasilica 21:935–941. doi:10.1590/S0102-33062007000400018

Smith RM, Thompson K, Hodgson JG et al (2006a) Urban domestic gardens (IX): Composition and richness of the vascular plant flora, and implications for native biodiversity. Biol Conserv 129:312–322. doi:10.1016/j.biocon.2005.10.045

Smith RM, Warren PH, Thompson K, Gaston KJ (2006b) Urban domestic gardens (VI): environmental correlates of invertebrate species richness. Biodivers Conserv 15:2415–2438. doi:10.1007/s10531-004-5014-0

Sukopp H (2004) Human-caused impact on preserved vegetation. Landsc Urban Plan 68:347–355. doi:10.1016/S0169-2046(03)00152-X

Thompson K, Hodgson JG, Smith RM et al (2004) Urban domestic gardens (III): composition and diversity of lawn floras. J Veg Sci 15:373–378

Thompson K, Colsell S, Carpenter J et al (2005) Urban domestic gardens (VII): a preliminary survey of soil seed banks. Seed Sci Res 15:133–141. doi:10.1079/SSR2005201

Wong NH, Yu C (2005) Study of green areas and urban heat island in a tropical city. Habitat Int 29:547–558. doi:10.1016/j.habitatint.2004.04.008

Zenni RD (2013) Analysis of introduction history of invasive plants in Brazil reveals patterns of association between biogeographical origin and reason for introduction. Austral Ecol. doi:10.1111/aec.12097

Zenni RD, Ziller SR (2011) An overview of invasive plants in Brazil. Rev Bras Botânica 34:431–446. doi:10.1590/S0100-84042011000300016

Zipperer WC (2002) Species composition and structure of regenerated and remnant forest patches within an urban landscape. Urban Ecosyst 6:271–290. doi:10.1023/B:UECO.0000004827.12561.d4
Acknowledgments
The authors are in great debt with Dr. Eimear Nic Lughadha (Royal Botanic Gardens, Kew) for her useful suggestions and critical evaluation of the manuscript before submission. We also thank Alex Roberts and Rebecca Fletcher for reviewing the English. M.F. Moro thanks the Fundação de Amparo à Pesquisa do Estado de São Paulo (FAPESP) and the Coordenação de Aperfeiçoamento de Pessoal de Nível Superior (CAPES) for the PhD. grants awarded to him.
About this article
Cite this article
Moro, M.F., Castro, A.S.F. A check list of plant species in the urban forestry of Fortaleza, Brazil: where are the native species in the country of megadiversity?. Urban Ecosyst 18, 47–71 (2015). https://doi.org/10.1007/s11252-014-0380-1
Published:

Issue Date:

DOI: https://doi.org/10.1007/s11252-014-0380-1
Keywords