Abstract
Cities are systems that include natural and human-created components. When a city grows without proper planning, it tends to have low environmental quality. If improving environmental quality is intended, people's opinion should be taken into account for a better acceptance of urban management decisions. In this study, we assessed people's perception of trees by conducting a survey with a controlled sample of citizens from the city of Morelia (west-central Mexico). Citizens liked both native and exotic tree species and rejected mainly exotic ones. Preference for trees were related to tree attributes; such as size. Trees that dropped leaves or tended to fall were not liked. The most-mentioned tree-related benefits were oxygen supply and shade; the most mentioned tree-related damages were accidents and infrastructure damage. The majority of respondents preferred trees near houses to increase tree density. Also, most respondents preferred trees in green areas as well as close to their houses, as they consider that trees provide oxygen. The majority of the respondents thought more trees were needed in the city. In general, our results show that although people perceive that trees in urban areas can cause damages, they often show more interest for the benefits related to trees and consider there should be more trees in cities. We strongly suggest the development of studies that broaden our knowledge of citizen preferences in relation to urban vegetation, and that further policy making takes their perception into account when considering creating new urban green areas, regardless of their type or size.
Access options
Buy single article
Instant access to the full article PDF.
US$ 39.95
Tax calculation will be finalised during checkout.
Subscribe to journal
Immediate online access to all issues from 2019. Subscription will auto renew annually.
US$ 79
Tax calculation will be finalised during checkout.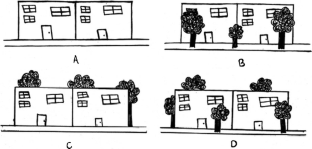 References
Ardila A (1980) Psicología de la percepción (Psychology of perception). Trillas, México

Arizpe L, Paz F, Velazquez M (1993) Cultura y cambio global: Percepciones sociales sobre la deforestación en la selva Lacandona (Culture and global change: Social Perceptions on the deforestation of the Lacandona rainforest). Centro Regional de Investigaciones Multidisciplinarias. Porrúa, México

Ávila García P (2006) Hacía la construcción de un marco conceptual para el estudio de la relación ciudad-medio ambiente (Towards the construction of a conceptual frame for the study of the city-environment relationship). In: Tapia CE, Vargas Uribe G (eds) El impacto del desarollo urbano en los recursos naturales. CIDEM UMSNH, Morelia, pp 17–31

Ávila García P (2007) Agua, ciudad y medio ambiente: una visión histórica de Morelia, México (Water, city and environment: a historical vision of Morelia, México). CIDEM-UMSNH, Michoacán

Berkowitz AR, Nilon CH, Hollweg KS (2003) Understanding urban ecosystems. Springer, New York

Bonaiuto M, Aiello A, Perugini M, Bonnes M, Ercolani AP (1999) Multidimensional perception of residential environment quality and neighbourhood attachment in the urban environment. J Environ Psychol 19:331–352

Bonnes M, Passafaro P, Carrus G (2011) The ambivalence of attitudes toward urban green areas: between proenvironmental worldviews and daily residential experience. Environ Behav 43:207–232

Carranza Cárdenas JM (2006) El problema del crecimiento urbano y su impacto en los recursos naturales (The problem of urban growing and its impact in environmental resources). CIDEM-UMSNH, Michoacán

Castillo A, Corral Verdugo V, Gonzáles Gaudiano E, Paré L, Paz MF, Reyes J, Schteingart M (2009) Conservación y sociedad (Concervation and society). In: CONABIO (ed) Capital Natural de México, Vol. II: Estado de conservación y tendencias de cambio. CONABIO, México

Chace JF, Walsh JJ (2006) Urban effects on native avifauna: a review. Landsc Urban Plan 74:46–69

Conejo M (2011) Análisis de la relación entre las características de los árboles y el daño que causan sobre las banquetas y camellones de la ciudad de Morelia, Michoacán, México (Analysis of the relation between the trees' characteristics and their repercussion on sidewalks and boulevards in the city of Morelia, Michoacán, México). Dissertation, UMSNH, Morelia

Conway TM, Urbani L (2007) Variations in municipal urban forestry policies: a case study of Toronto, Canada. Urban For Urban Green 6:181–192

Costanza R, D'arge R, de Groot R, Farber S, Grasso M, Hannon B, Limburg K, Naeem S, O'Neill RV, Paruelo J, Raskin RG, Sutton P, van den Belt M (1997) The value of the world's ecosystem services and natural capital. Nature 387:253–260

Czech B, Krausman PR, Devers PK (2000) Economic associations among causes of species endangerment in the United States. Bioscience 50:593–601

Donovan GH, Butry DT (2010) Trees in the city: valuing street trees in Portland, Oregon. Landsc Urban Plan 94:77–83

Dwyer JF, Schroeder HW, Gobster PH (1991) The significance of urban trees and forests: toward a deeper understanding of values. J Arboric 17:276–284

Escobedo F, Chacalo A (2008) Descontaminación atmosférica por el arbolado urbano de la Ciudad de México (Reduction in atmosphere pollution due to the urban trees in Mexico City). Interciencia 33:29–33

Ezcurra E (1990) De las chinampas a la megalópolis (From chinampas to the big city). Fondo de Cultura Económica, México

Frazonsi R, Doyle S, McClelland LE, Rankin CP, Vicari S (2013) Quantitative narrative analysis software options compared: PC-ACE and CAQDAS (ATLAS.ti, MAXqda, and NVivo). Qual Quant 47:3219–3247

Fuller RA, Irvine KN, Devine-Wright P, Warren PH, Gaston KJ (2007) Psychological benefits of greenspace increase with biodiversity. Biol Lett 3:390–394

Garza G (2002) Evolución de las ciudades mexicanas en el Siglo XX (Evolution of Mexican cities in the XX Century). Revista de Información y Análisis 19:7–16

Gidlof-Gunnarsson A, Ohrstrom E (2007) Noise and well-being in urban residential environments: the potential role of perceived availability to nearby green areas. Landsc Urban Plan 83:115–126

Gobster PH (1995) Perception and use of a metropolitan greenway system for recreation. Landsc Urban Plan 33:401–413

Goddard MA, Dougill AJ, Benton TG (2010) Scaling up from gardens: biodiversity conservation in urban environments. Trends Ecol Evol 25:90–98

Grahn P, Stigsdotter UA (2003) Landscape planning and stress. Urban For Urban Green 2:1–18

Grimm NB, Faeth SH, Golubiewski NE, Redman CL, Wu JG, Bai XM, Briggs JM (2008) Global change and the ecology of cities. Science 319:756–760

Hamer AJ, McDonnell MJ (2008) Amphibian ecology and conservation in the urbanising world: a review. Biol Conserv 141:2432–2449

Henwood K, Pidgeon N (2001) Talk about woods and trees: threat of urbanization, stability, and biodiversity. J Environ Psychol 21:125–147

(ICRAF) World Agroforestry Centre (2013) AgroForestryTree Database. World Agroforestry Centre http://www.worldagroforestry.org/resources/databases/agroforestree Accessed 22 December 2013

(ISSG) Invasive Species Specialist Group (2013) Global Invasive Species Database. Invasive Species Specialist Group http://www.issg.org/database/welcome/ Accessed 22 December 2013

Joye Y, Willems K, Brengman M, Wolf K (2010) The effects of urban retail greenery on consumer experience: reviewing the evidence from a restorative perspective. Urban For Urban Green 9:57–64

Kinzig AP, Warren P, Martin C, Hope D, Katti M (2005) The effects of human socioeconomic status and cultural characteristics on urban patterns of biodiversity. Ecol Soc 10(1):23

Lazos E, Paré L (2000) Miradas indígenas sobre una naturaleza "entristecida": Percepciones del deterioro ambiental entre Nahuas del sur de Veracruz (Indigenous insights about a "saddened" nature: perceptions of the environmental detriment by Nahuas from the south of Veracruz). Plaza y Valdés Editores – IIS-UNAM, México

Leslie E, Sugiyama T, Ierodiaconou D, Kremer P (2010) Perceived and objectively measured greenness of neighbourhoods: are they measuring the same thing? Landsc Urban Plan 95:28–33

Lyytimaki J, Sipila M (2009) Hopping on one leg—the challenge of ecosystem disservices for urban green management. Urban For Urban Green 8:309–315

Lyytimäki J, Petersen LK, Normander B, Bezák P (2008) Nature as a nuisance? Ecosystem services and disservices to urban lifestyle. Environ Sci 5:161–172

MacGregor-Fors I, Ortega-Alvarez R (2011) Fading from the forest: bird community shifts related to urban park site-specific and landscape traits. Urban For Urban Green 10:239–246

MacGregor-Fors I, Ortega-Álvarez R, Schondube JE (2009) On the ecological quality of urban systems: an ornithological perspective. In: Graber DS, Birmingham KA (eds) Urban planing in the 21st century. Nova, Haupage

MacGregor-Fors I, Morales-Perez L, Schondube JE (2011) Does size really matter? Species-area relationships in human settlements. Divers Distrib 17:112–121

Mack RN, Simberloff D, Lonsdale WM, Evans H, Clout M, Bazzaz FA (2000) Biotic invasions: causes, epidemiology, global consequences, and control. Ecol Appl 10:689–710

Marzluff JM, Bowman R, Donnely R (2001) A historical perspective on urban bird research: trends, terms and approaches. In: Marzluff JM, Bowman JM, Donnely R (eds) Avian conservation and ecology in an urbanizing world. Kluwer, Boston

Maxwell JA (2013) Qualitative research design: an interactive approach 3rd Edition. Sage, U.S.A

Mayring P (2000) Qualitative content analysis. Qual Social Res 1(2):20

Miles MB, Huberman AM (1994) Qualitative data analysis 2nd Edition. Sage, Newbury

Miller JR, Fraterrigo JM, Hobbs NT, Theobald DN, Wiens JA (2001) Urbanization, avian communities and landscape ecology. In: Marzluff JM, Bowman JM, Donnely R (eds) Avian conservation and ecology in an urbanizing world. Kluwer, Boston

Montgomery MR (2008) The urban transformation of the developing world. Science 319:761–764

Mooney HA (2000) Invasive species in a changing world. Island Press, Washington, D.C

Nali C, Lorenzini G (2009) Residents' perception of tree diseases in the urban environment. Arboricult Urban For 35:87–93

Nassauer JI, Wang ZF, Dayrell E (2009) What will the neighbors think? Cultural norms and ecological design. Landsc Urban Plan 92:282–292

O'Brien J, Kollock P (2001) Essay: meaning is negotiated through interaction. In: O'Brien J, Kollock P (eds) The production of reality. Essays and readings on social interaction. Pine Forge Press, Boston, pp 189–205

Pickett STA, Cadenasso ML, Grove JM, Nilon CH, Pouyat RV, Zipperer RV, Costanza R (2001) Urban ecological systems: linking terrestrial ecological, physical, and socioeconomic components of metropolitan areas. Annu Rev Ecol Syst 32:127–157

Pisanty I, Mazari M, Ezcurra E (2009) El reto de la conservación de la biodiversidad en zonas urbanas y periurbanas. In: CONABIO (ed) Capital natural de México, Vol. II: Estado de conservación y tendencias de cambio. CONABIO, México

Pluhar ZF, Piko BF, Uzzoli A, Page RM, Dull A (2010) Representations of the relationship among physical activity, health and perceived living environment in Hungarian urban children's images. Landsc Urban Plan 95:151–160

Sanesi G, Chiarello F (2006) Residents and urban green spaces: the case of Bari. Urban For Urban Green 4:125–134

Sanesi G, Lafortezza R, Bonnes M, Carrus G (2006) Comparison of two different approaches for assessing the psychological and social dimensions of green spaces. Urban For Urban Green 5:121–129

Schipperijn J, Stigsdotter UK, Randrup TB, Troelsen J (2010) Influences on the use of urban green space—a case study in Odense, Denmark. Urban For Urban Green 9:25–32

Schroeder H, Flannigan J, Coles R (2006) Residents' attitudes toward street trees in the UK and U.S. communities. Arboricult Urban For 32:236–246

Solecki WD, Welch JM (1995) Urban parks: green spaces or green walls? Landsc Urban Plan 32:93–106

Tapia CE, Vargas Uribe G (2006) El impacto del desarrollo urbano en los recursos naturales (The impact of the urban development in natural resources). CIDEM-UMSNH, Morelia

Turner WR, Nakamura T, Dinetti M (2004) Global urbanization and the separation of humans from nature. Bioscience 54:585–590

United Nations (2005) World urbanization prospects: the 2003 revision. United Nations, New York

Vargas Uribe G (2006) Cambios del entorno ecológico de Valladolid-Morelia, una perspectiva desde la historia ambiental (Changes in the ecological surounding of Valladolid-Morelia, a perspective from its environmental history). In: Tapia CE, Vargas Uribe G (eds) El impacto del desarollo urbano en los recursos naturales (The impact of the urban development in natural resources). CIDEM-UMSNH, Morelia

Vargas Uribe G (2008) Urbanización y configuración territorial en la región Valladolid-Morelia 1541–1991 (Urbanization and teritorial configuration of the Valladolid-Morelia region 1541–1991). Morevallado Editores, Morelia

Whyte A (1985) Guidelines for field studies in environmental perception. MAB Technical Notes 5. UNESCO, Paris

Zheng B, Zhang YQ, Chen JQ (2011) Preference to home landscape: wildness or neatness? Landsc Urban Plan 99:1–8
Acknowledgments
We are grateful to A. Ken Oyama Nakagawa, Antonio Vieyra Medrano, and two anonymous reviewers for their valuable comments. We also thank the kindergartens and people who participated in this study, who preferred to remain anonymous, and acknowledge the participation of Hugo Camacho and Tania Arroyo in data collection. Also, we want to thank Dr. Amy Deacon for language corrections and comments on the manuscript. Finally, we greatly thank Lupita Cervantes and Oracio Camacho for partially funding the project.
About this article
Cite this article
Camacho-Cervantes, M., Schondube, J.E., Castillo, A. et al. How do people perceive urban trees? Assessing likes and dislikes in relation to the trees of a city. Urban Ecosyst 17, 761–773 (2014). https://doi.org/10.1007/s11252-014-0343-6
Keywords
Social perception

Urban planning

Citizens benefits

Morelia

México