Abstract
Bogotá, the capital of the Republic of Colombia, is a tropical highland city located 2,650 m above sea level. It is the 25th largest city in the world and, among large cities, is also one of the highest. In common with other cities in Latin America, a large part of its urban growth during recent centuries has been unplanned and informal. The introduction of green spaces into urban planning in Bogotá began in the mid-20th century, but was first included in official legislation during the 1990s through the concept of Ecological Main Structure (EMS). Initially developed by Dutch scholars, EMS was brought to Colombia via biological conservation practitioners as a means of enhancing biological connectivity in rural and natural landscapes, extended in this case to urban landscapes as a top-level planning instrument. EMS originally included a variety of components, from protected areas and biological conservation tools to environmental urban elements - the emphasis being on biodiversity conservation, without sufficient recognition of specific urban structures and functions. This process led to conceptual disciplinary-based divergence and conflicting political interpretations. The current emergence of EMS as a planning tool for urban regions represents an opportunity for integration, although the risk of divergent interpretations remains, as no integrative conceptual framework has yet been developed. In this paper we review the concepts underlying EMS that have been incorporated within urban and regional planning, especially those of ecological networks and green infrastructure, and also diagnose conceptual and institutional barriers to its current integration, challenges and opportunities which are set in the context of an emerging urban region. We propose a trans-disciplinary framework for multi-level integration of EMS, along a gradient from wild environments to built structures that incorporates emerging concepts such as urban biodiversity, ecosystem services and design in the urban landscape, with the aim of contributing to the creation of an urban landscape that is resilient to environmental change and suitable for human well-being and adaptation.
Access options
Buy single article
Instant access to the full article PDF.
USD 39.95
Price excludes VAT (USA)
Tax calculation will be finalised during checkout.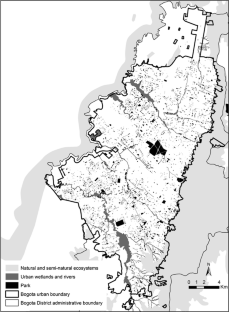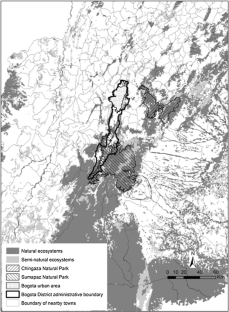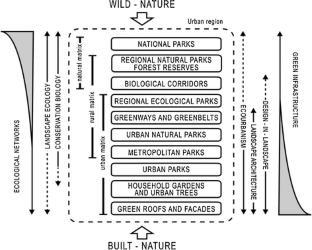 References
Andrade GI (2005) La continuidad de los parques en el espacio público de Bogotá y su entorno. Región, ciudad y áreas protegidas. Manejo ambiental participativo. Friedrich Ebert Stifftung, Ecofondo, Foro Nacional Ambiental y CEREC. Bogotá, Colombia, pp 149–180

Andrade GI (2011) Estado y Presión sobre la Estructura Ecológica Principal. In: Ajustes Ambientales al Plan de Ordenamiento Territorial de Bogotá. Secretaria Distrital de Ambiente. Alcaldía Mayor de Bogotá. Bogotá, pp 70‒84

Beatley T (2010) Biophilic cities: integrating nature into urban design and planning. Island Press, Washington, 208p

Benedict MA, McMahon ET (2006) Green infrastructure: linking landscapes and communities. Island Press, Washington

Bennett AF (2003) Linkages in the landscape. The role of corridors and connectivity in wildlife conservation. Conserving Forest and Ecosystem Series. IUCN, Gland

Bischoff NT, Jongman RHG (1993) Development of rural areas in Europe: the claim for nature. Preliminary and background studies. Netherlands Scientific Council for Government Policy, The Hague

Brunner K (1939) Manual de urbanismo Vols 1 and 2. Editorial el Concejo de Bogotá, Colombia

Clergeau P (2007) Une écologie du paysage urbain. Editions Apogée, France

Corbusier L (1950) Bogotá Metropolitain. Plan Directeur, Paris

MAVDT (Ministerio de Ambiente, Vivienda y Desarrollo Territorial) (2007) Decreto 3600 de 2007

Departamento Técnico Administrativo de Medio Ambiente (DAMA) (2000) Historia de los humedales de Bogotá con énfasis en cinco de ellos. Bogotá

Dudley N, Stolton S (eds) (2008) Defining protected areas: an international conference in Almeria, Spain. IUCN, Gland

Dureau F, Barbary O, Gouset V, Pissoat O, Lulle T (2007) Ciudades y Sociedades en Mutación. Lecturas cruzadas sobre Colombia. Institut de Recherche pour le Développement, Institut Français d´Etudes Andines (IFEA) y Universidad Externado der Colombia. Ediciones económica Bogotá

Etter A, McAlpine C, Possingham H (2008) A historical analysis of the spatial and temporal drivers of landscape change in Colombia since 1500. Ann Assoc Am Geogr 98:1–27

Faggi A, Ignatieva M (2009) Urban Green Spaces in Buenos Aires and Christchurch. Municipal Engineer 162 ME4: 241‒250

Forman RTT (2008) Urban regions. Ecology and planning beyond the city. Cambridge University Press, Cambridge

Galindo G (2003) Experiencia colectiva en la recuperación del humedal La Conejera. In: Guarnizo A (ed) Los humedales de Bogotá y la sabana. Empresa de Acueducto y Alcantarillado de Bogotá y Conservación Internacional, Bogotá, pp 217–228

Grimm NB, Grove JM, Pickett STA, Redman CL (2000) Integrated approaches to long-term studies of urban ecological systems. Bioscience 50(7):571–584

Guzman A, Hes E, Schwartz K (2011) Shifting governance modes in wetland management: a case study of two wetlands in Bogotá, Colombia Environment and Planning C: Government and Policy. UNESCO-IHE Institute for Water Education, Environ 2011, 29: 990–1003

Hartig T, Staats H (2006) Introduction to restorarive enviornments. J Environ Psychol 23(2):103–107

Hettner A (1892) La Cordillera de Bogotá. Resultado de Viajes y Estudios. Versión castellana de Ernesto Guhl. Banco de la República, Bogotá

Ignatieva M (2010) Design and future of urban biodiversity. In: Muller N, Werner P, Kelcey JG (eds) Urban Biodiversity and Design, 1st edn. Blackwell Publishing Ltd, London, pp 118–144

Ignatieva M, Stewart G, Meurk C (2011) Planning and design of ecological networks in urban areas. Landsc Ecol Eng 7:17–25

Jongman R (2004) Context and concept of ecological networks. In: Jogman R, Pungetti G (eds) Ecological networks and greenways: concept, design, implementation. Cambridge University Press, Cambridge, pp 7–33

Kellert S (2005) Building for Life: Designing and Understanding the Human-Nature Connection. Island Press, USA

Köhler M (2008) Green facades – a view back and some visions. Urban Ecosystems 11:423–436

Mejía GR (2000) Los años del cambio. Historia urbana de Bogotá 1820–1910. Centro Editorial Javeriano, Bogotá

Muller N, Werner P (2010) pp 3-33 in: Müller N et al. (eds) Urban Biodiversity and Design. Wiley-Blackwell, 648p

Musacchio L (2011) The grand challenge to operationalize landscape sustainability and the design-in-science paradigms. Landsc Ecol 26:1–5

Nassauer JI, Opdam P (2008) Design in science: extending the landscape ecology paradigm. Landsc Ecol 23:633–644

Pickett STA, Cadenasso ML, Grove JM, Nilon CH, Pouyat RV, Zipperer WC, Costanza R (2001) Urban ecological systems: linking terrestrial ecological, physical, and socioeconomic components of metropolitan areas. Annu Rev Ecol Syst 32:127–157

Poveda G, Alvarez DM, Rueda OA (2010) Hydro-climatic variability over the Andes of Colombia associated with ENSO: a review of climatic processes and their impact on one of the Earth's most important biodiversity hotspots. Clim Dyn 36:2233–2249. doi:10.1007/s00382-010-0931-y

Remolina F (2010) Propuesta de Estructura Ecológica Regional de la Región Capital y guía técnica para su declaración y consolidación. Informe final. Universidad Distrital Francisco José de Caldas, Bogotá

Remolina F (2011) Figuras municipales de conservación ambiental en Colombia: ¿áreas protegidas, redes ecológicas o infraestructuras verdes? Nodo 11(6):65–76

Rios F (2005) Guía técnica para la restauración ecológica de áreas afectadas por especies invasoras. Jardín Botánico de Bogotá, Bogotá

Ruano y de Olaza M (2005) Ecourbanism. Sustainable urban environments: 60 Projects. Ed. Gustavo Gili, Barcelona

Rueda S (1998) La ciudad compacta y diversa frente a la conurbación difusa, en Biblioteca: Ciudades para un futuro más sostenible. Escuela Superior de Arquitectura de Madrid, Madrid

Samper C (2003) The Millennium Ecosystem Assessment: science and policy for sustainable development. BioSci 53:1148–1149

Twombly R (2010) Frederick Law Olmsted. Essential texts. WW Norton and Company, New York and London

Valbuena S, Tavera H, Palacios M (2008) Propuesta de estructura ecológica regional para la región Central. Gobernación de Cundinamarca, Alcaldía Mayor de Bogotá, Corporación Autónoma Regional de Cundinamarca–CAR, Centro de las Naciones Unidas para el Desarrollo Regional-UNCRD del Departamento de Asuntos Económicos y Sociales de la Secretaría de las Naciones Unidas-UNDESA, Instituto de Investigación de Recursos Biológicos Alexander von Humboldt. Bogotá DC

van der Hammen T (1998) Estudio de la cuenca alta del río Bogotá. Corporación Autónoma Regional de Cundinamarca, Bogotá

van der Hammen T, Andrade G (2003) Estructura Ecológica Principal de Colombia. Primera aproximación (Documento técnico). Instituto de Hidrología, Meteorología y Estudios Ambientales, Bogotá

Wiesner D (1998) Manual Verde para Bogotá. Universidad de los Andes ‒ Centro de Investigaciones de la Facultad de Arquitectura y Jardín Botánico Jose Celestino Mutis. Bogotá

Wiesner D (2011) Bogotá Revealing and staging the metropolitan landscape, a visual perspective on our metropolitan areas. Les Ateliers Internationaux de Maîtrise d'Oeuvre d'Urbaine – International Workshops of Urban Development. Paris. 12–14 December 2011

Zambrano F (2003) Tres parques de Bogotá. Nacional, Simón Bolívar y Tunal. Observatorio de Cultura Urbana. Alcaldía Mayor de Bogotá. Bogotá
Acknowledgments
This work was made possible thanks to the financial support provided by the Research Committee of the School of Management, Universidad de los Andes. We thank Elizabeth Valenzuela, Juan Manuel Pinzón and Andrea Olaya of the Environmental Secretariat of the District of Bogotá for their continued support during the review of Bogotá Land Use Planning.
About this article
Cite this article
Andrade, G.I., Remolina, F. & Wiesner, D. Assembling the pieces: a framework for the integration of multi-functional ecological main structure in the emerging urban region of Bogotá, Colombia. Urban Ecosyst 16, 723–739 (2013). https://doi.org/10.1007/s11252-013-0292-5
Published:

Issue Date:

DOI: https://doi.org/10.1007/s11252-013-0292-5
Keywords