Abstract
This study investigates the impact of urbanisation on birdlife in a major city. Line transects and point counts were used to survey birds in three habitat types: parkland, residential areas and business/industrial areas. Abundance, richness and diversity of assemblages were determined for all bird species and for those birds native to the area. Behaviours of birds, and of human residents in relation to birds, in these urban areas were documented, including all instances of avian aggression. Bird species, including a subset of native bird species, have greater abundance and richness in parklands. Overall species diversity is greatest in residential habitat types, but native diversity is greatest in parklands. Introduced species are most abundant in business/industrial habitat types. The most frequent aggressive encounters were initiated by noisy miners Manorina melanocephalas, one of the four most common species throughout all habitat types (other common species include the rainbow lorikeet Trichoglossus haematodus, rock dove Columba livia and common myna Sturnus tristis). Other behaviours involved birds utilising food and roost resources and were classified as being caused by active and passive human behaviours. These outcomes indicate that local changes to the environment can impact the bird species by providing different food and roost resources. Human residents and local governments have a range of tools to modify the diversity of urban areas. Further research is needed to determine alternative definitions of modification, such as defining it as open space, and investigating the health of the avian populations in urban areas.
This is a preview of subscription content, log in to check access.
Access options
Buy single article
Instant access to the full article PDF.
US$ 39.95
Tax calculation will be finalised during checkout.
Subscribe to journal
Immediate online access to all issues from 2019. Subscription will auto renew annually.
US$ 99
Tax calculation will be finalised during checkout.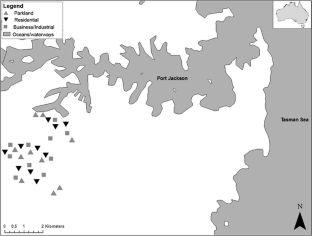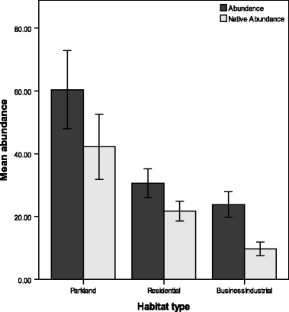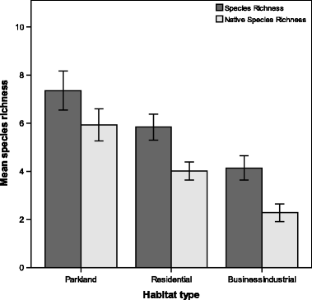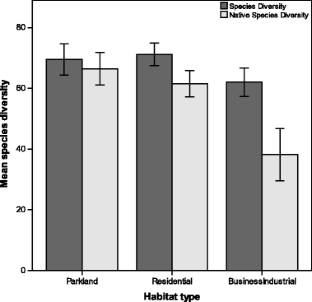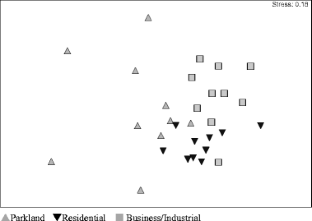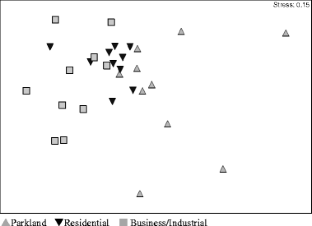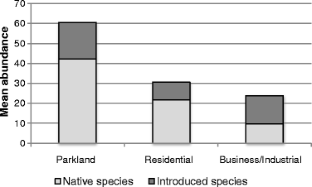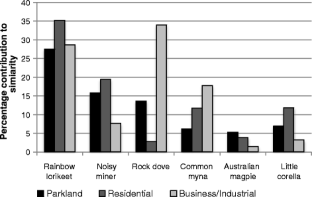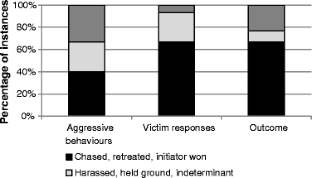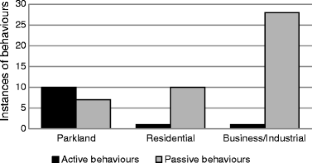 References
Arnold KE (2000) Group mobbing behaviour and nest defence in a cooperatively breeding Australian bird. Ethology 106(5):385–393

Australian Bureau of Meteorology (2011) www.bom.gov.au/climate/averages/tables/cw_066062.shtml. Accessed 8 May 2011

Australian Bureau of Statistics (2010) www.abs.gov.au/AUSSTATS/abs@nrp.nsf/Latestproducts/105Population/People12005-2009?opendocument&tabname=Summary&prodno=105&issue=2005-2009. Accessed 8 May 2011

Australian Bureau of Statistics (2012) http://www.abs.gov.au/ausstats/abs@.nsf/Latestproducts/3218.0Main%20Features52011?opendocument&tabname=Summary&prodno=3218.0&issue=2011&num=&view=#PARALINK1. Accessed 12 October 2012

Bakkes JA, van den Born GJ, Helder JC, Swart RJ, Hope CW, Parker JDE (1994) An overview of environmental indicators: state of the art and perspectives. United Nations Environment Program, Cambridge

Bibby CJ, Burgess ND, Hill DA (1993) Bird census techniques. Academic Press Limited, London

Birds in backyards: history of Sydney's birds. (2005) Birds in Backyards and Birds Australia. www.birdsinbackyards.net/spaces/history-sydney.cfm. Accessed 2 May 2011

Blewett CM, Marzluff JM (2005) Effects of urban sprawl on snags and the abundance and productivity of cavity-nesting birds. Condor 107(3):678–693

Buckland ST, Marsden SJ, Green RE (2008) Estimating bird abundance: making methods work. Bird Conservation International 2008(18):S91–S108

Case TJ (1996) Global patterns in the establishment and distribution of exotic birds. Biol Conserv 78:69–96

Catterall CP (2004) Birds, garden plants and suburban bushlots: where good intentions meet unexpected outcomes. In: Burgin S, Lunney D (eds) Urban wildlife: more than meets the eye. Royal Zoological Society of NSW, Sydney

Christidis L, Boles WE (2007) Systematics and taxonomy of Australian birds. CSIRO, Collingwood

City of Sydney (2012) Greening Sydney Plan. www.cityofsydney.nsw.gov.au/Environment/documents/GreeningSydneyPlan2012.pdf. Accessed 12 October 2012

Clergeau P, Croci S, Jokimaki J, Kaisanlahti-Jokimaki M-L, Dinetti M (2006) Avifauna homogenisation by urbanisation: analysis at different European latitudes. Biol Conserv 127:336–344

Clergeau P, Jokimaki J, Savard J-PL (2001a) Are urban bird communities influenced by the bird diversity of adjacent landscapes? J Appl Ecol 2001(38):1122–1134

Clergeau P, Mennechez G, Sauvage A, Lemoine A (2001b) Human perception and appreciation of birds: a motivation for wildlife conservation in urban environments of France. In: Marzluff JM, Bowman R, Donnelly R (eds) Avian ecology in an urbanizing world. Kluwer, Norwell, pp 69–86

Clergeau P, Savard J-PL, Mennechez G, Falardeau G (1998) Bird abundance and diversity along an urban–rural gradient: a comparative study between two cities on different continents. Condor 100(3):413–425

Daniels GD, Kirkpatrick JB (2006) Does variation in garden characteristics influence the conservation of birds in suburbia? Biol Conserv 2006(133):326–335

DeFries RS, Foley JA, Asner GP (2004) Land-use choices: balancing human needs and ecosystem function. Frontiers in Ecology 2(5):249–257

Drinnan IN (2005) The search for fragmentation thresholds in a Southern Sydney suburb. Biol Conserv 124:339–349

Etienne RS (2005) A new sampling formula for neutral biodiversity. Ecol Lett 2005(8):253–260

Evans KL, Newson SE, Gaston KJ (2009) Habitat influences on urban avian assemblages. Ibis 2009(151):19–39

Fuller RA, Warren PH, Armsworth PR, Barbosa O, Gaston KJ (2008) Garden bird feeding predicts the structure of urban avian assemblages. Divers Distrib 2008(14):131–137

Haskell DG (2003) Diminishing songbirds. In: Spray SL, McGlothlin KL (eds) Loss of biodiversity. Rowman and Littlefield, Oxford, pp 55–74

Jackson LE (2003) The relationship of urban design to human health and condition. Landscape and urban planning 64:191–200

Jones D (2002) Book review- Canberra birds: a report on the first 18 years of the garden bird survey. Emu 102:389–390

Jones D (2011) An appetite for connection: why we need to understand the effect and value of feeding wild birds. Emu 111:i–vii

Leveau CM, Leveau LM (2005) Avian community response to urbanization in the Pampean region, Argentina. Ornitologia Neotropical 16:503–510

Lowe K, Taylor C, Major R (2011) Do Common Mynas significantly compete with native birds in urban environments? Journal of Ornithology:1–13. doi:10.1007/s10336-011-0674-5

Luck GW, Daily GC, Ehrlich PR (2003) Population diversity and ecosystem services. Trends in ecology and Evolution 18(7):331–336

Luck GW, Ricketts TH, Daily GC, Imhoff M (2004) Alleviating spatial conflict between people and biodiversity. PNAS 101(1):182–186

Major RE, Parsons H (2010) What do museum specimans tell us about the impact of urbanisation? A comparison of the recent and historical bird communities of Sydney. Emu 2010(110):92–103

McKinney ML (2002) Urbanization, biodiversity, and conservation. BioScience 52(10):883–890

McKinney ML, Lockwood JL (1999) Biotic homogenization: a few winners replacing many losers in the next mass extinction. TREE 14(11):450–453

Melles SJ (2005) Urban bird diversity as an indicator of human social diversity and economic inequality in Vancouver, British Columbia. Urban habitats 3(1):25–47

Niemela J (1999) Ecology and urban planning. Biodivers Conserv 1999(8):119–131

Parsons H, French K, Major RE (2003) The influence of remnant bushland on the composition of suburban bird assemblages in Australia. Landscape and urban planning 66:43–56

Parsons H, Major RE, French K (2006) Species interactions and habitat associations of birds inhabiting urban areas of Sydney, Australia. Austral Ecology 2006(31):217–227

Remsen JV (1994) Use and misuse of bird lists in community ecology and conservation. Auk 111(1):225–227

Savard J-PL, Clergeau P, Mennechez G (2000) Biodiversity concepts and urban ecosystems. Landscape and urban planning 28:131–142

Shukuroglou P, McCarthy MA (2006) Modelling the occurance of rainbow lorikeets (Trichoglossus haematodus) in Melbourne. Austral Ecology 2006(31):240–253

Simpson EH (1949) Measurement of Diversity. Nature 163:688

Smith J, Lill A (2008) Importance of eucalypts in exploitation of urban parks by rainbow and musk lorikeets. Emu 2008(108):187–195

The dangers of feeding lorikeets (2008). Sydney

Turner WR, Nakamura T, Dinetti M (2004) Global urbanisation and the separation of humans from nature. BioScience 54(6):585–590

van Heezik Y, Smyth A, Mathieu R (2008) Diversity of native and exotic birds acoss an urban gradient in a New Zealand city. Landscape and urban planning 2008(87):223–232

van Kooten GC, Bulte EH, Sinclair ARE (2000) Introduction: Conserving biological diversity. In: van Kooten GC, Bulte EH, Sinclair ARE (eds) Conserving nature's diversity. Ashgate, Aldershot, pp 1–8

Watson DM (2004) Comparative evaluation of new approaches to survey birds. Wildl Res 2004(31):1–11

White JG, Antos MJ, Fitzsimons JA, Palmer GC (2005) Non-uniform bird assemblages in urban environments: the influence of streetscape vegetation. Landscape and urban planning 71:123–135
Acknowledgements
The authors express gratitude to the local government areas, City of Sydney and Marrickville Councils, who provided mapping information and advice throughout the study. The base map for ArcGIS was provided by Geoscience Australia (2005).
About this article
Cite this article
Taylor, L., Taylor, C. & Davis, A. The impact of urbanisation on avian species: The inextricable link between people and birds. Urban Ecosyst 16, 481–498 (2013). https://doi.org/10.1007/s11252-012-0283-y
Keywords
Urban ecosystem

Urbanisation

Biodiversity

Wildlife diversity

Introduced species