Abstract
We conducted microclimate simulations in ENVI-Met 3.1 to evaluate the impact of vegetation in lowering temperatures during an extreme heat event in an urban core neighborhood park in Phoenix, Arizona. We predicted air and surface temperatures under two different vegetation regimes: existing conditions representative of Phoenix urban core neighborhoods, and a proposed scenario informed by principles of landscape design and architecture and Urban Heat Island mitigation strategies. We found significant potential air and surface temperature reductions between representative and proposed vegetation scenarios: 1) a Park Cool Island effect that extended to non-vegetated surfaces; 2) a net cooling of air underneath or around canopied vegetation ranging from 0.9 °C to 1.9 °C during the warmest time of the day; and 3) potential reductions in surface temperatures from 0.8 °C to 8.4 °C in areas underneath or around vegetation.
Access options
Buy single article
Instant access to the full article PDF.
USD 39.95
Price excludes VAT (USA)
Tax calculation will be finalised during checkout.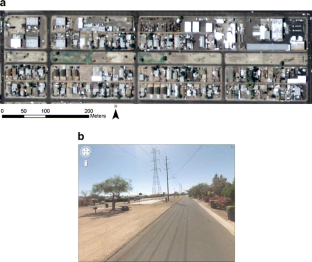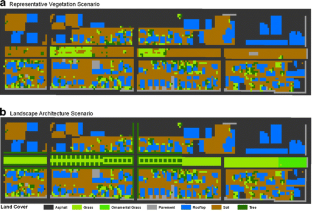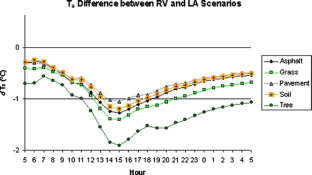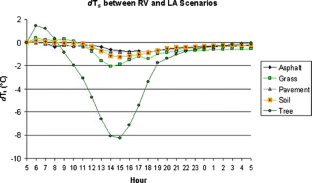 References
Anderson GB, Bell ML (2011) Heat waves in the United States: mortality risk during heat waves and effect modification by heat wave characteristics in 43 U.S. communities. Environ Health Perspect 119(2):210–218

Anselin L (1995) Local indicators of spatial association - LISA. Geogr Anal 27:93–115

ASTER SP (2010) Characteristics of ASTER sensor. http://www.science.aster.ersdac.or.jp/en/about_aster/sensor/tokutyou.html. Accessed 11 July 2012

Balling RC, Brazel SW (1987) The impact of rapid urbanization on pan evaporation in Phoenix, Arizona. J Climatol 7:593–597

Barradas VL, Tejeda-Martinez A, Jauregui E (1999) Energy balance measurements in a suburban vegetated area in Mexico City. Atmos Environ 33:4109–4113

Boone C, Buckley G, Grove J, Sister C (2009) Parks and people: an environmental justice inquiry in Baltimore, Maryland. Ann Assoc Am Geogr 99:767–787

Brazel A, Selover N, Vose R, Heisler G (2000) The tale of two climates - Baltimore and Phoenix urban LTER sites. Clim Res 15:123–135

Brazel A, Gober P, Lee SJ, Grossman-Clarke S, Zehnder J, Hedquist B, Comparri B (2007) Determinants of changes in the regional urban heat island in metropolitan Phoenix (Arizona, USA) between 1990 and 2004. Clim Res 33:171–182

Brownlow A (2006) An archaeology of fear and environmental change in Philadelphia. Geoforum 37(2):227–245

Bruse M, Fleer H (1998) Simulating surface-plant-air interactions inside urban environments with a three dimensional numerical model. Environ Model Software 13:373–384

Buyantuyev A, Wu J (2012) Urbanization diversifies land surface phenology in arid environments: interactions among vegetation, climatic variation, and land use pattern in the Phoenix metropolitan region, USA. Landsc Urban Plan 105:149–159

Byrne J, Wolch J, Zhang J (2009) Planning for environmental justice in an urban national park. J Environ Plan Manag 52:365–392

Chow WTL, Pope RL, Martin CA, Brazel AJ (2011) Observing and modeling the nocturnal park cool island of an arid city: horizontal and vertical impacts. Theor Appl Climatol 103:197–211

Currie B, Bass B (2008) Estimates of air pollution mitigation with green plants and green roofs using the UFORE model. Urban Ecosyst 11:409–422

de Groot RS, Alkemade R, Braat L, Hein L, Willeman L (2010) Challenges in integrating the concept of ecosystem services and values in landscape planning, management and decision making. Ecol Complex 7:260–272

de Smith MJ, Goodchild MF, Longley PA (2007) Geospatial Analysis. Troubador Publishing Ltd

Diffenbaugh N, Pal J, Trapp R, Giorgi F (2005) Fine-scale processes regulate the response of extreme events to global climate change. Proc Natl Acad Sci USA 102:15774–15778

Dooling S, Simon G, Yocom K (2006) Place-based urban ecology: a century of park planning in Seattle. Urban Ecosyst 9:299–321

Emmanuel R, Fernando H (2007) Urban heat islands in humid and arid climates: role of urban form and thermal properties in Colombo, Sri Lanka and Phoenix, USA. Clim Res 34:241–251

EPA (2011) Natural Disasters and Weather Emergencies: Extreme Heat. http://www.epa.gov/naturalevents/extremeheat.html. Accessed 11 July 2012

Garcia-Cueto OR, Jauregui-Ostos E, Toudert D, Tejeda-Martinez A (2007) Detection of the urban heat island in Mexicali, B. C., Mexico and its relationship with land use. Atmosfera 20:111–131

Gober P, Brazel A, Quay R, Myint S, Grossman-Clarke S, Miller A, Rossi S (2009) Using watered landscapes to manipulate urban heat island effects: how much water will it take to cool Phoenix? J Am Plann Assoc 76:109–121

Grimmond C, Souch C, Hubble M (1996) Influence of tree cover on summertime surface energy balance fluxes, San Gabriel Valley, Los Angeles. Clim Res 6:45–57

Grossman-Clarke S, Zehnder JA, Stefanov WL, Liu Y, Zoldak MA (2005) Urban modifications in a mesoscale meteorological model and the effects on near-surface variables in an arid metropolitan region. J Appl Meteorol 44:1281–1297

Guhathakurta S, Wichert M (1998) Who pays for growth in the city of Phoenix? An equity-based perspective on suburbanization. Urban Aff Rev 33:813–838

Harlan SL, Brazel AJ, Prashad L, Stefanov WL, Larsen L (2006) Neighborhood microclimates and vulnerability to heat stress. Soc Sci Med 63:2847–2863

Hedquist BC, Di Sabatino S, Fernando HJS, Brazel AJ (2009) Results from the Phoenix Arizona Urban Heat Island Experiment. The seventh International Conference on Urban Climate. 29 June – 3 July 2009, Yokohama, Japan. http://www.ide.titech.ac.jp/~icuc7/extended_abstracts/pdf/384812-1-090518233339-002.pdf. Accessed 14 Dec 2012

Heisler GM, Grant RH, Grimmond S, Souch C (1995) Urban forests—cooling our communities? In: Kollin C, Barratt M (eds) Proceedings: 7th national urban forest conference. American Forests. Washington, DC, pp 31–34. http://www.fs.fed.us/psw/programs/uesd/uep/products/cufr_57_EM95_25.PDF. Accessed 14 Dec 2012

Hill T, Polsky C (2007) Development and drought in suburbia: a mixed methods rapid assessment of vulnerability to drought in rainy Massachusetts. Glob Environ Chang Part B Environ Hazards 7:291–301

Huttner S, Bruse M, Dostal P (2008) Using ENVI-met to simulate the impact of global warming on the microclimate in central European cities. In: Mayer H, Matzarakis A (eds) Berichte des Meteorologischen Instituts der Albert-Ludwigs-Universität Freiburg Nr. 18: 5th Japanese-German Meeting on Urban Climatology, pp 307–312. http://www.envi-met.com/documents/papers/Huttner_etal_2008.pdf. Accessed 14 Dec 2012

Intergovernmental Panel on Climate Change (IPCC) (2007) Climate Change 2007: Synthesis Report. http://www.ipcc.ch/publications_and_data/publications_ipcc_fourth_assessment_report_synthesis_report.htm. Accessed 11 July 2012

Jenerette GD, Harlan SL, Brazel A, Jones N, Larsen L, Stefanov WL (2007) Regional relationships between surface temperature, vegetation, and human settlement in a rapidly urbanizing ecosystem. Landsc Ecol 22:353–365

Jenerette GD, Harlan SL, Stefanov WL, Martin CA (2011) Ecosystem services and urban heat riskscape moderation: water, green spaces, and social inequality in Phoenix, USA. Ecol Appl 21:2637–2651

Jennings V, Johnson Gaither C, Schulterbrandt Gragg R (2012) Promoting environmental justice through urban green space access: a synopsis. Environ Justice 5:1–7

Lahme E, Bruse M (2003) Microclimatic effects of a small urban park in densely built-up areas: measurements and model simulations. Fifth International Conference on Urban Climate(ICUC5) Lodz, 1–5 September 2003. http://www.envi-met.com/documents/papers/park2003.pdf. Accessed 14 Dec 2012

Lalic B, Mihailovic DT (2004) An empirical relation describing leaf-area density inside the forest for environmental modeling. J Appl Meteorol 43:641–645

Lowry W (1967) The climate of cities. Sci Am 217:15–23

Martin CA (2009) Virtual Library of Phoenix Landscape Plants. http://www.public.asu.edu/~camartin/Martin%20landscape%20plant%20library.htm. Accessed 11 July 2012

Martin CA, Stabler LB (2002) Plant gas exchange and water status in urban desert landscapes. J Arid Environ 51:235–254

Martin CA, Stabler LB (2004) Urban horticultural ecology: interactions between plants, people and the physical environment. Acta Horticult 639:97–101

Martin CA, Warren PS, Kinzig AP (2004) Neighborhood socioeconomic status is a useful predictor of perennial landscape vegetation in residential neighborhoods and embedded small parks of Phoenix, Arizona. Landsc Urban Plan 69:355–368

Matzarakis A, Rutz F, Mayer H (2010) Modelling radiation fluxes in simple and complex environments: basics of the RayMan model. Int J Biometeorol 54:131–139

Meehl G, Tebaldi C (2004) More intense, more frequent, and longer lasting heat waves in the 21st century. Science 305:994–997

Mills G (2006) Progress toward sustainable settlements: a role for urban climatology. Theor Appl Climatol 84:69–76

Oke TR (1989) The micrometeorology of the urban forest. Philos Trans R Soc B Biol Sci 324:335–349

Oke TR (1997) The changing climatic environments: urban climates and global environmental change. Routledge, London

Ozkeresteci I, Crewe K, Brazel AJ, Bruse M (2003) Use and evaluation of the ENVI-Met model for environmental design and planning: an experiment of linear parks. Proceedings of the 21st International Cartographic Conference. 10–16 August 2003, Durban, South Africa. http://icaci.org/files/documents/ICC_proceedings/ICC2003/Papers/516.pdf. Accessed 18 Dec 2012

Payne-Sturges D, Gee GC, Crowder K, Hurley BJ, Lee C, Morello-Frosch R, Rosenbaum A, Schulz A, Wells C, Woodruff T, Zenich H (2006) Workshop summary: connecting social and environmental factors to measure and track environmental health disparities. Environ Res 102:146–153

Pearlmutter D, Berliner P, Shaviv E (2006) Physical modeling of pedestrian energy exchange within the urban canopy. Build Environ 41:783–795

Perkins H, Heynen N, Wilson J (2004) Inequitable access to urban reforestation: the impact of urban political economy on housing tenure and urban forests. Cities 21:291–299

Robaa S (2003) Urban-suburban/rural differences over greater Cairo, Egypt. Atmósfera 16(3):157–171. http://www.ejournal.unam.mx/atm/Vol16-3/ATM16303.pdf. Accessed 18 Dec 2012

Rosheidat A, Hoffman D, Bryan H (2008) Visualizing pedestrian comfort using ENVI-Met. Third National Conference of IBPSA-USA, July 30 – August 1, 2008, Berkeley, California. http://www.ibpsa.us/simbuild2008/technical_sessions/SB08-DOC-TS10-2-Rosheidat.pdf. Accessed 18 Dec 2012

Roth M (2002) Effects of cities on local climates. Proceedings of Workshop of IGES/APN Mega-City Project. Rihga Royal Hotel Kokura, Kitakyushu Japan, January 2002. http://enviroscope.iges.or.jp/contents/13/data/PDF/08-1(Roth).pdf. Accessed 18 Dec 2012

Ruddell DM, Harlan SL, Grossman-Clarke S, Buyantuyev A (2010) Risk and exposure to extreme heat in microclimates of Phoenix, AZ. In: Showalter PS, Lu Y (eds) Geospatial techniques in urban hazard and disaster research. Springer, New York, pp 179–202

Shashua-Bar L, Potchter O, Bitan A, Boltansky D, Yaakov Y (2010a) Microclimate modelling of street tree species effects within the varied urban morphology in the Mediterranean city of Tel Aviv, Israel. Int J Climatol 30:44–57

Shashua-Bar L, Pearlmutter D, Erell E (2010b) The influence of trees and grass on outdoor thermal comfort in a hot-arid environment. Int J Climatol 31(6):1498–1506

Spronken-Smith RA, Oke TR (1998) The thermal regime of urban parks in two cities with different summer climates. Int J Remote Sens 19(11):2085–2104

Stabler LB, Martin CA, Brazel AJ (2005) Microclimates in a desert city were related to land use and vegetation index. Urban For Urban Green 3:137–147

Stoll M, Brazel AJ (1992) Surface-air temperature relationships in the urban environment of Phoenix, Arizona. Phys Geogr 13:160–179

USD of A (2007) National Agriculture Imagery Program (NAIP). Geospatial Data Gateway. http://datagateway.nrcs.usda.gov/. Accessed 11 July 2012

Voogt JA, Oke TR (2003) Thermal remote sensing of urban climates. Remote Sens Environ 86:370–384

Walker J, Blaschke T (2008) Object-based land-cover classification for the Phoenix metropolitan area: optimization vs. transportability. Int J Remote Sens 29:2021–2040

Wilson SM (2009) An ecologic framework to study and address environmental justice and community health issues. Environ Justice 2:15–24

Wolch J, Wilson JP, Fehrenbach J (2005) Parks and park funding in Los Angeles: an equity mapping analysis. Urban Geogr 26:4–35

Wolf J, Adger WN, Lorenzoni I, Abrahamson V, Raine R (2010) Social capital, individual responses to heat waves and climate change adaptation: an empirical study of two UK cities. Glob Environ Chang 20:44–52

Zhou W, Huang G, Cadenasso ML (2011) Does spatial configuration matter? Understanding the effects of land cover pattern on land surface temperature in urban landscapes. Landsc Urban Plan 102:54–63
Acknowledgments
The work presented here is funded by the National Science Foundation under Grant No. GEO-0816168, Urban Vulnerability to Climate Change. The authors thank Ben Ruddell at the Arizona State University College of Technology and Innovation for comments on an early manuscript, Nancy Selover, Arizona State Climatologist, for providing PRISMS meteorological station data, and Juan Brenes-García, SBD Studio for advice on landscape design. We also thank the editor and anonymous reviewers for helpful commentary that improved this article. The authors accept responsibility, however, for our ideas, results, and interpretations.
Electronic supplementary materials
Below is the link to the electronic supplementary material.
About this article
Cite this article
Declet-Barreto, J., Brazel, A.J., Martin, C.A. et al. Creating the park cool island in an inner-city neighborhood: heat mitigation strategy for Phoenix, AZ. Urban Ecosyst 16, 617–635 (2013). https://doi.org/10.1007/s11252-012-0278-8
Published:

Issue Date:

DOI: https://doi.org/10.1007/s11252-012-0278-8
Keywords