Abstract
Anurans are excellent site-specific bioindicators. Although urbanization imposes diverse threats to wildlife species, little is known about its effect on tropical anurans. In this study we assessed the response of anurans to different conditions within an urban area (i.e. highly developed intra-urban residential areas, highly developed peri-urban residential areas, intra-urban abandoned lots, waterway). Our results show that: (1) 36 % of the regional anuran species pool was found within the boundaries of the studied city, (2) species richness peaked in highly developed peri-urban areas, (3) anuran abundance scores were highest in abandoned lots, and (4) highest similarity was found between the anuran community from highly developed peri-urban areas and abandoned lots. Although this study was carried out in a single city, and we only recorded four species, our results suggest that the urban semi-permeability process occurs for anuran communities, plus the fact that abandoned lots seem to offer better breeding habitat for anurans than a polluted waterway.
Access options
Buy single article
Instant access to the full article PDF.
US$ 39.95
Tax calculation will be finalised during checkout.
Subscribe to journal
Immediate online access to all issues from 2019. Subscription will auto renew annually.
US$ 79
Tax calculation will be finalised during checkout.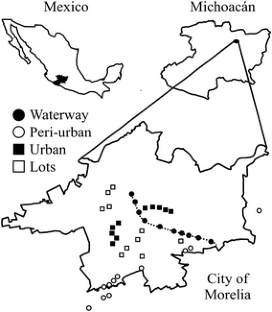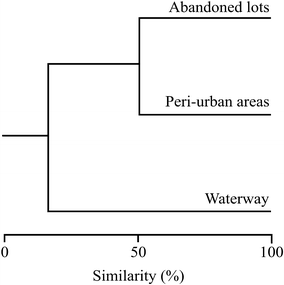 References
Anderies JM, Katti M, Shochat E (2007) Living in the city: resource availability, predation, and bird population dynamics in urban areas. J Theor Biol 247:36–49

Behler JL, King FW (1979) The Audubon society field guide to North American reptiles and amphibians. National Audubon Society, New York

Blair RB (1996) Land use and avian species diversity along an urban gradient. Ecol Appl 6:506–519

Blair RB (2004) The effects of urban sprawl on birds at multiple levels of biological organization. Ecol Soc 9:2

Blair RB, Johnson EM (2008) Suburban habitats and their role for birds in the urban-rural habitat network: points of local invasion and extinction? Landsc Ecol 23:1157–1169

Blaustein A, Wake D, Wayne PS (1994) Amphibian declines: judging stability, persistence and susceptibility of populations to local and global extinctions. Conserv Biol 6:60–71

Bray JR, Curtis JT (1957) An ordination of the upland forest communities of Southern Wisconsin. Ecol Monogr 4:325–349

Collins J, Storfer A (2003) Global amphibian declines: sorting the hypotheses. Diver Distrib 9:89–98

Colwell RK (2005) EstimateS: statistical estimation of species richness and shared species from samples. http://viceroy.eeb.uconn.edu/estimates. Accessed 3 May 2012

Croci S, Butet A, Clergeau P (2008) Does urbanization filter birds on the basis of their biological traits? Condor 110:223–240

Crump M, Scott NY (1994) Visual encounter survey. In: Heyer W, Donnelley MA, McDiarmid RA, Hayek LC, Foster MC (eds) Measuring and monitoring biological diversity: standard methods for amphibians. Smithsonian Institution, USA, pp 84–92

Czech B, Krausman PR, Devers PK (2000) Economic associations among causes of species endangerment in the United States. Bioscience 50:593–601

(CONABIO) Comisión Nacional para el Conocimiento y Uso de la Biodiversidad (2011) Sitio Oficial de la Comisión Nacional para el Conocimiento y Uso de la Biodiversidad. Comisión Nacional para el Conocimiento y Uso de la Biodiversidad, México. http://www.conabio.gob.mx. Accessed 3 May 2012

Devictor V, Julliard R, Clavel J, Jiguet F, Lee A, Couvet D (2007) Functional biotic homogenization of bird communities in disturbed landscapes. Glob Ecol Biogeogr 17:252–261

Donnelly DM, Crump M (1998) Potential effects of climate change on two neotropical amphibian assemblages. Clim Chang 39:541–561

Duellman WE (1961) The amphibians and reptiles of Michoacan, Mexico. Univ Kans Publ Mus Nat Hist 15:1–148

Gibbs J, Whiteleather K, Schueler F (2005) Changes in frog and toad populations over 30 years in New York State. Ecol Appl 15:1148–1157

Gotelli NJ, Colwell RK (2001) Quantifying biodiversity: procedures and pitfalls in the measurement and comparison of species richness. Ecol Lett 4:379–391

Grimm NB, Faeth SH, Golibiewski NE, Redman CL, Wu J, Bai X, Briggs JM (2008) Global change and the ecology of cities. Science 319:756–760

Hamer A, McDonnell J (2008) Amphibian ecology and conservation in the urbanising world: a review. Biol Conserv 141:2432–2449

Hammerson G, Canseco-Márquez L (2009) Hyla eximia. IUCN red list of threatened species. Version 2011.1. International Union for Conservation of Nature. http://www.iucnredlist.org. Accessed 3 May 2012

(IUCN) International Union for Conservation of Nature and Natural Resources (2011) List of Threatened Species. Version 2011.1. www.iucnredlist.org. Accessed 3 May 2012

Jones K (1986) Amphibians and reptiles. In: Boit RJ, Steward HR (eds) Inventory and monitoring of wildlife habitat. Burland Manage, Denver, pp 267–290

Lips KR, Reaser JK, Young BE, Ibáñez R (2001) Amphibian monitoring in Latin America: a protocol manual. Herpetological Circular No. 30, Society for the Study of Amphibians and Reptiles

López E, Bocco G, Mendoza M, Duhau E (2001) Predicting land-cover and land-use change in the urban fringe: a case in Morelia city, Mexico. Landsc Urban Plan 55:271–285

MacGregor-Fors I (2010) How to measure the urban-wildland ecotone: redefining 'peri-urban' areas. Ecol Res 25:883–887

Magurran AE (2004) Measuring biological diversity. Blackwell, Oxford

Marzluff JM, Bowman R, Donnely R (2001) A historical perspective on urban bird research: trends, terms, and approaches. In: Marzluff JM, Bowman R, Donnely R (eds) Avian conservation and ecology in an urbanizing world. Kluwer, Boston, pp 1–17

McAleece N (1997) BioDiversity Pro. Version 2. The Scottish Association for Marine Science, Scotland

McKinney ML (2002) Urbanization, biodiversity, and conservation. Bioscience 52:883–890

McKinney ML (2006) Urbanization as a major cause of biotic homogenization. Biol Conserv 127:247–260

Moreno CE (2001) Métodos para Medir la Biodiversidad. M&T–Manuales y Tesis SEA, Zaragoza

Ortega-Álvarez R, MacGregor-Fors I (2009) Living in the big city: effects of urban land-use on bird community structure, diversity, and composition. Landsc Urban Plan 90:189–195

Pauchard A, Aguayo M, Peña E, Urrutia R (2006) Multiple effects of urbanization on the biodiversity of developing countries: the case of a fast-growing metropolitan area (Concepción, Chile). Biol Conserv 127:272–281

Payton ME, Greenstone MH, Schenker N (2003) Overlapping confidence intervals or standard error intervals: what do they mean in terms of statistical significance? J Insect Sci 3:34

Pechmann JHK, Wilbur HM (1994) Putting declining amphibian populations in perspective: natural fluctuations and human impacts. Herpetologica 50:65–84

Ramirez-Bautista A, Hernández-Salinas U, García-Vázquez UO, Leyete-Manrique A, Canseco-Márquez L (2009) Herpetofauna de Valle de México: Diversidad y Conservación. UAEH-CONABIO, México

Reynoso-Rosales VH, Mendoza-Quijano F, Valdespino-Torres CS, Sanchéz Hernández X (2005) Anfibios y reptiles (Amphibians and reptiles). In: Bueno J, Alvarez F, Santiago S (eds) Biodiversidad del Estado de Tabasco. Instituto de Biología, UNAM, México, pp 241–260

Rödel MO, Ernst R (2004) Measuring and monitoring amphibian diversity in tropical forests: an evaluation of methods with recommendations for standardization. Ecotropica 10:1–14

Sánchez O, Medellín R, Aldama A, Goettsch B, Soberón J, Tambutti M (2007) Método de Evaluación del Riesgo de Extinción de las Especies Silvestres en México. Instituto Nacional de Ecología, México

Santos-Barrera G, Flores-Villela O (2004) Lithobates spectabilis. IUCN Red List of Threatened Species. Version 2011.1. www.iucnredlist.org. Accessed 3 May 2012

(SEMARNAT) Secretaría de Medio Ambiente y Recursos Naturales, 2010. Norma Oficial Mexicana NOM-059-SEMARNAT-2010. Protección ambiental-Especies nativas de México de flora y fauna silvestres-Categorías de riesgo y especificaciones para su inclusión, exclusión o cambio-Lista de especies en riesgo. Diario Oficial de la Federación, Segunda Sección, Secretaría de Medio Ambiente y Recursos Naturales, México, D.F., México

Suazo-Ortuño I, Alvarado-Díaz J, Martínez-Ramos M (2008) Effects of conversion of dry tropical forest to agricultural mosaic on herpetofauna assemblages. Conserv Biol 22:362–374

United Nations (2008) World urbanization prospects: the 2007 revision, data, tables and highlights. Population Division of the Department of Economic and Social Affairs, New York

Urbina-Cardona JN, Olivares-Pérez M, Reynoso VH (2006) Herpetofauna diversity and microenvironment correlates across a pasture-edge-interior ecotone in tropical rainforest fragments in the Los Tuxtlas Biosphere Reserve of Veracruz, Mexico. Biol Conserv 132:61–75

Vargas Uribe G (2008) Urbanización y Configuración Territorial en la Región Valladolid-Morelia 1541-1991 Morevallado Editores, Morelia

Zug G, Vitt L, Cadwell J (2001) Herpetology: an introductory biology of amphibians and reptiles. Academic, USA
About this article
Cite this article
MacGregor-Fors, I., Hernández Ordoñez, O. & Ortega-Álvarez, R. Urban croaking: diversity and distribution of anurans in a neotropical city. Urban Ecosyst 16, 389–396 (2013). https://doi.org/10.1007/s11252-012-0267-y
Keywords
Frogs

Mexico

Morelia

Toads

Urban ecology