Abstract
Although urban domestic gardens hold great significance for biodiversity support in cities, these habitats have been relatively insufficiently studied, especially in developing country contexts. This paper assesses the composition, diversity, density and distribution of plant vegetation in urban domestic gardens in the rapidly expanding south Indian city of Bangalore. Overall species diversity is high, with 1,668 trees from 91 species, as well as 192 species of herbs and shrubs encountered from a total sample of 328 urban single domestic gardens and shared apartment gardens distributed across the city. The majority of species were uncommon, found in less than 5 % of all sampled locations. A high proportion of about 30 % of all species had uses as food or as spices, medicinal properties, and/or religious significance. In general, large shared apartment gardens and single domestic gardens had a greater number of trees with larger size, and greater tree and herb/shrub diversity compared to small shared apartment gardens and small to moderate sized single domestic gardens. Shared apartment gardens tended to harbor relatively distinct sets of species, especially trees, palms and plants with largely ornamental significance, while single domestic gardens contained a greater proportion of flowering and medicinal plants used in daily worship, as well as fruit bearing and spice bearing plants and trees. Residents observed a wide range of other animal and insect species in their gardens, but also indicated a decrease in wildlife biodiversity over time. The majority of residents observed some cultural practices associated with feeding of urban wildlife and insects including the provision of rice and water for birds, and of sugar for ants. The results of this research provide a comprehensive description of plant diversity and distribution in single domestic gardens and shared apartment gardens of different sizes, which can be very important for citizen groups, planners and administrators working towards urban planting and greening in the south Indian city of Bangalore. They also supplement the extremely limited information currently available on urban domestic gardens outside of cities in the west.
Access options
Buy single article
Instant access to the full article PDF.
US$ 39.95
Tax calculation will be finalised during checkout.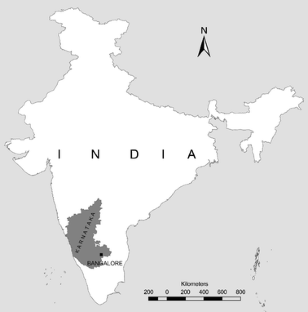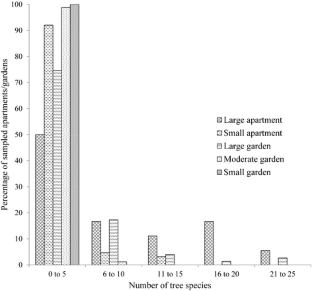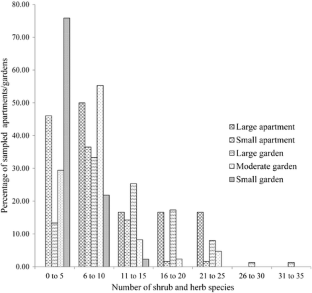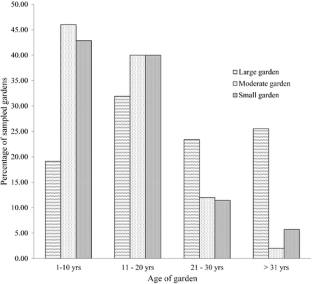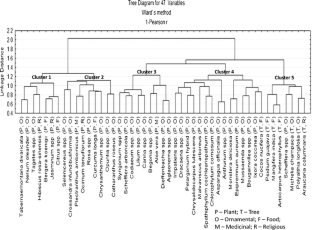 References
Albuquerque UP, Andrade LHC, Caballero J (2005) Structure and floristics of homegardens in Northeastern Brazil. J Arid Environ 62:491–506

Aminzadeh B, Khansefid M (2010) A case study of urban ecological networks and a sustainable city: Tehran's metropolitan area. Urban Ecosyst 13:23–36

Blanckaert I, Swennen RL, Flores MP, López RR, Saade L (2004) Floristic composition, plant uses and management practices in homegardens of San Rafael Coxcátlan Valley of Tehuacán-Cuicatlán, Mexico. J Arid Environ 57:39–62

Bolund P, Hunhammar S (1999) Ecosystem services in urban areas. Ecol Econ 29:293–301

Botkin DB, Beveridge CE (1997) Cities as environments. Urban Ecosyst 1:3–19

Chamberlain DE, Gough S, Vaughan H, Vickery JA, Appleton GF (2007) Determinants of bird species richness in public green spaces: capsule bird species richness showed consistent positive correlations with site area and rough grass. Bird Study 54:87–97

Chiesura A (2004) The role of urban parks for the sustainable city. Landsc Urban Plan 68:129–138

Cilliers S, Siebert S, Davoren E, Lubbe R (2011) Social aspects of urban ecology in developing countries, with an emphasis on urban domestic gardens. In M. Richter, E. Weiland (Eds.), Applied urban ecology: A global framework. Wiley-Blackwell, Chennai, India

Colding J, Lundberg J, Folke C (2006) Incorporating green-area user groups in urban ecosystem management. Ambio 35:237–244

Daniels GD, Kirkpatrick JB (2006a) Comparing the characteristics of front and back domestic gardens in Hobart, Tasmania, Australia. Landsc Urban Plan 78:344–352

Daniels GD, Kirkpatrick JB (2006b) Does variation in garden characteristics influence the conservation of birds in suburbia? Biol Conserv 133:326–335

Davies ZG, Fuller RA, Loram A, Irvine KN, Sims V, Gaston KJ (2009) A national scale inventory of resource provision for biodiversity within domestic gardens. Biol Conserv 142:761–771

Doody BJ, Sullivan JJ, Meurk CD, Stewart GH, Perkins HC (2010) Urban realities: the contribution of residential gardens to the conservation of urban forest remnants. Biodivers Conserv 19:1385–1400

D'Souza R, Nagendra H (2011) Changes in public commons as a consequence of urbanization: the Agara lake in Bangalore, India. Environ Manage 47:840–850

Dufrene M, Legendre P (1997) Species assemblages and indicator species: the need for a flexible asymmetrical approach. Ecol Monogr 67:345–366

Dunn RR, Gavin MC, Sanchez MC, Solomon JN (2006) The pigeon paradox: dependence of global conservation on urban nature. Conserv Biol 20:1814–1816

Fernández-Juricic E, Jokimäki J (2001) A habitat island approach to conserving birds in urban landscapes: case studies from southern and northern Europe. Biodivers Conserv 10:2023–2043

Fuller RA, Warren PH, Armsworth PR, Barbosa O, Gaston KJ (2008) Garden bird feeding predicts the structure of urban avian assemblages. Divers Distrib 14:131–137

Galluzzi G, Eyzaguirre P, Negri V (2010) Home gardens: neglected hotspots of agro-biodiversity and cultural diversity. Biodivers Conserv 19:3635–3654

Goddard MA, Dougill AJ, Benton TG (2010) Scaling up from gardens: biodiversity conservation in urban environments. Trends Ecol Evol 25:90–98

Gonzalez-Garcia A, Sal AG (2008) Private urban greenspaces or 'Patios' as a key element in the urban ecology of tropical central America. Hum Ecol 36:291–300

Kabir ME, Webb EL (2008) Can homegardens conserve biodiversity in Bangladesh? Biotropica 40:95–103

Kendall D, Williams NSG, Williams KJH (2011) A cultivated environment: exploring the global distribution of plants in gardens, parks and streetscapes. Urban Ecosyst. doi:10.1007/s11252-011-0215-2

Khera N, Mehta V, Sabata BC (2009) Interrelationships of birds and habitat features in urban greenspaces in Delhi, India. Urban For Urban Green 8:187–196

Kirkpatrick JB, Daniels GD, Zagorski T (2007) Explaining variation in front gardens between suburbs of Hobart, Tasmania, Australia. Landsc Urban Plan 79:314–322

Kirkpatrick J, Daniels G, Davison A (2009) An antipodean test of spatial contagion in front garden character. Landsc Urban Plan 93:103–110

Kurz T, Baudains C (2010) Biodiversity in the front yard: an investigation of landscape preference in a domestic urban context. Environ Behav, published online November 7 2011, doi:10.1177/0013916510385542

Lerman SB, Warren PS (2011) The conservation value of residential yards: linking birds and people. Ecol Appl 21:1327–1339

Loram A, Tratalos J, Warren PH, Gaston KJ (2007) Urban domestic gardens (X): the extent and structure of the resource in five major cities. Landsc Ecol 22:601–615

Lubbe CS, Siebert SJ, Cilliers SS (2010) Political legacy of South Africa affects the plant diversity patterns of urban domestic gardens along a socio-economic gradient. Sci Res Essays 5:2900–2910

Luck GW, Smallbone LT, O'Brien R (2009) Socio-economics and vegetation change in urban ecosystems: patterns in space and time. Ecosyst 12:604–620

Mathieu R, Freeman C, Aryal J (2007) Mapping private gardens in urban areas using object-oriented techniques and very high-resolution satellite imagery. Landsc Urban Plan 81:179–192

McKinney ML (2006) Urbanization as a major cause of biotic homogenization. Biol Conserv 127:247–260

Nagendra H (2010) Maps, lakes and citizens. Sem India 613:19–23

Nagendra H, Gopal D (2010) Street trees in Bangalore: density, diversity, composition and distribution. Urban For Urban Green 9:129–137

Nagendra H, Gopal D (2011) Tree diversity, distribution, history and change in urban parks. Urban Ecosyst 14:211–223

Nair J (2005) The promise of the metropolis: Bangalore's twentieth century. Oxford University Press, New Delhi

Oleyar MD, Greve AI, Withey JC, Bjorn AM (2008) An integrated approach to evaluating urban forest functionality. Urban Ecosyst 11:289–308

Singh VS, Pandey DN, Chaudhry P (2010) Urban forests and open green spaces: lessons for Jaipur, Rajasthan, India. RSPCB Occasional Paper No. 1/2010, Rajasthan State Pollution Control Board, Rajasthan, India. http://210.212.99.115/rpcb/RSPCB-OP-1-2010.pdf. Accessed on 23 February 2010

Smith RM, Thompson K, Hodgson JG, Warren PH, Gaston KJ (2006a) Urban domestic gardens (IX): composition and richness of the vascular plant flora, and implications for native biodiversity. Biol Conserv 129:312–322

Smith RM, Warren PH, Thompson K, Gaston KJ (2006b) Urban domestic gardens (VI): environmental correlates of invertebrate species richness. Biodivers Conserv 15:2415–2438

Smith RM, Gaston KJ, Warren PH, Thompson K (2006c) Urban domestic gardens (VIII): environmental correlates of invertebrate abundance. Biodivers Conserv 15:2515–2545

Sokal RR, Rohlf FJ (1981) Introduction to biostatistics, 2nd edn. Island Press, Washington DC

Sperling CD, Lortie CJ (2010) The importance of urban backgardens on plant and invertebrate recruitment: a field microcosm experiment. Urban Ecosyst 13:223–235

Sudhira HS, Ramachandra TV, Subrahmanya MHB (2007) City profile Bangalore. Cities 24:379–390

Troy AR, Grove JM, O'Neil-Dunne JPM, Cadenasso ML, Pickett STA (2007) Predicting opportunities for greening and patterns of vegetation on private urban lands. Environ Manag 40:394–412
Acknowledgments
This research was supported by a grant from the Stockholm Resilience Center, and a Ramanujan Fellowship from the Department of Science and Technology, Government of India to HN. We thank Prakhar Arora for assistance with field sampling.
About this article
Cite this article
Jaganmohan, M., Vailshery, L.S., Gopal, D. et al. Plant diversity and distribution in urban domestic gardens and apartments in Bangalore, India. Urban Ecosyst 15, 911–925 (2012). https://doi.org/10.1007/s11252-012-0244-5
Keywords
Cities

Green spaces

India

Urban biodiversity

Urban ecology